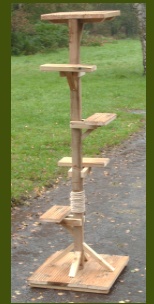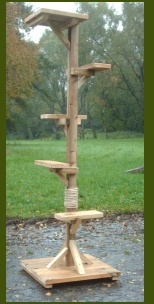 We asked you for ideas to improve our cat pole, thank you for all the wonderful suggestions. Here is the new improved cat pole.

Now available in 3 sizes and with a larger square centre pole.

The three sizes the cat pole comes in are 5 ft, 4ft and 3 ft. with 4 , 3 or 2 steps respectfully
(Pick the size and rope you require from the list below)

Base size 50 * 50 cm
Top size 37 * 33 cm
Step size 28 * 13 cm
Square centre post for added strength and rigidity.

The cat pole has 10mm rope scratching segment for that all important sharpening of the claws.
The cat pole comes fully assembled, no screwing, no fixing of any kind is required, just unwrap from its packaging and place in the desired position.
The cat pole must be placed on firm flat ground.
All measurements are approximant and my change slightly due to the hand made nature of the product.

3ft cat poll with hempex rope £73
free P&P mainland UK
4ft cat poll with Hempex rope £85
free P&P mainland UK
5ft cat poll with Hempex rope £97
free P&P mainland UK