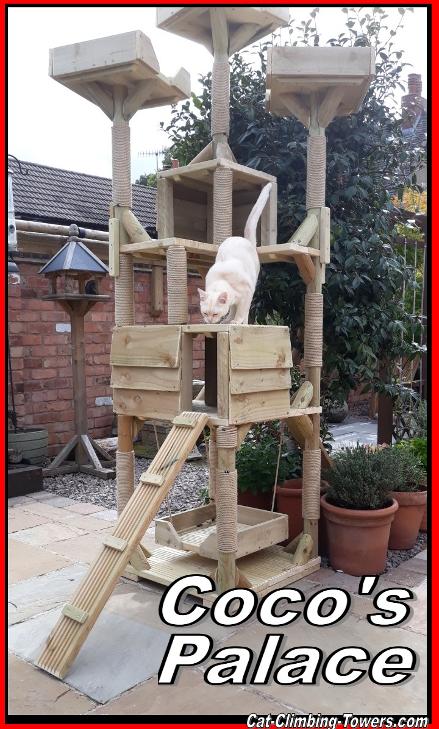 coco's palace, is one heck of a big frame, at nearly 8 foot tall, your cats will surely be the envy of all the neighbouring cats, and from 8 foot up in the air, they sure can look down on all of them.
coco's palace has 3 large, high rise sleeping levels, each measuring 35cm by 35cm, lipped on 3.5 sides for easy access.
middle den, is great for a cat who is a little shy, and like to hide away. at about 1ft by 1ft by 1ft it is nice and snug, it has two entrances for cats that like to have an escape path.
lower den, is a big 2ft by 1ft by 1ft high, with 2 entrances, and lots of peek a boo holes, it is set at a great height for you to play games with your cats.
inside for rainy days, on top for sun bathing days.
access ramp, the frame comes with a access ramp that runs from ground level to the large pay den.
the base is a sturdy 2ft by 2ft.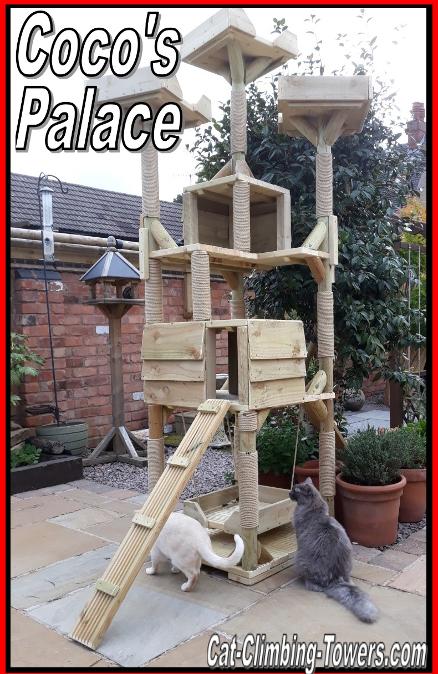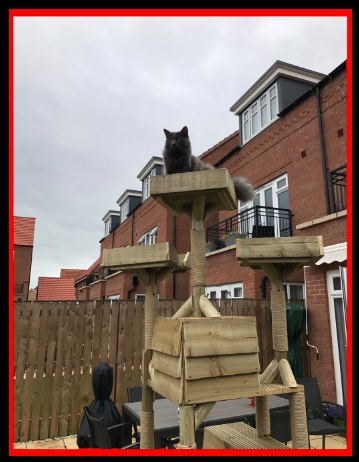 optional extras. (not shown)
extra access ramps
horizontal scratch mat
hammock (on the base level)
2nd large play cane (on the base level)
Back story.
We was contacted by archie and coco owner, who had just moved to a new house, and archie and coco, after living in a flat, archie and coco was starting to explore the great outdoors,
Being a new build, the garden was a bit feature less, so she contacted us to build a frame, she had a very good idea of what she wanted and supplied a drawing. Needless to say, she was delighted when we told her that we could build it exactly how she wanted it. But not nearly as excited as archie and coco was when we delivered it a few weeks later, and they was able to explore it for the first time.
The cost of the coco's palace is £378, plus delivery.
please see our extra large delivery items page for full details on delivery and costs