High Rise Harry's Hang Out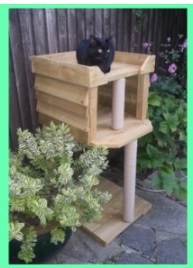 Based on our poplar harry's hang out. But raised 2ft in the air, giving a nice covered hidey hole with which to look out over there garden.
The top level is lipped on 3.5 sides allowing for safe and sound sleeping, with no risk of rolling out.
2 fully roped polls (out door grade) can be up graded to all 4 polls roped.
Base 60cm by 50cm
Overall hight 3.5ft
3 * 60 cm polls 1 fully roped
1st level *60cm by 50cm
2nd level 50cm * 50cm lipped on 3.5 sides.
The hang out is enclosed on 3 sides with a 30cm fully roped poll.
High rise Harry 2 roped poles
£126.99
free P&P to main lank UK
High rise Harry 4 roped poles
£142.99
free P&P to main lank UK


No assembly required, just remove from packaging and it is ready for your cats to play on.