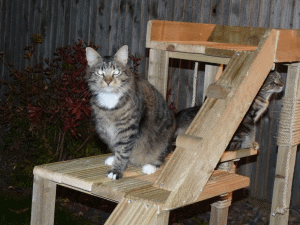 This is Horatio, and this is his house.
As you can see from the photo horatio is a special needs cat, but he is lucky, in that has as some wonderful owners, who are willing to go the extra mile to make sure he has as much fun in life, as a normal 4 legged cat.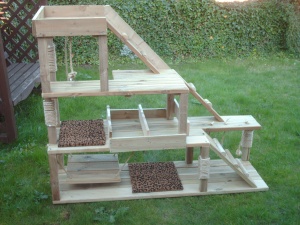 When Heoratio's owners first contacted us, with the view of building a climbing frame for him, we were quite worried about building any thing at height. But after a number of chats, and sending emails back and forth we was able to work out a plan for a climbing frame that would be suitable for him.
With access ramps, scratching post, horizontal scratching rugs, jumps and dangling ropes there is lots to keep him occupied.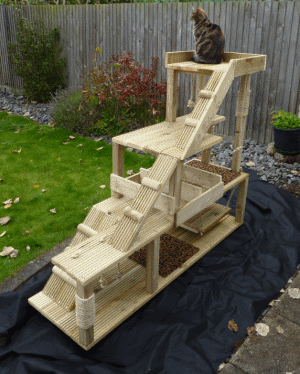 Sue (his owner) had this to say
They are the envy of all the cats in the neighbourhood
Thanks for turning my idea into reality

And here is horatio at the top of the tower, looking out over his domain
By poplar request we have now added Horatio's house to our standard items, and added a buy now button for you ease. However there are a few items I would like to make clear before you order.
Horatio' s house will be delivered fully built.
Please make sure you have enough room in your enclosure or garden Horatio's house is big. 5 and a half foot long and 3 and a half foot high. (52cm wide)
Horatio's is also heavy. At about 50kg it will need two people to move in to your required location.
All you have to do once it is in the required location, is unwrap it from its packaging and it is ready for your cats to play on.
Because we deliver Horatio's house fully delivered, the cost of P&P is quite expensive. We only charge what we are charged by our couriers.
Horatio's house is available in two styles. One that have a wooden hammock (can be seen on this page) or with a play cave in the place of the hammock.
Horatio's House with wooden Hammock (Hempex rope)
£210
plus P&P £60
Horatio's House with play cave (hempex rope)
£210
plus P&P £60