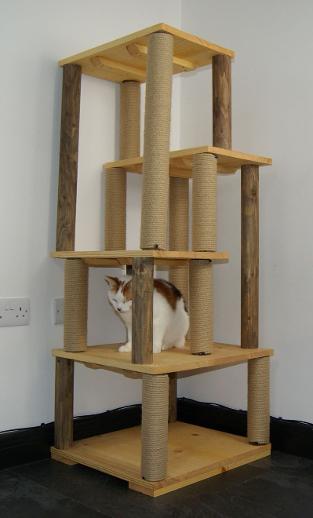 The Tabby
Made from indoor pine, the Tabby comes fully built; just unpack and place in your home. Standing over @ 4 feet tall, with each level having one foot of space in height leaving plenty of room to place a bed for a lazy cat, leave open or add a favorite toy for the more athletic.
Along with the roped pole sections for cat scratching.
With the offset levels, the Tabby is perfect for elderly and disabled cats, while the play tower is equally great for the more agile cat.
Using indoor wood, the Tabby is sturdy and will not move when cats are enjoying playing on this hand made frame.
The Tabby offers great exercise for the indoor cat, or outdoor cat on a cold day.
Please note, all the poles are fully roped.
Please Note
The Tabby is an indoor cat play tower using indoor wood. This frame is not designed to be used outdoors.(Although made from wood, it has not been tanalised to prevent water damage.)
The frame comes fully built, no asembly requided.
Price includes postage.
Height - 4 foot
Width - 50cm
Depth - 50cm
total price £212.99 (free P&P)