This is the king of frames, it has everything a cat could want from a frame, 5 large platforms with an access ramp to each, so the frame is suitable for all cats from kittens to old queens.
Play cave
In the lower left hand corner is a play cave, enclosed on 3 sides, providing a shady hide out from the sun and a windbreak on the not so sunny days
Hammock
The hammock is 35cm by 35 cm, and lipped on 3.5 sides.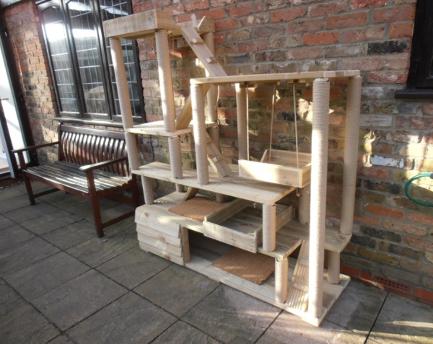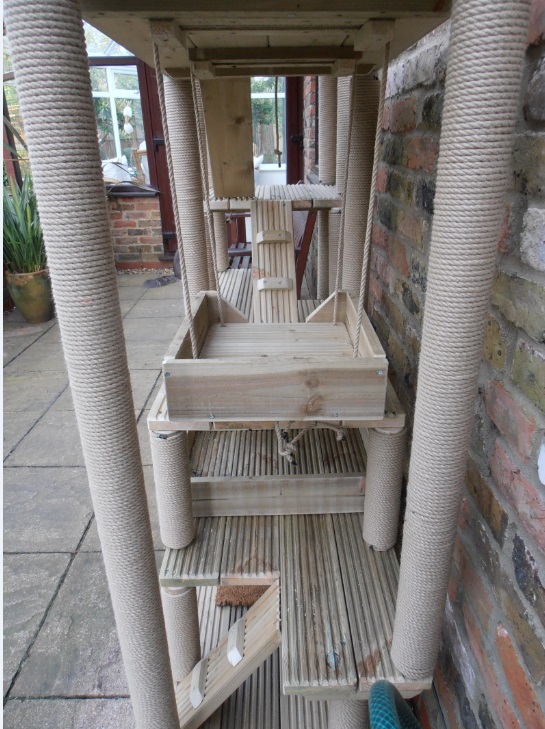 Roped polls
All 15 polls are fully roped with top quality hempex, great for scratching and climbing. From 1ft to 4 ft in length

Dangling ropes
On the underside of the levels are short dangling ropes, that cats just love to play with

Scratch mats
The royal mews has 2 horizontal scratch mats
Sleeping zones
The frame have two lipped sleeping zones, located on the 1st level and top level.

Ramps.
Each level has its own access ramp, that has 2 steps built in allowing easy access, the ramps are positioned to encourage full use of the frame.
Size
The frame is big, 5' (153cm)long and 5'6" (170cm)high and 20" (50cm)wide
please see extra large delivery items page for full details
on delivery and costs.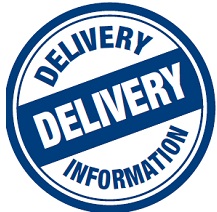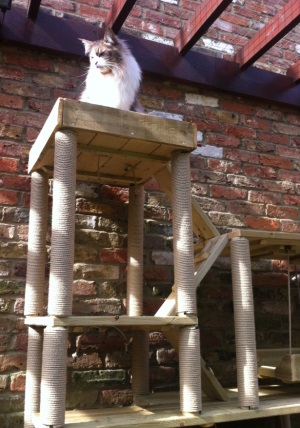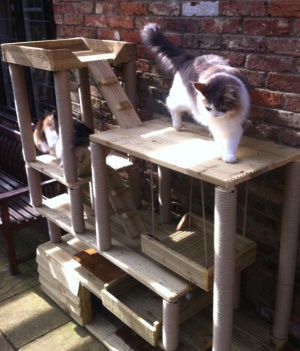 Price
The price for the frame is only £495.99 plus delivery. Please contact us with your postcode so that we can work out the delivery price.
Back story
We was contacted early in 2014 by graham & marilyn, who wanted something extra special for their two lovely cats max and tiffany (both main coons and both weigh in just under 2 stone, so the frame needed to be very sturdy).

The name the royal mews (meows), was dreamed up by graham, and it just fits the frame greatly.

As you can see from the photos, max and tiffany love their new outdoor frame.
Thank for once again to graham & marilyn