ROPE
We offer 2 different type of rope for your cats outdoor climbing frame.
10mm sisal rope
Is a natural rope that is light brown in colour (we don't use bleached rope). It is a strong rope that is resistant to sun light. However being made from natural fibres it may eventually start to show its age and to blacken in colour.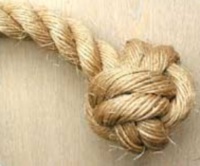 10 mm hempex rope.
Is strong weatherproof synthetic rope made to look like natural hemp. This soft handling rope is ideal for frames that are in locations prone to getting damp or rained on. Hempex is a high quality rope that is over twice the price of sisal rope per meter, this is why we give you the choice of which rope you want adding to your frame.