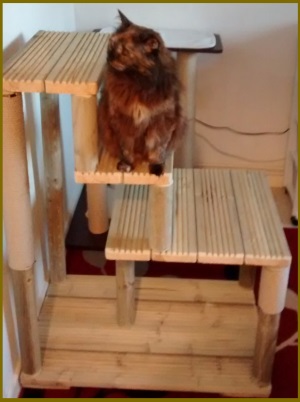 The window stepper
The window stepper is the Swiss army knife of our range
Ground floor windows access.
If you have an elderly cat, who used to enjoy jumping through the ground floor window but now finds it a bit much, or a young cat who needs learn to use the window. The window stepper was purpose built to solve the problem. Place it next to the window and with steps leading to the ground it is sure to make their life much easier.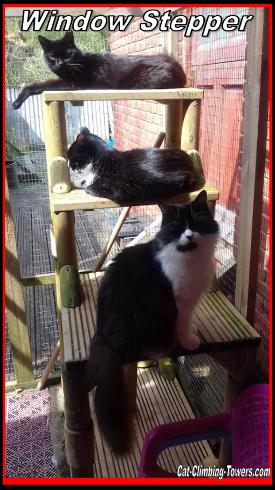 Patting station.
Whether you happen to be relaxing in a deck chair, or have difficulty yourself in bending to the ground level to stroke and pamper your cat the window stepper is made for you. With its large middle decked area for your cat to sit / lie down and be in easy reach for you to pamper them.
Feeding station.
If you happen to have dogs or young children, the window stepper s numerous levels can be used as a feeding / watering station for your cat to eat. Simply place the dish of food on one on the levels and your cat can eat it when they want without the fear of the dog pinching it or a young child stepping in it.
Play centre.
With its large base and strong build, it makes for a great play centre for your cat/s and it can take all the rough and tumble play from your cat or a family of cats.
Climbing frame.
It is an outdoor cat climbing frame in its own right, standing at 4 foot tall any cat would enjoy leaping up and down it.
Scratching post.
Of cause the window stepper has built in scratching posts built in for that all important shaping of the claws made from luxurious 6 mm rope.
Off floor sleeping.
The middle platform can accommodate a good size cat sleeping basket for those all important afternoon naps in the sun.
The window stepper comes fully assembled, no screwing, no fixing of any kind is required, just unwrap from its packaging
All measurements are approximant and my change slightly due to the hand made nature of the product.
window stepper (Hempex rope)
3ft 4ft
£119.99 £128.99
Free P&P to main land UK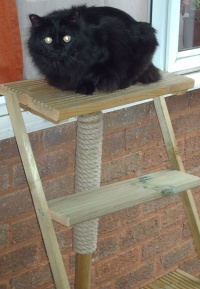 Height 122 cm (4 foot) or 92 cm (3 foot)
Please choose height from buy now menu
Length 76 cm (30 inches)
Width 48 cm (19 inches)