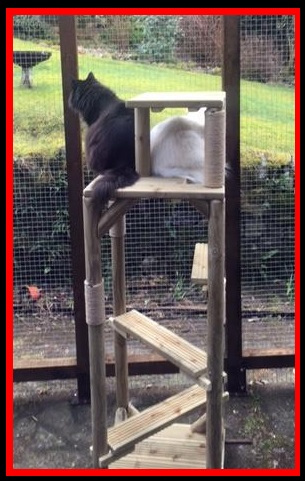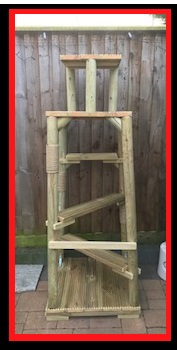 So called because your cat will love to sit atop of this tower for hours on end watching the world go by.
This well built and sturdy climbing frame is attractive on the eye to your self as it is to the cat. Just imagine there delight at the first time they see it and figure out a way to the top.
At 162 cm (5ft4 in old money) it will be a centre peace of your garden that will have fellow cat owners green with envy.
The tower has 4 132cm legs joined by 3 12 cm * 60 cm steps / perches that your cat will love to explore, leading to the landing platform through a 21cm diameter portal. Standing above that is the penthouse watch tower.
The watch tower stands 30 cm above the main body of the frame with a 37cm*37cm sunning platform that even a large cat get comfy on.
The watch tower has 3 outdoor grade rope scratching segments for that all important sharpening of the claws.
With the zig zag method your cat will use to climb the steps / perches you can rest assured that your cat is a good work out.
The watch tower comes fully assembled, no screwing, no fixing of any kind is required, just unwrap from its packaging and place in the desired position.
The watch tower must be placed on firm flat ground.
All measurements are approximant and my change slightly due to the hand made nature of the product.
Watch Tower
(hempex rope)
£145.99
free P&P to mainland UK