We are a small family business who makes out door climbing frames for cats, because we are a small business we can give you that personal touch and assure you of the highest service at all times.
Although we live in a rural area, we lost our first two cats to road traffic. I could not bear the thought of having to go through that pain again when the hubby got me two rag doll kittens. With rag dolls having such a trusting nature and the loss of my previous cats. There was no way I was going to let these two cats roam free.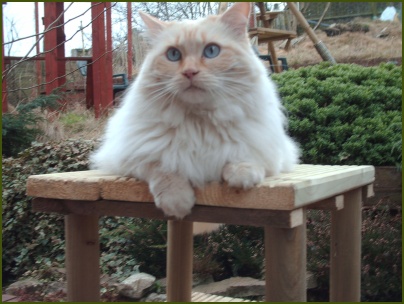 Soon friends and friends of friends were asking for him to build outdoor play frames as well. It was not too big of a step to where we are now and selling his handy work on line.
The play frames we sell are of the best quality and built to last. We are cat lovers ourselves and wish for your cats to get the fun and enjoyment from our play frames that our cats do.
As you can see from the photos on this page, every design has to pass the "Harry" intense fun QA test.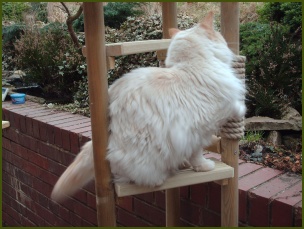 The hubby is good with working with his hands and I persuaded him to build an enclosure in the back garden to keep them safe. But I was worried about them not getting enough exercise so got him to build an out door climbing frame.
Harry and sally (blame him, he picked the names) loved the play frame, whether it was racing up and down it, play fighting to see who would have the top perch, or using it as a look out post in to next doors garden.