Many of our customers send us their photos, and some are happy for us share them with you.
To each of them. Thank you.
we have added a second page for the customers photos, and we are in need of your photos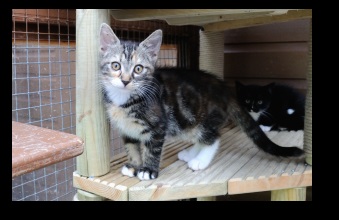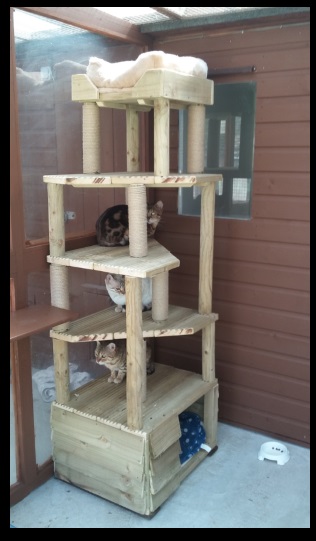 Here at cat climbing towers we have been very busy completing a large order for the RSPCA North West Middlesex. As you can see the frames are being put to great use at the adoption center and are enjoying the frames.
The frames are very strong and can be washed down and disinfected when they are needed for a new occupant.
As you can imagine we was overjoyed to see the frames in use, but was positively bursting with pride to receive an email from the CEO Paul Bennett with the following endorsement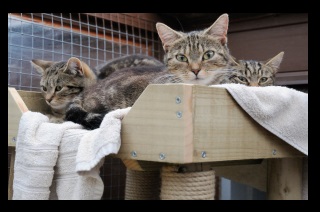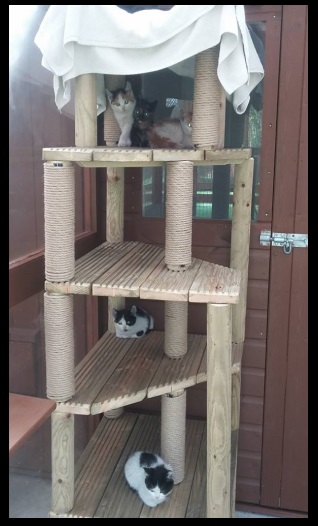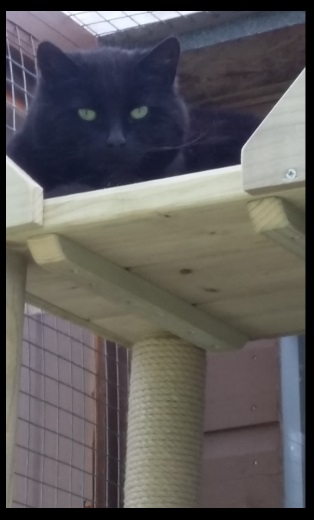 RSPCA CEO Paul Bennett North West Middlesex
"We needed to replace our aging climbing towers and the 5 Tier unit was the 1st choice by our Animal Welfare Team. The towers are strong, durable, easy to clean and the cat love them. Each tower will get a lot of use so we need them to last a long time, which they will, so we bought 31 of them! Service and delivery was excellent."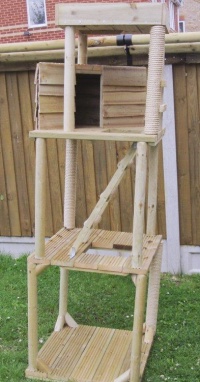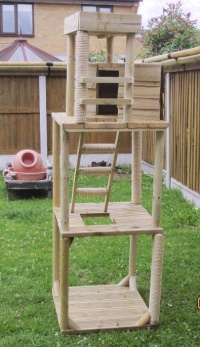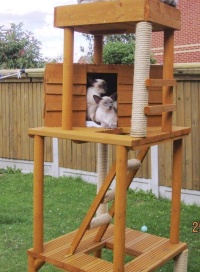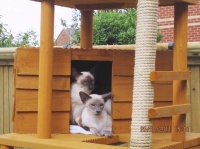 Two very lucky cats having a snooze, in their custom built high rise apartment.
This item is a custom build. Please contact us if you need more information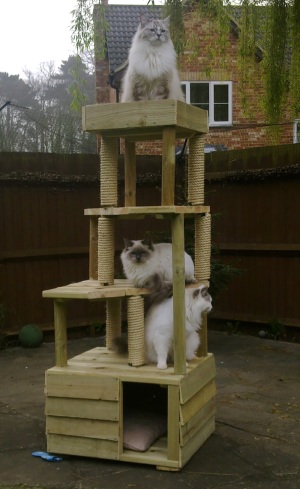 Here are two photos of the boys (Ike, Teddy and Heston) enjoying their new equipment.
They needed no encouragement to climb onto the equipment, and we have been very happy with the service provided.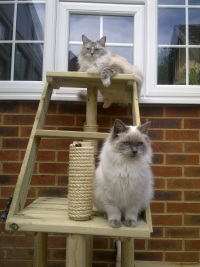 how many cats can you get in a photo of one mews?
9 so far and counting
a big thank you to Kerry, it was lovely meeting you and we think you are doing a great job with your 16 rescue cats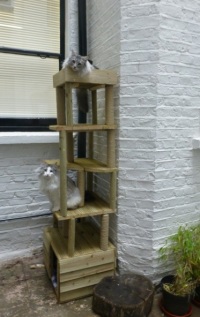 I came across your site after searching on line for hand crafted wooden cat climbers and as soon as
I found your web site and saw your clients photos I knew you were the right company for me!!

I have two huge Norwegian Forest cats who need to climb and be up high so I opted for a customised 5 tier climber.
You responded swiftly and within 2 weeks my item was made and shipped with excellent packaging. I am delighted with the product
and my cats couldn't wait to try it out. I work with cats on a daily basis and wouldn't hesitate to recommend
your services and sing your praises to all of my clients.

KIndest regards,

Anita Kelsey - Owner of Catnips
Cat groomer, cat carer and soon to be cat psychologist!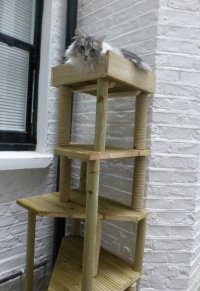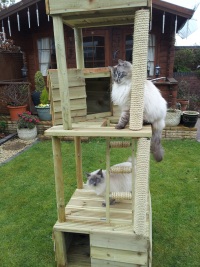 This is a custom version of missy's den, their owners had this to say
When it arrived it took all of two minutes for hector to reach the top, Hetty on the other hand has only got as far as the top of the first play den. She doesn't really have the same lust for climbing, but it is just as well as hector doesn't like her going anywhere near it and paws at her to go away.
so it's not so much 'missy's den' in our house but most definitely 'hector's house'.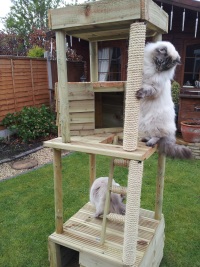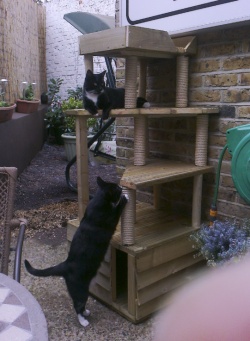 snoop and maggie enjoying exploring their new 4 tier custom build.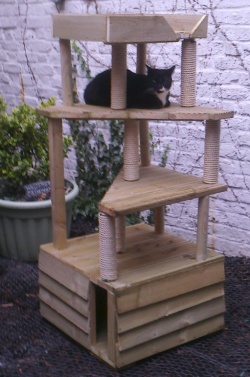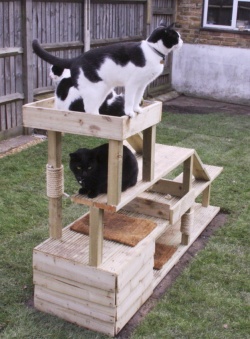 This is 3 of the 4 of Lynda's tribe getting the max from a Horatio's house with added play cave. The play cave came in very useful during a recent snow fall. Thanks for the great photos lynda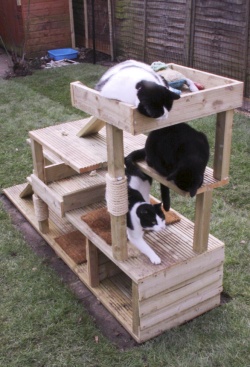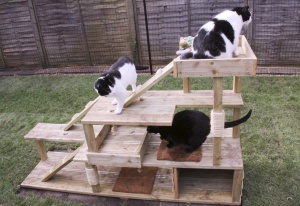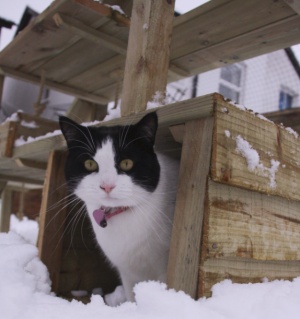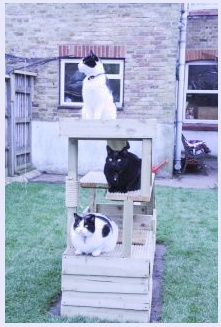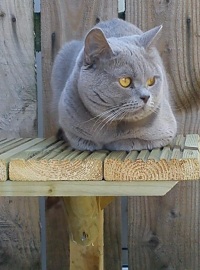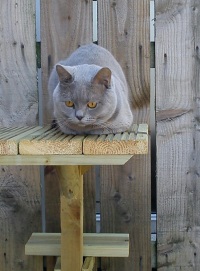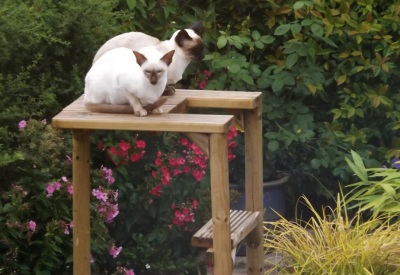 Sally and Bruce brought a sky ladder from us, but it proved to be so poplar a second was soon added, along with a connecting bridge. I am told all 5 of the clan love their high rise play ground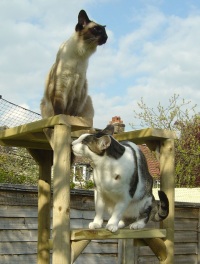 Here is Molly and Cody, sitting atop the 6ft sky ladder. with some new members of the family to be introduced soon, it's going to get crowded up there.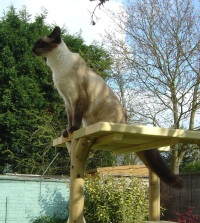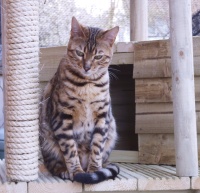 Introducing Miska and Elsa, who took no time to explore the 6"6' Missys den.
Bernard and Lesley (thank you for the pohots), said that "They absolutely love it".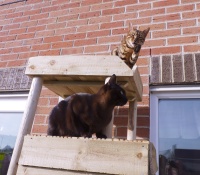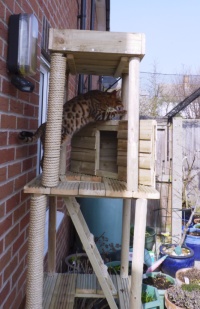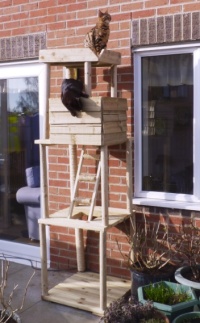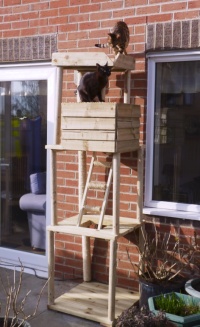 a big thank you to sue, for this photo of 3 of her cars enjoying a nice sunny day on a sky ladder. (we love this photo as it show just how much room the sky ladder has for multi cat homes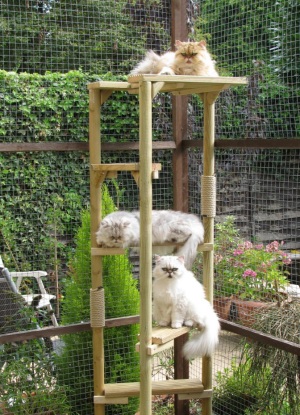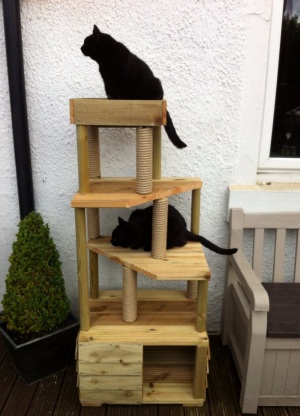 Thanks Carole for this great photo of a 4 tier, I will let her introduce her two cats.
They are Archie (who is completely blind!) and Saffy (Archie's sister who is fully sighted and has the wee white bangle on her leg - and feels safe always being one level higher than Archie!!)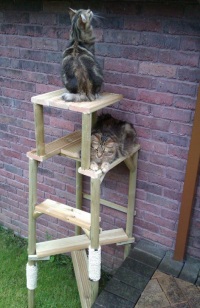 introducing tilly and cub, who are exploring their new watch tower.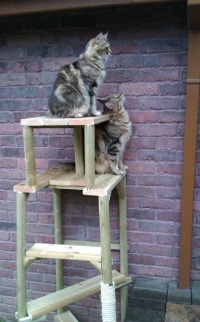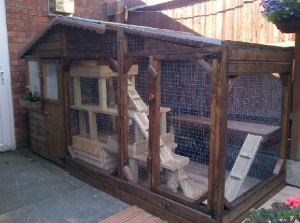 This is sylars, who was left blinded after a traffic accident, his owners wanted to give him the best quality of life and had this great outdoor enclosure built for him. We was able to make a few small changes to one of our frames and he now gets to enjoy being outdoors and climbing again.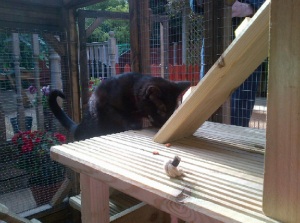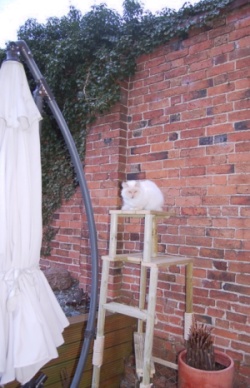 From the moment it arrived they were all over it, and every morning they go an sit and watch the birds after breakfast. Its Great! Just trying to decide what to get next………… Kind Regards, Lisa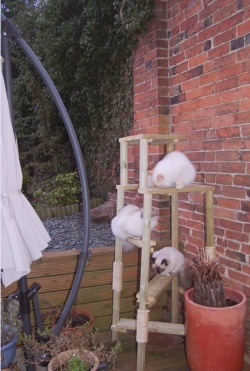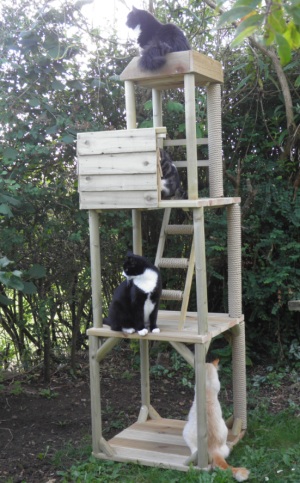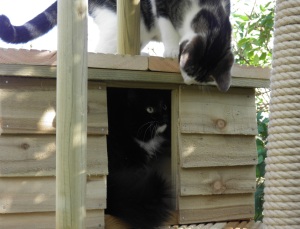 With a 5 cat household, Laura need a big frame. and a missy's den fits the bill. she tells us the cats love it, and it becomes a race to the top.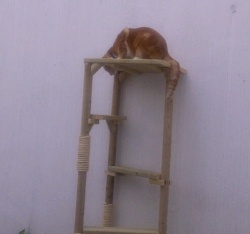 He is Garfield, living up to his name. exploring his new outdoor sky ladder. His owner Kim said he was soon exploring and found his way the top in about a minute.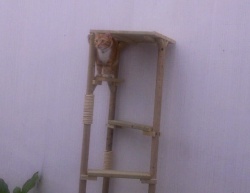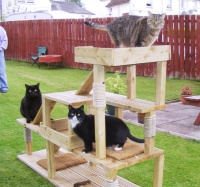 I will let Margaret, introduce her 3 little ones.
The 3 cats on the tower are Rosie who is a tabby girl, Ebony my black and white girl, and Jake my 3 legged black boy (the one with the huge eyes). I highly recommend this tower to anyone who's willing to spend a bit of money to give their cats a great quality of life.
Thank for shearing Margaret.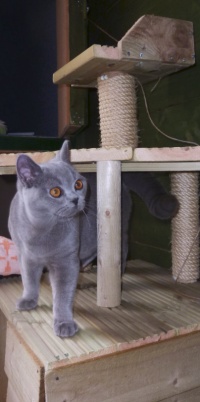 Here is Anna and Marlow inspecting there new there tier enclosed frame.
Ron, There owner from Murraytails.co.uk says all his cats gave it a thumbs up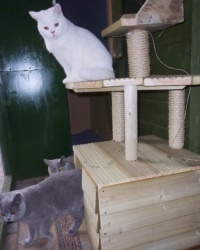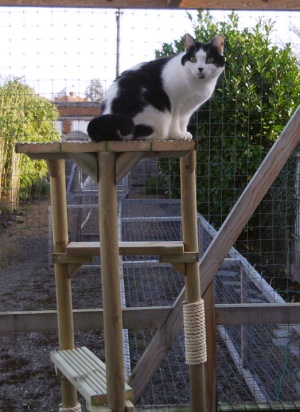 Here is Misha,
She wasted no time climbing to the top of her new sky ladder, in fact she was half way up before it was unwrapped. Misha is one lucky cat, not only dose she have a sky ladder to play on, if you look in to the photos you can see she has a 70 ft (yes 70ft) cat run to play in.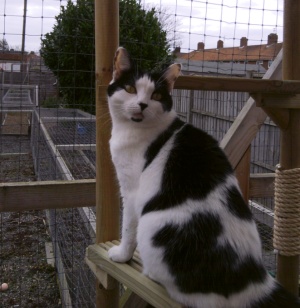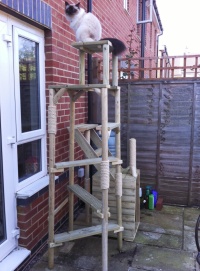 Thank you to Rhea, for sending us this photo of her "LION",
(well that's what the courier thought she had in the back garden). He is sitting a top a custom build tower.
At over 6ft high some one as a head for heights.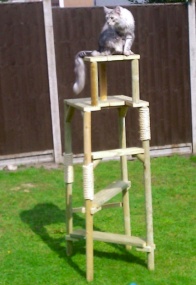 .
Here is Karl and Kylie sitting on top of their watch tower, the tower is placed in the middle of the garden well away from the fence as he has become a bit of an escape artist. Thank you Debbie for the photos.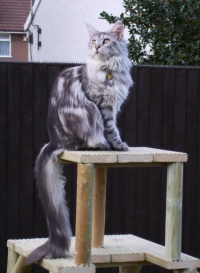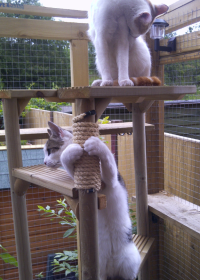 How many cats can you fit on a sky ladder.
2
<-------------
3
--------------->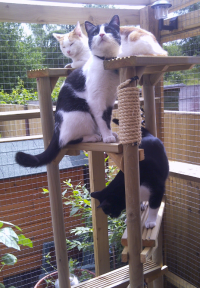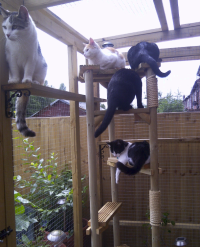 5!!!!!
<-----------------

Time for some crazy celebrations
--------------------->

Thank you to Laura and her cast of thousands for shearing these great photos.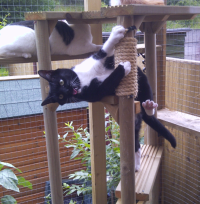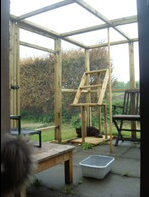 Some new toys for the cats of the Maine Coon Cat Diary. You can read up on the adventures of sophie max poppy here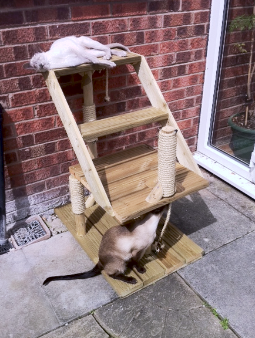 A 3ft window stepper with added scratch post.
Ranji, Lucy and Tasha owner had this to say "All of our cats love it, they have discovered they can now use the kitchen window as an exit/entrance"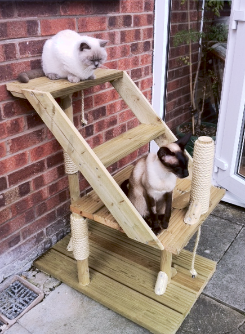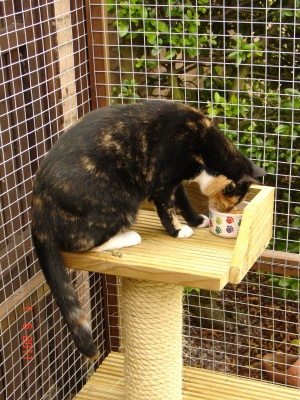 This is Issey-Padstow, and her owner Alison had this to say.
She loves her tower and needed no encouragement to use it for the first time.

There is a heart warming back story to this cat, and you can read it here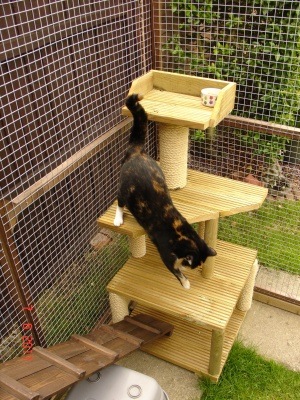 Kiki and Kolo enjoying their new outdoor cat climber
There owners sent us a testimonial saying.

It's sturdy and very well made but just light enough for me to move around the garden.
Thank you Oilve.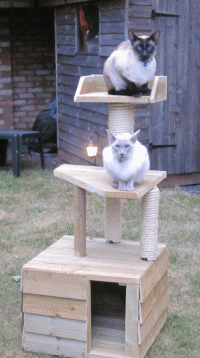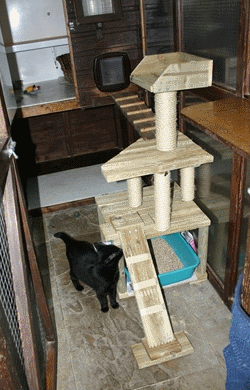 Here are some of our three tiers being used by the cats protection
jane from the Hillingdon branch had this to say
The reason your climbing trees are so ideal is because

1. When a cat gets adopted the pen unit and everything in it has to have a deep clean so that so germs can't get passed from one cat to another. Ordinary climbing trees rarely last very long.

2. They are very sturdy and not likely to topple over.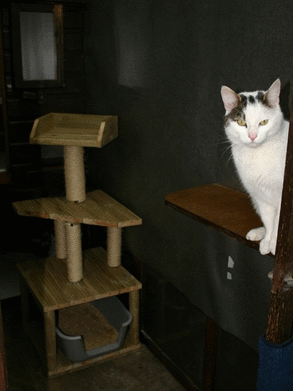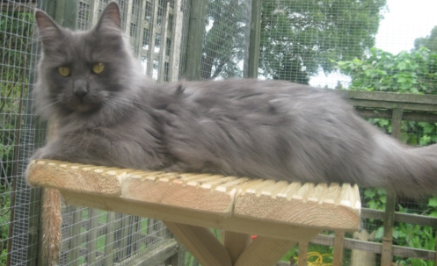 Elizabeth P from Hamshill-cats had this to say after receiving a cat pole from us.

"Many thanks for a beautiful outdoor cat tree, loved it so much that I brought another the same day the first was delivered, I breed Maine Coons and as the largest domestic cat in Britain they need a sturdy cat tree"
Here are some cheeky photos of them ascending and descending the outdoor cat pole.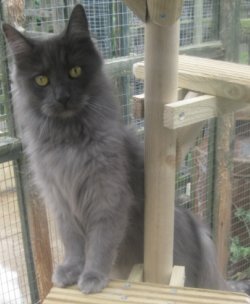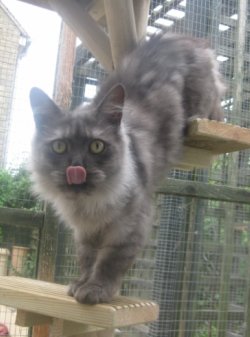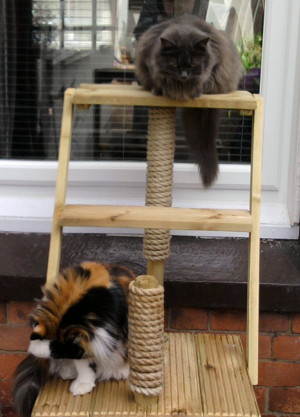 Miss Price Jones said "Thanks for your swift workmanship and communication, I would definitely recommend you to others".
This is Lily & Fudge enjoying their window stepper.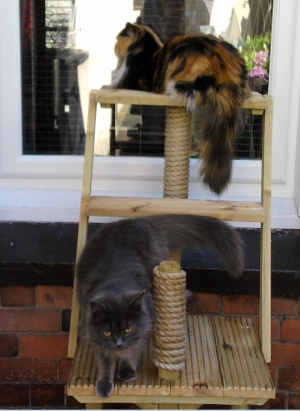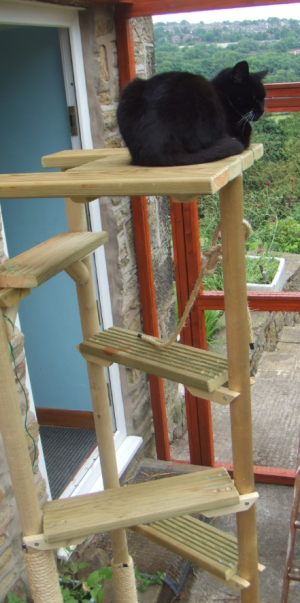 Laura R "it's brilliant to have something like this that is specially made for the outdoors"
Amelie loves the views from being up so high, and finding new ways of getting to the top of the sky tower.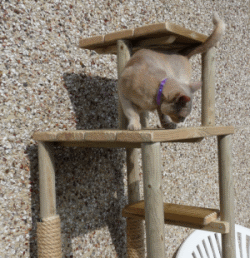 Introducing dolly, who is inspecting her out door watch tower for the first time, her owner said "she needed no persuasion to climb it."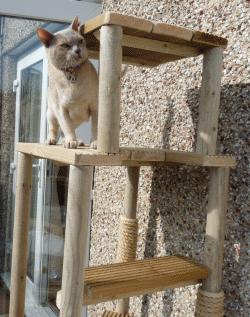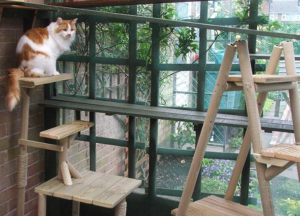 Miss Shannon "they are really great quality, worth every penny and totally ingenious"
2 of her 3 kitties enjoying their new frames, (the other cat is camera shy)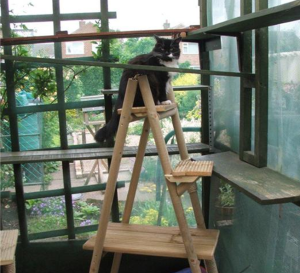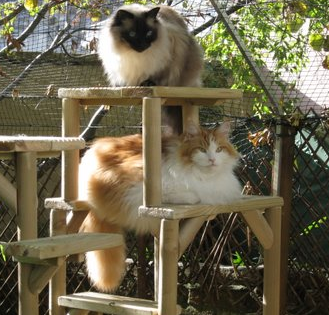 Two lovely cats enjoying there outdoor watch tower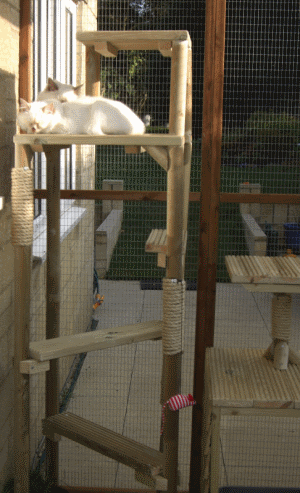 Alfie and Roxy the Birman kittens, love their watch tower and over sized play tunnel. Carol S, (there mom) said "We think your products are excellent and would definitely recommend you."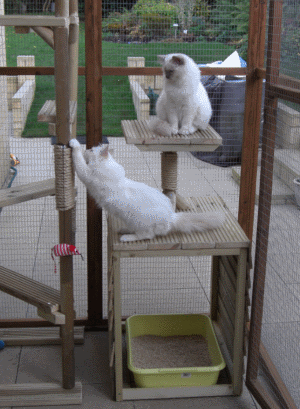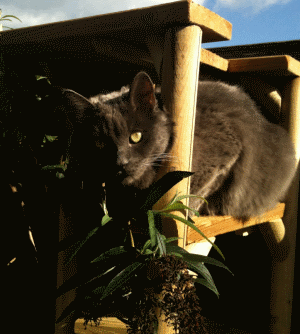 The sky ladder being used "very cleverly"
as a ladder to the top of the shed.
Here is "blue", near the top of his very well camouflaged sky ladder.