Welcome to the 11th !!! yes, 11th page of customer photos. please do keep sending in the photos, we do love to see the
m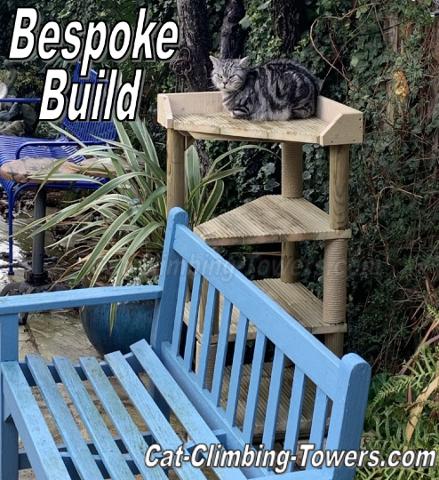 Hi Dave,
Cat tower arrived on time. Fantastically well packed! The cat loves it and I'm very pleased.
Thank you and happy Christmas.


Jackie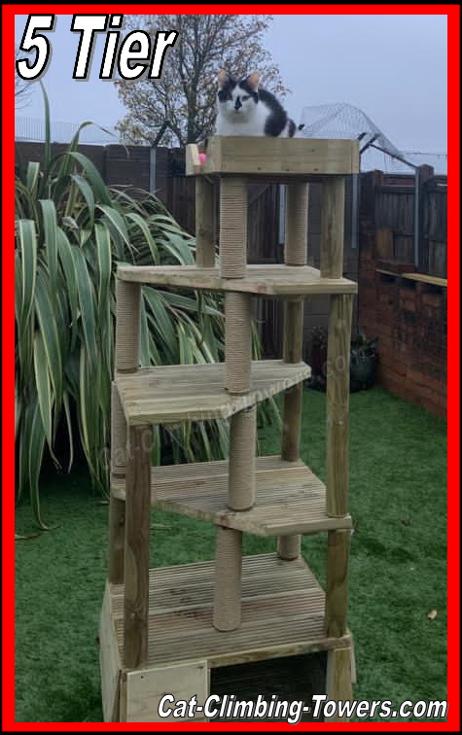 Hi Dave,
We are so pleased with our lovely cat climber and Ernie absolutely loves it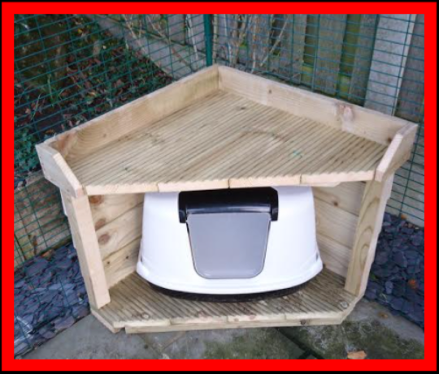 A bespoke build today, where the customer wanted a housing for the cats outdoor loo, i think you will agree it does a great of hiding the loo and give the cat a nice place to sit afterwards.
The frame is 60cm by 60cm, and 50cm in height, and is designed to fit this cat litter tray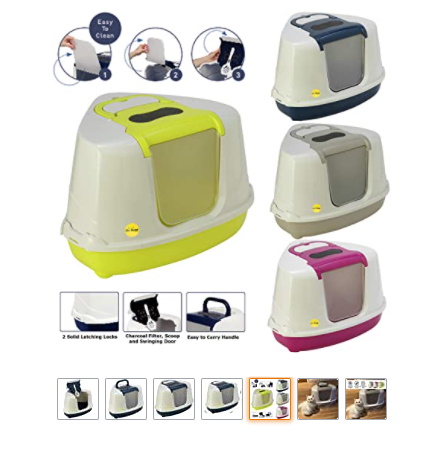 we are happy to take commissions for other litter tray sizes
A bespoke build for a customer, who was fed up , of the cheap Chinese outdoor house, that her cats could not fit in to, and had not lasted a year before starting to fall apart! Needless to say she and the cats are overwhelmed with new frame.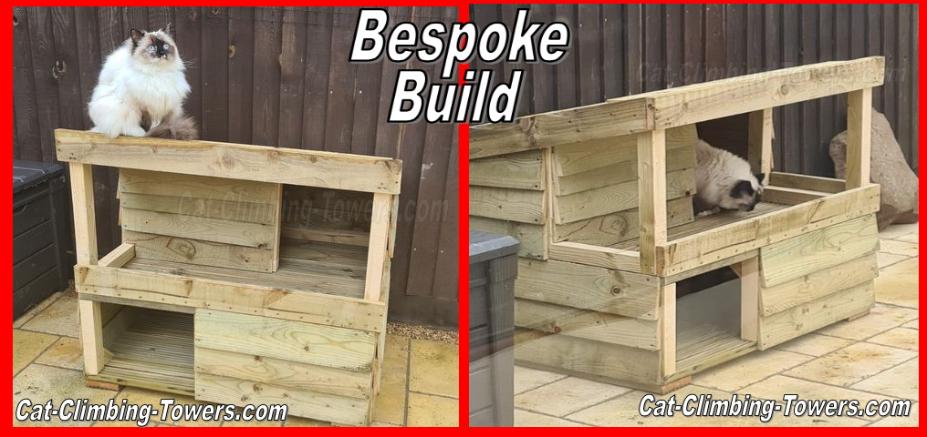 Hi Dave and Vicky
Just wanted to say thank you so much for delivery of the High Rise Harry's Hang Out. The boys went straight over and used the scratching poles before exploring it (photos below).
This is the 4th product we have brought from you and as always it is beautifully made, packed so well and the best part is not having to assemble it!
Best wishes
Suzanne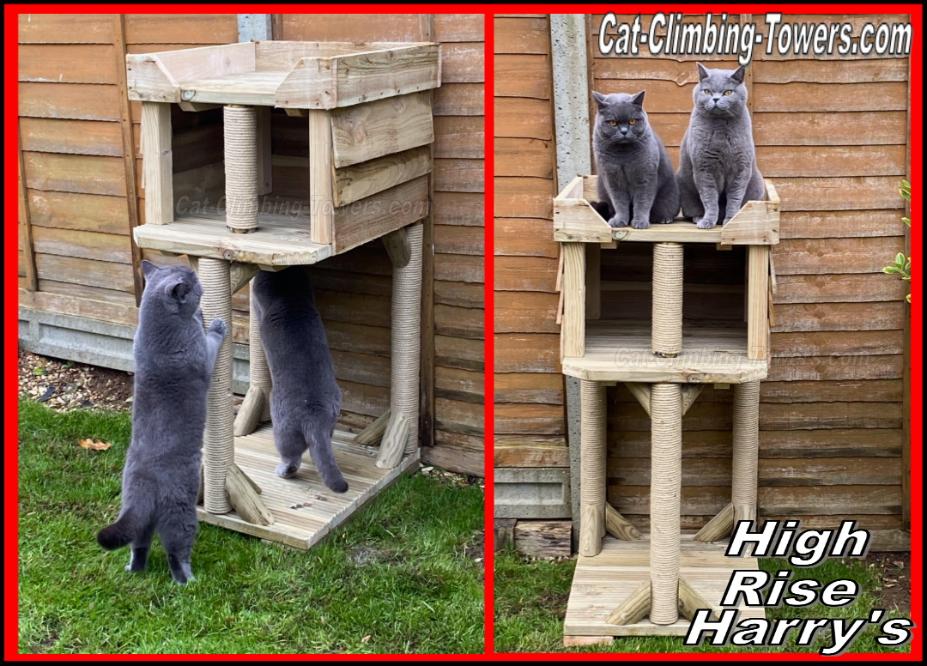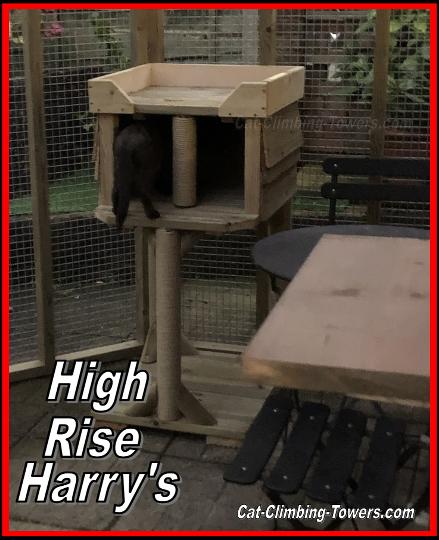 Hi David and Vicki
My High Rise Harry arrived yesterday and the cats took to it straight away. I have just moved home and had a brand new catio built for my 7 cats. I felt it was just missing something so that is why I ordered from you after finding you online. I am over the moon with it. The quality of the workmanship is outstanding. And the design is very well thought out. One of my cats (Andy) in particular took a big interest in it. He sits in the covered area and won't let anyone else in! I am sure that it is going to be very well used over the years. Thank you so much.
Kerry and The Kitty Krew 😺
Hi Dave,
Wow I really live the castle, my tabby Bobby went straight to investigate and lives it, my other boy preferred the wrapping.
Enclose 2 photos of Bobby.
Thank you so much for all your hard work.
Take care and keep safe and well.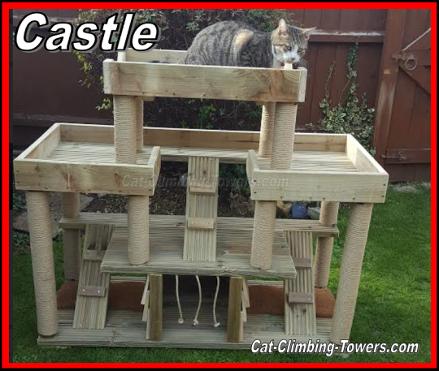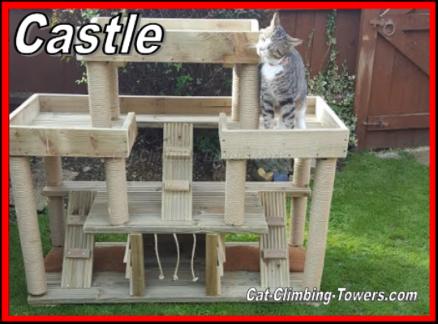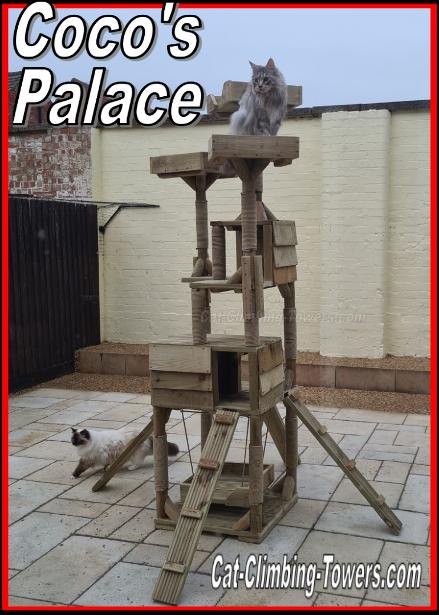 Thank you
They love it. Will send some more pics as I get them but here's one
Morning!
Just wanted to say thank you so much for the cat tree. It has arrived safely and in one piece and the boys love it! After reading your info I'd expected them to ignore it for a day or so but they jumped on within minutes and have had a good play! One has been sitting on it since I installed it this morning!
I've attached a photo and will send a couple of videos (in a separate email because of their size) of them playing and a photo for you to see it in action - they've been very obliging!
(More so than with a very expensive bed I bought them, where they sit in the cardboard box it came in instead!!)
Thanks again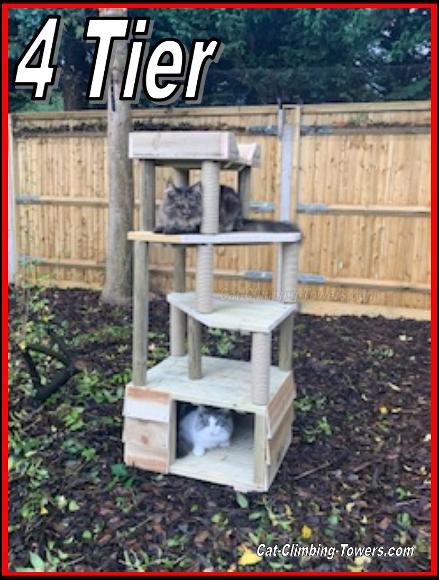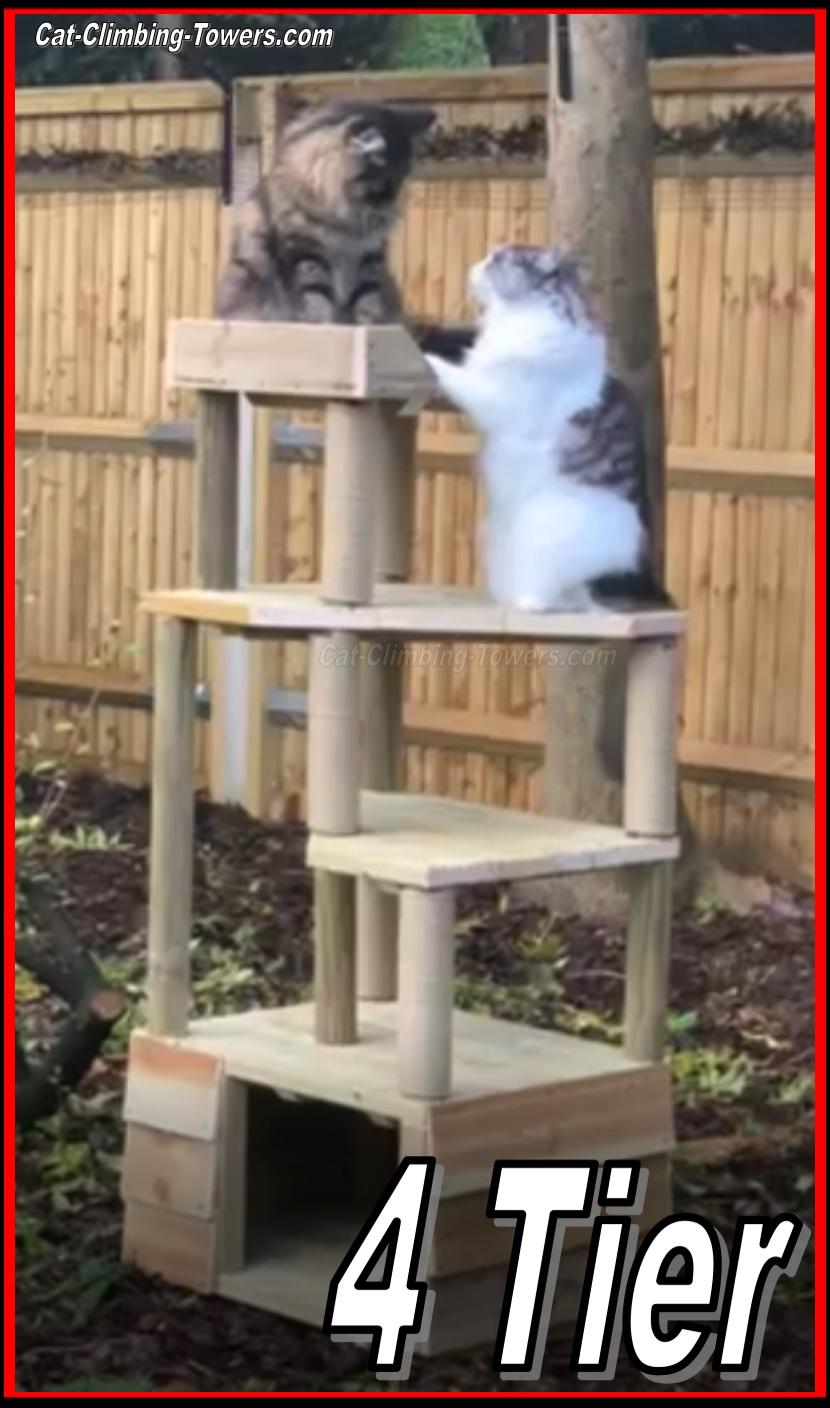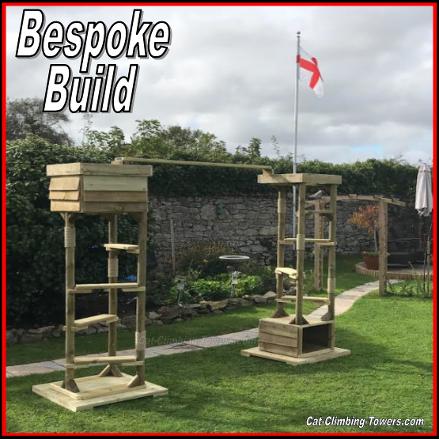 Hi
Well, we've managed to put the climbing tower together and it is very steady and sturdy. I wasn't quite sure how the walkway should attach but it has gone on very securely.
The packaging was absolutely excellent and even the rain last night didn't get through. I love how sturdy the frames seem and all we need now is for the cats to use it. Being Ragdolls they will take a few days to get used to something new in their garden. I will try and get a picture or two when they are using it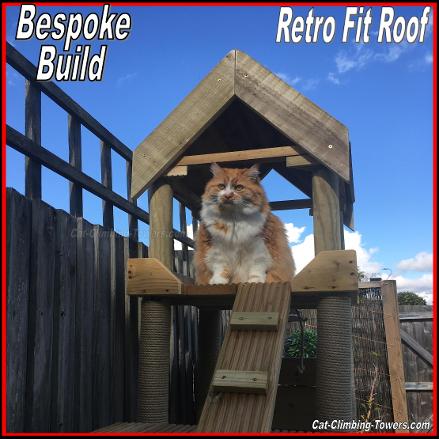 so we had a request from a past custom, to see if we could make a roof for a royal mews that they had.
as you can see, both the customer and Lucy, love the new roof.
..........................................................................
Thank you so much!
Lucy LOVES your new roof for her Royal Mews that arrived safely today and Paul was very impressed how you made it so easy for him to attach it. The roof gives Lucy that full castle feel.
It's The Royal Chat-eaux! You really should add it as a complete option to buy as the roof really looks super and makes the top level all weather suitable.
Thank you once again for supplying the best of the best for my Furbabies!!
Warmest regards,
Michelle
(And love from Ori, Kaos, Kismet, Cinnamon, & Ember)
A bespoke build based on the High Rise Sally's Saloon Frame
Hi there,
Thank you so much for delivering and putting up the climbing frame for me today. Bertie absolutely loves it! Here are some photos attached.
All the best.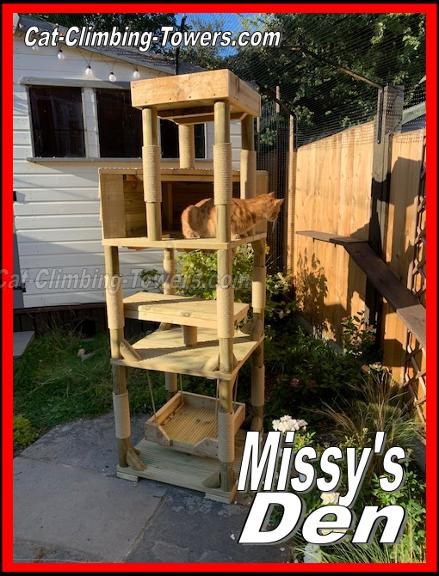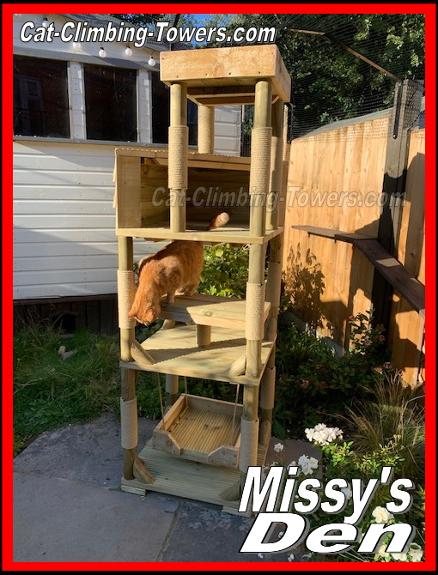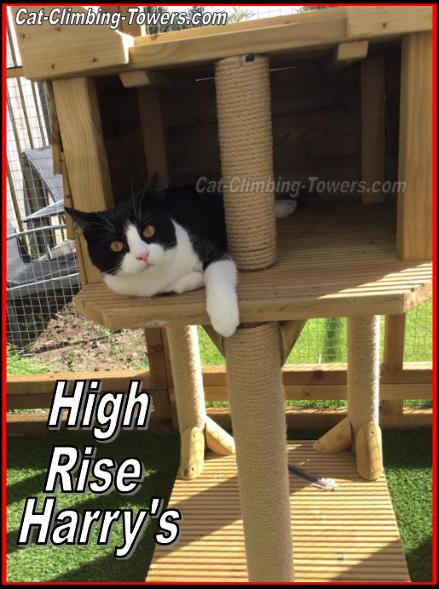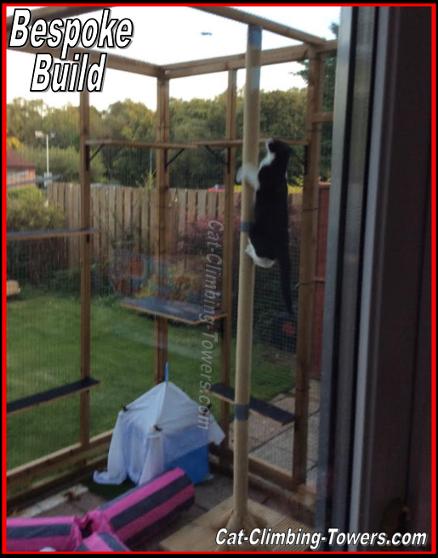 A few photos from today's delivery. it did not take long for Mikey, Pris and Justin to start to explore the frame.
safe to say, happy cats and a happy owner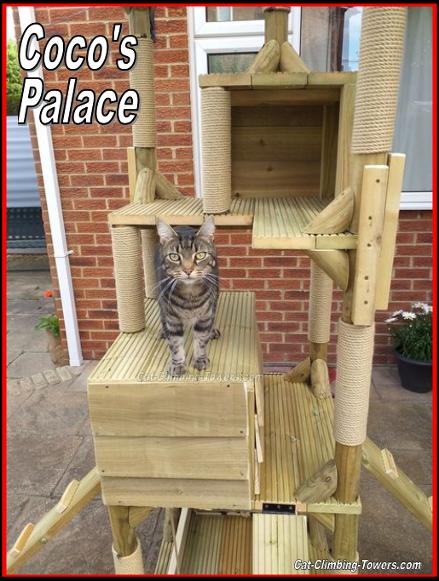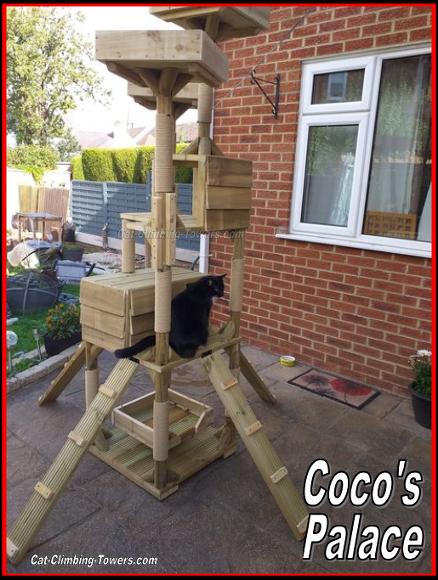 Dear David,
Thank you very again for the awesome cat stand! Our boys are super happy. They can't have enough climbing and watching bird on the stand all day.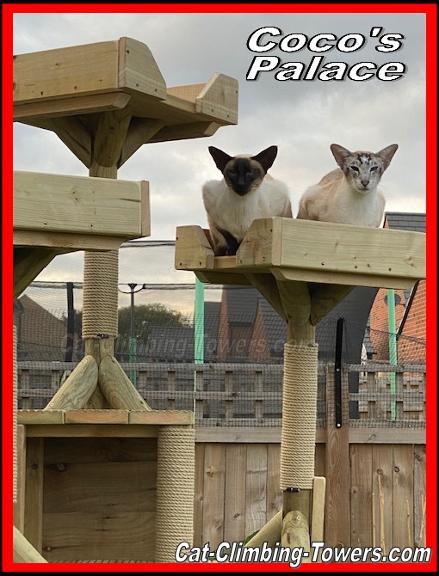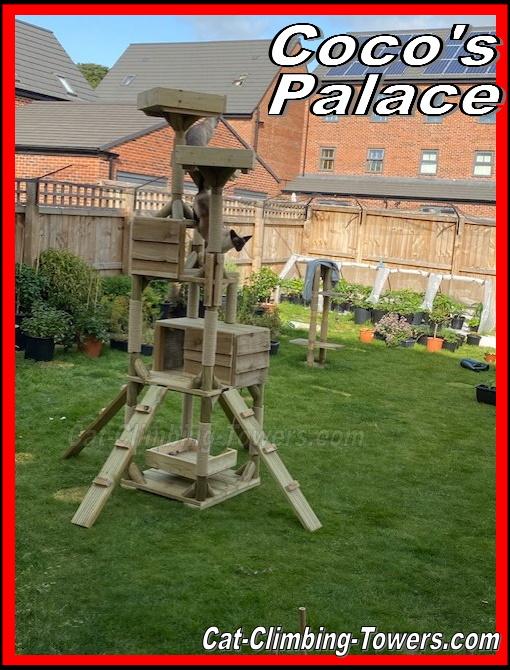 Hi David just to let you know its arrived at 3pm today
Thanks for your help.
The cats love it already before I put it in the garden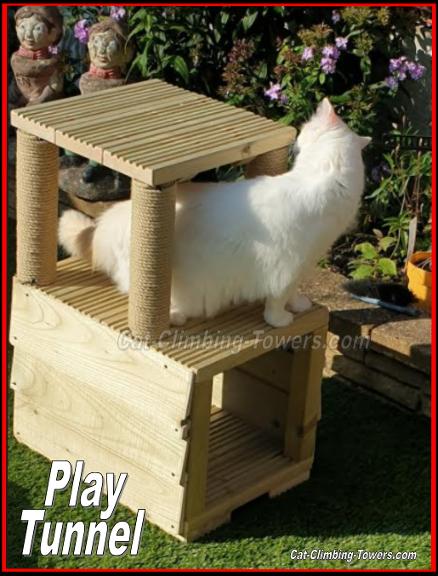 A bespoke build based on the sky ladder, main difference being 30cm shorter . we was happy to make the changes for the customer, and as you can see Otto has a new favorite place to spend the day.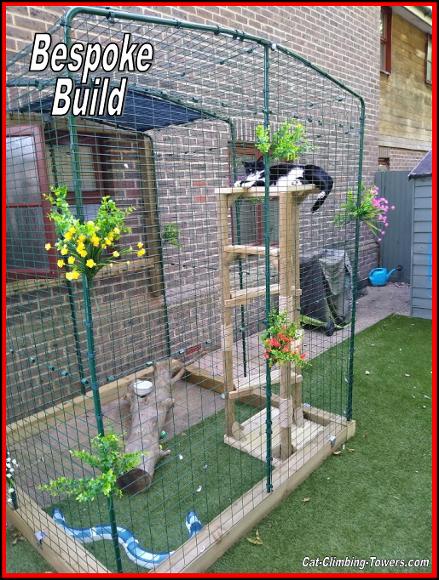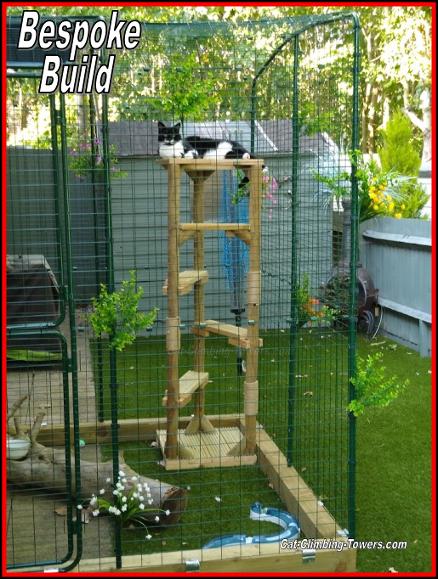 A few photos from this weekend's delivery of a Royal mews and train set.
as soon as we finished the build the cat was all over the frame exploring it !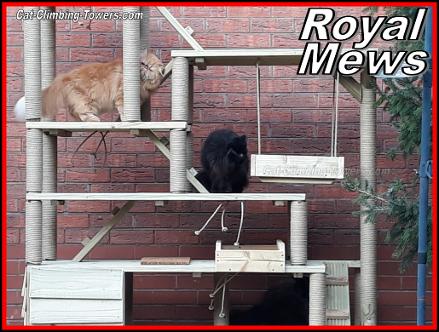 The Official Inspection, the Takeover, and the Approval! Many thanks, Sammy loves it!
He likes to have space around him, so the size is perfect.
I will send more pics when he is inside shelter
Best regards Liz
A Bespoke build based on the harries hang out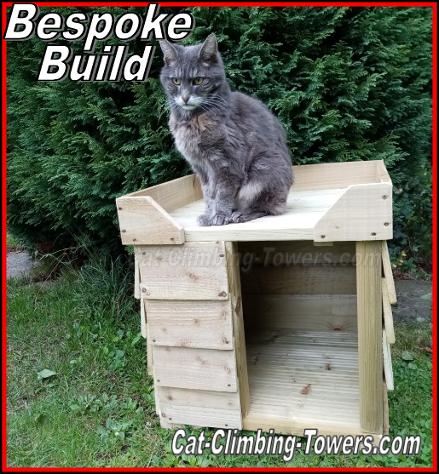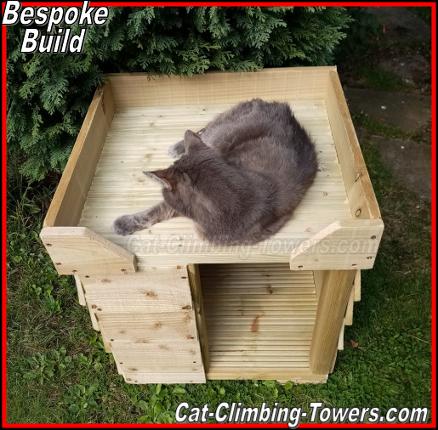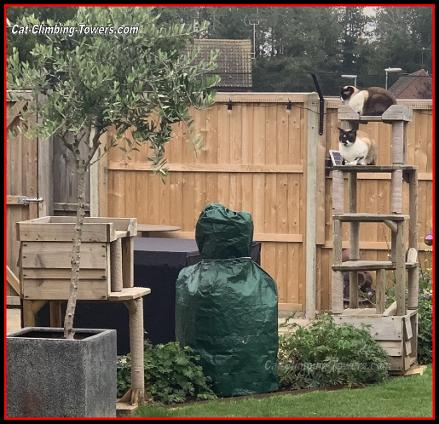 Hi David

Here is a photo of my two cats on one of their cat climbing towers.

They still use both. The big tower must now be 4 years old and the small one was bought last year.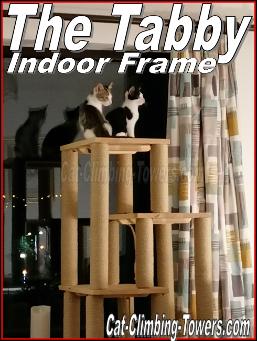 Straight from the pet crate to the cat tree - 4ft High and no fear of heights 😃.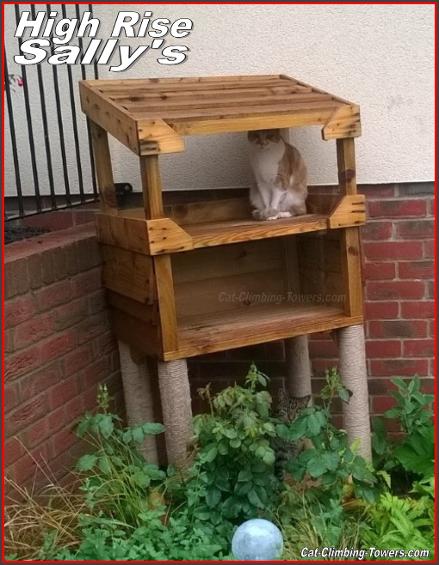 Hi Dave
I hope you are all keeping well.
You may remember we ordered a bespoke build cat tree last September. Sorry its taken so long but as promised I attach some photos - it was definitely the best thing we have bought for the cats as it makes perfect cover for either sunny or rainy days. The first picture was when we first moved in and there was nothing else in the garden! The last ones are now we have finished our garden and I hope you agree it fits in beautifully. The cats can take a shortcut through the railings which they do when wet. Apologies its taken so long but I hope it was worth the wait. Thank you from us and especially the cats Keo, Bella and Marmalade. Ann and Glen. PS. Bella can be spotted in the last picture in the plants on the bottom tier.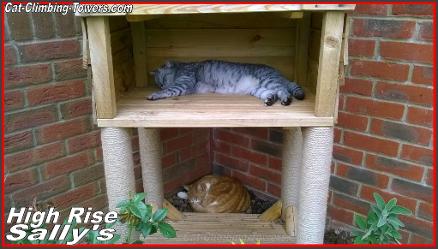 Thank you very much. It has arrived today and I'm really pleased with it. It's already in use as you can see from the attached photo. That's Maisie sheltering from the rain!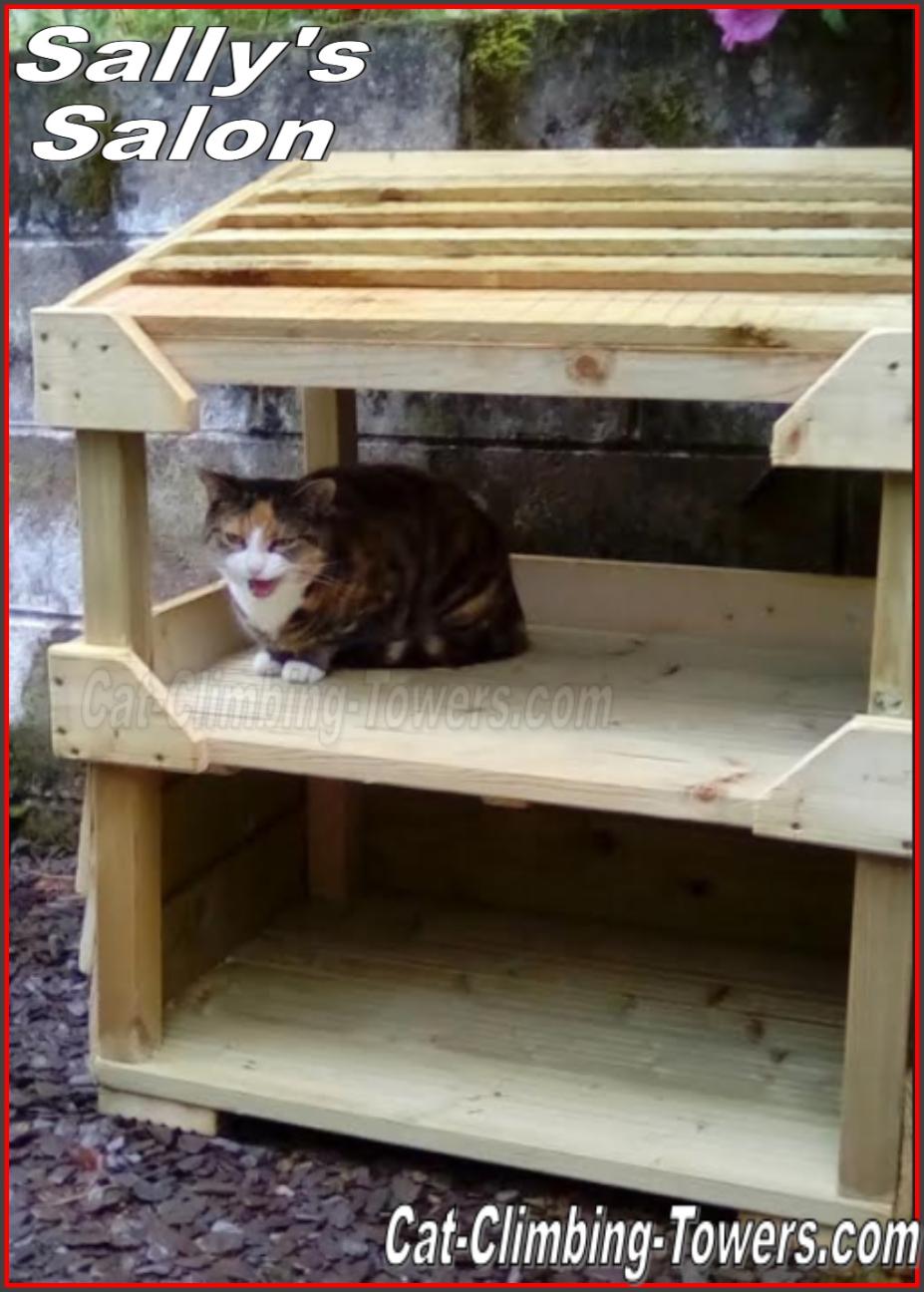 The boys cat castle was delivered today 😍 I'm so so pleased with it. Now all I need is a name and a flag for the castle 🏰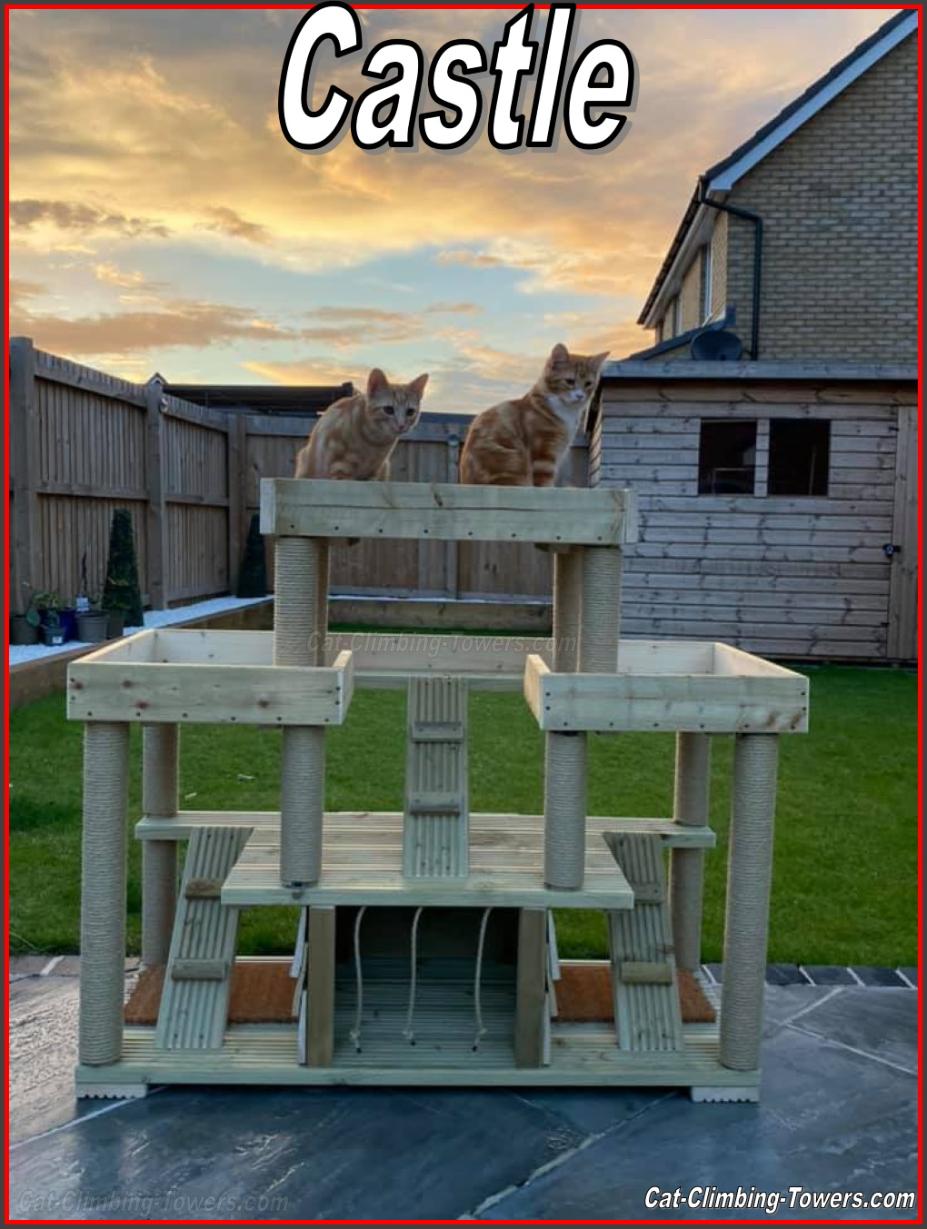 Hi David,Just ordered a 4ft Window Stepper from you.
Two years ago we ordered a Play Tunnel for the older deaf cat that we adopted, it's for him to use in his cat conservatory, here's some photos of Sooty Chopper using it. (still looking brand new)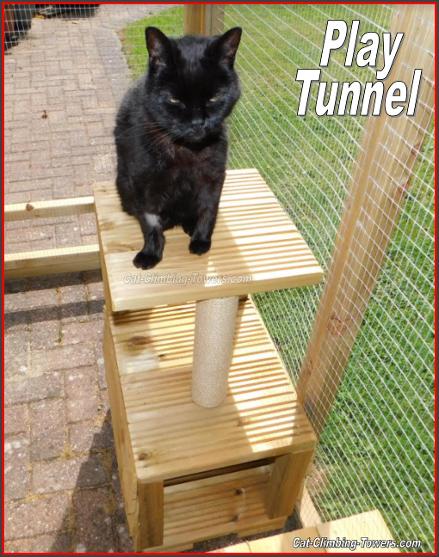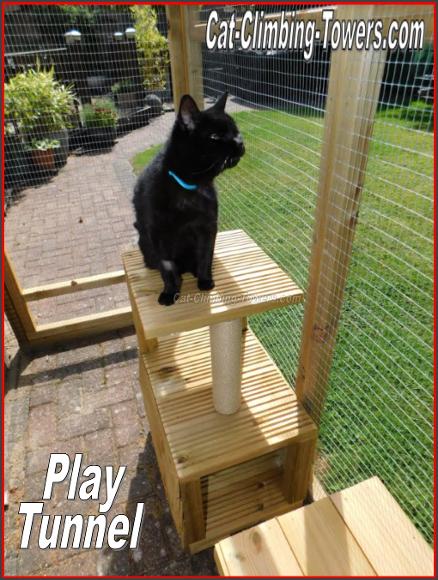 My new outdoor climbing frame arrived this week. My furbabies love it but there's always one who prefers the packaging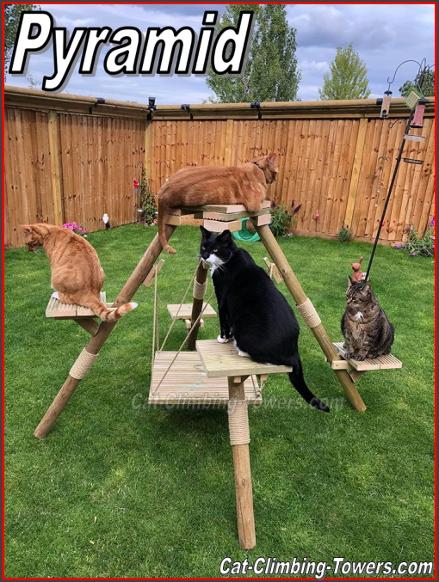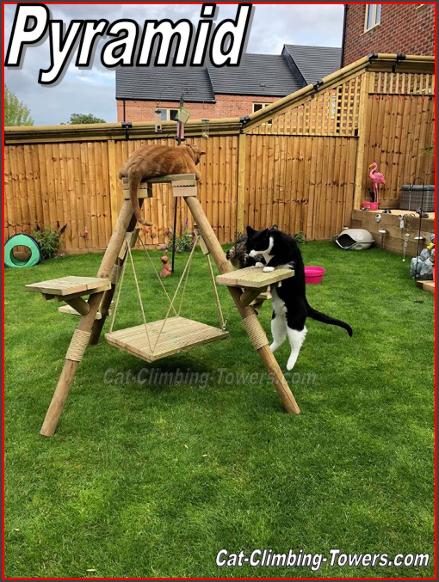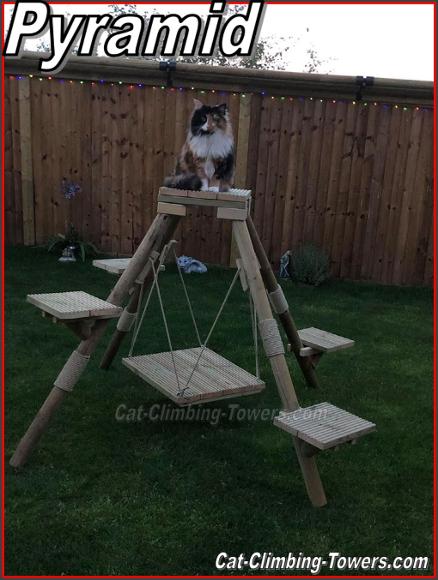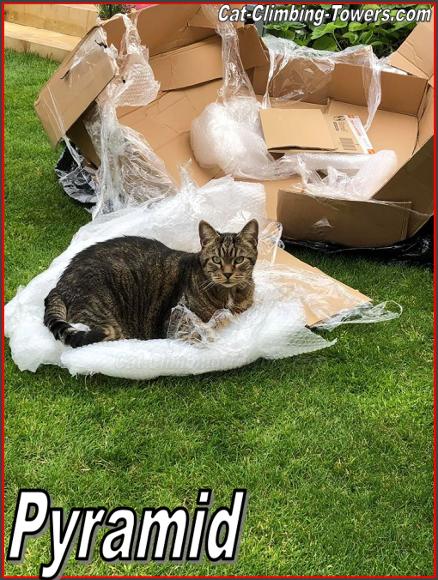 Hi Dave,
Please find attached, 3 photos of our Tuxedo boys now enjoying their new frame, which we have christened "Tim & Ollie's Castle". The roped poles are already proving to be an absolute godsend. It seems they can't wait to be let out into the garden to sharpen up their claws!
In every way, a great success, many thanks again.
Ann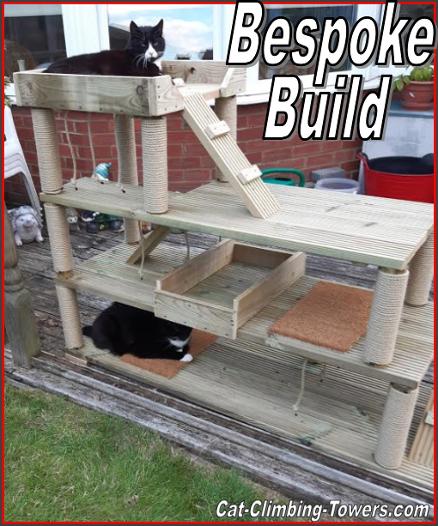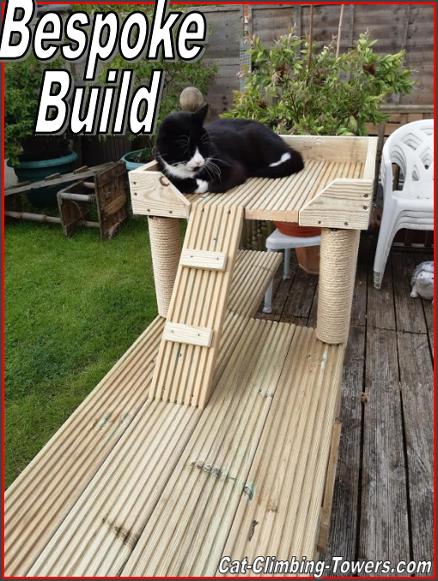 A "bespoke" Royal Mews, we delivered yester day, built to the customer's requirements.
10 points, if you can spot the 2 differences to the "standard" Royal Mews.
as we build each of our item from scratch, we are able to make changes to the frame to meet the customers' needs.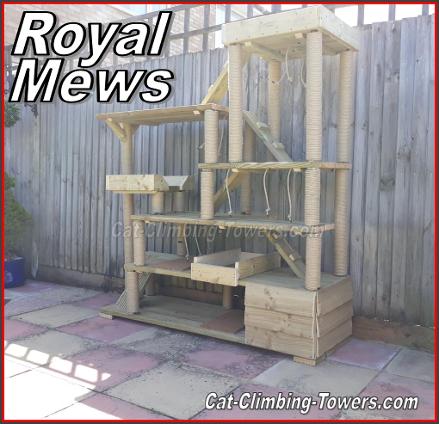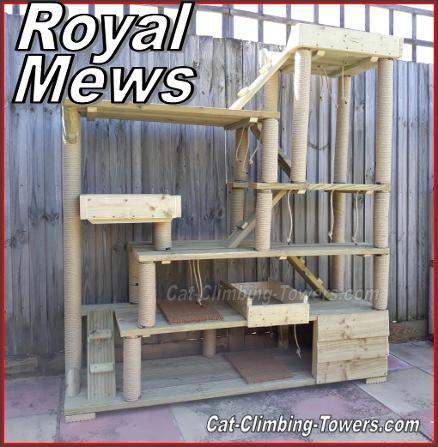 Marie wanted a bespoke build based on the castle frame, but with two extra "turrets".
we think it looks great and fits in great as the center peace of the cat proofed garden.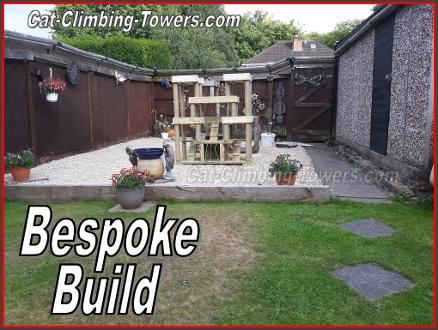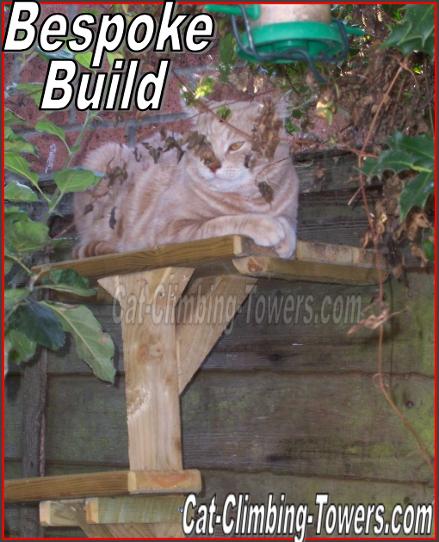 Hi Dave
Just found some more photo's of Bailey – he now has 5 of your towers!
Please see attached of 2 of them. He loves his latest one, where he can lay down and enjoy the sunshine and the birds!!!
Hope you and your family are staying well and safe at this difficult time.
Regards
Karen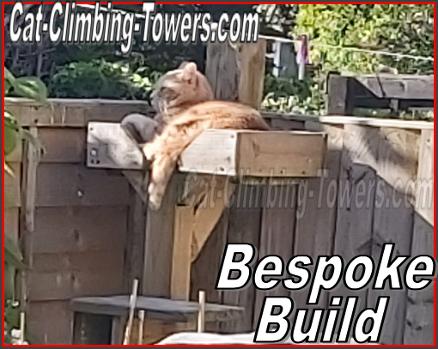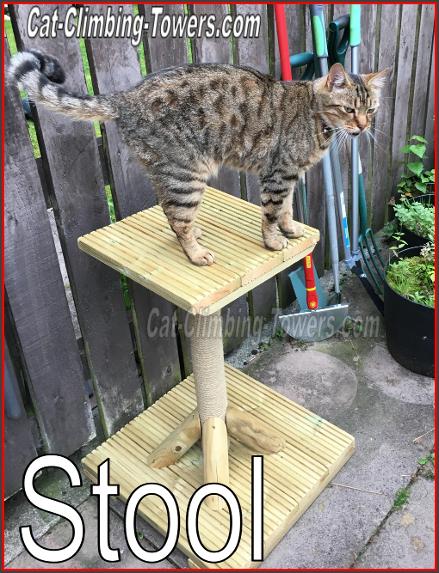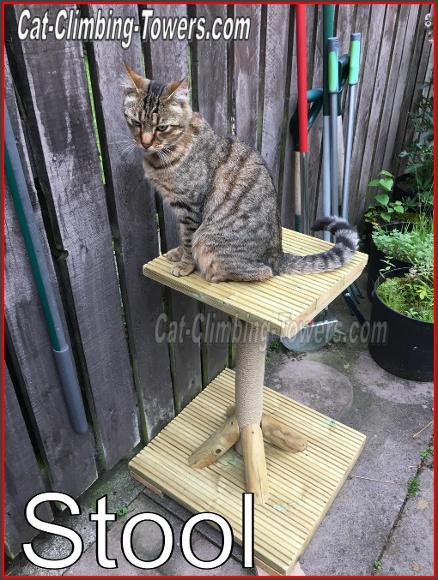 One happy ocicat. Thank you.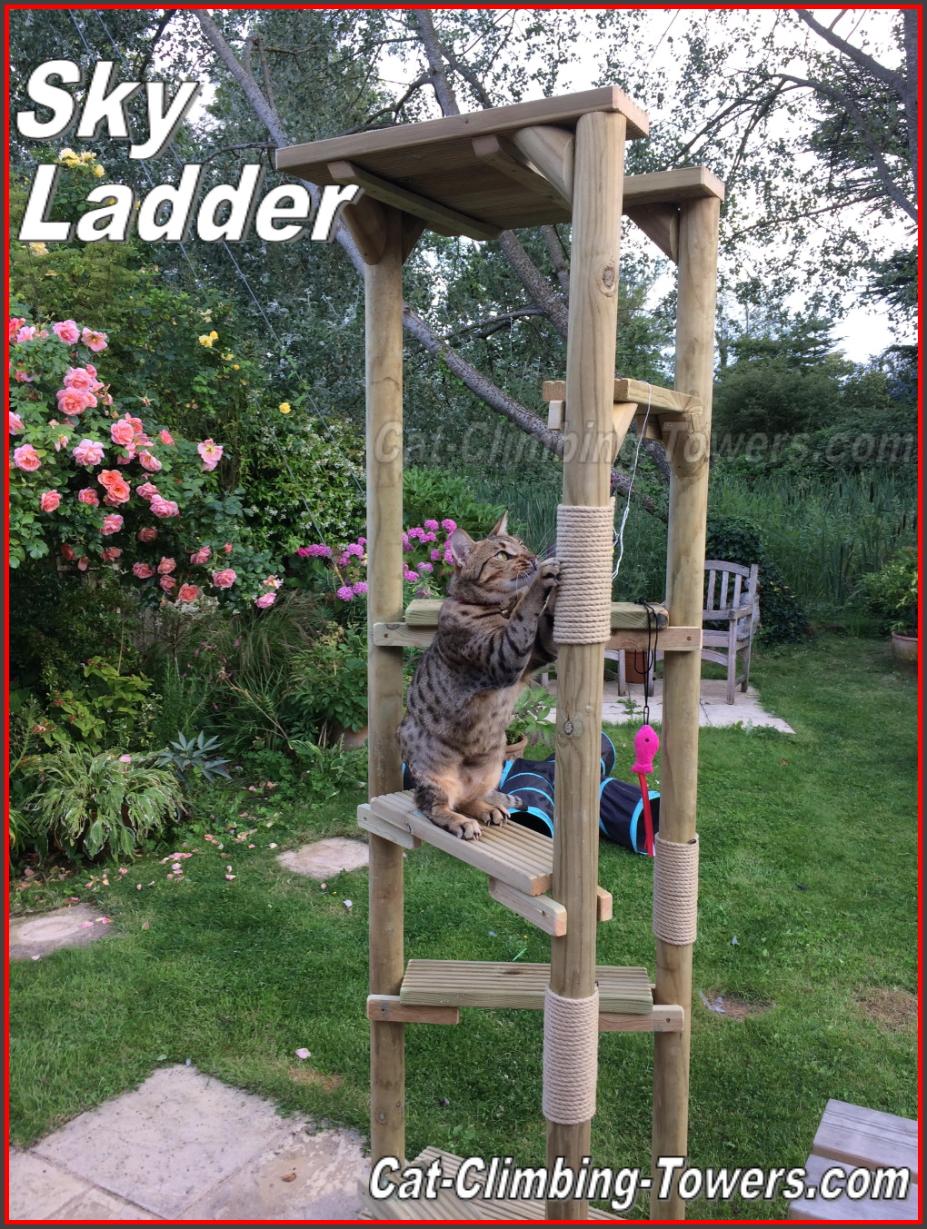 All safely arrived. Thanks so much, very pleased with it.
Not even put base on yet & the cats were all over it! Below is a photo of Nelly, who was first to the top, so will be putting base on tomorrow now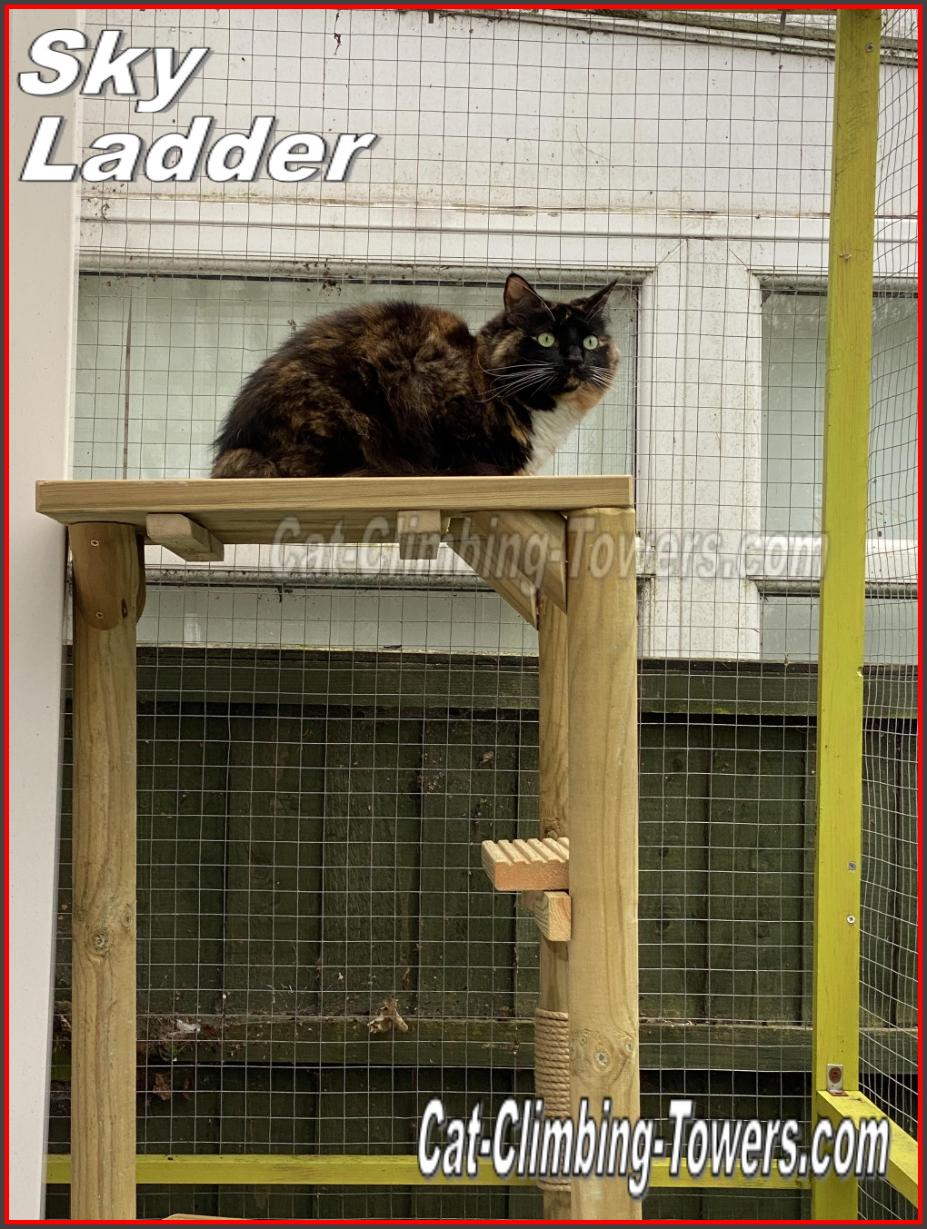 Arrive today thanks. Took 10 seconds to have a cat on it...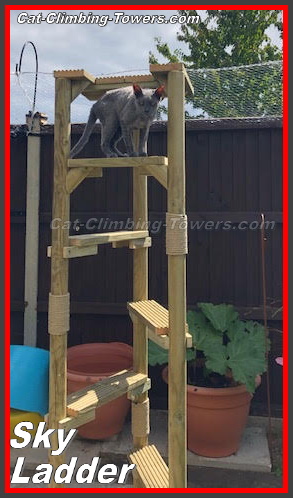 Another happy customer inspecting his new Royal Mews frame.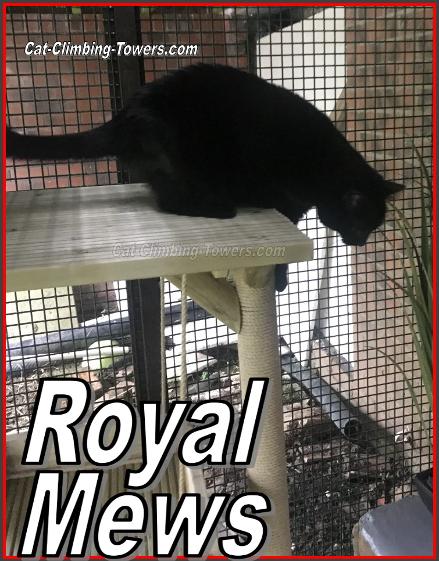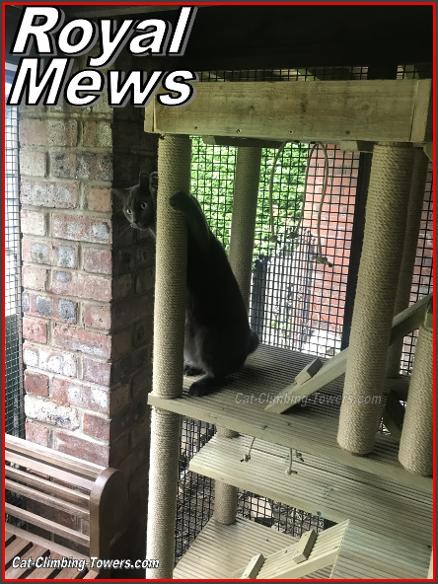 Hi David,
The platform arrived today and it's perfect! I've attached a video of our youngest tripod kitty using it.
Thanks again and we will definitely be recommending you to all our crazy cat friends!
Best
Ames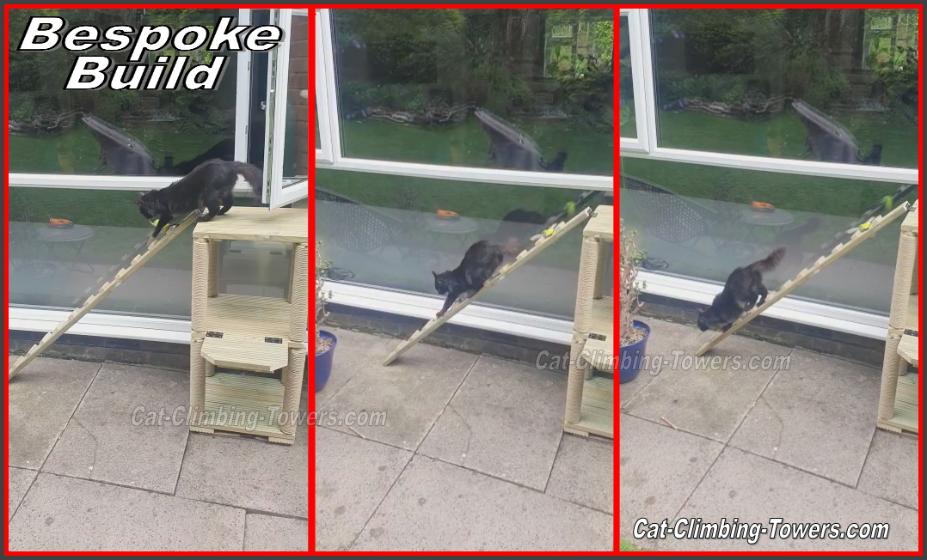 Thank you so much for our third tower.
Thought you might like to see Thor chilling out in the shade of his den- lined with a clean pillow case for comfort!
You make a massive difference to their lives- he couldn't be happier- he's got a shaded safe spot to snooze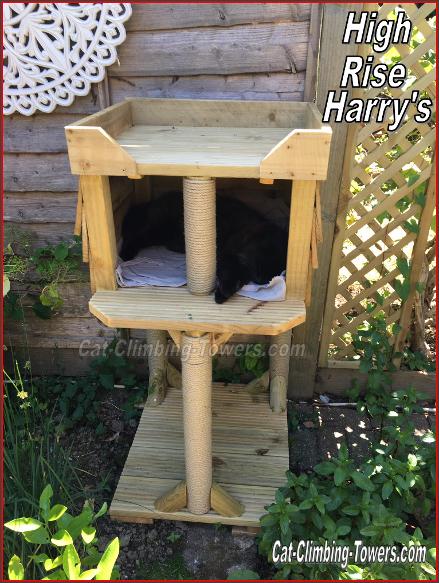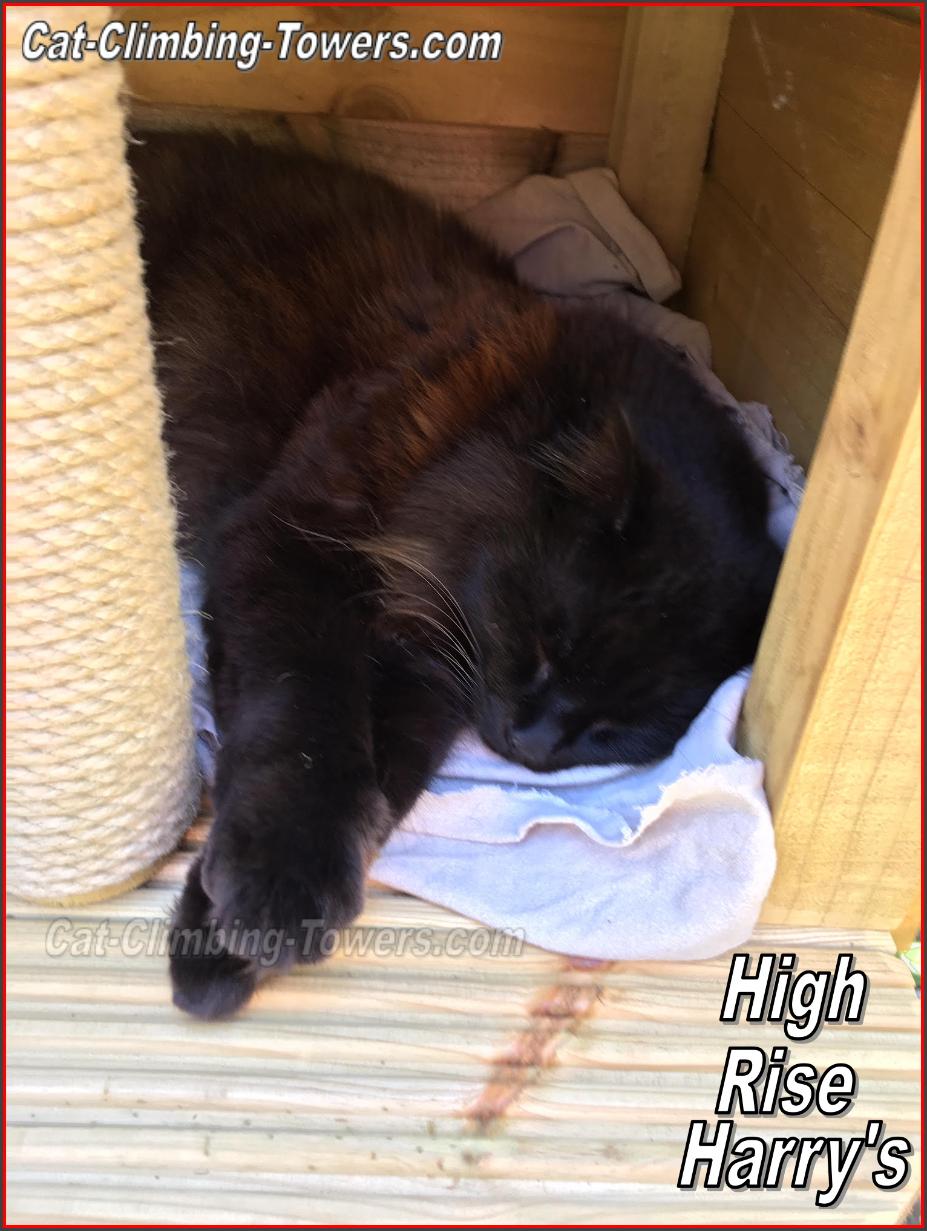 Hi Dave and Vicky,
Top part of tower received Thursday 4 June and major un-packing followed. Thanks for your help.
Great result and he is starting to use more of the steps to other surfaces instead of jumping up and down at height. Many thanks for the Tower and a few initial pics attached. Result!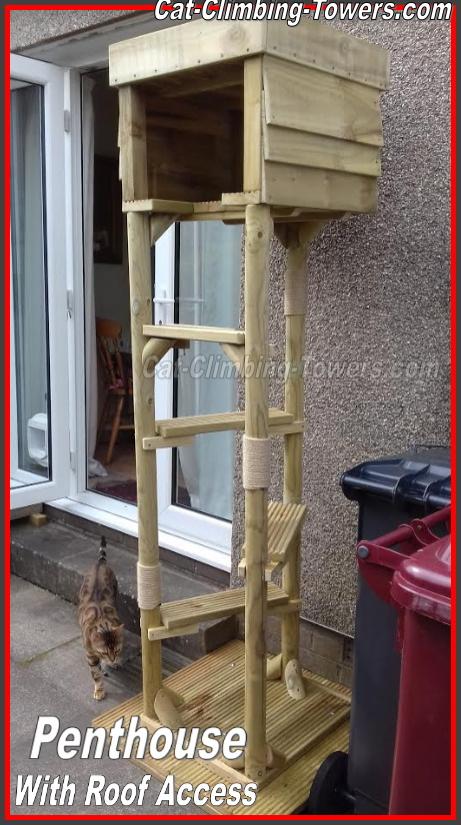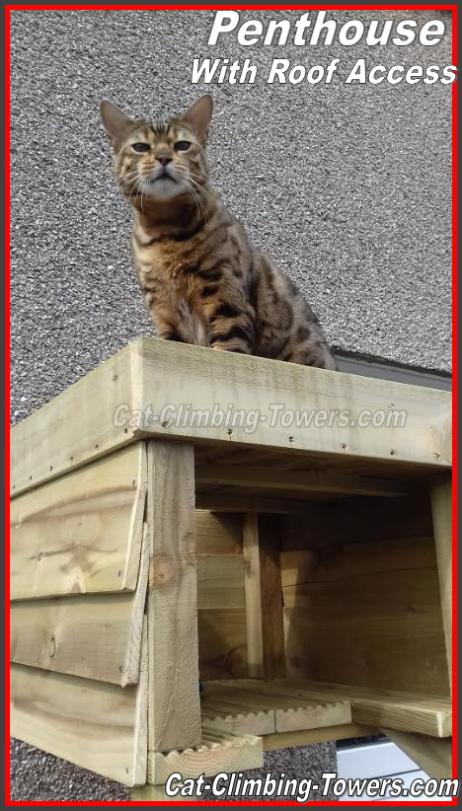 Wanted to let you know this arrived about 10 days ago. Have to say it was incredibly well wrapped!
My cats simply love it and it's very well built. I have a ProtectaPet cat fence as well so now my cats have their own space they never want to come in!
Thanks so much. Here's a couple of photos of my boys enjoying their new house. 😁
Lynne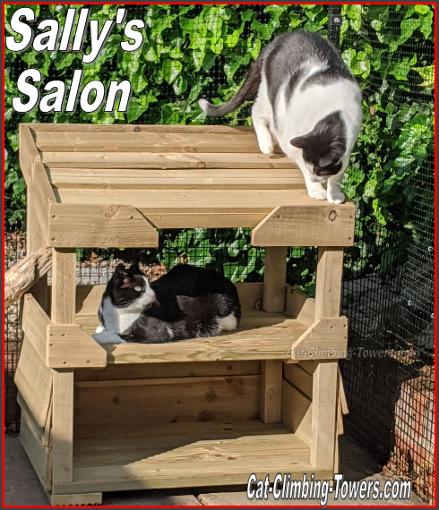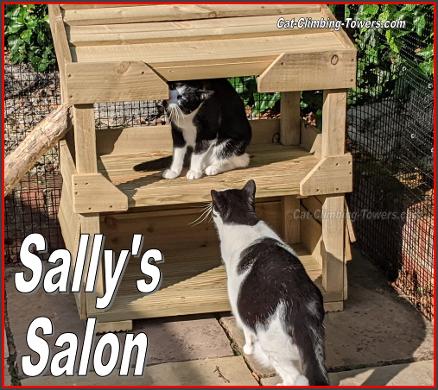 It's AMAZING!!!! I LOVE IT!!!
4 of my 5 cats have inspected it, and so far has passed the CAT scan. Thank you so much! I've attached a few pictures.
Kind regards,
Michelle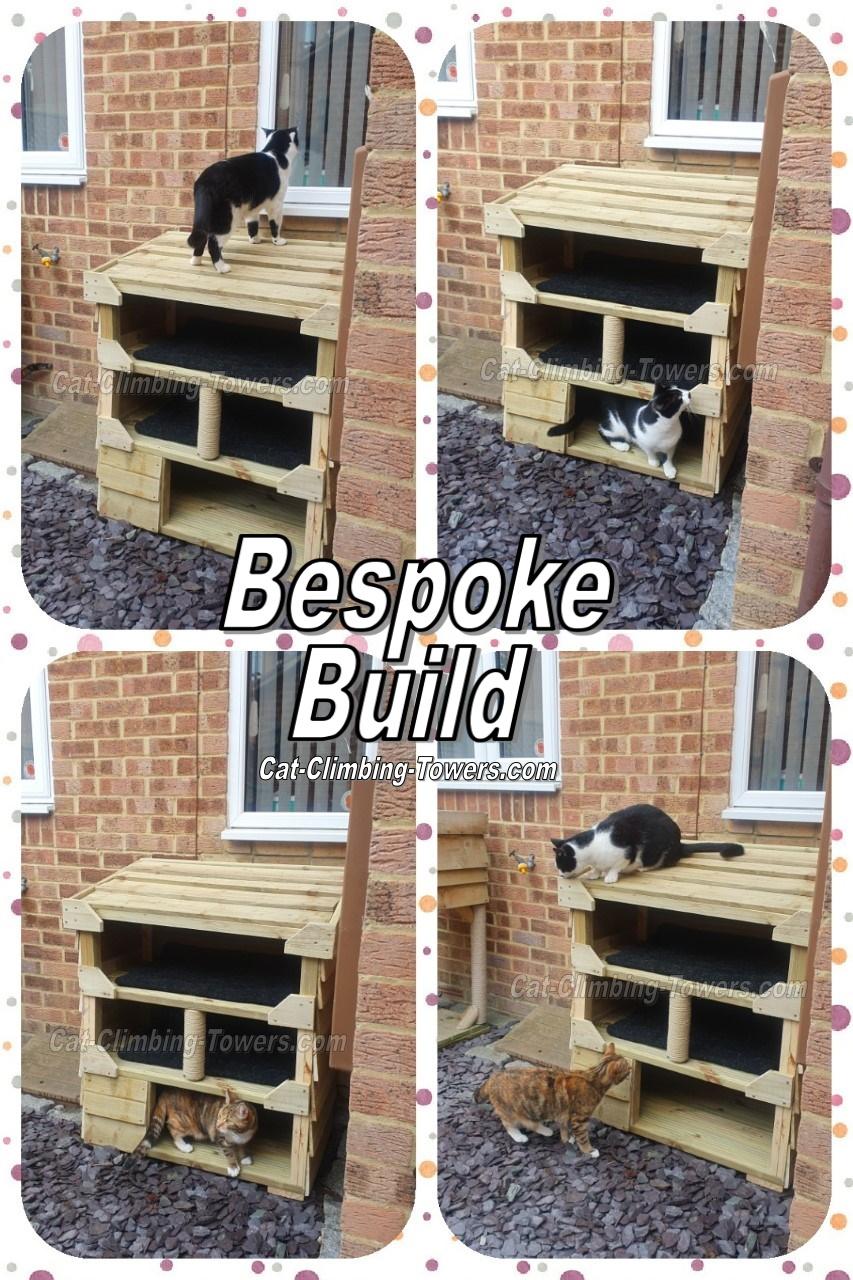 Good evening,
We received the tower today which the cats love,
.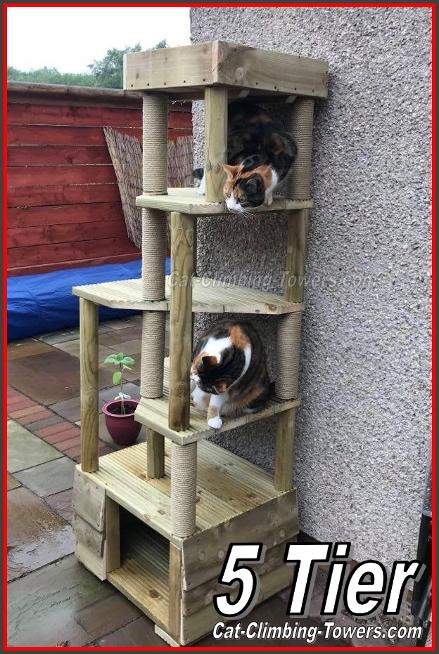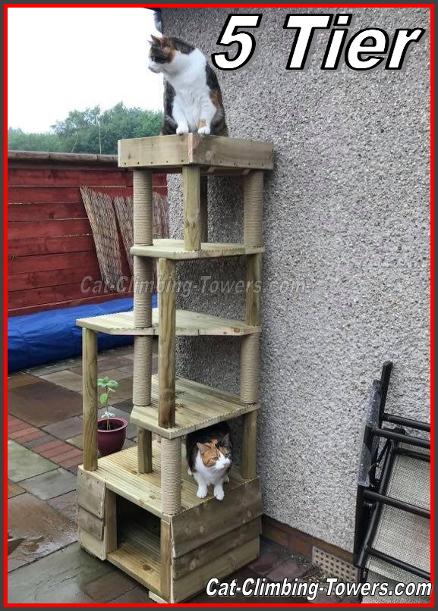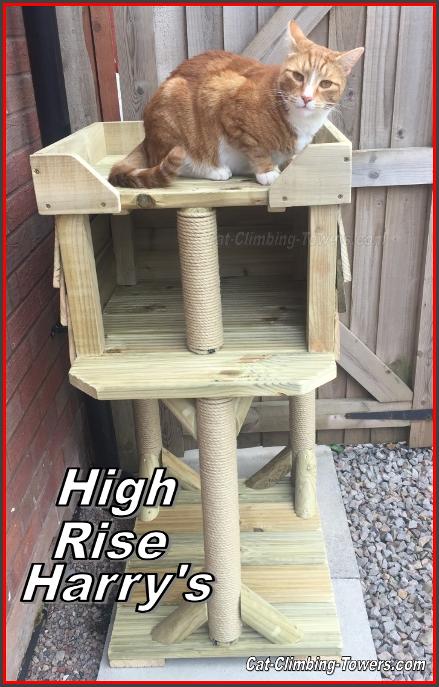 It has arrived and it's fantastic!!!!! Thank you so much. I'll definitely be ordering again soon.
A photo from yesterdays delivery of a Royal mews, that we linked up vie a bridge to a Castle that the customer all ready had from us.
Think you will agree, the cats have a wonderful adventure play ground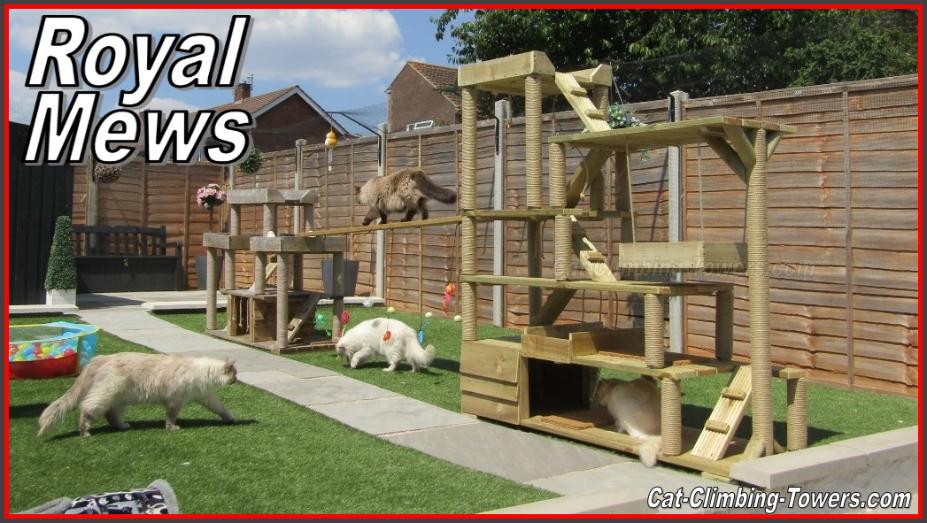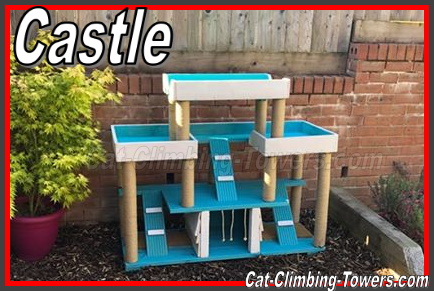 Thank you so much for the Castle! It arrived yesterday and has had a paint makeover to match our other cat tower but it fits in perfectly. The cats love it already, albeit more at night time due to the high temperatures of late. Thanks again
Hi David & Vicky
Just wanted to say thanks, very nice job and Milo was on it immediately! He especially likes the rope around the poles and having a sunshine snooze in the box.
Merrill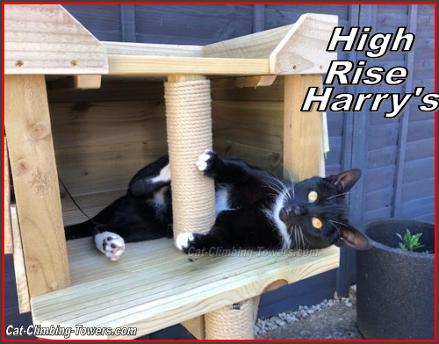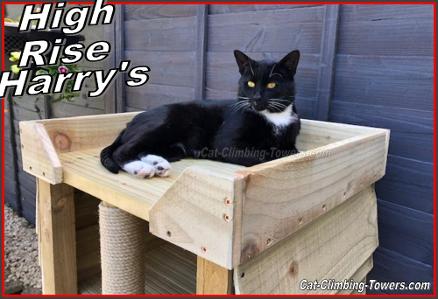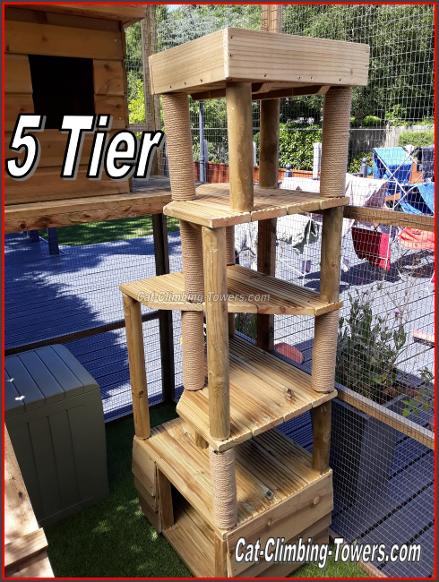 Another happy customer, taking delivery of the 5 tier frame.
Hello David,
I just thought I would drop you an email and say thank you!
The Castle arrived safely and is now installed, excellent quality product and our fluffballs seem to like it very much! I've attached a couple of pictures of them enjoying the view
Thank you again for a great product.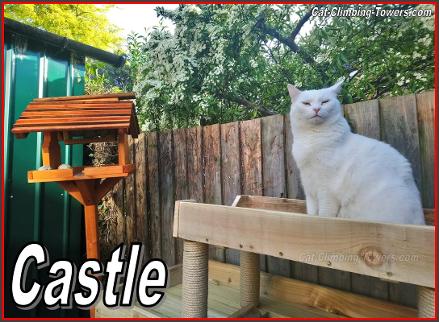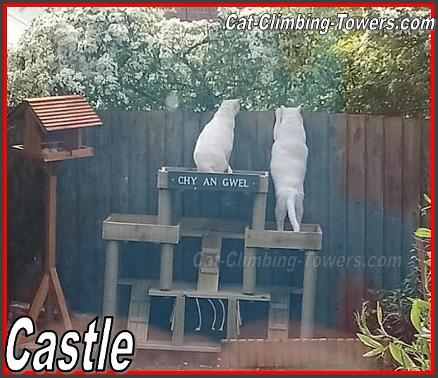 Looks like someone has a new favorite spot.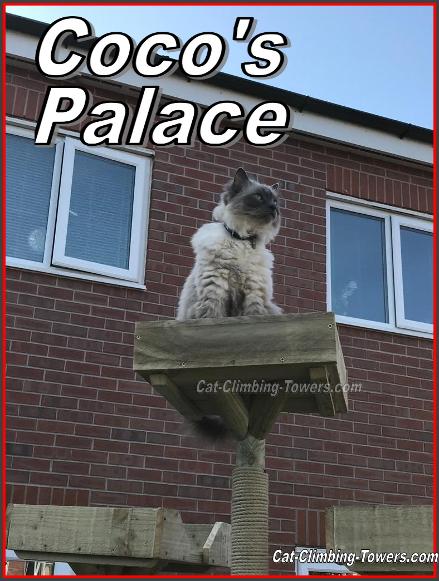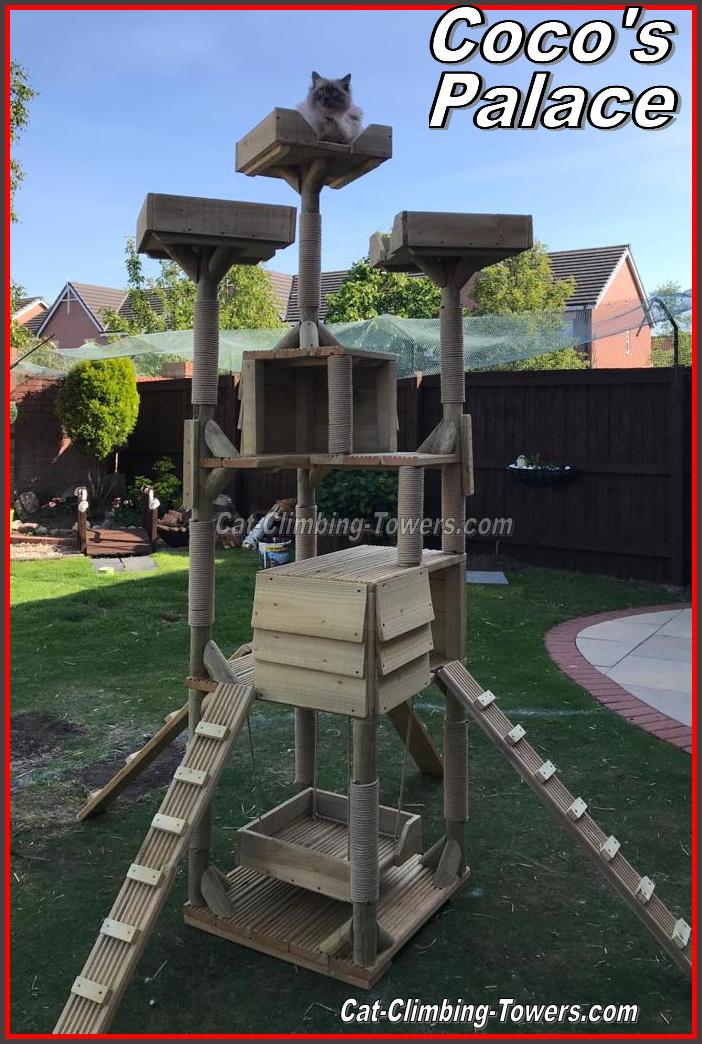 The 4 ft window stepper, to ease the getting
up and down for older cats.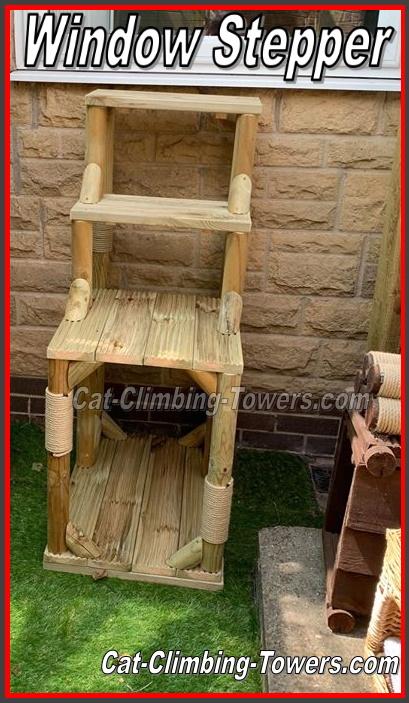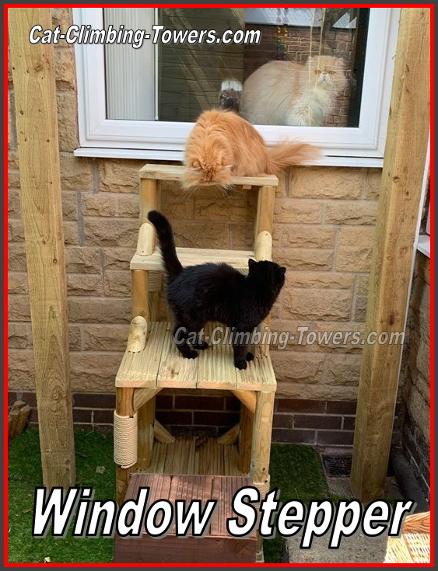 A bespoke build we delivered yesterday, to some very happy cats. now they have a great viewing platform with shade for watching the world go by.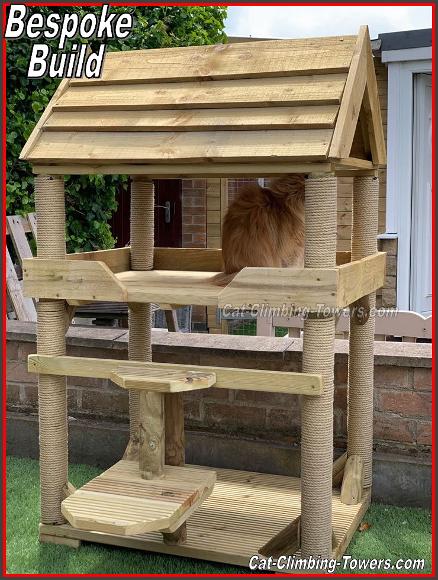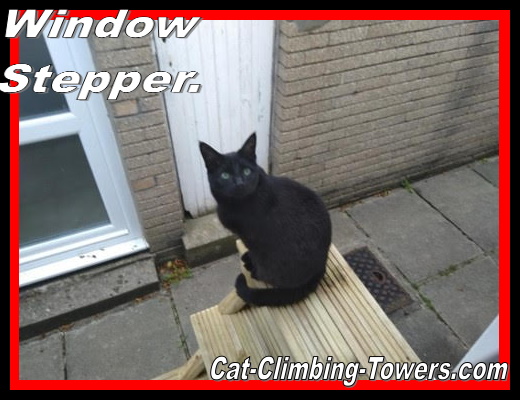 Hi,
Here I am sat on the top step of my window stepper enjoying the evening sun before I go off to find my cat friends for a cat chat.
Willow
.
FANTASTIC cat tree arrived yesterday, thank you so much!!
The old one simply could not cope with two Norwegian Forests and a random moggie and has been completely destroyed, as you can see.
The new one is fabulous, can easily withstand over 30lbs of cat ( with more to come as they grow ) . We daren't put it outside as they will leap onto the roof and get out ( again…. ☹ ) but it is purrfect inside and we cannot thank you enough. Great service, fast arrival ( although you had packed it so brilliantly it took me ages to get into it, held up by too much furry assistance ) and real quality product – and you can quote us.
Amazing. Thank you!
Graham & Berrie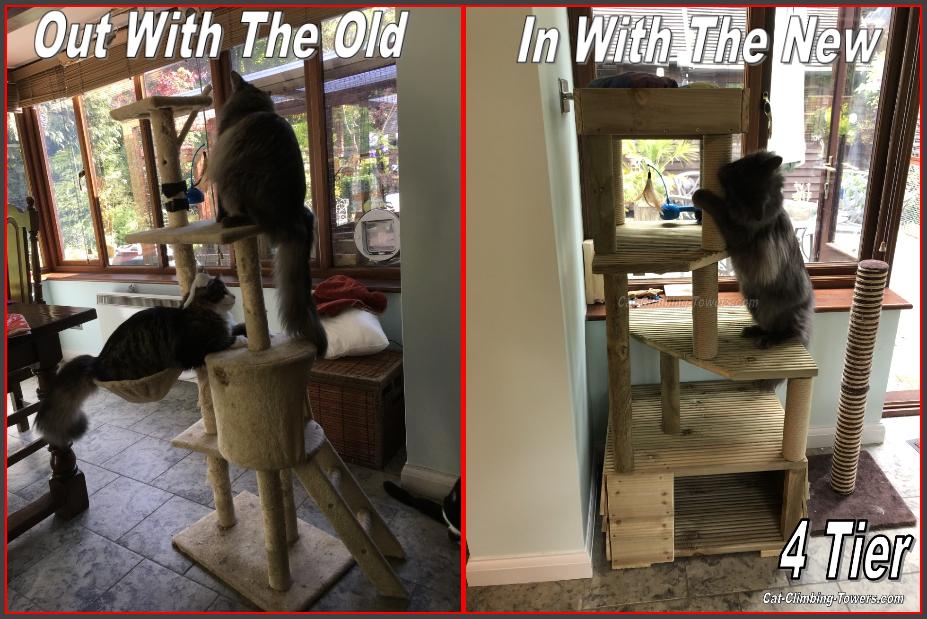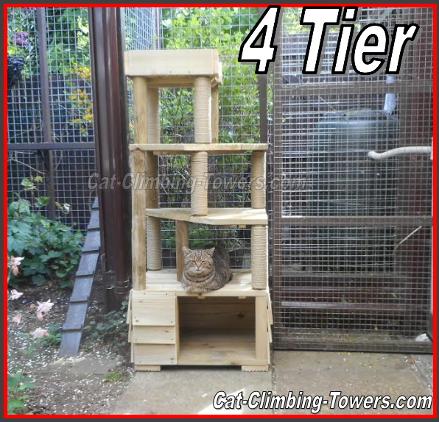 Hi
Just to let you know that the climbing frame arrived yesterday and Ralph is using it already, as you can see from the photo. I was very impressed with the packaging and speed of delivery; well done.
Toni
Venture Farm Cat Rescue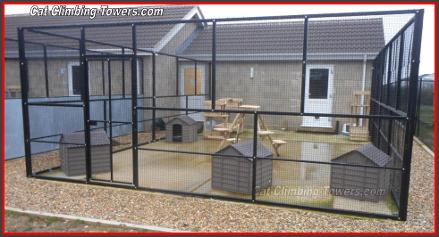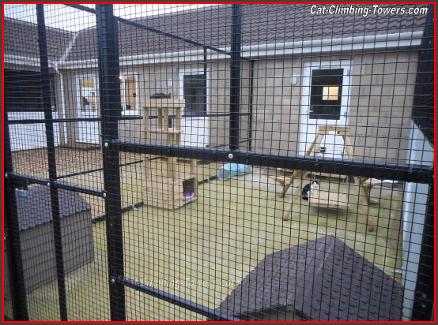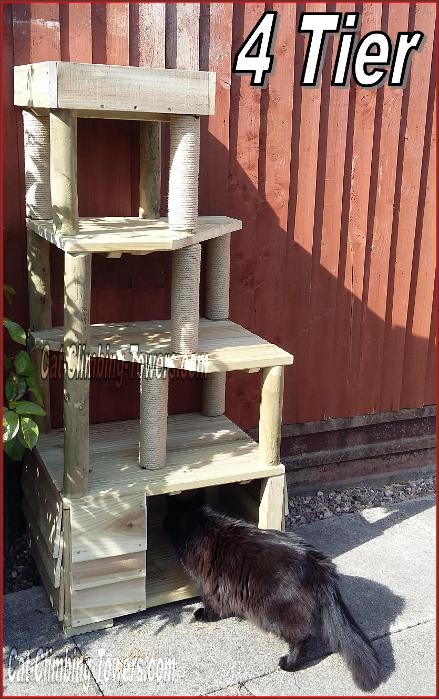 Hi David and Vicky,
Our cat Jeeves exploring the cat tree
KARNIKA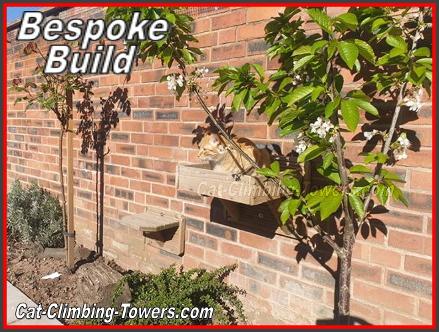 photo just in of a little bespoke build we did some time back. safe to say Marti love his he lounging spot
Hi! I received my Penthouse yesterday. Well, it looked ginormous and the poor courier had a job getting it through my gates and onto the patio.
It took me an hour to get all the packaging off. Lol!! I had to climb up the stepladder to get it off the top!
The dogs stood and barked at it. They wondered what on earth had landed! Mr. Puss was snoring away so where oblivious to what was going on.
I'm overwhelmed by the excellence of design ,workmanship and quality of materials used. The finish is so go good ,right down to the way you've taped(?) the ends of the sisal rope.
I expect you'd like to know what Huggi thinks of it. He loves it . He came to inspect it as soon as it was in situ and in no time had climbed into the house and out through the roof. He sat there looking around to see what the neighbours were up to.
This morning he's been up to the top to have a nose around and back to the middle to have a seat whilst he watched the dogs sniffing around.
I'm sure I'll be ordering a second one, maybe the Sky Ladder.
It's a rarity Mike, to find someone who really cares about their workmanship. And packaging!!! And customers!
I will attempt to forward a few photos.
Kind regards,
Heather and Huggi.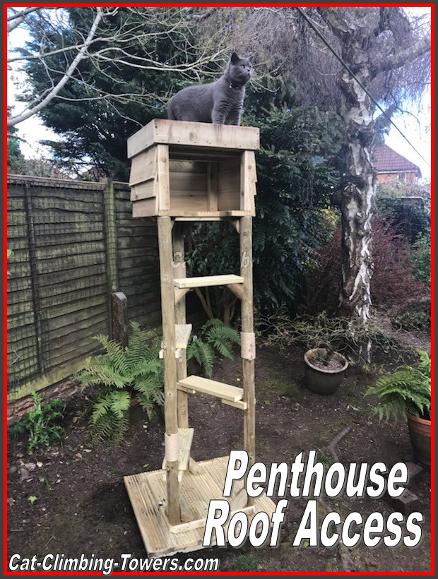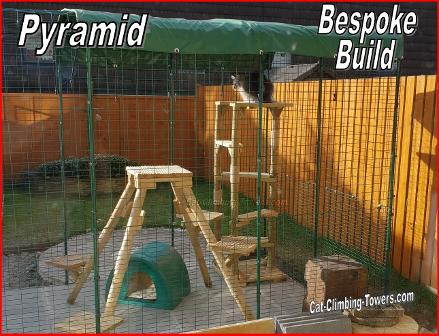 Hi David just enclosing a picture of Dougal on his custom made sky ladder. (Think you have to zoom in on picture to get the full effect. )
Our other cat Dylan went straight to the top immediately but getting him to stay still for a photo is not easy.
Many thanks once again.
Best wishes
Val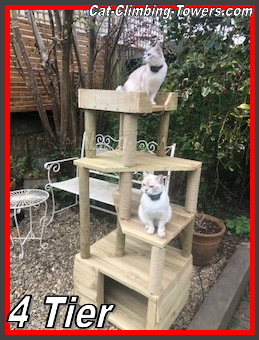 Frame arrived today in one piece and my boys love it already.
Thank you
Regards
Bernard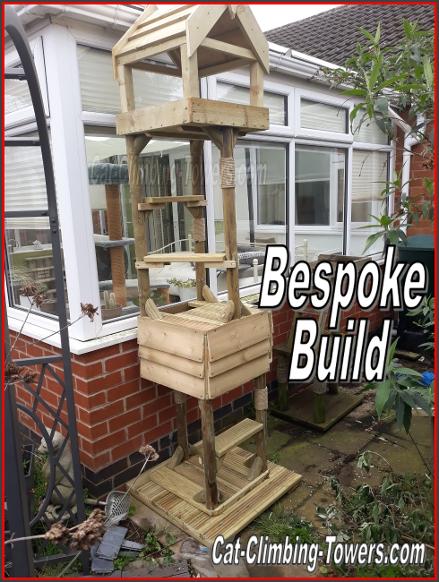 A custom build 8ft tower, giving the cats a great view over the fence !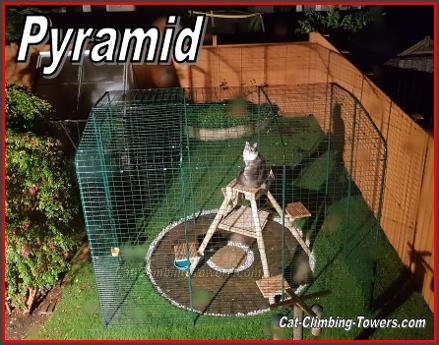 A wonderful night time photo a customer has sent in. one very happy cat enjoying a Quiet night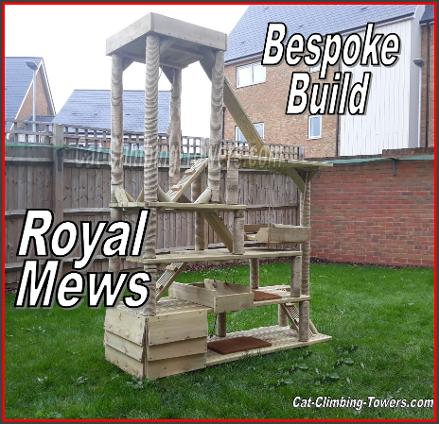 A bespoke build of the royal mews we delivered yesterday. To give the cats a view over the fence the height of the frame was increased by 1 ft . The frame was placed in the center of the garden and well away from the cat proof fence, to help keep them safe.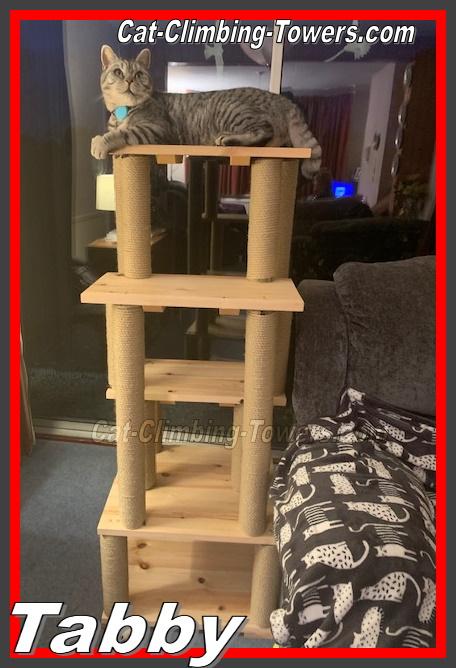 Thought you would like to see that Bob is enjoying using The Tabby, very pleased with it.
Didn't take him long to find his way around .
Thanks Dave and Vicky We have one happy Alley in his tower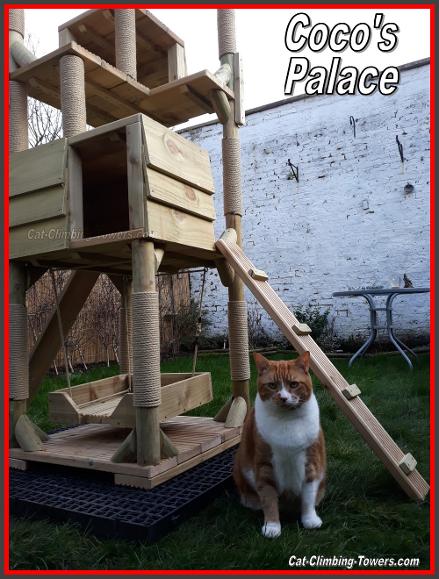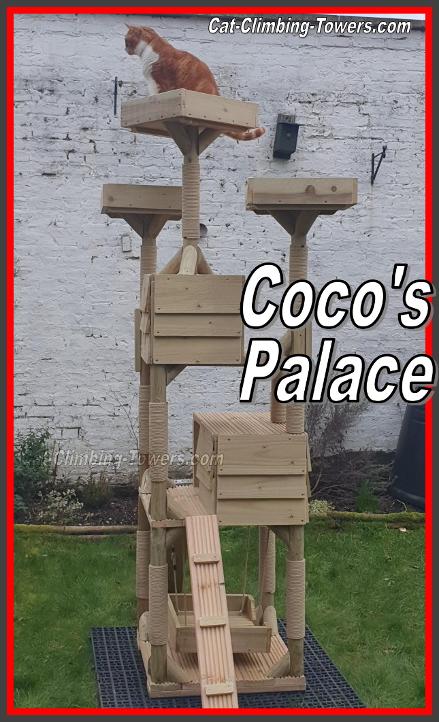 A few photos from yesterdays delivery. the rain was very heavy, and the cats was not willing to explore the new frames, but was keeping a eye on us through the windows, cannot blame them really.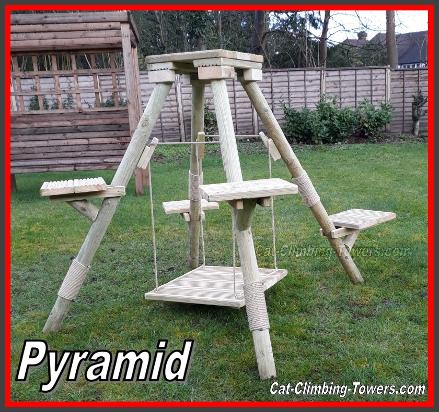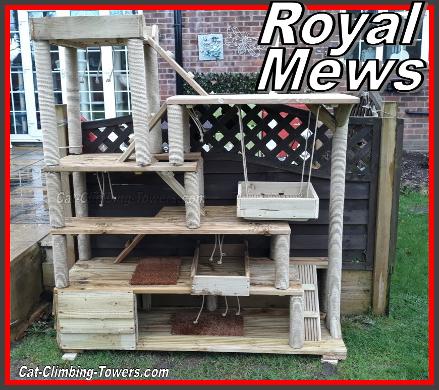 A bespoke build we was commissioned to build, the customer supply us with a photo, and sizes of their cats favorite indoor frame. but as the frame was made out of cardboard post and chipboard levels, it had seen better days. the customer all ready had a number of our frames outdoors, so knew just how long lasting out frames are, and asked if we could build a bespoke frame for her cats.
.
The customer was delighted with the end product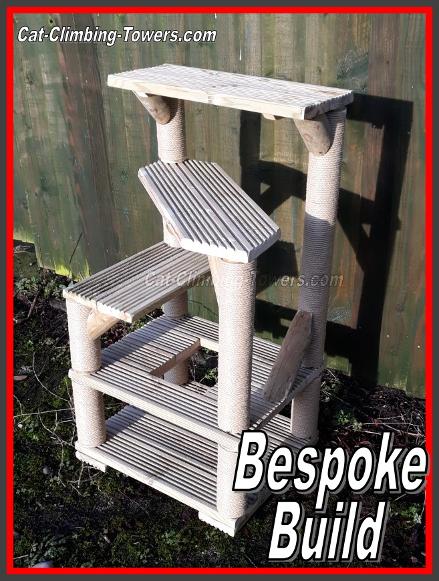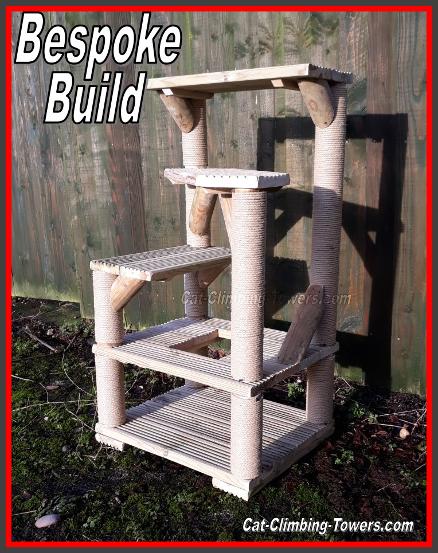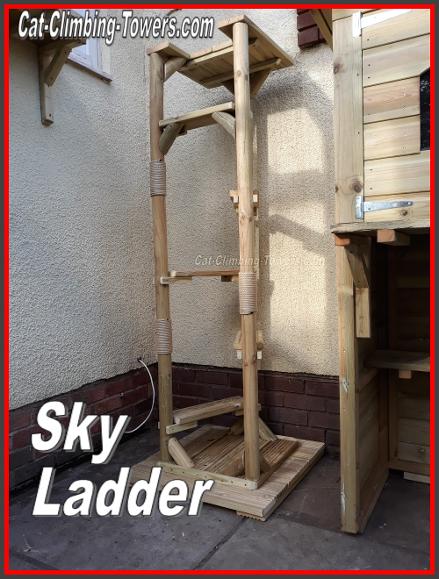 A quick photo from yesterdays delivery, of a sky ladder with the big foot attachment, to give some enrichment to an enclosure for Norwegian forest cats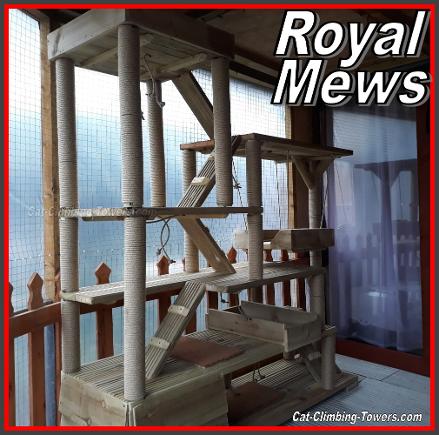 A quick photo of today's delivery.
customer very happy.
Hi Dave,
Daisy was the first to investigate
Thank you for your support with this, been thinking about ordering for a while and was recommended by a friend.
We have 7 of our own cats and foster for Yorkshire Cat Rescue so it will get plenty of use.
Thanks again