Welcome to the 12th !!! yes, 12th page of customer photos.
A few photos of today's delivery, of a bespoke build, based on the coco's palace frame, but with the overall height reduced to 6ft, so that it would fit in the enclosure .
As you can see, it was an instant hit.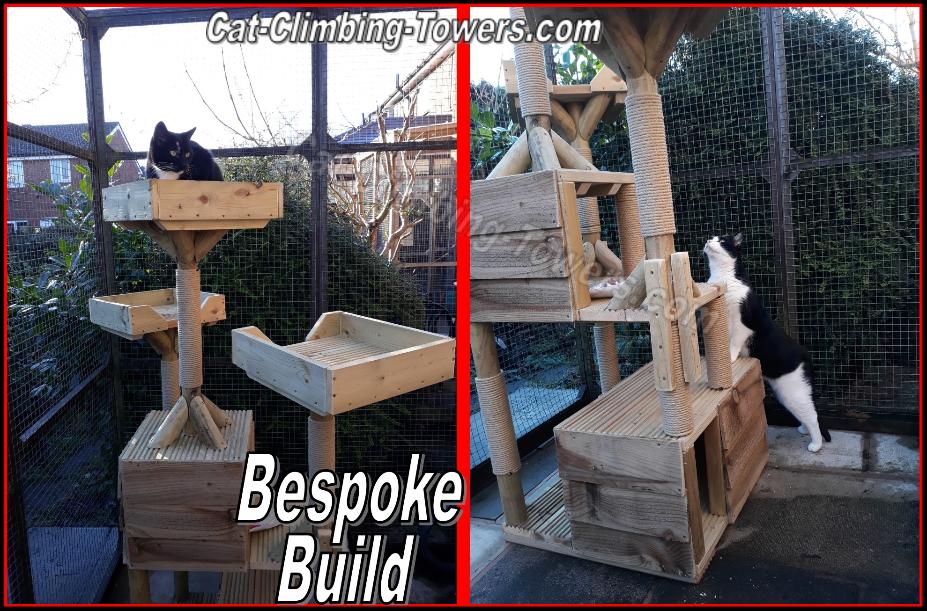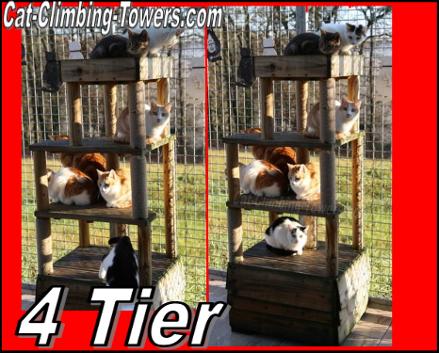 Just to say how pleased we still are with the towers, still in use after about 4 years and still solid. Our charity's abandoned cats love them - www.chatsduquercy.fr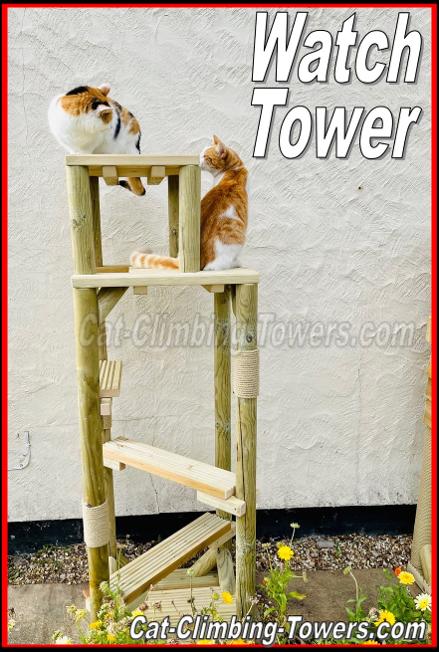 Hi
I've been meaning to send you these photos of the frames being used! Thank you so much! They're brilliant!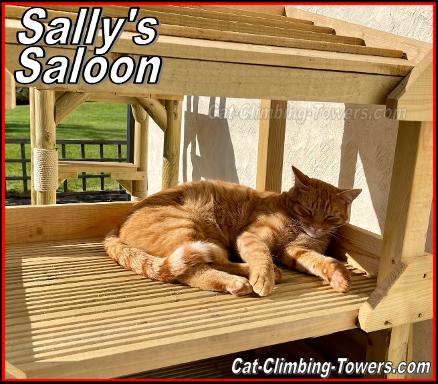 Hi! We are so pleased with our cat climbing tower. We had a tall, third catio built especially to accommodate it and to allow our cats to nosy at the neighbor's, which they did in no time at all!
Thank you so much….brilliant quality!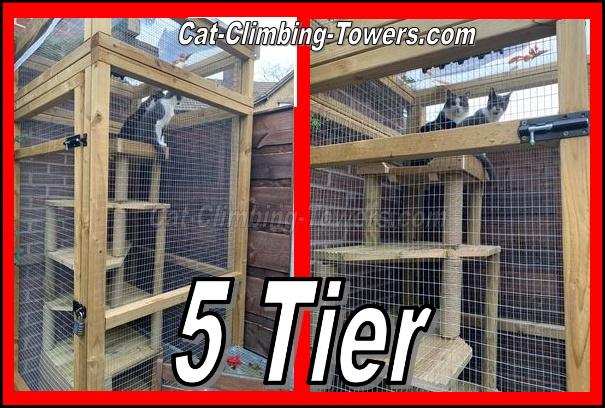 Photos in from a customer, of her cats enjoying their bespoke build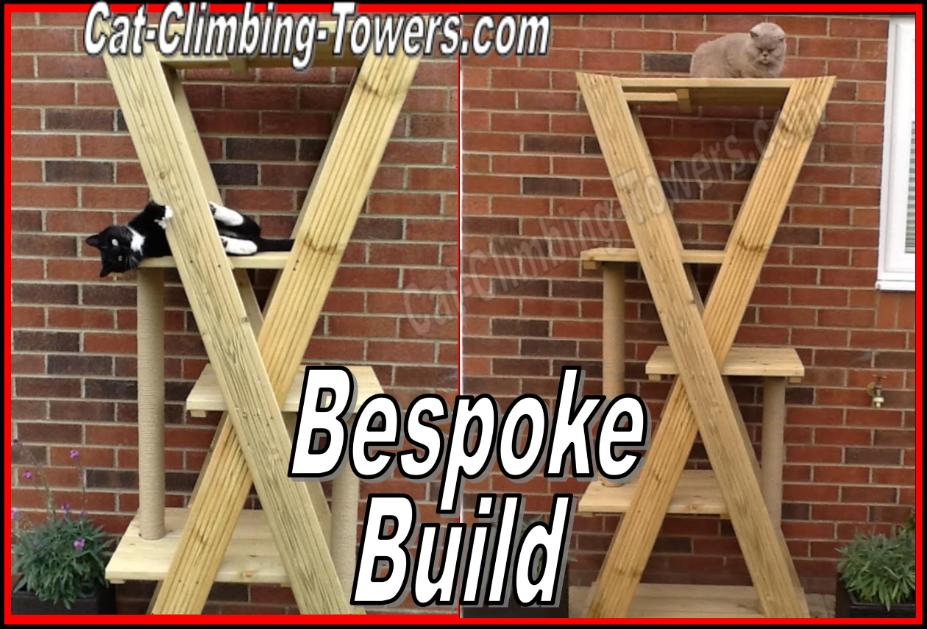 Yet another fabulous structure and another instant hit
Thank you, the kits love it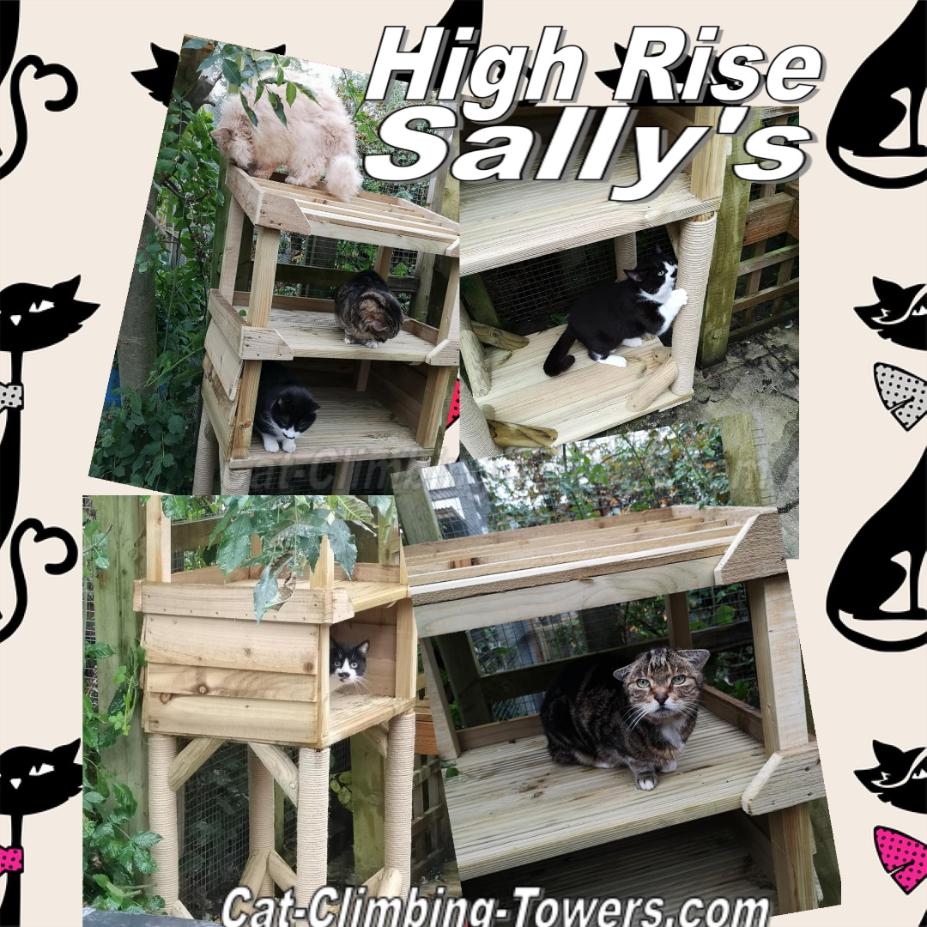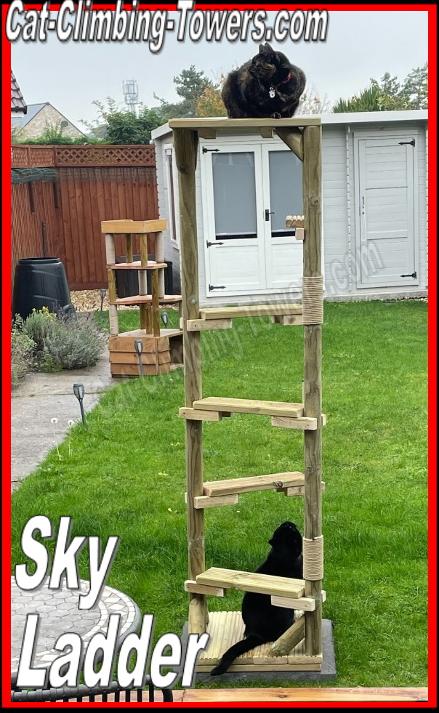 Hi Dave and Vicky,
Thanks for another cat tree which was safely delivered today.
It's already been in use!
Kind regards
Jo (and Popsie and Pebbles)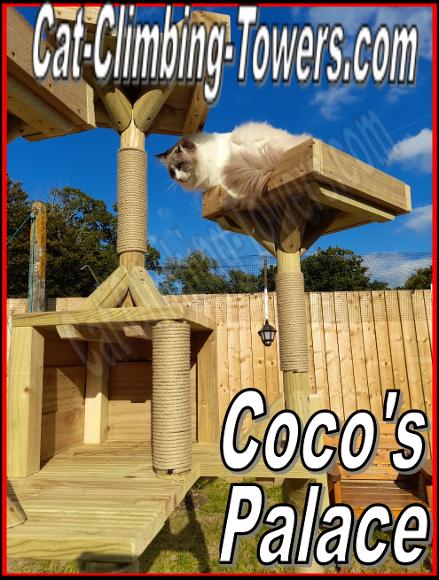 Hi Guys
It was lovely to meet you as well. The photo is of Benny, my ragdoll who got to the top. Charlie got half way.
I am sure they will have a happy time with it.
Hope you had a good journey back.
Best wishes
Marilyn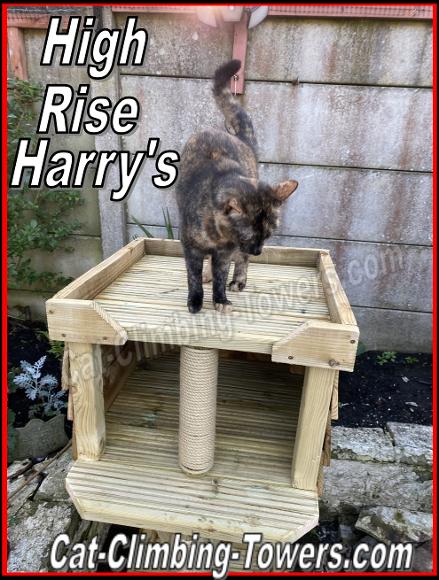 All four cats have already checked out the frames, despite the weather. I've attached some photos -
Thank you so much I am delighted with them,
Carolyn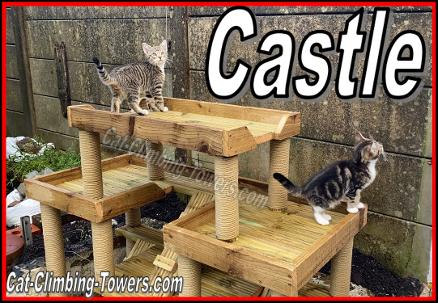 Thank you both for the link and hope the trip back went OK. Great to meet you both.
The cats love it, as do we. Here are some pictures of our girls on the Mews.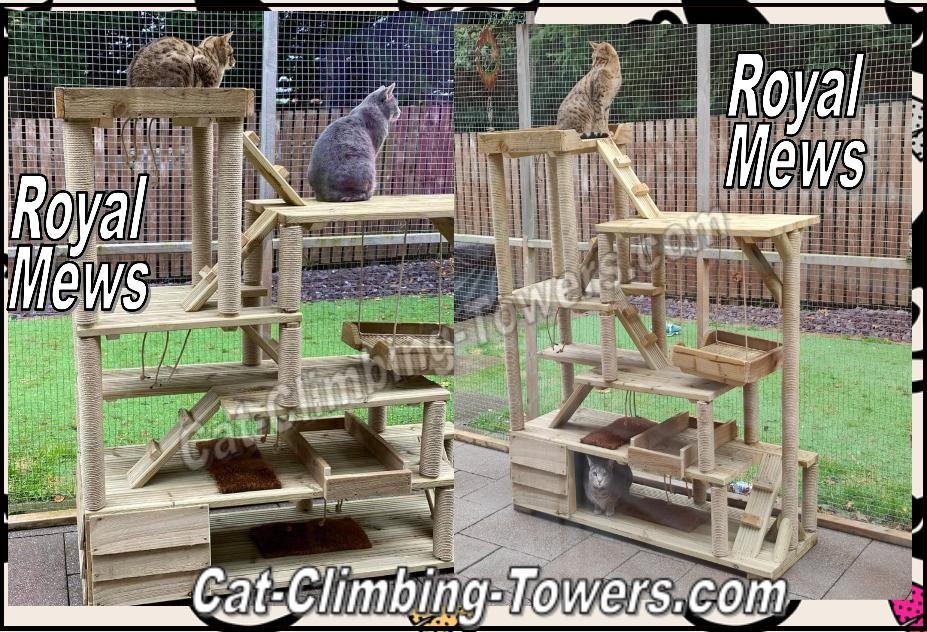 At The Escape Committee Meeting.
I think mom , is on to us,
She is taking photos as evidence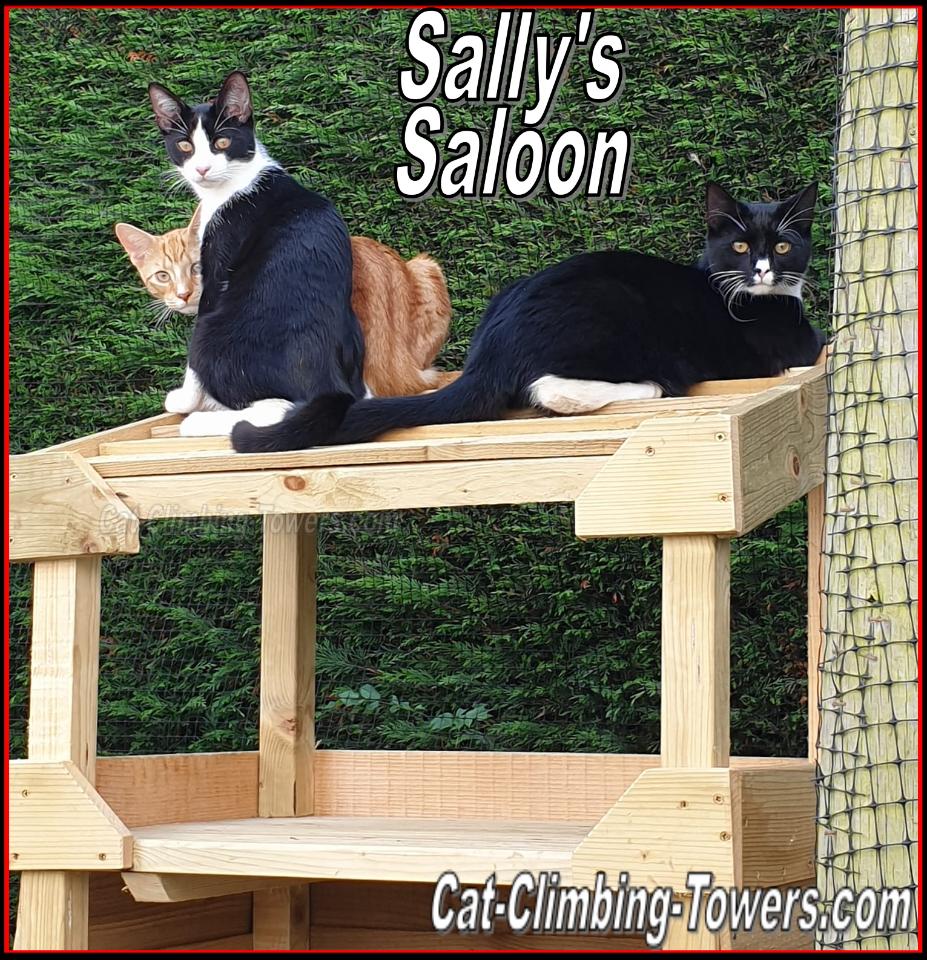 So,
looks like we make dog beds as well now !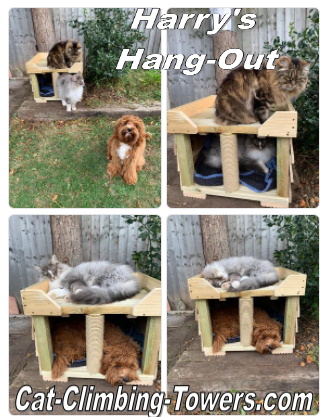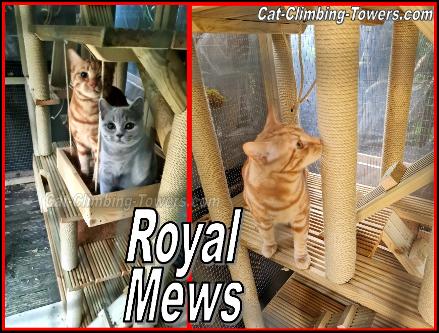 Thanks for today and your earlier email about maintaining the cat tower, the cats are loving it been on it most of the day I've attached a few pics. Take care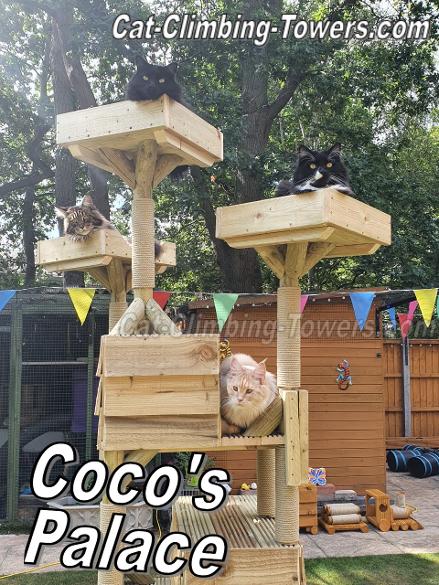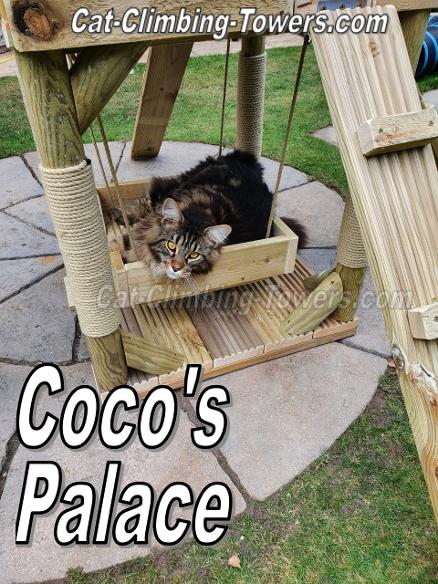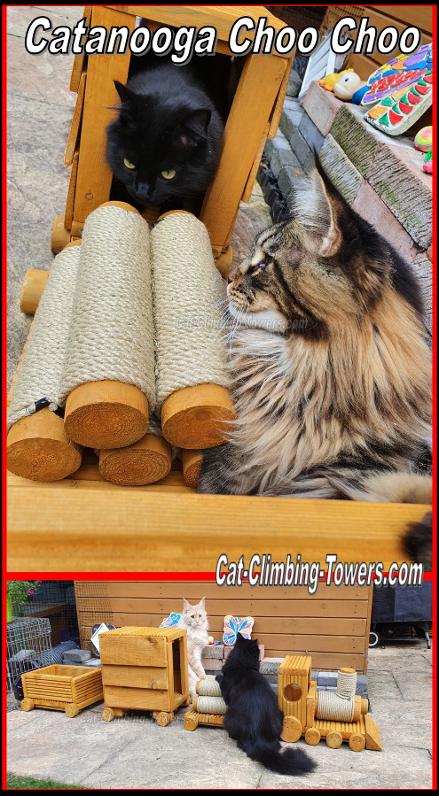 it hasn't taken long! Hopefully we'll have some better shots with everyone looking the right way shortly, but as promised progress so far!
Thank you so much again!
Tammie, Colin, Jingles, Kingsley, Bella and Truffle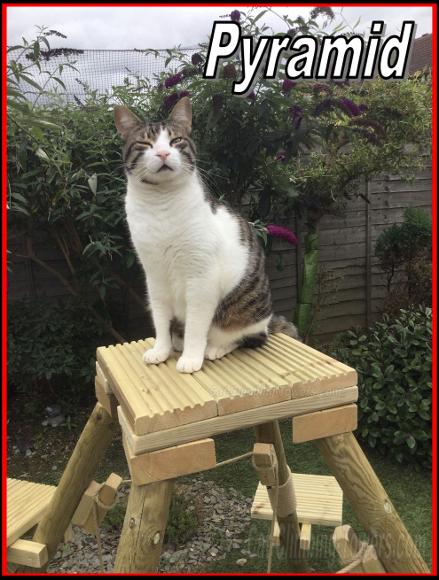 Hi
Just to say the guys are thrilled with their pyramid thank you. It has taken pride of place in the garden and all three have shown a lot of interest in it.
Kind regards
N
Hi, the climbing frame arrived yesterday and it's lovely, thank you.
My kitten Teddie and My 15 year old Poppie are enjoying it.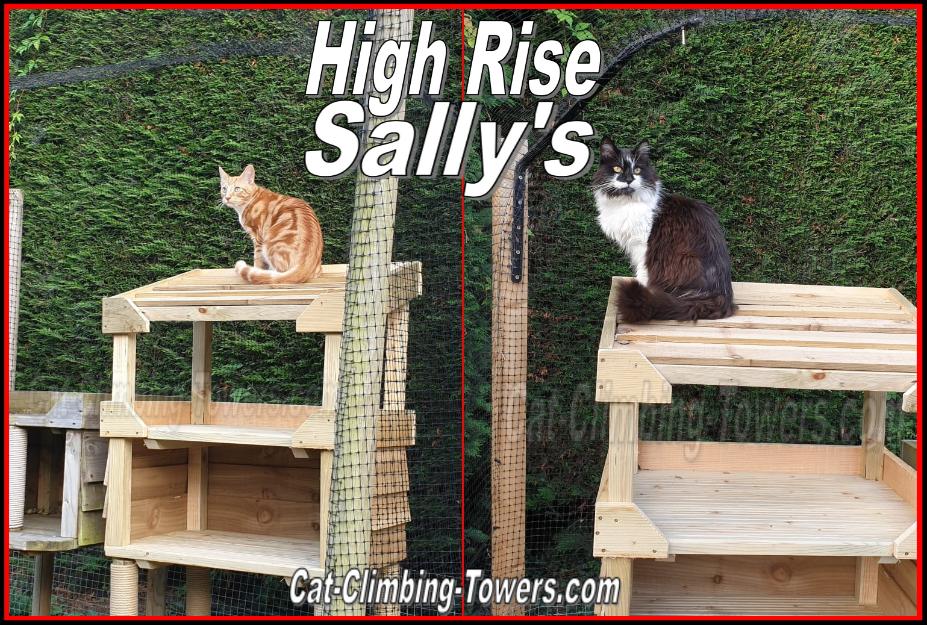 Hi Dave,
Yes lovely to meet you too and thanks for braving the weather to put it together!
Thanks for the link will have a look at that.
Well it's very appropriately named anyway as Coco has been straight to the top already ha ha!
Timmy is a little unsure at the moment but I'm sure he'll love it when he finds out what he can see when he's at the top!
Attached a couple of pictures of Coco for now but will send some more when the weather's a bit better.
Thanks again to you both.
Thanks,
Jo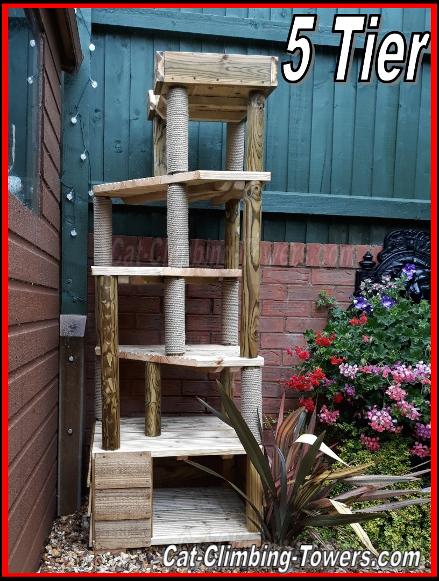 A quick photo from today's local delivery, it was raining, so poppy supervised from the dry side of the window, and will forward a full repot once she has inspected the frame
Hello, just wanted to let you know that the latest in cat climbing towers that we have purchased has arrived and has been thoroughly inspected by the triplets... They have given them the paw of approval. Thank you for another set of quality products!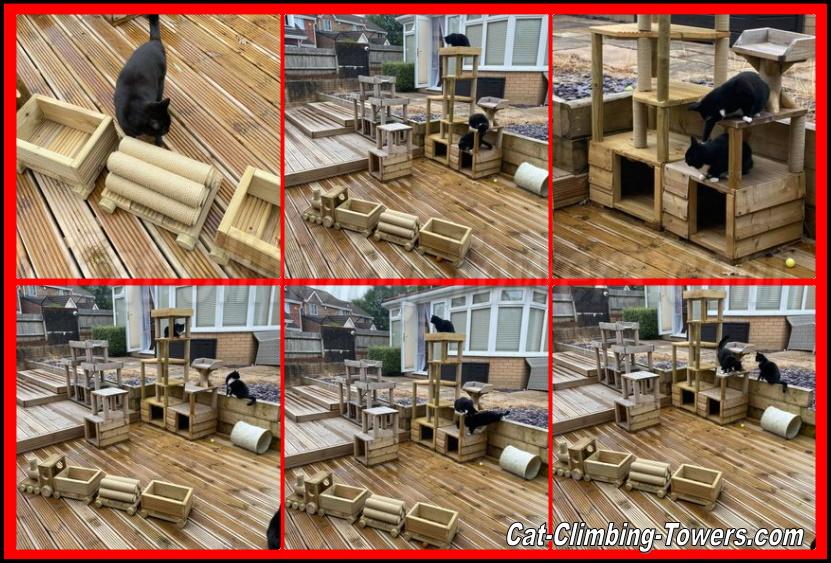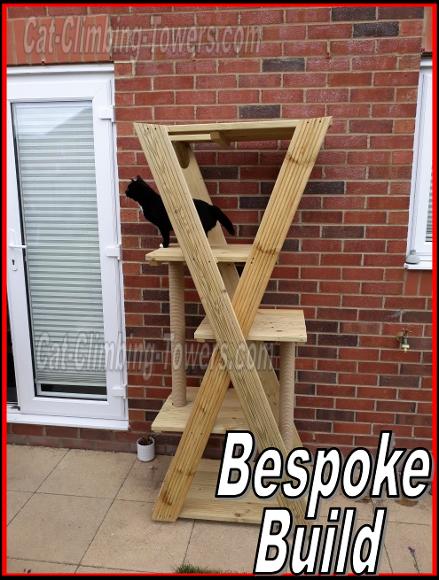 a photo of your wonderful X frame you built for our cats to keep them enriched.
Hi Dave,
photos are attached and as you can see the customers are very happy and contented,
thanks again,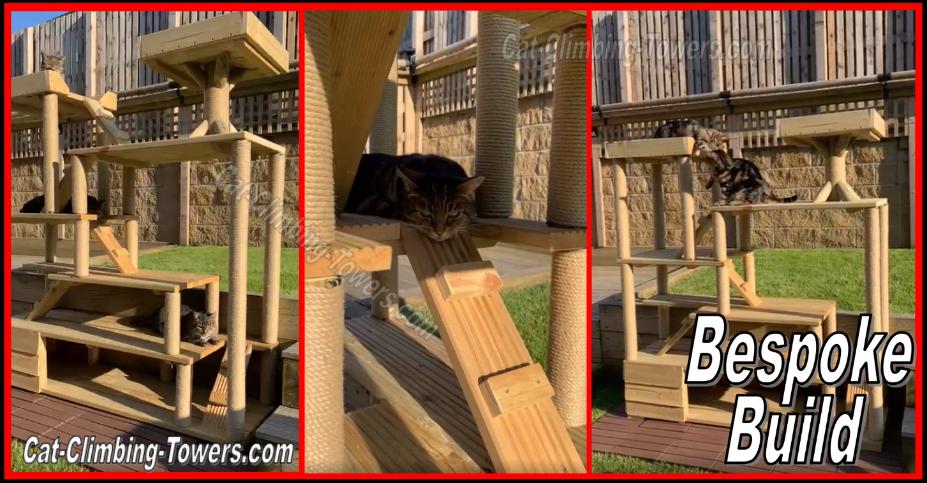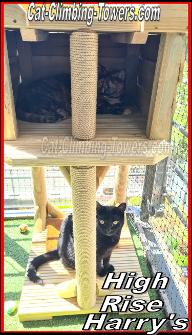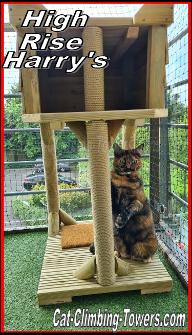 Hello Dave and Vicky,
Just wanted to drop a note to say this arrived safe and sound and my kitties love it. Well, one has figured out how to jump to the top and observe her kingdom, and the other one is just admiring her and the tower from below!
A few photos are attached :-)
All the best,
Hayley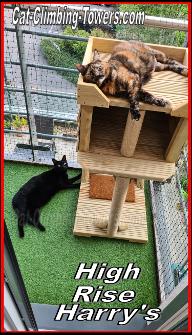 Dear David,
I wrote to you last night on my phone, but the message vanished just as I was selecting photos! I was too tired to start again.
It was great to meet you yesterday. I am absolutely delighted with the Five-tier cat tree I ordered. I had high expectations, but I must say that the finished article has far exceeded those! You are obviously a master carpenter who uses very high quality materials. It is a thing of beauty.
All five of my cats have tried it out and it looks to be very popular. It has vastly improved their catio, giving then hugely improved entertainment opportunities.
Here are a few photos. Timmy, my black cat, has weak back legs and finds it hard to jump up, so I was delighted to find that he had reached the top all by himself!
Many, many thanks.
All good wishes,
Lynda and Poppy, Rosie, Daisy, Timmy and Snowdrop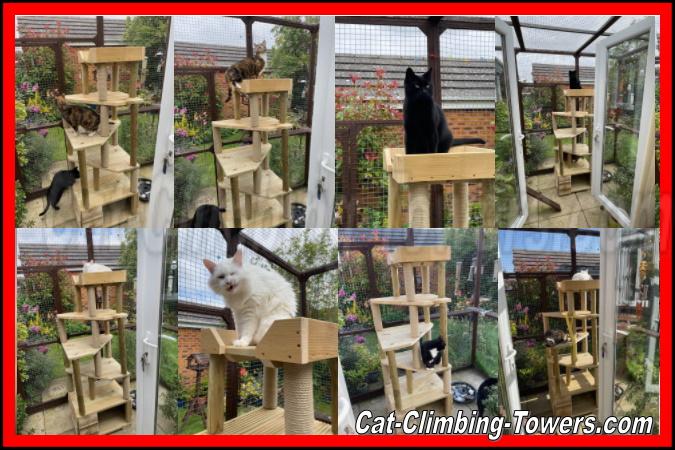 A watch tower, having a close inspection. Happy to say it passed with flying colors .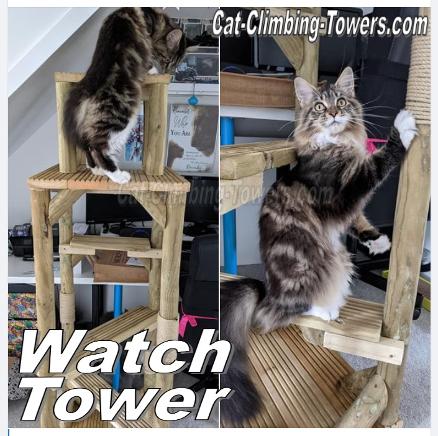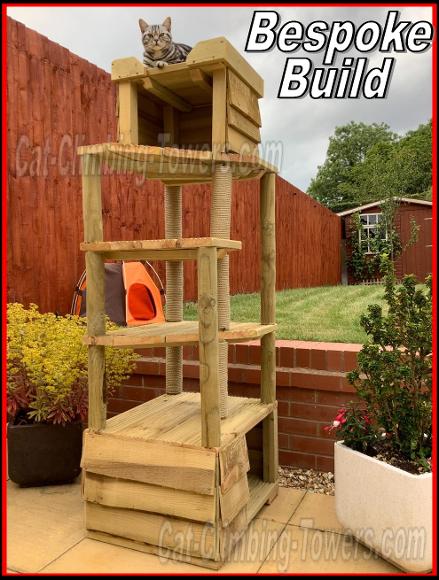 Hi David
Just though I would email you some photos of the cat tree being well used by our cats.
Thank you for it indeed
Best wishes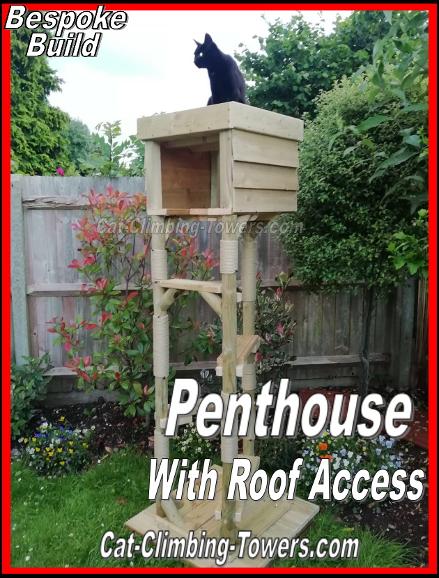 Hello there
I would like to say a HUGE thank you for all your help in getting our cat tree delivered to us...it came yesterday.
A huge thank you to whoever made this beautiful piece of craftsmanship!....it is absolutely amazing......beautifully made and strong! A lot of hard work has gone into this!
Whoever wrapped it is a legend! I have never seen packaging like it! Unreal! It was like Christmas unwrapping it!
Our cat LOVES it! She jumped straight into the hole in the packaging and into the box before I had even unwrapped it!!!!
Thank you again.....I will definitely be recommending....please let me know you have received this and passed on our thanks to the people who made it and wrapped it! And of course thanks to the customer service team!
Hi David
a photo of the CoCo's palace being enjoyed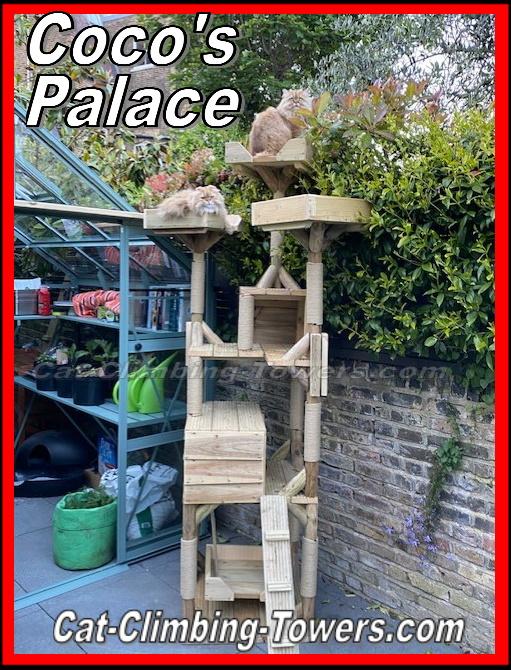 Hi David
Sorry for the late reply. I've been trying to get some good pictures of the cats using the kitty castle.
Hope you like them.
Regards
Johanna
Hi David, the cat tree has arrived and it is fantastic.
THANK YOU SO MUCH!!!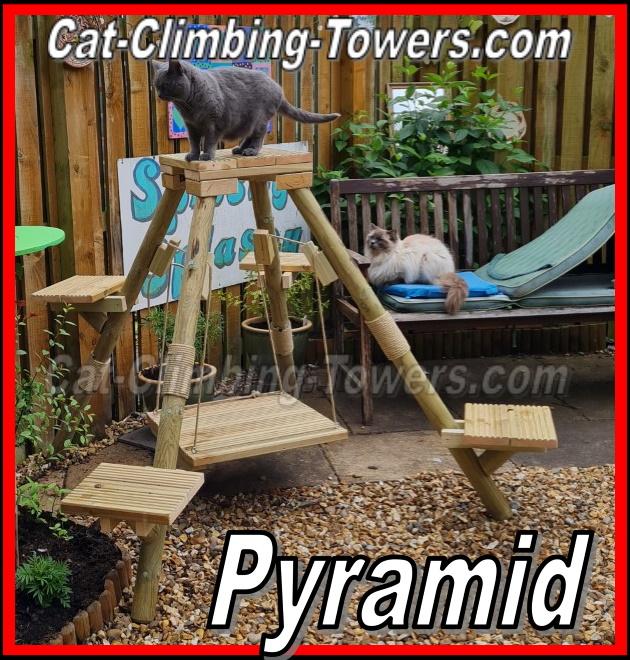 Hi just a few pictures of my cats on your coco's Palace thank you.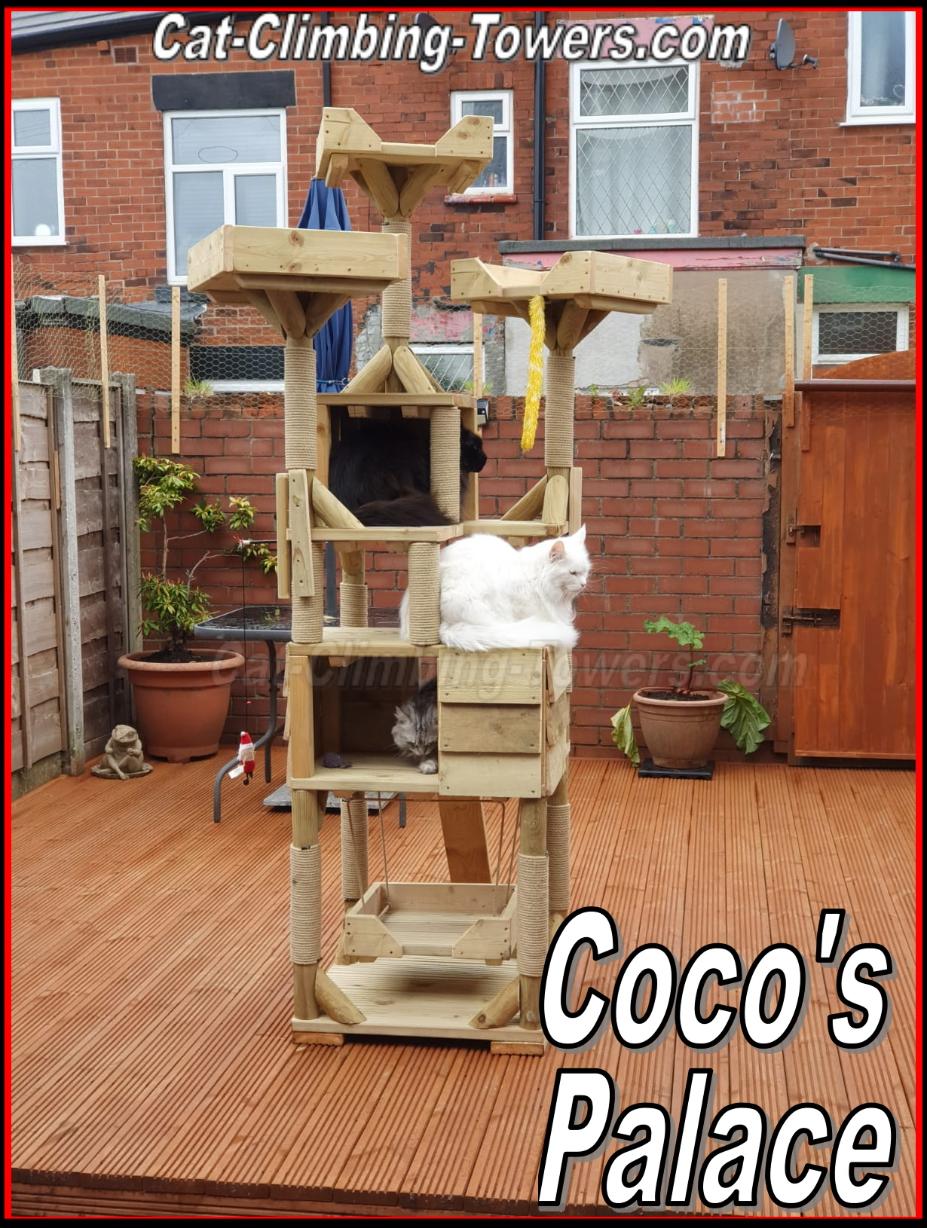 Our cats love Coco's Palace! We can't keep them off it! A quality well made product and a great addition to their outdoor space - thank you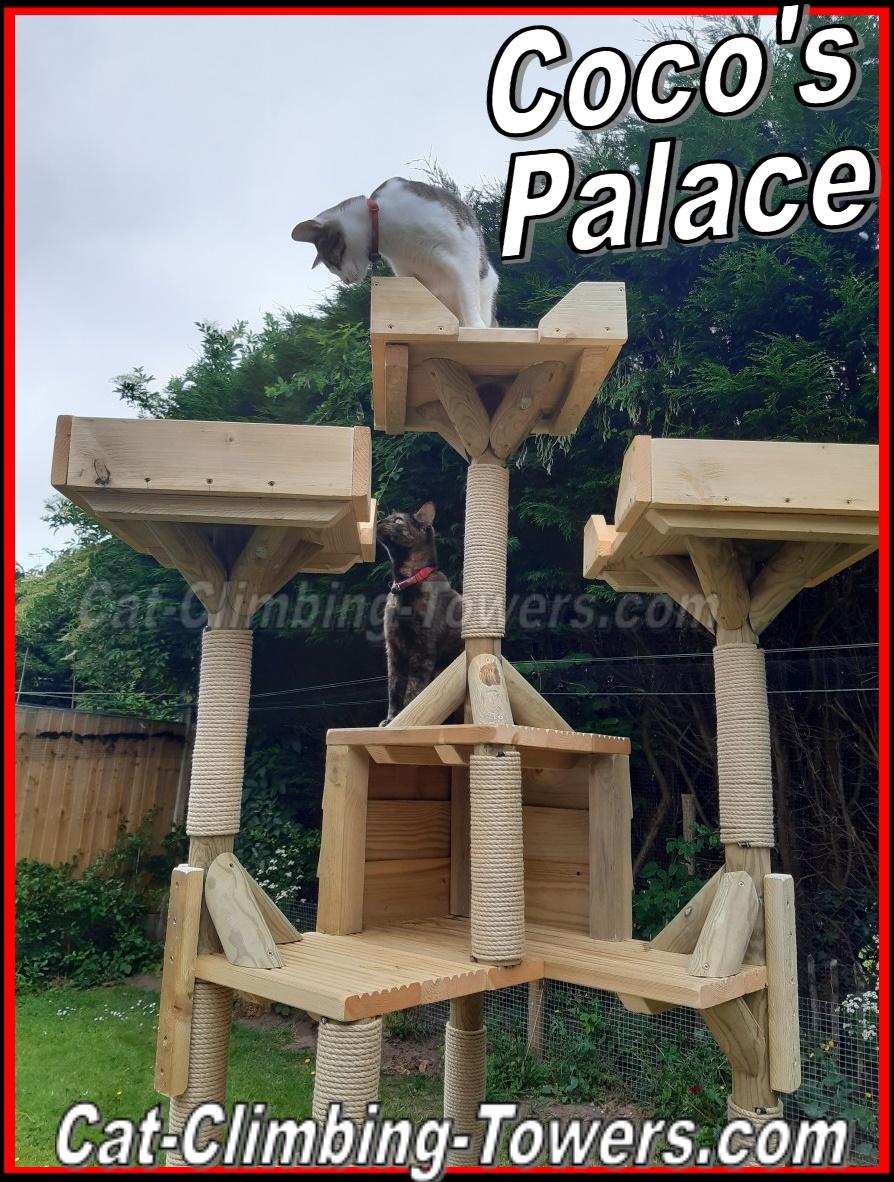 Lovin

g their new climber!!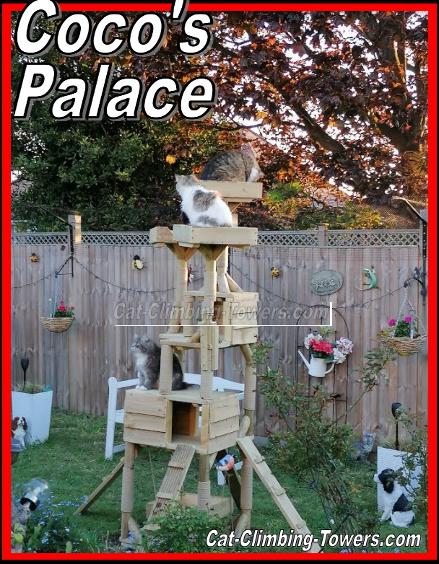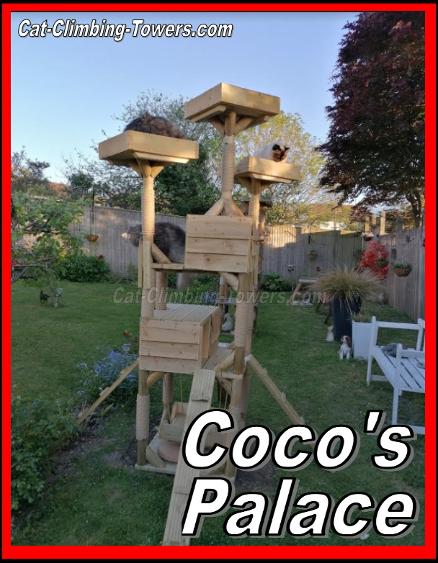 Thank you so much Dave
Kitts love it ....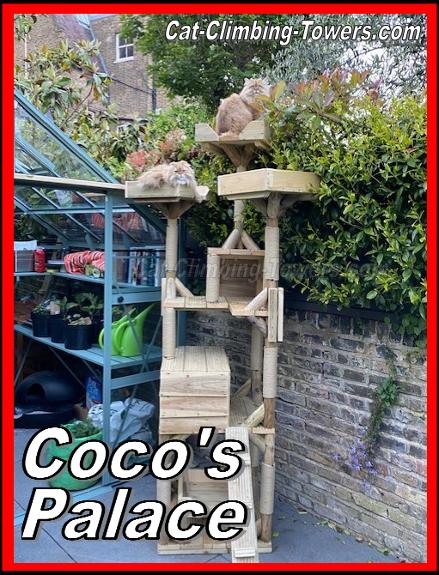 Thanks for delivering the lovely cat tree today. Our two love it!
Many thanks.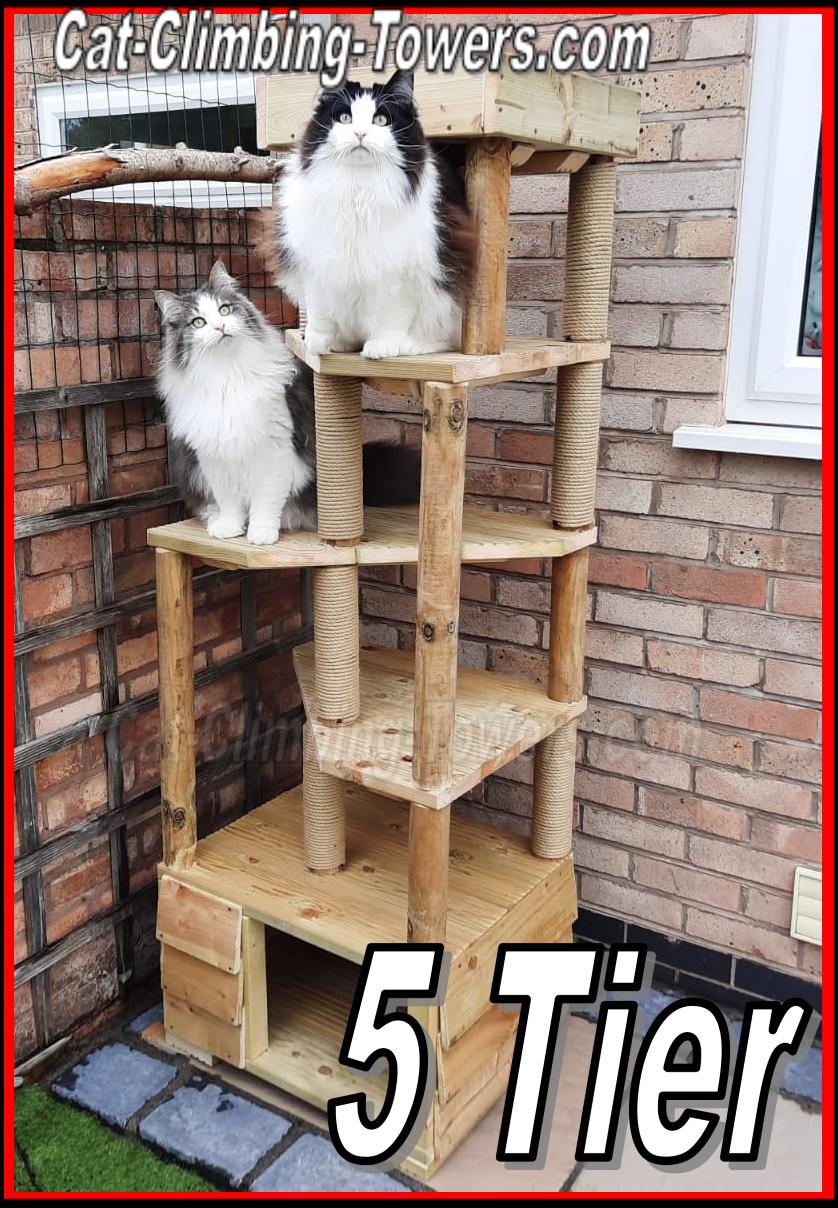 Hi David,
Thank you very much for everything. We love our new cat tree & hopefully our cat will use it lots. I have attached a couple of photos for you.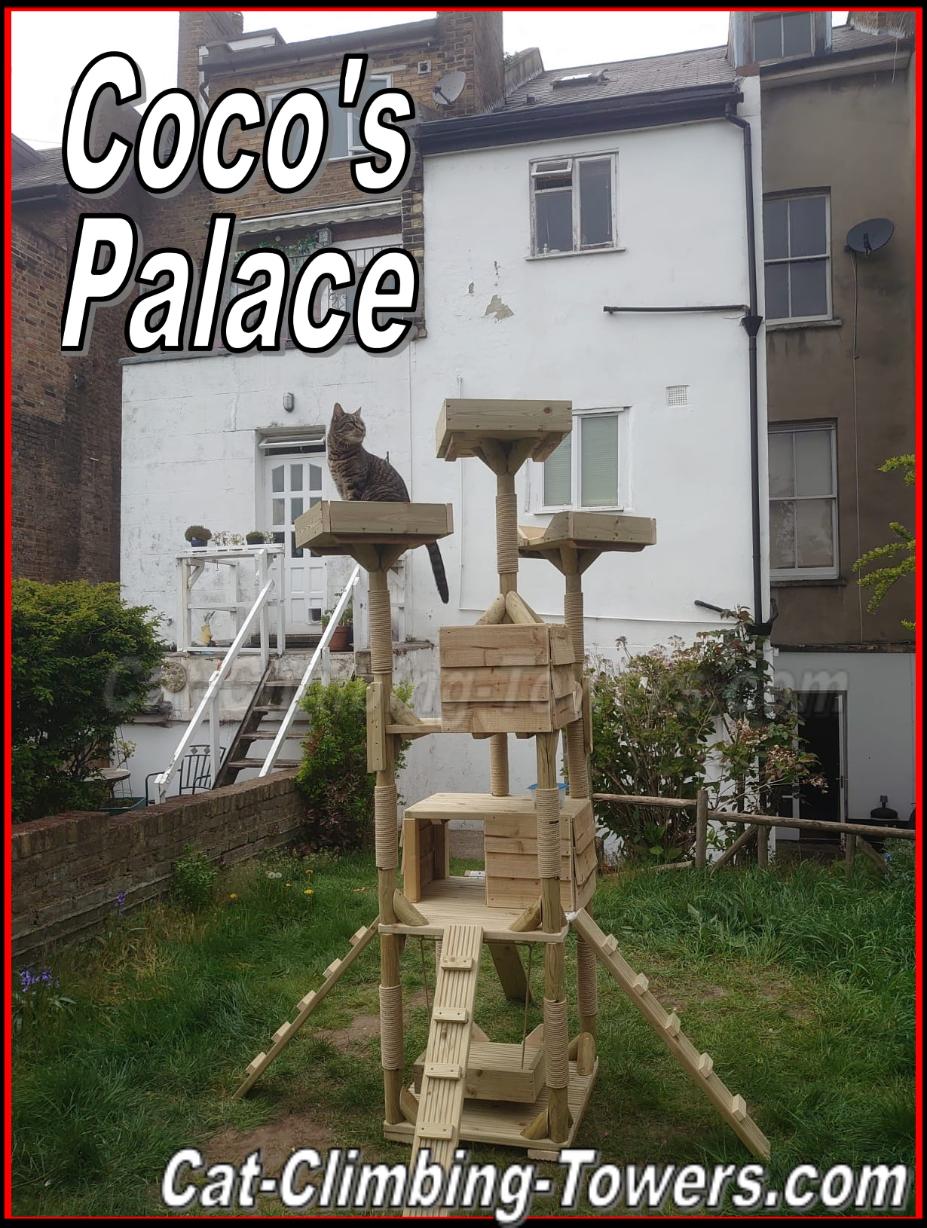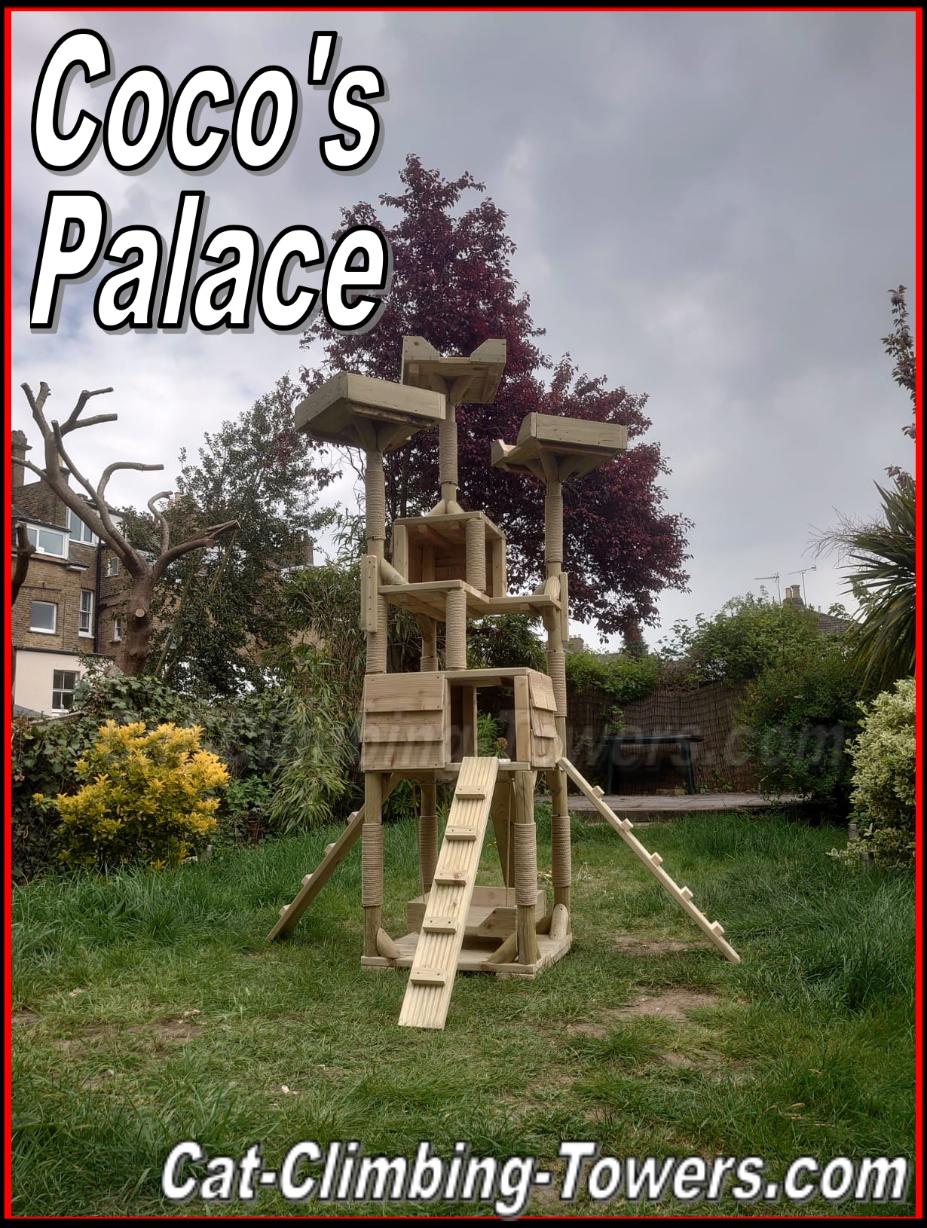 A customer's painted Catanooga Coo Coo, being enjoyed by her cats, i am told it took 2 days to paint !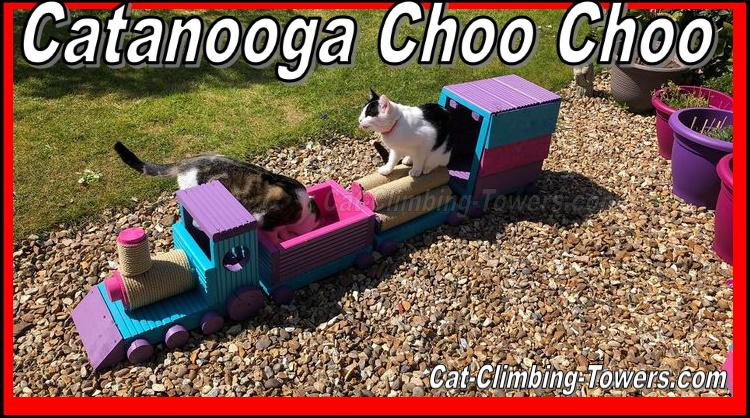 Hi, I just wanted to thank you for dropping off the frame yesterday and wanted to send you a couple of pictures of some of our ferals checking out their new enrichment towers.
Yours
Diane.
CatChatCharity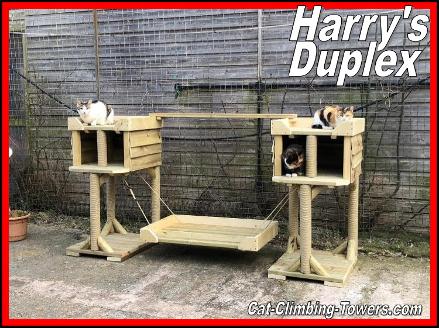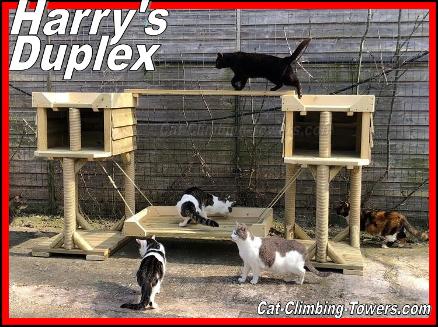 Hello, it's Rebecca and Paul here. We thought you'd like these new photos of the Royal Mews with retro fit roof now we've moved to Brighton and it's in a great location in our new garden. Feel free to use them to advertise. Lucy-Fur our fluffy adopted ginger cat was diagnosed with lymphoma just over a month before we moved. She's on Kitty chemo and doing really well. It's already saved her life as she was only given 3-4 weeks to live without it. She's allowed to go outside by her vet and she loves the Royal Mews or Lucy-Fur-Nem as we call it. Her fur is kept in a "lion cut" by her vet as the cancer makes her fur fall out (chemo doesn't do that to cats) and she had a 4cm and then a 7cm furball stuck in her tummy which were both removed by an endoscopy expert. The short fur cut prevents that happening again. Her Lucy-Fur-Nem gives her a high viewpoint on her new garden which she loves especially as it catches the early morning sun.

If we are lucky we will get a year, maybe more of remission from her lymphoma. A full cure is possible but so rare we aren't getting our hopes up.

She's only 9 years old so the chemo was worth a try. The chemo vet didn't even know if it would help as she only has one working kidney from birth and despite being one of the most senior pet chemo experts and the creator of the gold standard chemo program all chemo vets use
he's never treated a cat with only one working kidney before. But he tailored the chemo dose to a dose low enough to try to protect her kidney whilst trying to treat the lymphoma and it's working.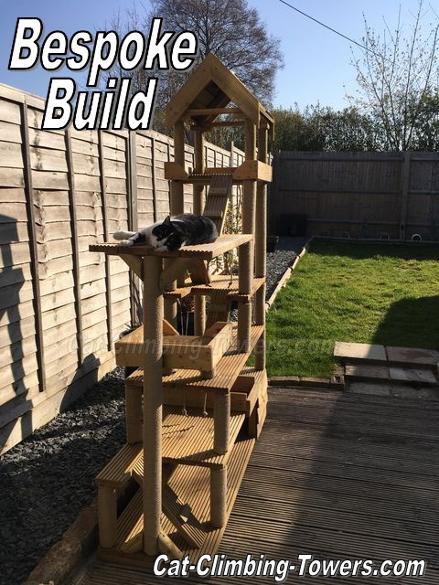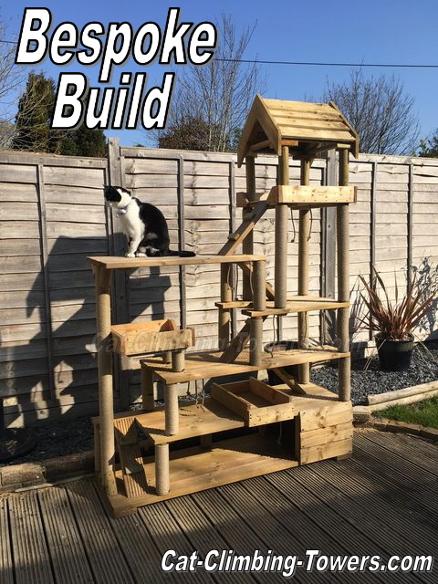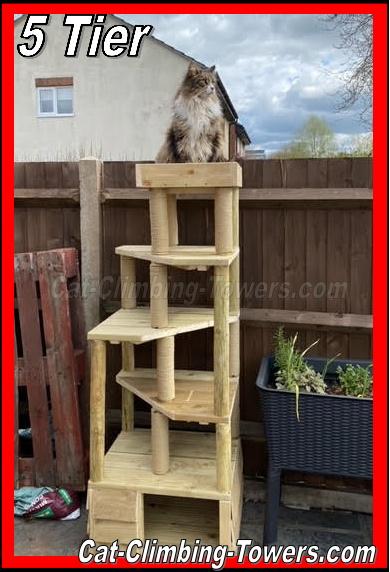 The Emperor Caesar approves of his new throne from which he can survey all.
Thank you - they both love it
Tonkinese Cats, loving their Pyramid out door frame.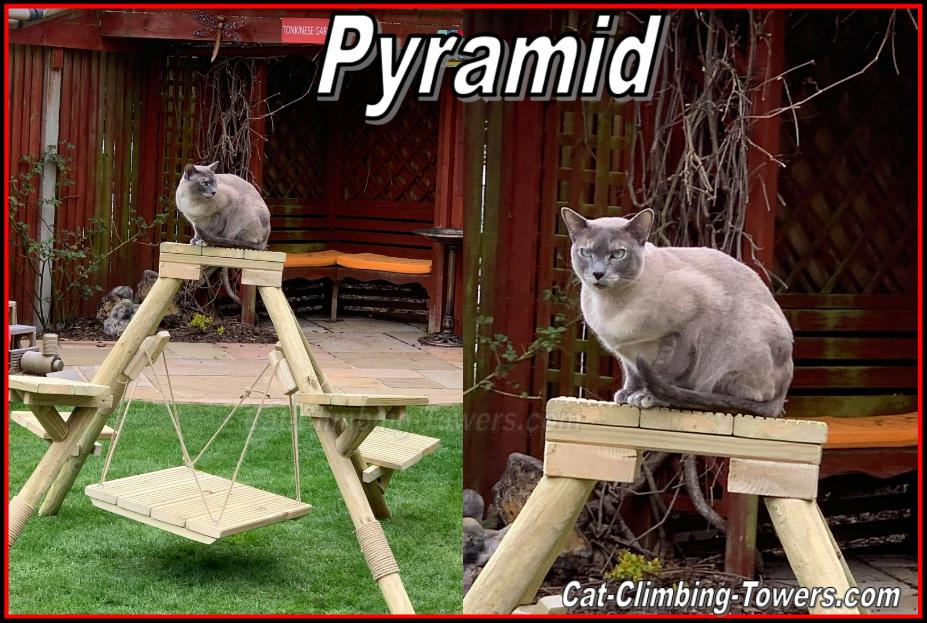 It's been out of the packaging for literally 2 minutes! 2 of the 4 are out of the house on it. Thanks so much
Good for Shih Tzu's too!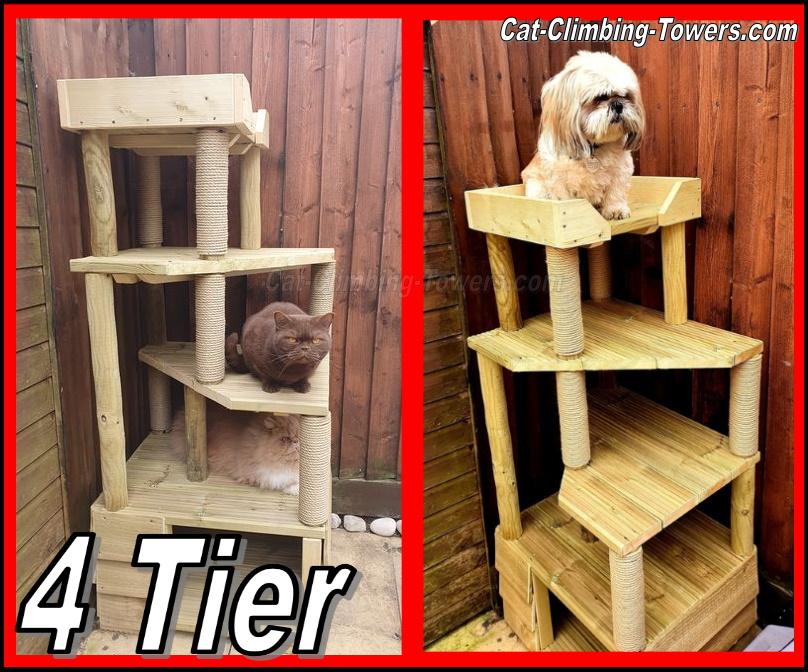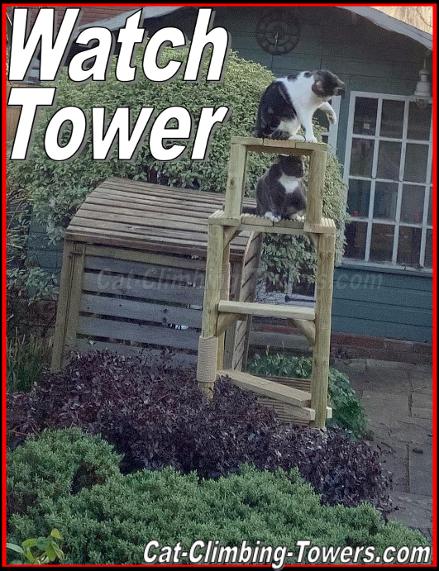 Hi David,
Just to let you know our cat tree arrived yesterday perfectly wrapped and still in one piece. I think Alice and Raffey are going to love it! It's not even in its rightful place yet and as you can see, they are already in competition for the top spot!
Thank you again, this is just what we were looking for.
Lynne
Thanks! The cats love it!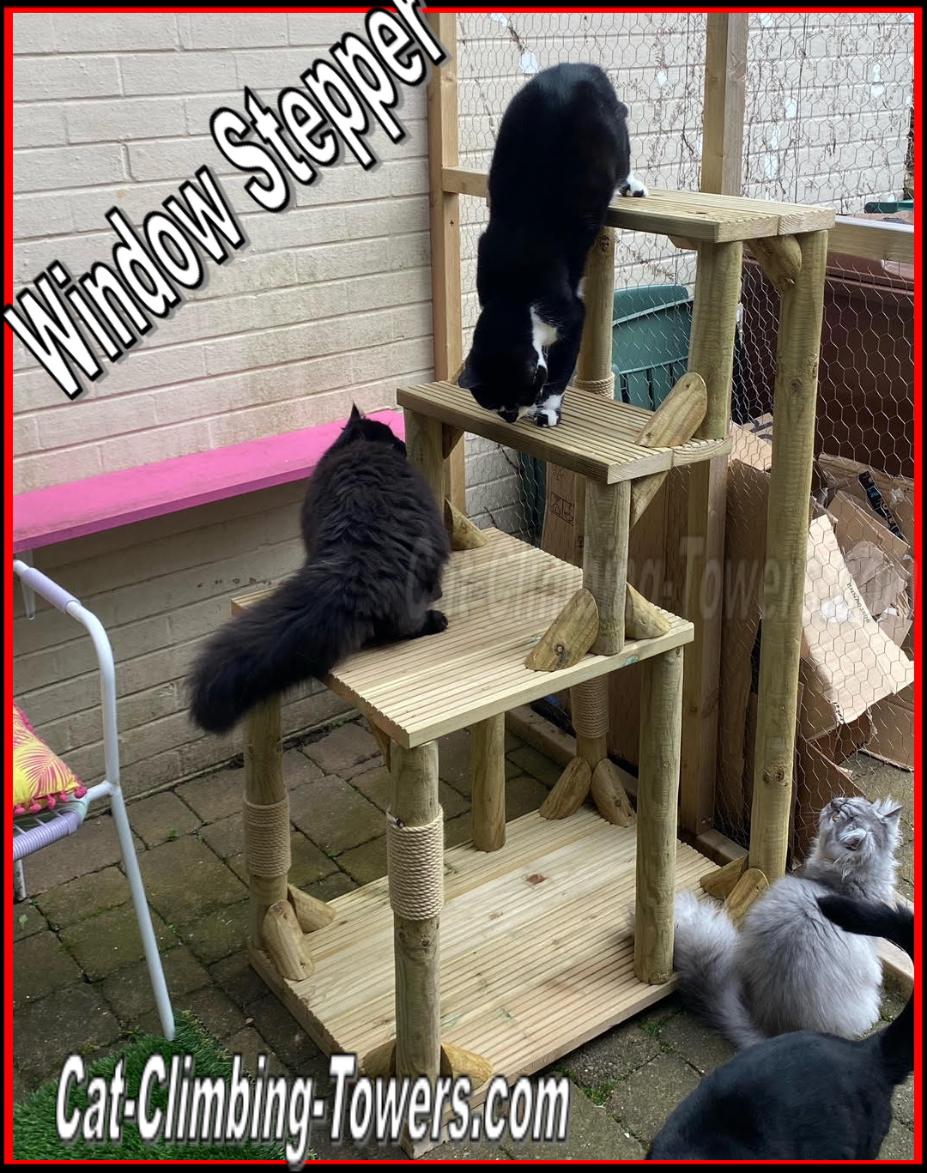 They love it! Here are some pictures of them on the tree.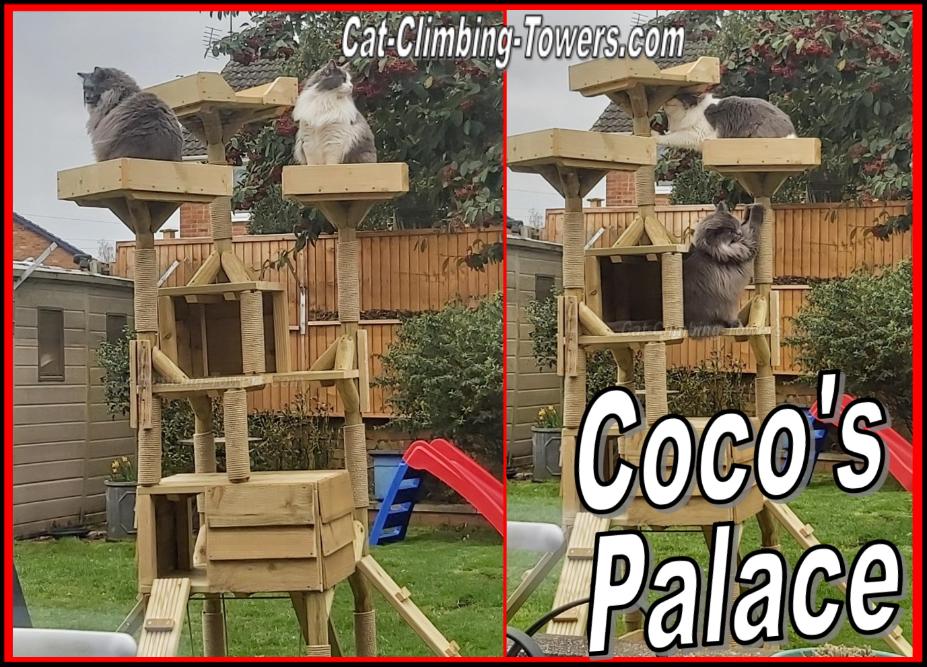 Hi David.

I bought one of the Tabby indoor frames just after Xmas, and I just wanted to say it's without doubt the best scratching tower I've ever bought (or maybe the second best if I include the outdoor Pyramid I got from you last year). It's sturdy enough for all 4 of my furry friends to play on it at the same time & they do leap about all over it. They also seem to enjoy scratching the high quality rope more than they did the heavy duty sisal I had previously.

So all in all they love it & I love the fact that it's designed & hand built in Britain by someone who clearly knows Cats. It also looks great in my home.


Kind regards
Zoe....Eve, Witch Hazel, Jim-Bob & Clemie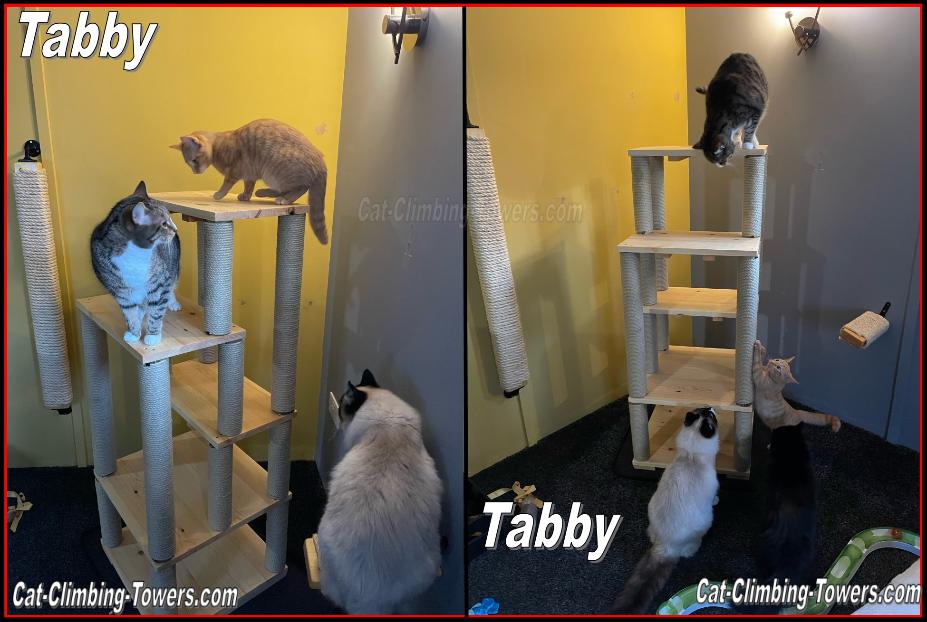 Cat tower now in garden and both cats loving it. We chose this spot as the sun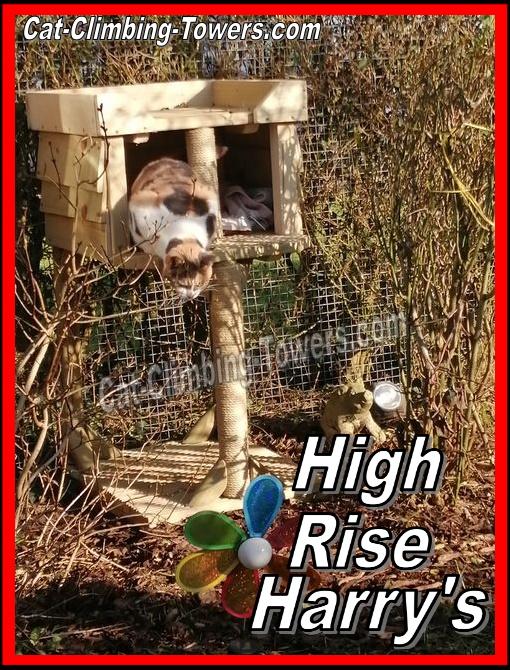 Thanks David, I have received the climbing tree and the cats are loving it!
Kind regards,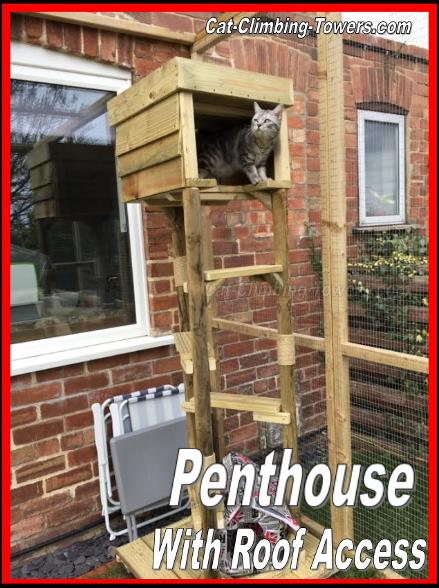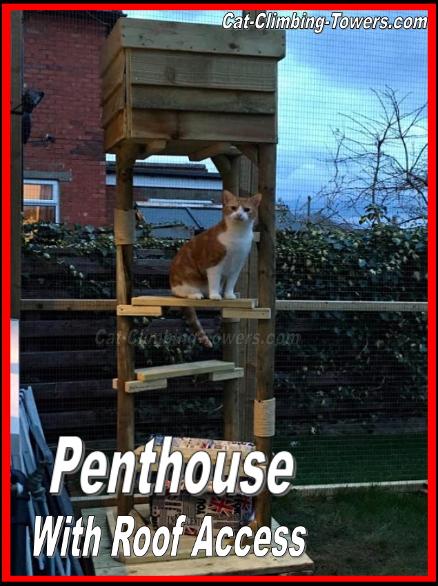 leia enjoying exploring her new royal mews outdoor frame , her brother was a little more scared of us, and would not come out to explore until after we left.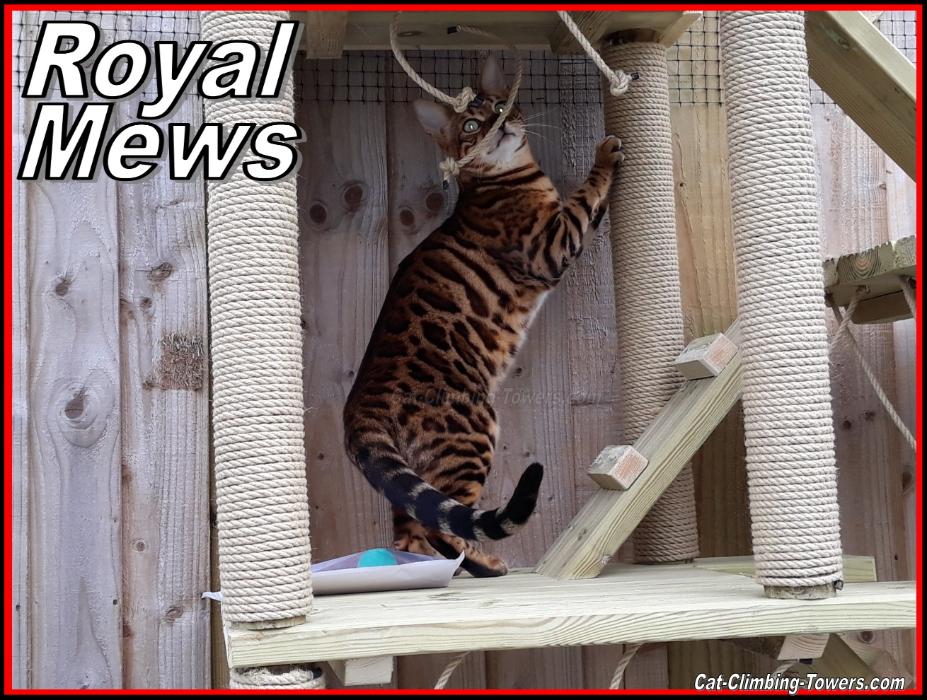 Hi Dave, My tower arrived today thank you so, so much I absolutely love it. A litter of my foster kittens were first to check it out its definately going to be a massive hit here with the amount of cats I look after. I think I'll be back for more soon! Danni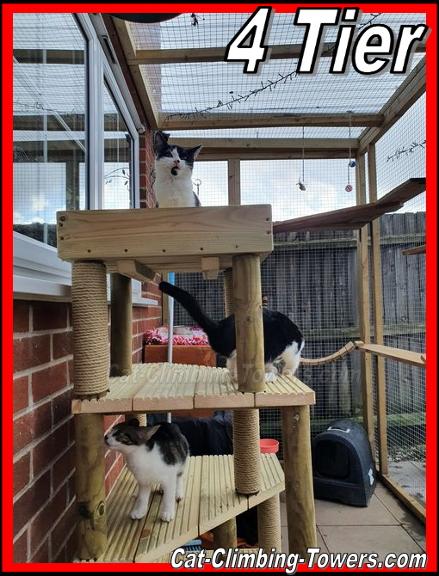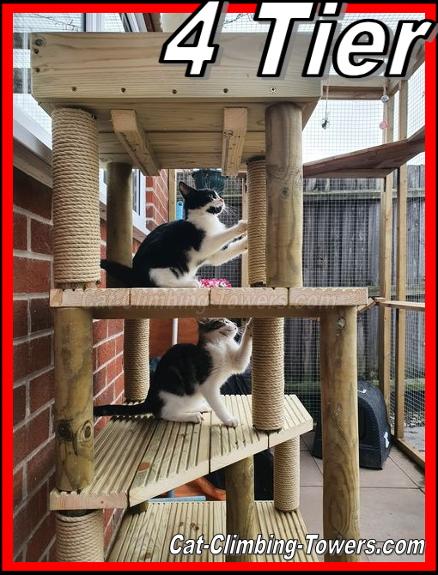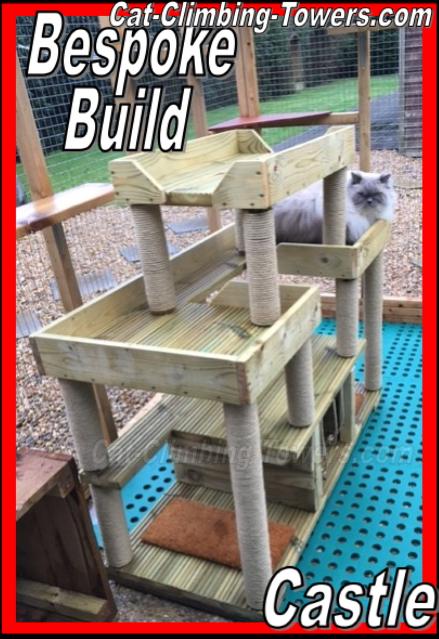 A bespoke build based on the very poplar frame the Castle, only difference being the customer wanted the ramps leaving off.
from the customer
Hi Dave,

Thank you we received the unit. One of mine couldn't wait for it to be put in position before he jumped on! The ball in the receipt was a nice touch!


Best wishes
Debbie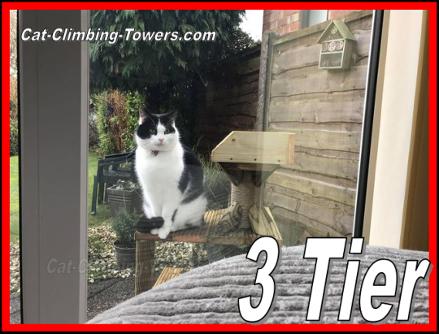 Humphrey finally on his 3 tier, I think he's worked out if he sits on it, I can see him and he'll get inside quicker
Some great photos of the 4ft window stepper.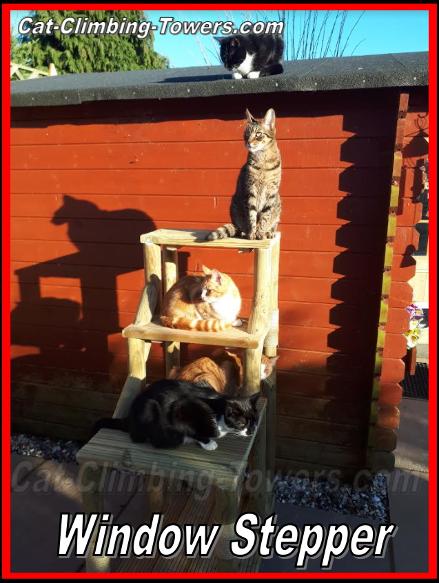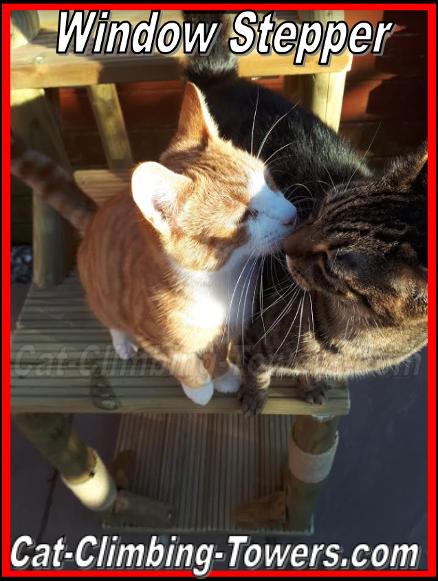 We make outdoor frames for the UK, that means they have to be able to withstand, all weather conditions.
No cardboard or partial board in our builds !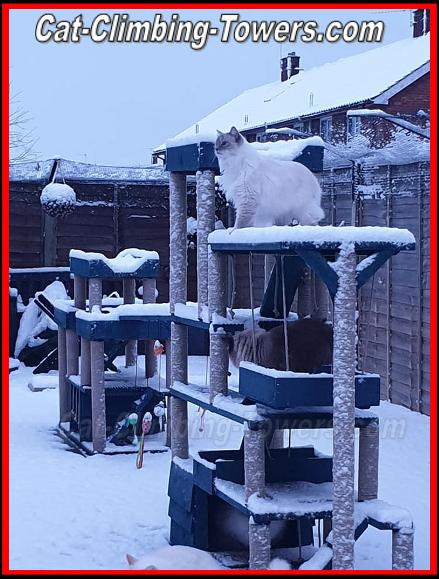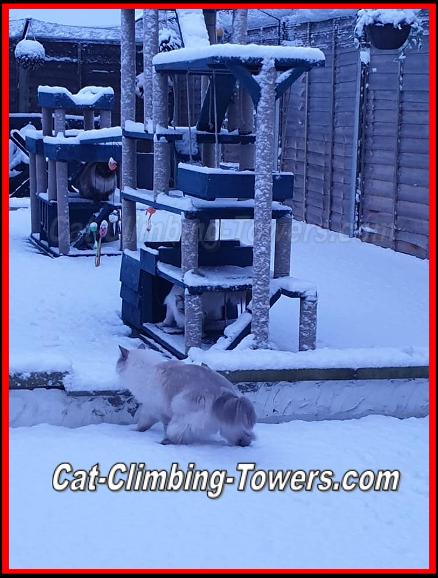 From today's delivery, a bespoke item, based on the castle frame , with 2 higher platforms, to give the cat a over over the protectapet fence.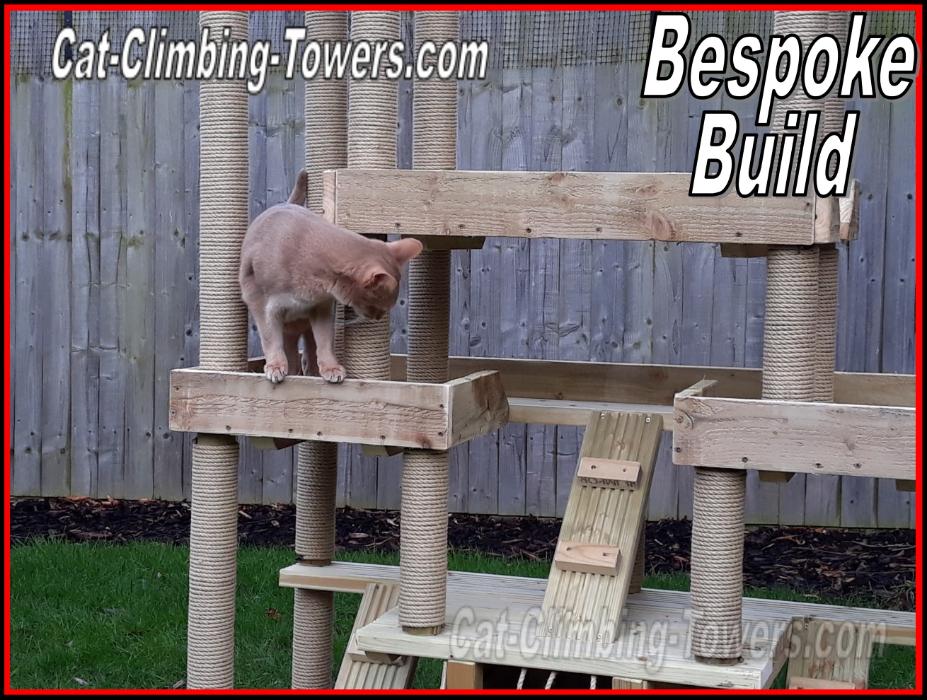 Sammy's Christmas Stool
Here is Sammy , purring in the sunshine on his one hop custom built stool.
Just the right height for those days when he just wants be off the frosty ground and enjoy the sun.
Thanks Dave!
Regards
Liz and Sammy