Welcome to the 8th !! Page of customers photos.
Thank you to all who have taken the time to send us photos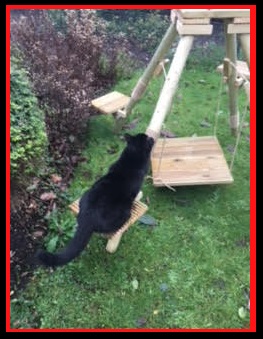 Hi Dave,
I just wanted to let you know that the tower is a huge success with our cat. She's a rescue animal who was confined for many years to a small flat and she's now working on getting fit. But because there are all sorts of hazards here in central London, she only has a fairly small outdoor exercise space in our cat-proofed garden. The tower was an attempt to get her climbing. At first she was struggling to get to the top. I had to lift her up there. However I've just seen her make the leap from the bottom shelf up to the top. So I think it's helping her get fit. She loves playing on it. I think we will be back sometime maybe for a bigger one for the garden or something for inside. Photo attached.

All the best,
Catherine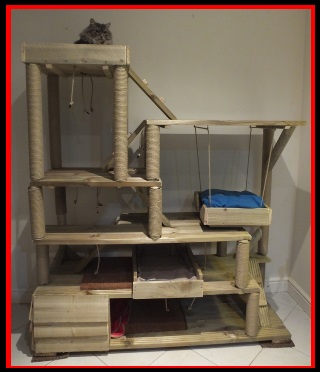 Hi Dave & Vicky
Thank you so much for coming all this way with my wonderful Christmas present. Jasper has been up and relaxed on the top. I have added some blankets and a cushion for them. Sooty has been in the box and Tibby has jumped up onto some of the platforms.
Here is Jasper relaxing on the top platform. Shows how big it is as Jasper is not exactly a small cat.
Best wishes, and keep up the good work.
Regards
Michele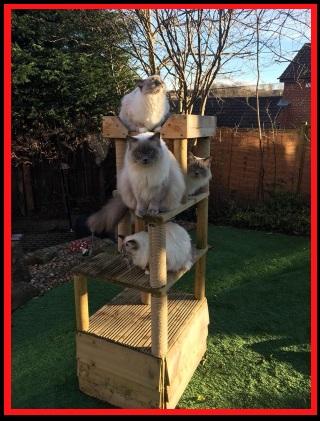 4 full size Ragdolls on a 4 tier frame showing how big and strong the levels areas are.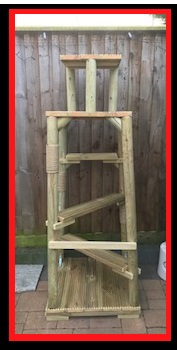 The Watch Tower is now ready for 'peeking' over the fence!!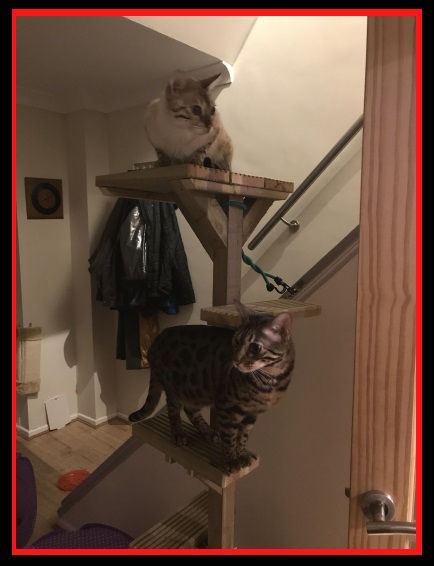 Hello
Here our two of our cats enjoying their new tree (Satch at the top and Abby underneath). The biggest one isn't keen on it unfortunately.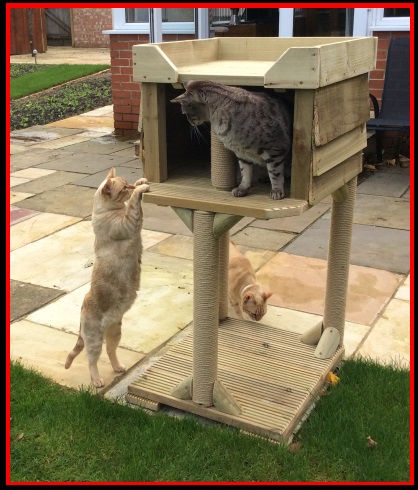 Hi David
The cat tower arrived today and as you can see there is lots of interest.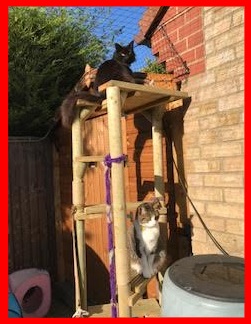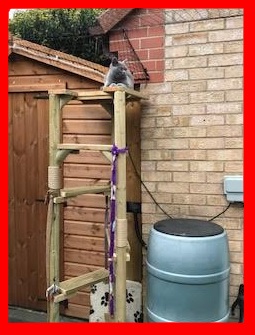 hi dave
some pics of the cats enjoying their fab sky ladder- Jaycee (black), Tabitha(tabby), Peaches(ginger) and our baby Missy (British Blue)
Thank you so much,
Kind Regards,
Sandy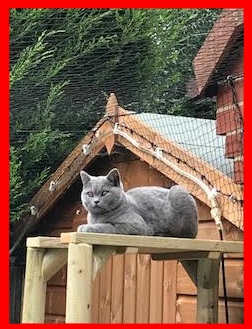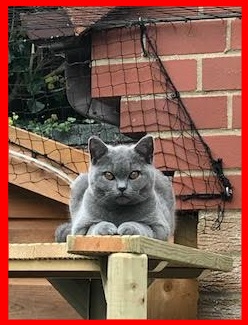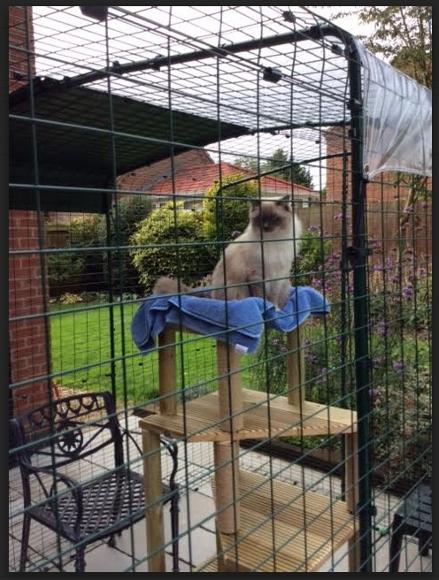 hi Dave
I am sending a photo of Bert ; he seems to be quite happy with his new frame!
Take care.
Kay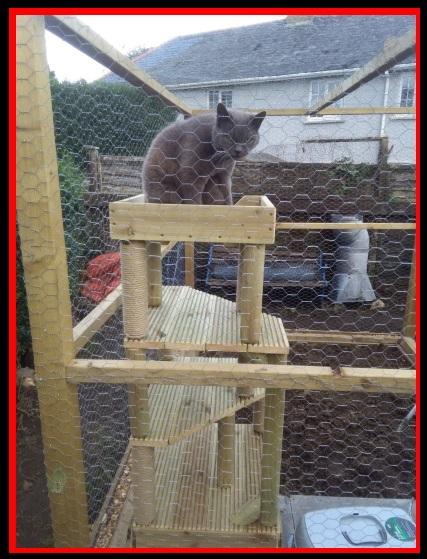 Hi Dave
Am delighted with the climbing tower, have now installed it and, as you can see, my cat is happy with it as well!
Thanks and Best Wishes,
Mike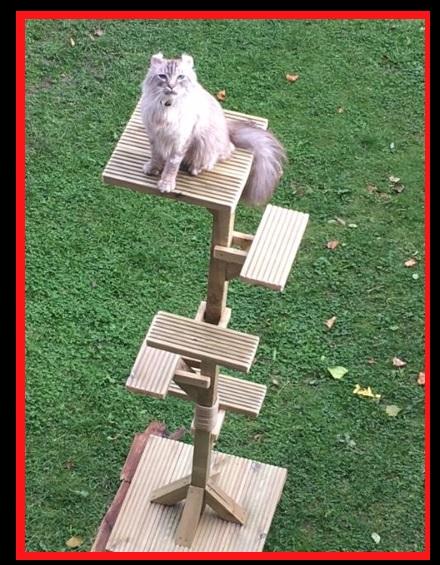 Dear Dave,
The climbing frame arrived this afternoon and Sashi is already on it! Thanks a lot, it looks like this is going to be a very well used item and also much enjoyed by my cat! Best wishes and many thanks for being so reliable and professional,
Regards, Etta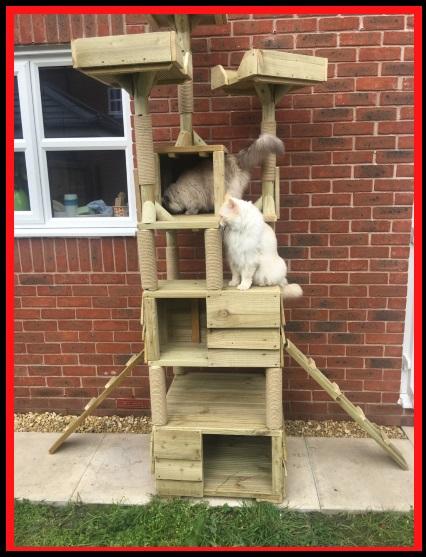 from Lindsay, just a quick photo to let you know that they love it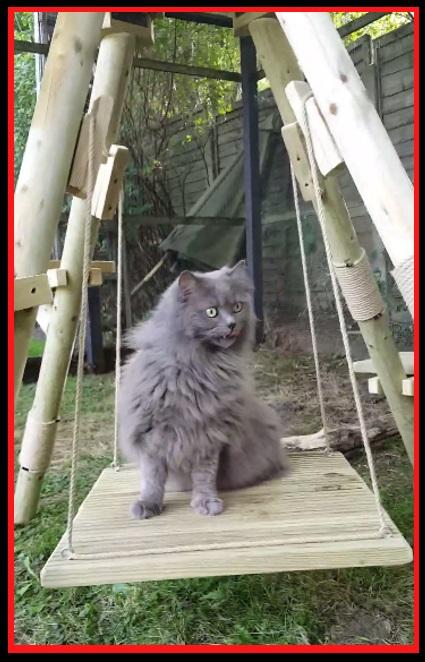 Some of my lot investigating their new Royal Mews and pyramid. Excellent service from Dave and Vicky, Thank you so much guys, the cats are loving them.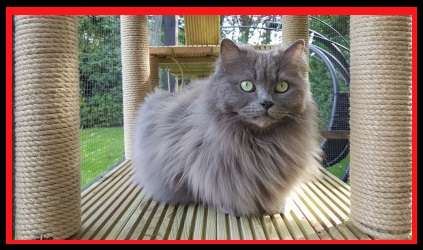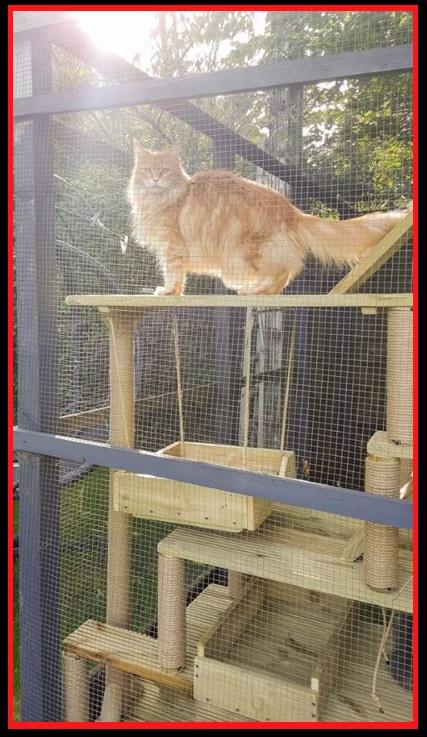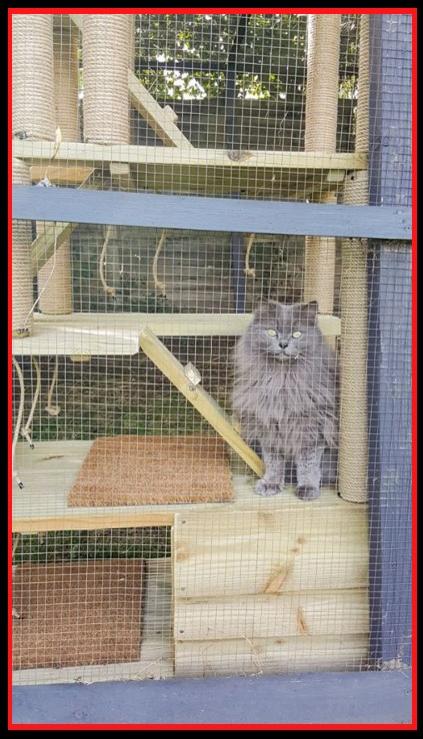 Thank you so much to you and your wife for delivering and setting up the new frames for me.
Betty took to the new frame with the roof straightaway and Bossy was enjoying sunbathing on the 4 tier frame.
Hope you had a safe journey home.
Best wishes,
Sue.
just in from sue
Hi Dave,
I am very happy for you to include any of my details on your website or Facebook.
I was wondering if you could add these words with my pictures :
'This is my 3rd purchase from Dave at Cat-climbing-towers. The products have all been first class as is the friendly and very helpful customer service. I highly recommend them. My 2 cats Bossy and Betty love all their new climbing frames and now I just need a bigger cat enclosure so that I can buy more!'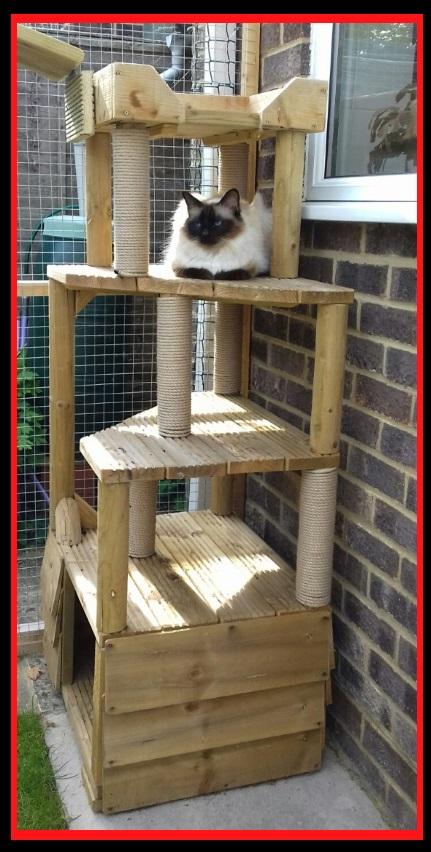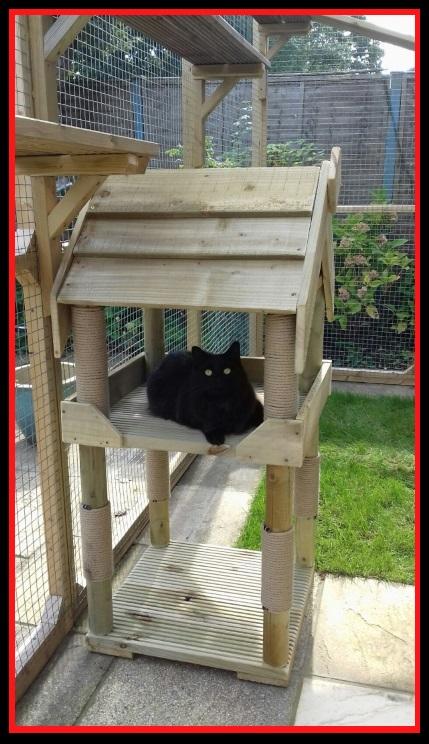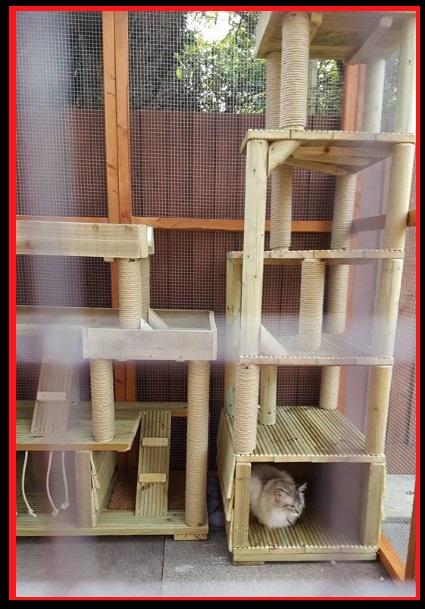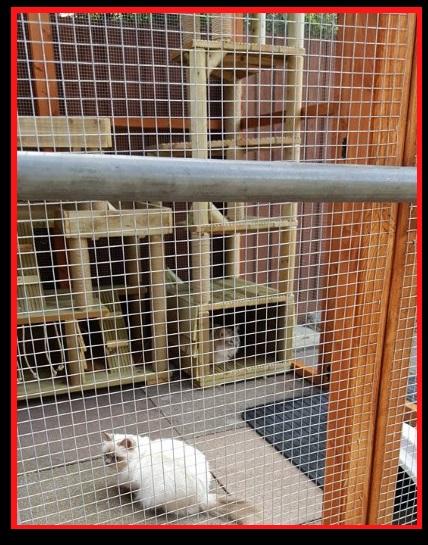 Both cats are really enjoying their cat towers thankyou .. it has really given my elderly rag doll a totally new lease of life , she's spending loads of time out there using every inch of the climbing posts , it great to see her jumping from one bit to another . Thankyou x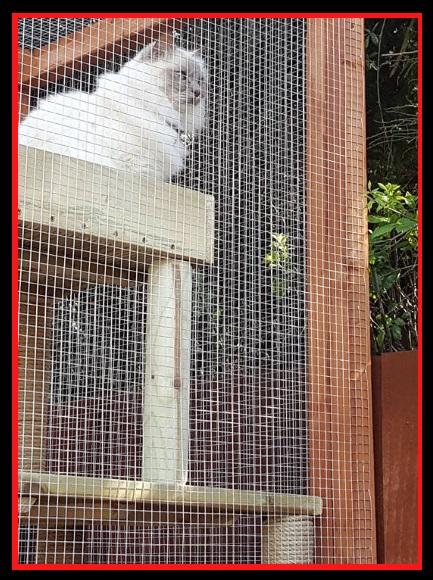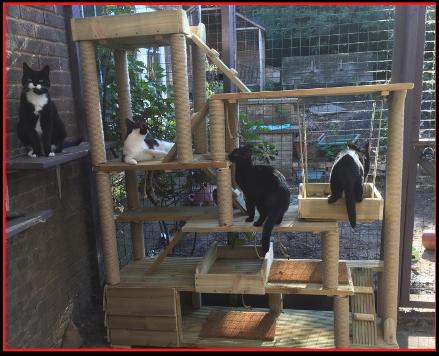 Just in from doing a delivery, to find the photos of the cats all ready enjoying their news Royal mews. Think it is safe to say it is a huge success.
We received a request to build a 8ft tower to help a cat who would get on top of the conservatory but could not get down.
8ft is to big for us to post. and the distance would of made delivery by us very expensive. but we was able to build a 3 stage frame that the customer could assemble on delivery, as you can see from the customer review and photos below, it has been a huge success with the cats.
Good Afternoon David
Every picture tells a story!
Truffle loves her tower ,no more getting out the ladder to get her off conservatory roof/or fence
She was on it as soon as I had positioned it. First thing this morning she claimed her place
& sat there for over an hour. My other two have also used it (no encouragement needed)but
let her keep her top spot.
The prompt service & super product was worth every penny & I can not thank you enough.
Four very happy customers. Warmest wishes Anne ,Truffle,Dusky & Shimmer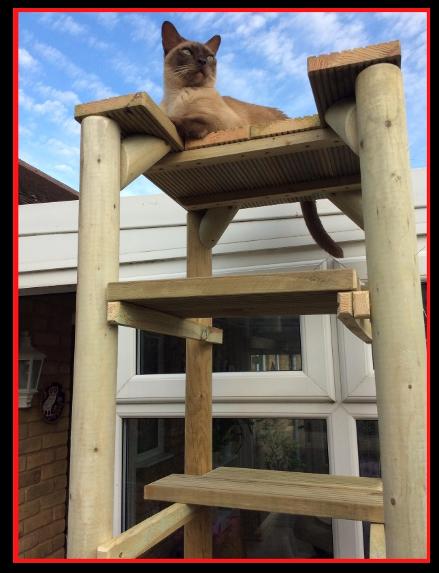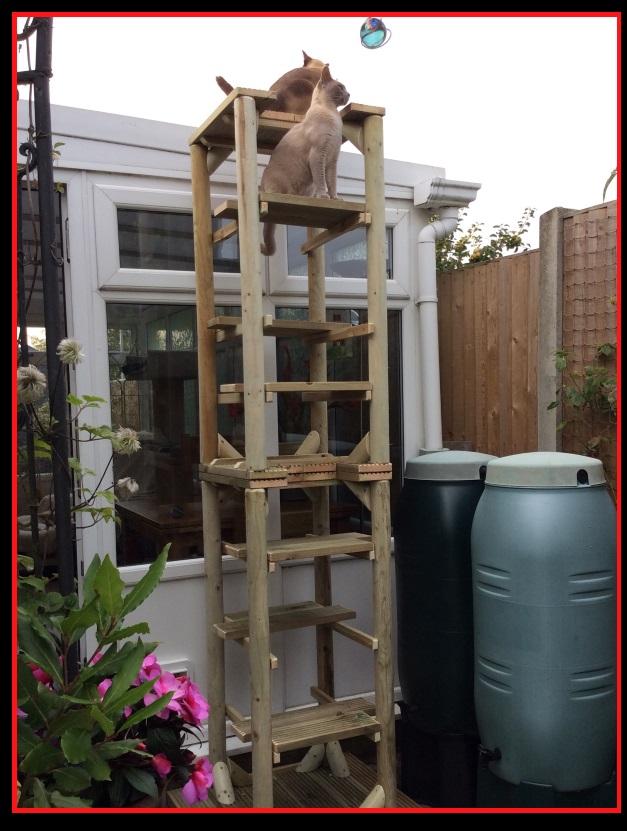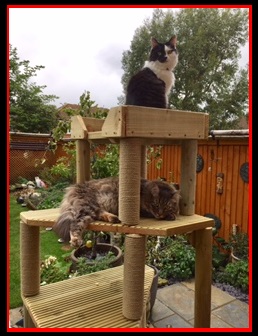 Here's just a few of the fuzzybutts enjoying their new stand,
thanks again sarah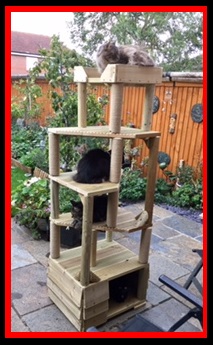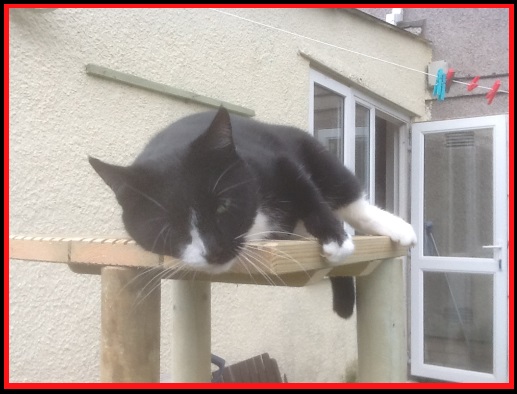 Hi
Arrived yesterday but unpacked today
Beautifully made
Sitting in garden with my 4 cats and neighbours cat eyeing it up
Oh no as we speak Emily. At the top- sitting there lording it over her subjects.
I will send a picture now and then more when it's in correct spot
Thank you so much
Tracy
We get a big buzz out of building a custom frame based on the customers remit then getting to see the cat exploring it for the first time.
Sadly on last week ends build, the cat Mika, was too shy to make an appearance while we was there. but as soon as we was gone he was exploring his new play ground. happy to say both the customer and Mika was very happy with the frame.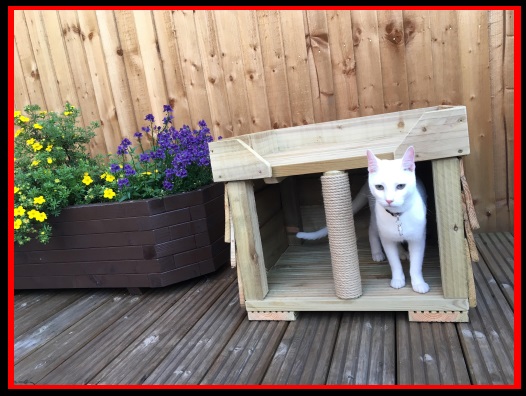 a photo of my lovely Sasha on her tower
Hi Dave
Here are some photos as promised of our cats on your wonderful cat frame. The cats love it.
Regards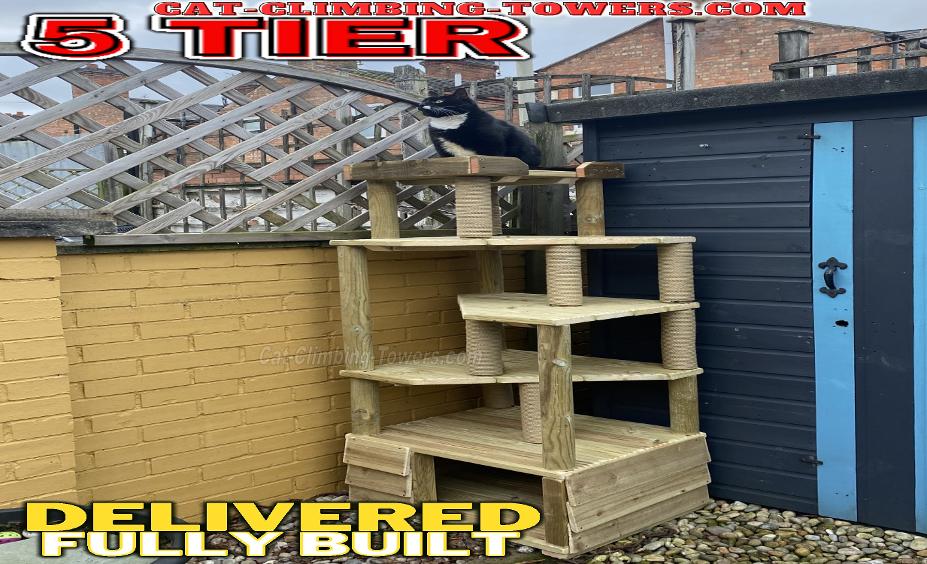 I thought you'd like to see how quickly the twins took to their new tower. (30 seconds)
Thank you.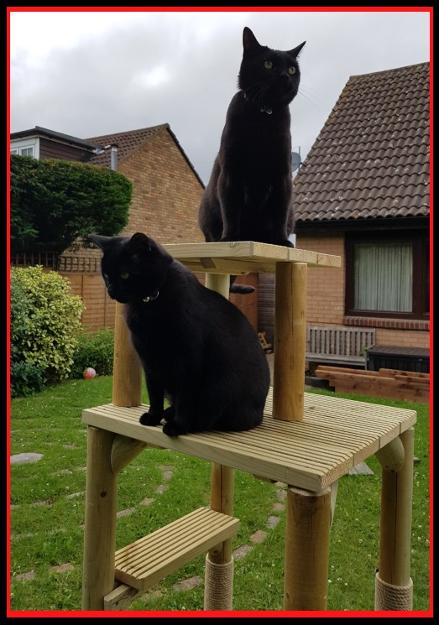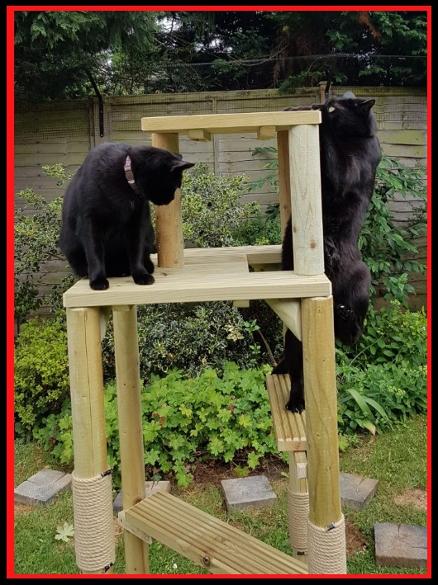 That is some funny looking cats
we do love to get am email that asks if we could make a bespoke frame. we are always ready to take on a new challenge but this one was a bit more left field than most we get.
adding enrichment to a domestic foxes enclosure. 4 custom built frames latter each with its own den, access ramps. hammocks, the foxes love all the extra room to play in.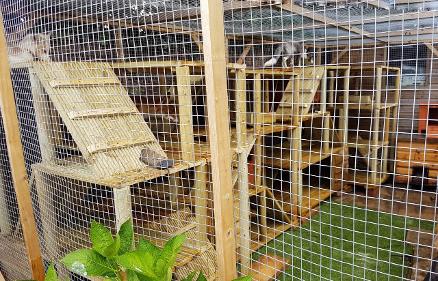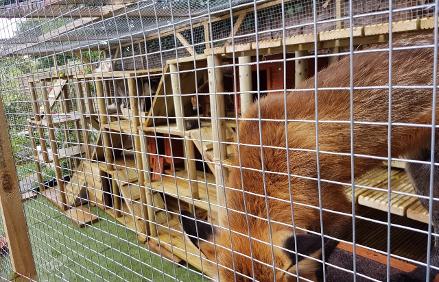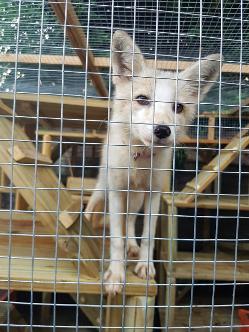 Thank you so very much for everything , my boys both took great too the tower . Even my very shy cat ( he doesn't really like new stuff ) not be happier :) thank you for everything ,Sam and Dean love it too :)
All the best
Julia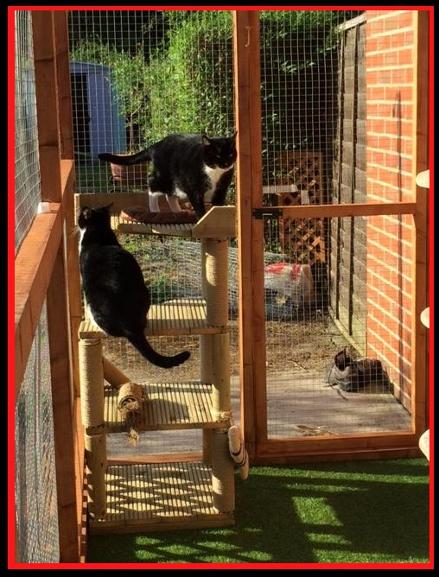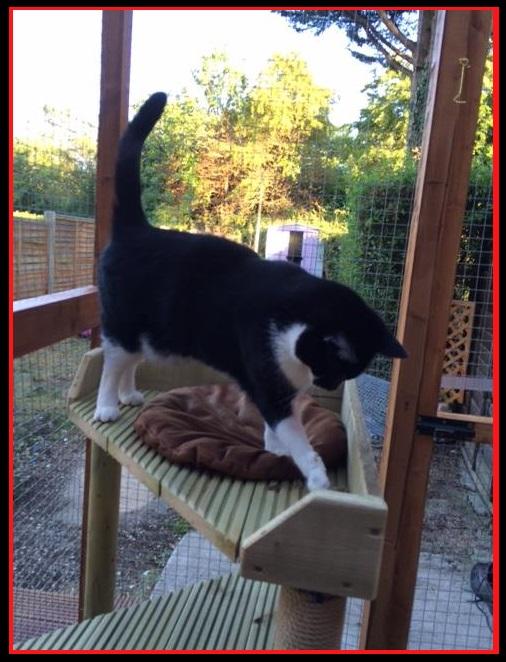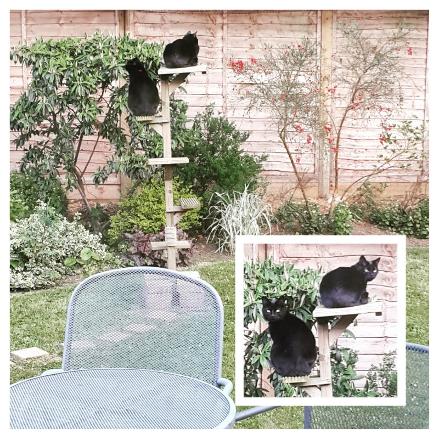 Hello,
I've had one of your towers for a few years now, Here's a picture of the twins enjoying what we call Air Traffic Control!
Best wishes,
Sara
Hi Dave,
Thank you very much.
Aby has been enjoying her birthday present. Have a couple of photos which I'll send you.
Kind regards,
Pam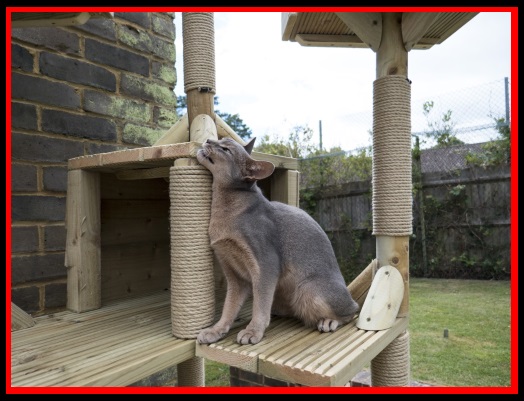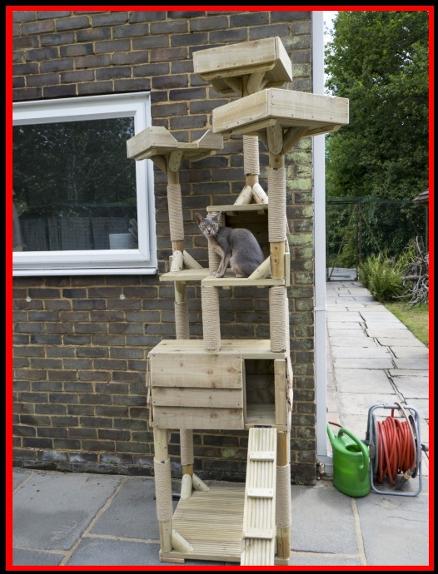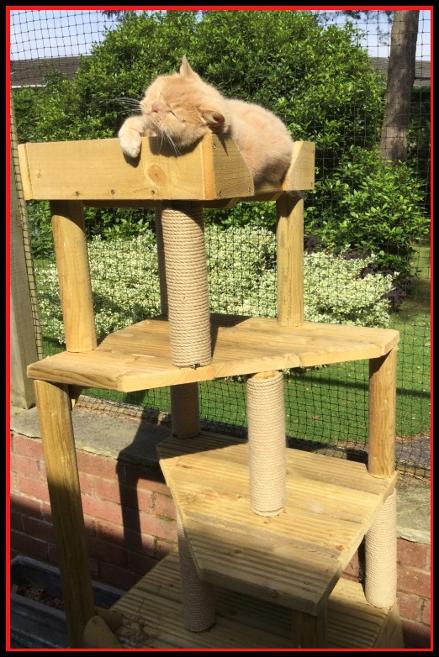 Calico enjoying being king of the castle. (4 tier)
Big Maine Coons enjoying their new Haritos hose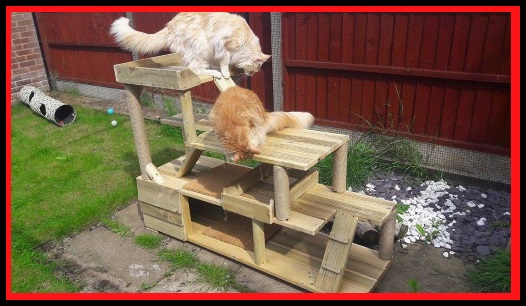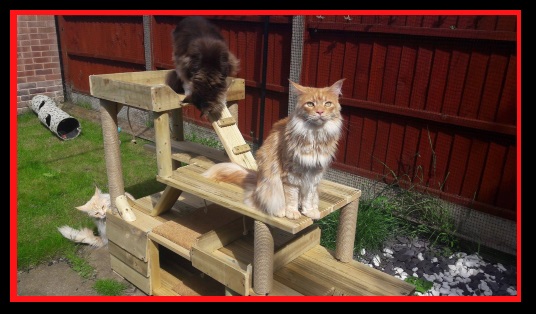 A lovely installation over the week end, fitting out Kate's new enclosure, with a Royal mews Castle and a Pyramid, the 8 cats have plenty of enrichment to keep them happy.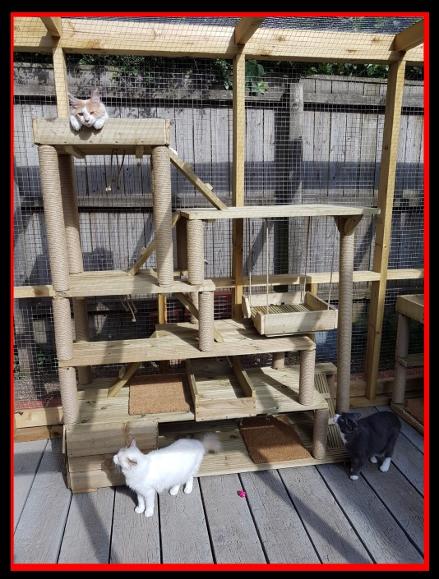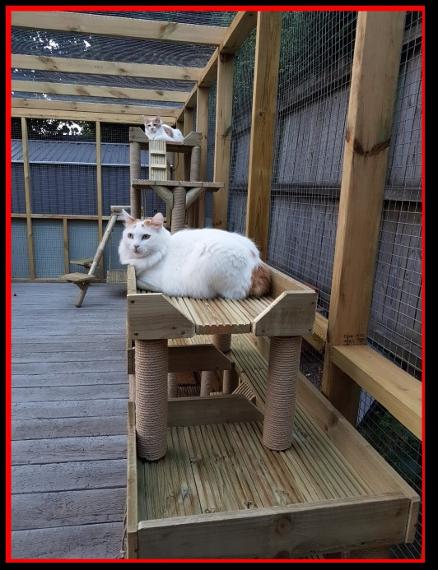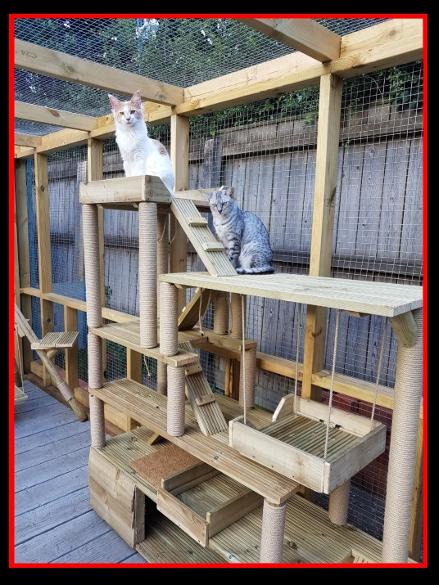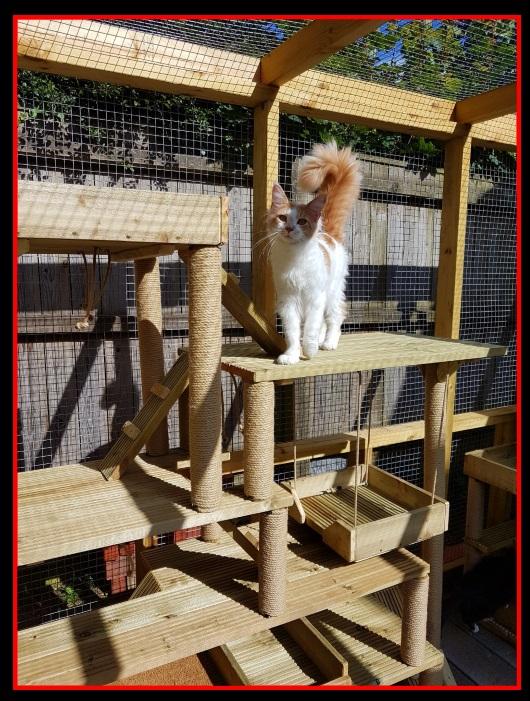 someone is enjoying the new view from 8ft high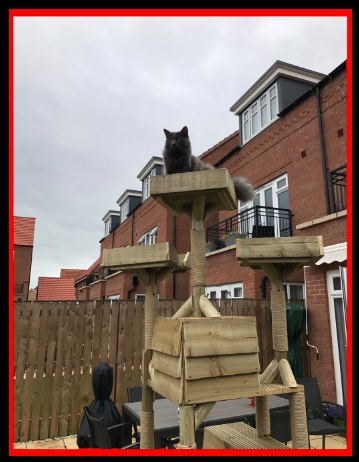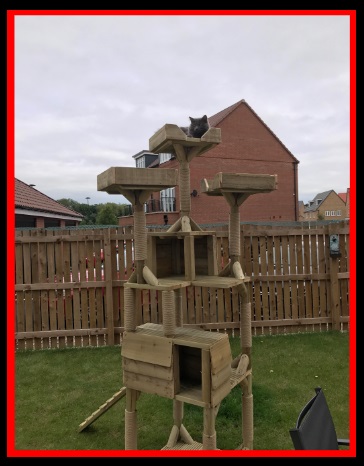 It has arrived today! We are all loving it! Even the dog! I am so pleased with it!
Hope you like the pictures!
It is so well made and a perfect fit in the space in our courtyard! Best wishes Sandy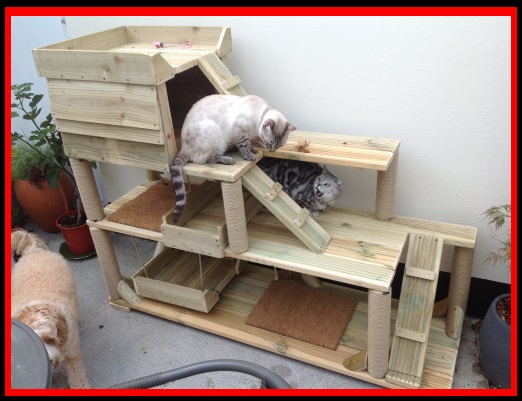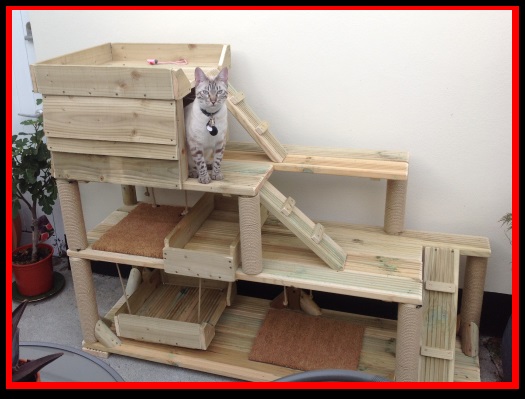 Thank you so much for the climbing tower for my cat Arnie. It took a short while before he got used to it but now he uses it all the time. It has really solved a problem for him as he likes to sit on the shed roof but it was a high jump to get on top of the fence which he then had to walk along. I have enclosed a few pics of him using his climbing ladder! Many thanks once again.
Maria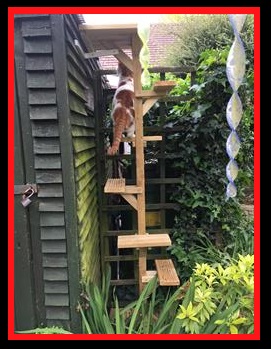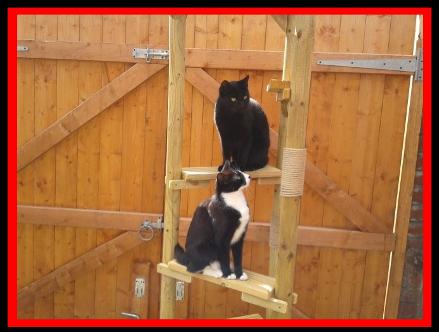 Hi,
We just wanted to share this photograph of our 2 gorgeous rescue cats enjoying their wonderful new Skyladder climbing frame.
The bigger footprint is perfect for our larger cat and they've spent many hours of enjoyment on it.
Your products are made with the utmost care and are excellent quality. We cannot recommend your products highly enough.
Best wishes, Aaron and Liz
Hi Dave
We have a problem, Houston, they are fighting to see who gets the top deck!! our cats love their big foot and we are so pleased you added the lip to the top deck as they are already sunbathing and rolling over. They completely love the tower. Here are a few snaps but we will send better ones for your facebook later in the week.
Michelle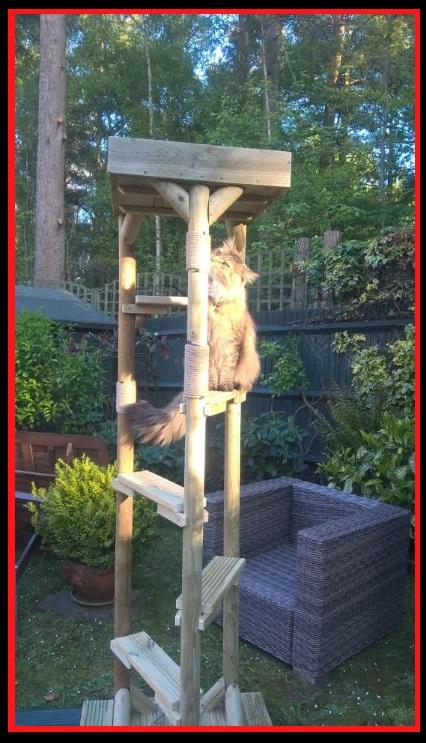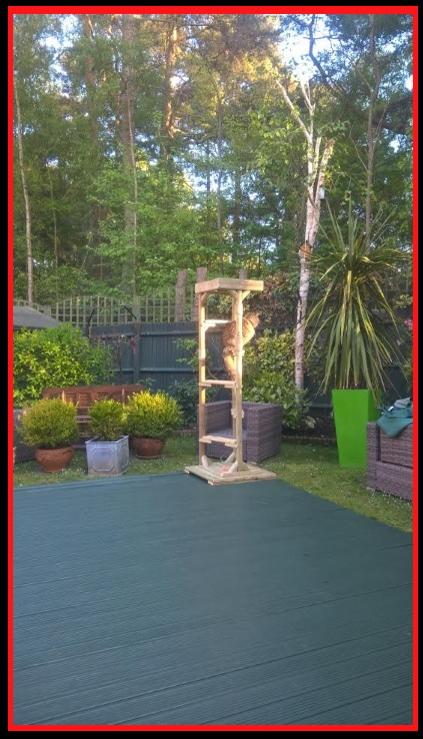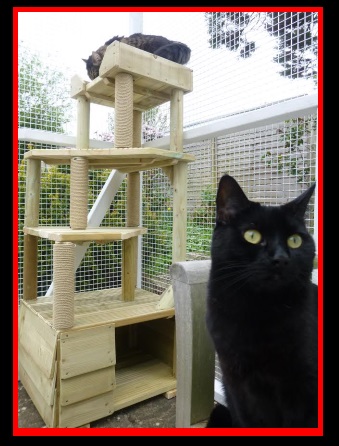 Just to say the cat tower arrived safely today and has been a great success! once it was unwrapped (great packaging!) our two cats wasted no time in exploring it! It sits nicely in our cat enclosure. Many thanks indeed, it is going to be great this summer to keep our cats happy.
Fay and Mark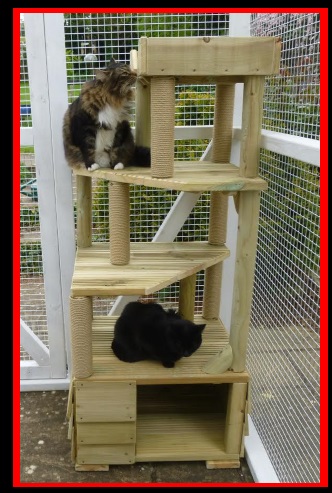 Hi
Here are a few pictures of Minky examining her Tower this morning in her cat enclosure.Not bad for a 9 year old climbing straight to the top. I think she approves but has just come running in as it's hailing outside.I'm sure she will be out again later. Thank you so much we are both thrilled.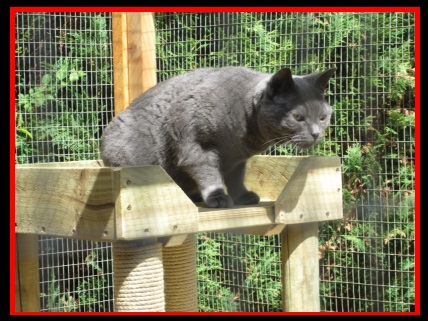 Hi,
Thanks very much- we received our tower this week and we've just put it out in the garden. Attached are a couple of photos of Samson (ginger) and Delilah (tortie) enjoying their new tower. I'm sure they'll be lounging on it all day once the sun is back out!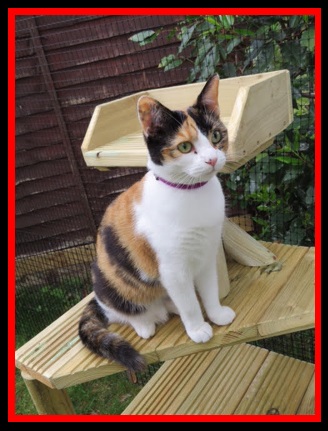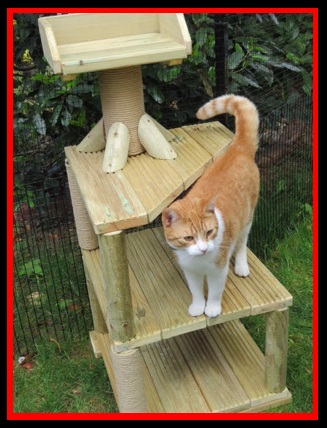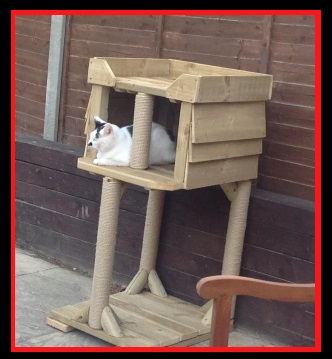 Hello Dave & Vicky
Thank you for the cat tree which Ernie (in photos) and his sister Dora are really enjoying
Kind regards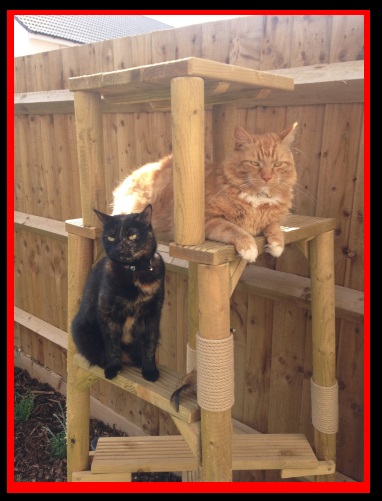 Our cats adore their tower I see from your website you wanted photos. This is Honey Monster and Cocoa pops watching the world
Thanks once again
Liz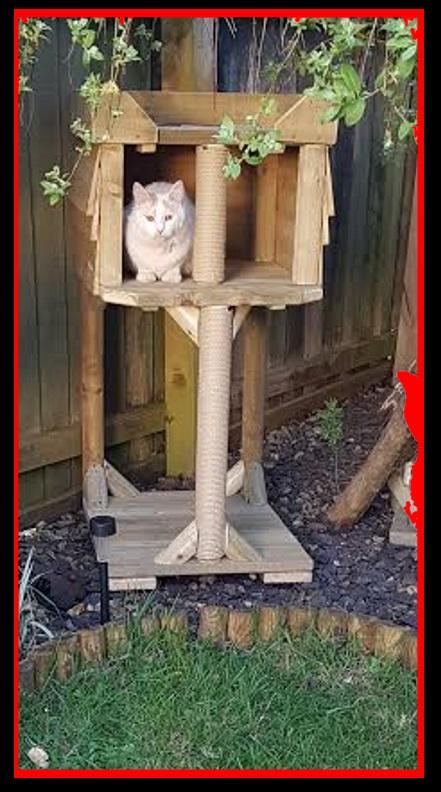 Hi
Just to let you know that the frame arrived yesterday. I'm extremely happy with it and hope to order another in the near future.
One of my boys has already checked it out - they have several things to climb in the garden already. I'll take a photo for your website over the weekend.
By the way, excellent packaging, took me ages to unwrap!
Kind regards
Nicki, Arnie, Finn and Ollie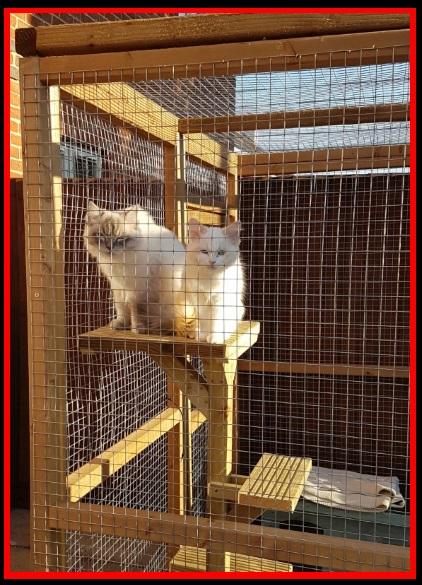 Hi David,
Thought I would let you know that my cats are enjoying their new cat pole.
I'm very impressed how well made it is.
It was well packaged and I received it very swiftly.
They both knew how to get to the top by climbing up the steps almost immediately, so not too much encouragement needed. I have placed lots of bird feeders around the garden so now they can get a birds eye view of all the activity going on in the garden. The 4ft height is perfect for the 6ft high enclosure.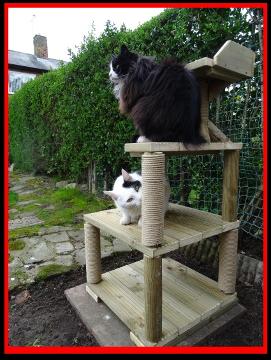 Hello
The tower arrived today , its great , thank you.
Here is a photo of Minty who took to the tower straight away and spent a lot of time on it already , made use of the scratching posts too.
I'll send a second photo of Minty and His brother Leo who has also investigated the tower. I have a feeling Minty will claim it as his though !
Thanks again
Joanne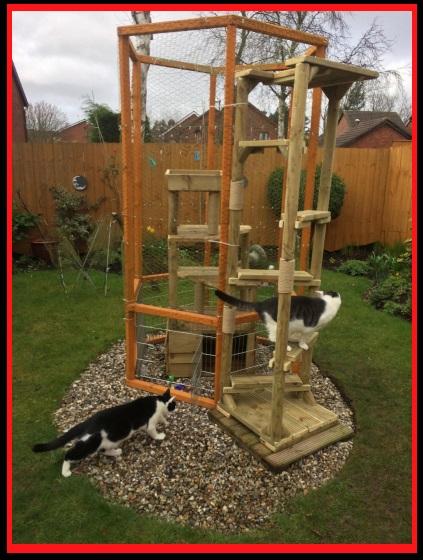 Thank you for our fabulous climbers the cats love them
Terri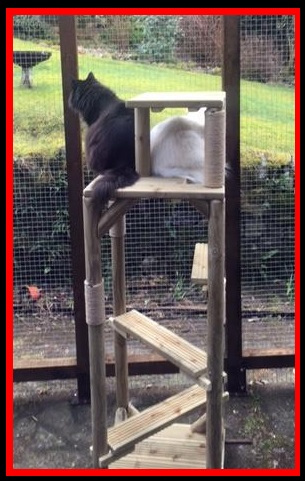 Well, they didn't need to be shown how to use it! As soon as we put it in the pen this morning, both were up on it. We love the solidity of it - 2 stone + of Wegie bounding about on it, and it's rock-steady. I'll take a better pic with my camera rather than phone in the next while, and send in case you want to add it to your gallery
Beautifully packaged, by the way.
Best regards
Fiona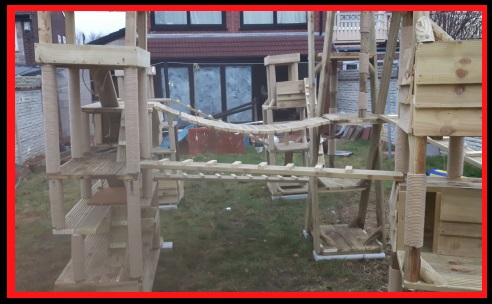 What do you do when you are moving in to a new property?
You get protectapet in to secure the garden and then get us in put lots of frames in, with connecting ramps and rope bridges to keep the cats enriched.
Then and only then, you move in and finish the decorating. Well that what this weekend customer did, I think you will agree a true cat daddy making the house move goes as smooth as possible for the cats.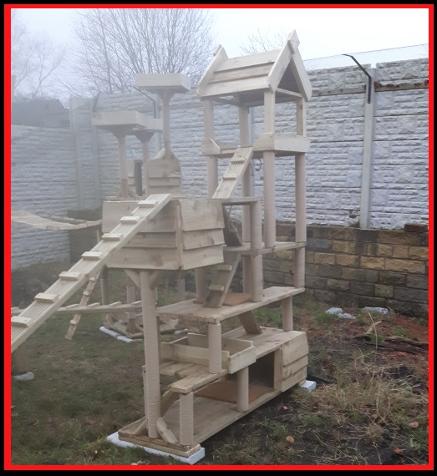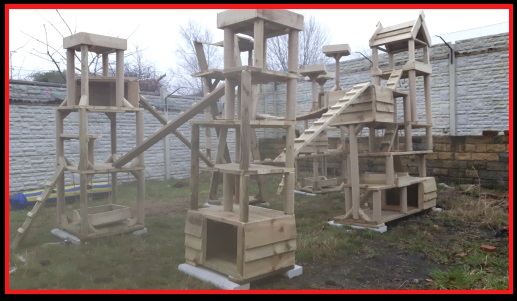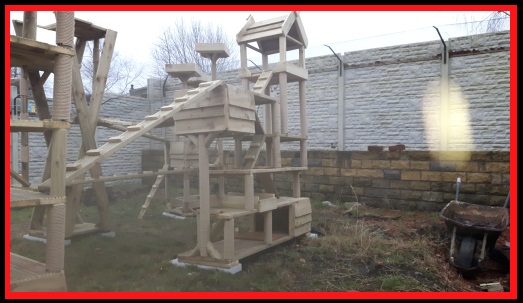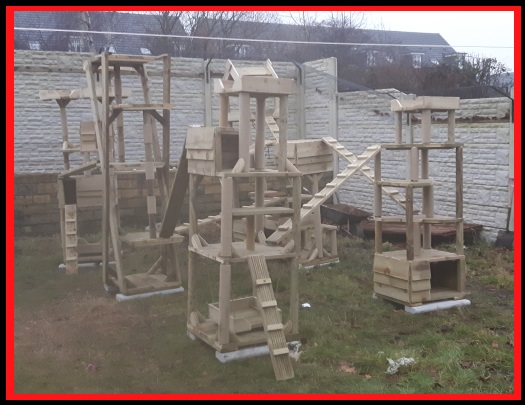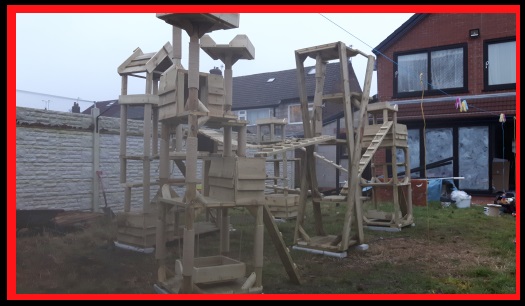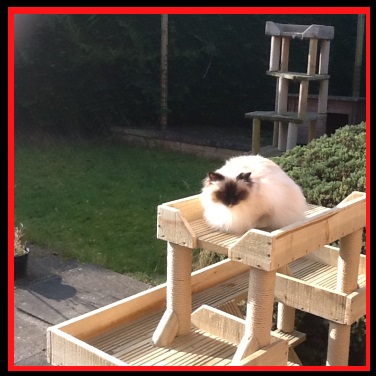 Phoebe is enjoying the sun on her new castle!
with a 4 tier in the back ground
thanks Bill
It arrived all ready for use! Its absolutely perfect thank you very much! Will have no hesitation in recommending you or buying from you in future!!
More to the point Toffee can now have a proper view over the fence!!
Many thanks
Karyn