Welcome to the 9th !!! yes, 9th page of customer photos. please do keep send in the photos, we do love to see them.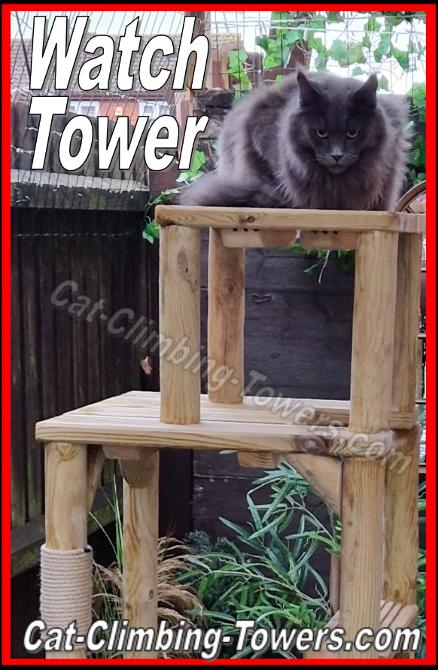 Thank you. They have been using it and loving it.
The photo is of Ollie, Finn and Arnie enjoying your post in their contained garden.
Our Instagram is @bumble6674.
Nicki
.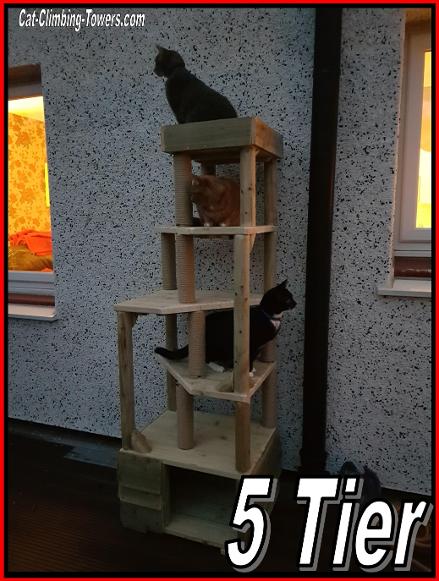 Dear Dave and Vicky,


The cat tree came today and was an instant hit with the cats. Thank you so much, its absolutely perfect!! I can see they're going to get years of pleasure from it :)


Thank you again,

Sarah
Received the 5 tier climbing tower this morning ,Sparky is enjoying it already thank you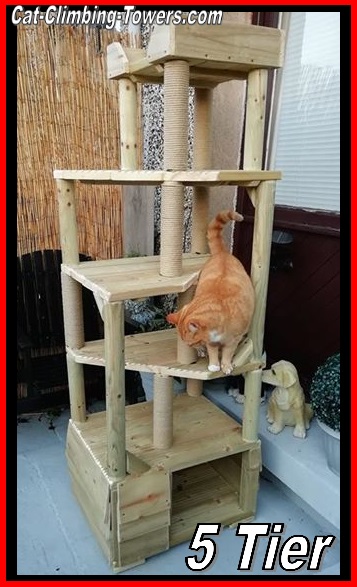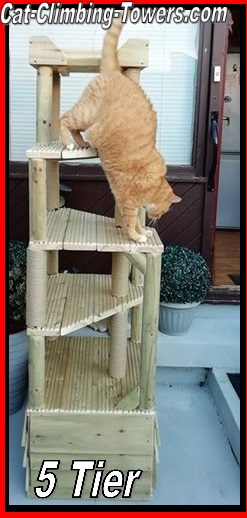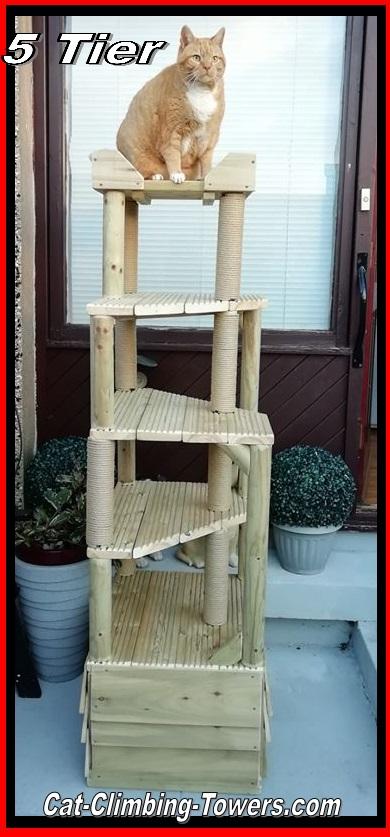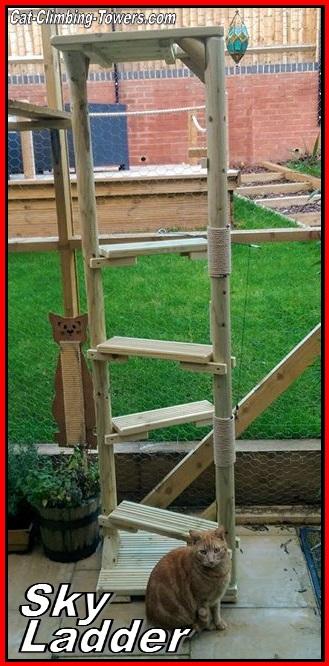 Lovely new cat tree
delivered today.
Billy likes to sit by it!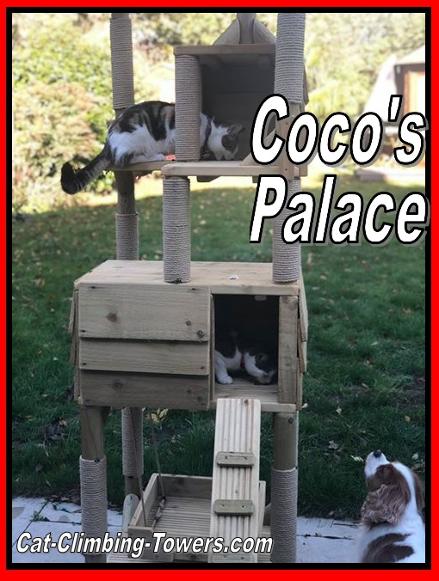 Hi. The climbing frame is great. The kittens Oscar and Emmy #_OscarAndEmmy_ are only just being allowed out for any length of time
.
(although they seem to have let themselves out today).
.
Here they are exploring the frame with a very inquisitive Cavalier King Charles, the gorgeous Button as audience.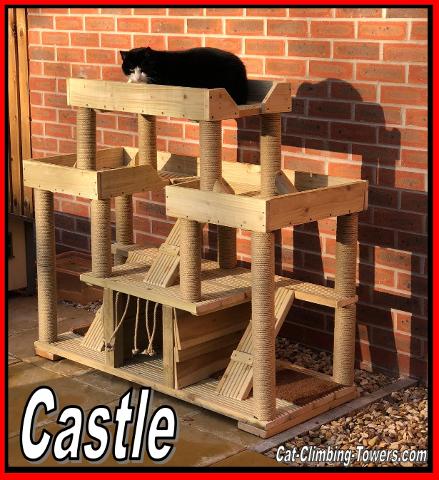 just in from yesterdays delivery .
"Hi Dave,

It was great to meet you too, and thanks so much for your great product and service.
I will check out the link, and also post the details / my pictures onto our FB group for the development we live on (lots have cats!)
This photo was taken about 30 minutes ago :-). Nelson is a fairly large cat (weighing around 6kg).
Thanks "
Just back from a great delivery, of this great bespoke build, for her two very active bengals cat. With 8 fully roped 5ft poles.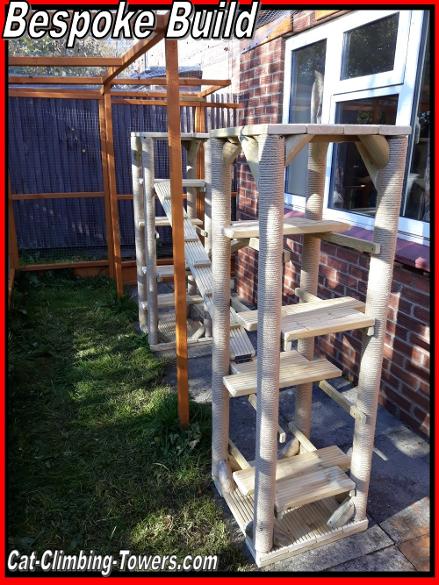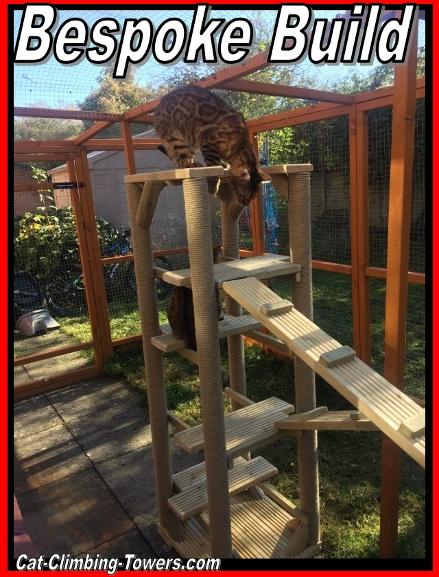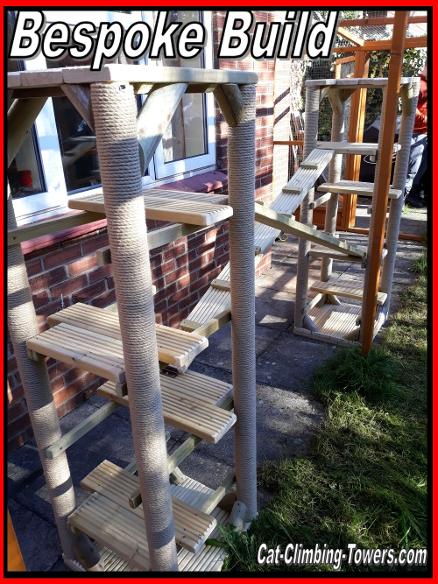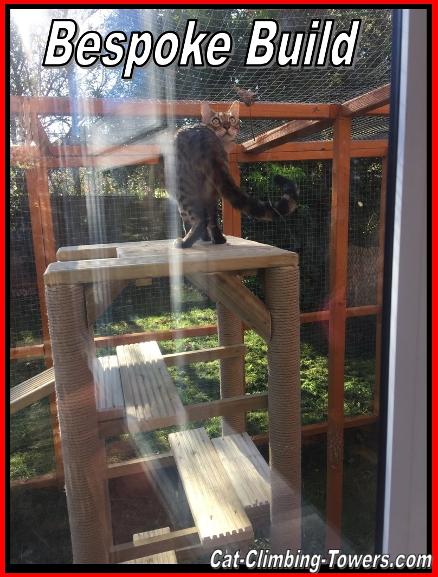 A custom build based on the 4 tier frame with an over sized base to accommodate a litter tray.
.
Would you like a bespoke frame making to your own specifications, that why not get in touch to see what we can do for you.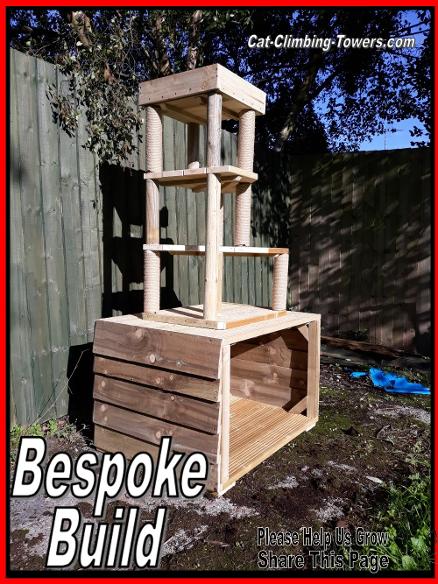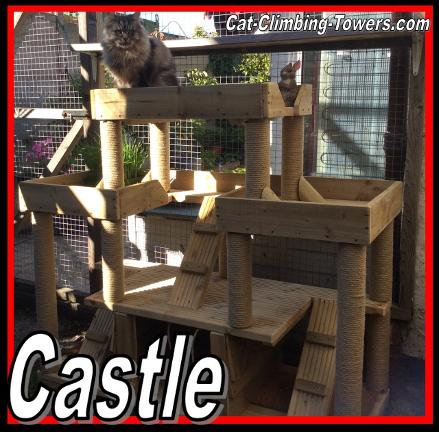 Belle enjoying late autumn sunshine on her new Castle activity centre.
Please find attached photos of the Kits enjoying their new totem pole, now attached to the other frames. They really are thoroughly enjoying running from one frame to the other.
Thank you for another well made product.
Jill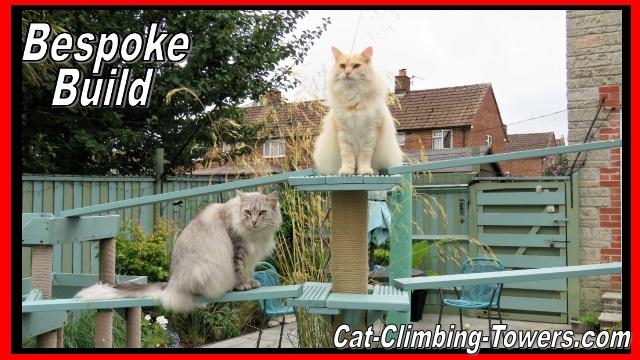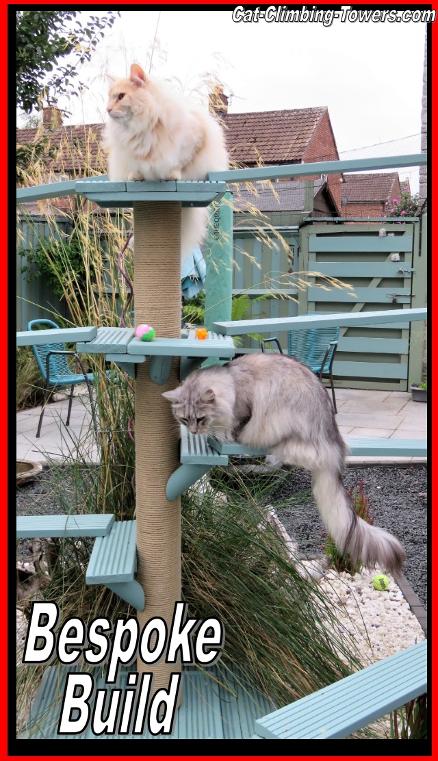 A quick trip out to meet Teresa and her lovely cats today, happy to say the pyramid is being very well received.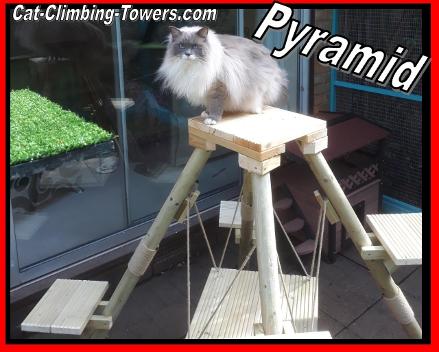 Last delivery of the weekend was this coco's palace. I think you will agree it blends in nicely with the garden.
All ready for the cats to explore.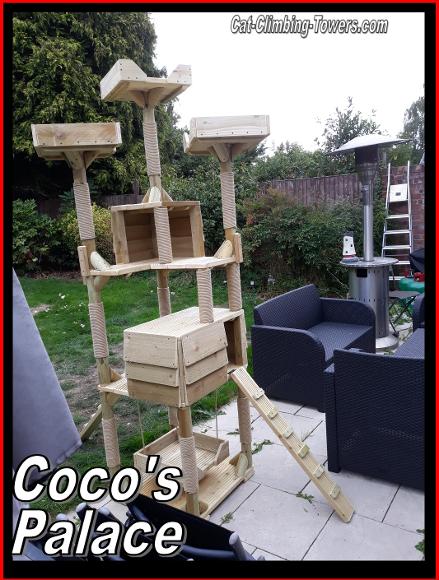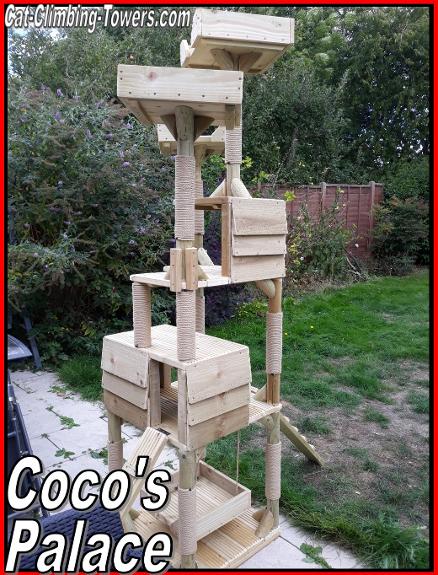 We do love a custom build that it a challenge,
Can you build a frame that will go around a tree but leave lots of room for the tree to grow?
Safe to say, mission accomplished.
sadly no photos of the cats enjoying the frame, as the custom has just moved in and has still to re erect the protetapet fencing, but I am sure the photos will soon be on the way.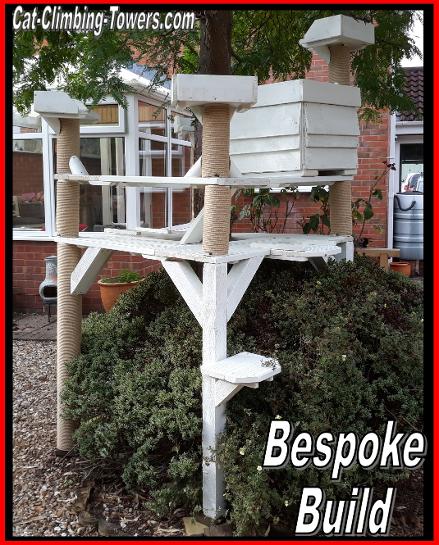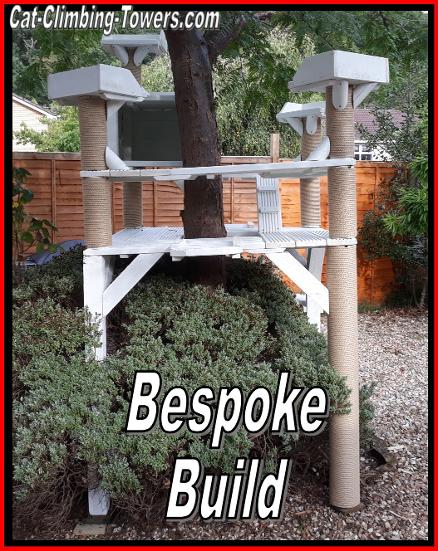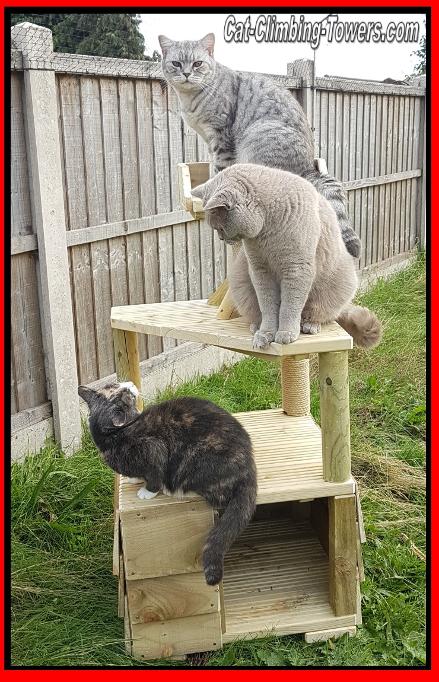 Hi Dave,
So I got it outside, and within about 5 seconds this happened.
So I think they like it. Excuse the mess of the grass :-)
A few photos from yesterdays delivery.
I do enjoy seeing the new owners exploring their new 8 ft high CoCo's Palace
Just so they can keep an eye on the neighbours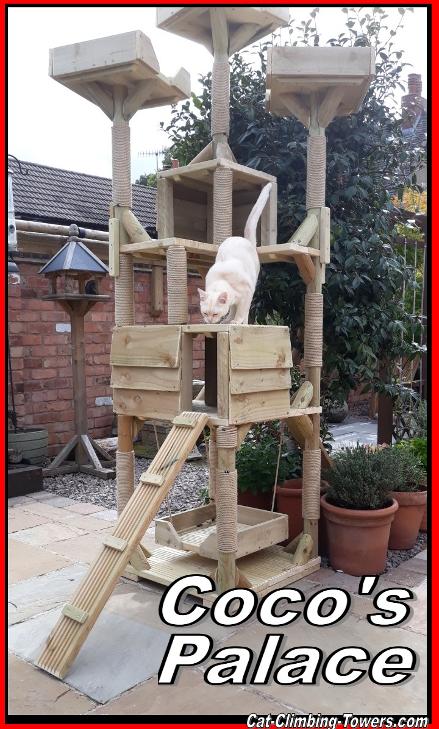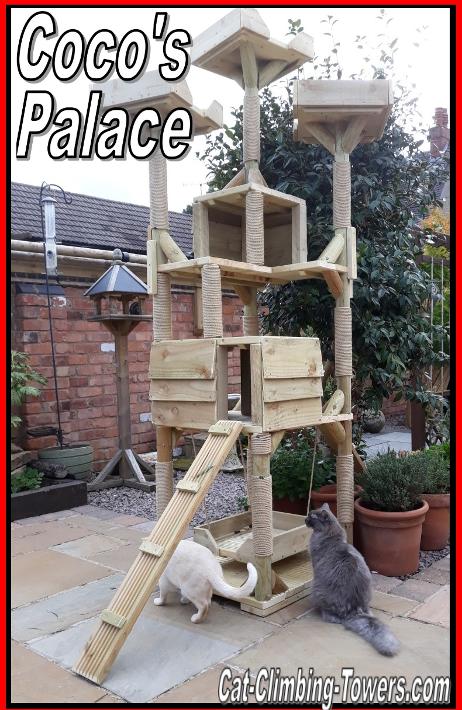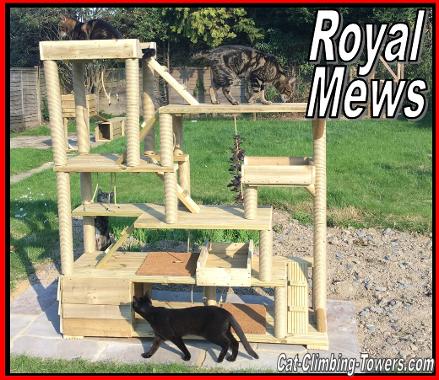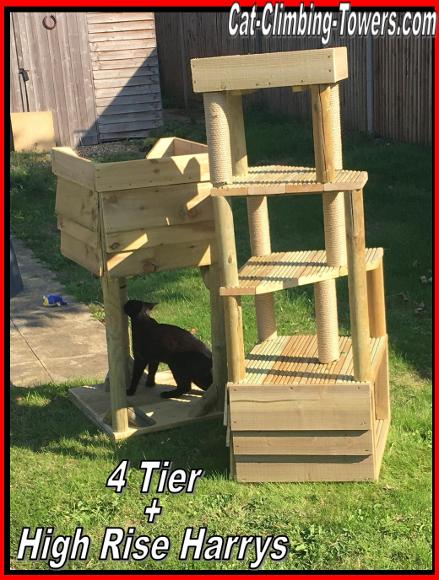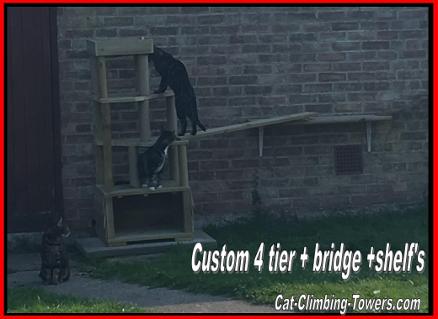 A few photo's for yesterdays delivery.
The customer got in touch to tell us has a pride of rescue cats, she has a large garden, enclosed by ProtectaPet but wanted to make some islands of enrichment.
As you can see, the cats are loving their new lease on life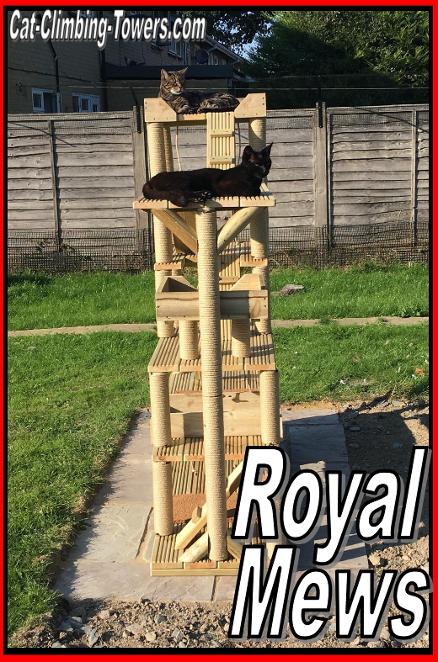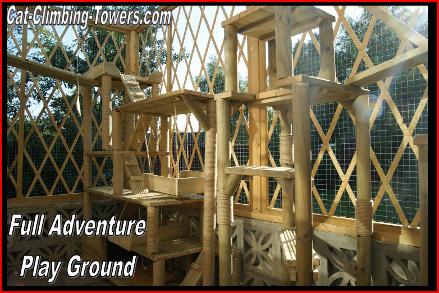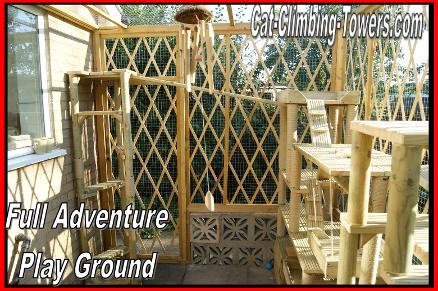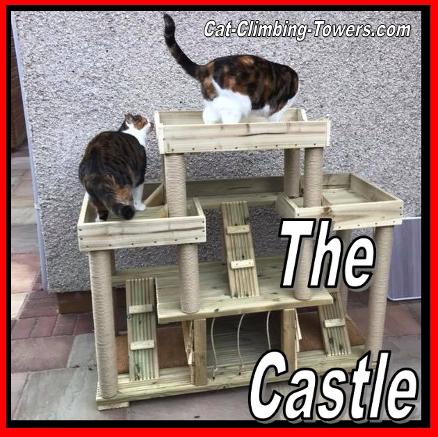 The new owners of a castle frame, carrying out a full inspection upon delivery.
The report card came back "You've done a great job, we are delighted. "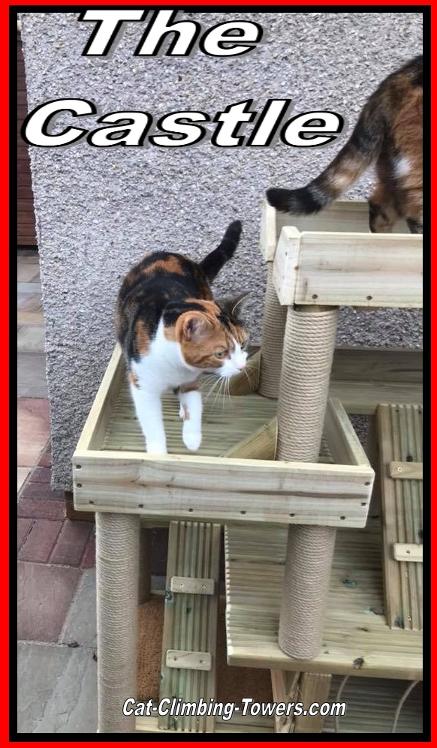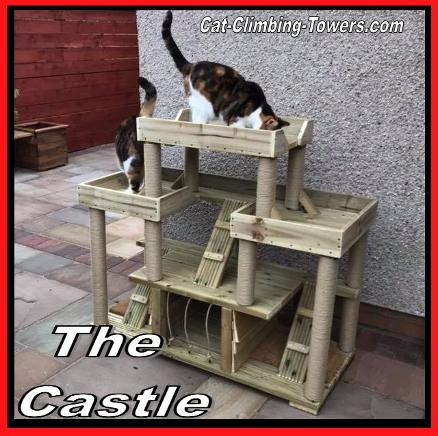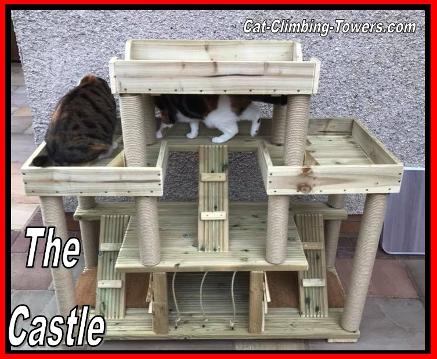 Loving their new outdoor cat tree x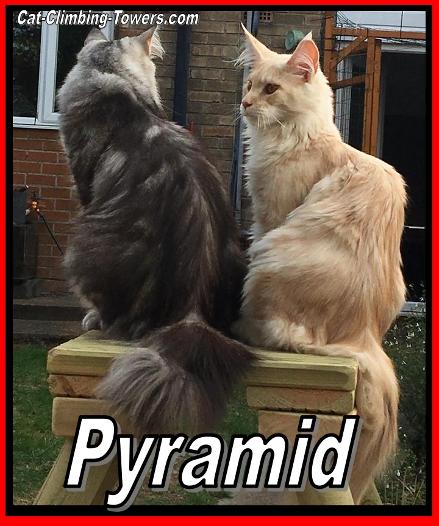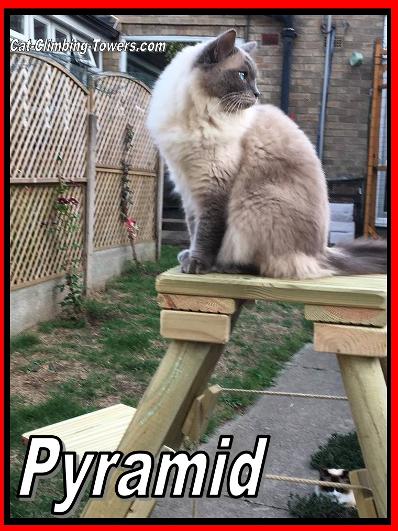 Missy enjoying her new 5ft cat pole.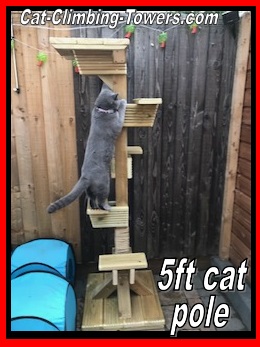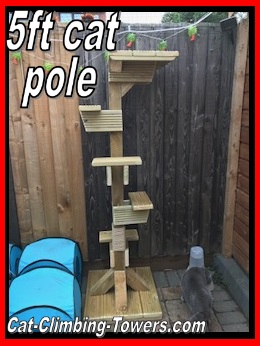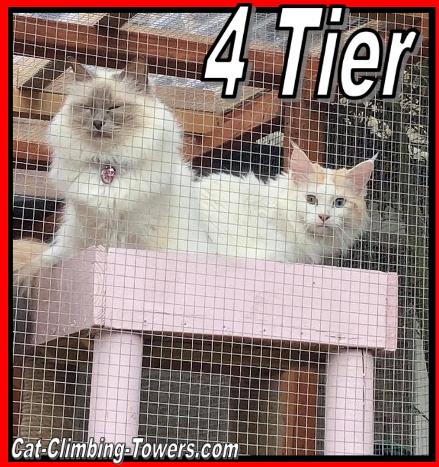 photo in from Mandy.
"Double trouble on the lookout tower"
from Amanda
.
My kittens enjoying the cat climbing tower. They only discovered the catio yesterday.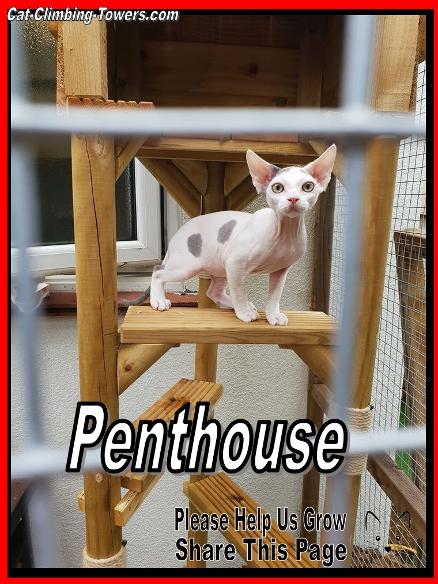 Both climbers have arrived safely and being inspected!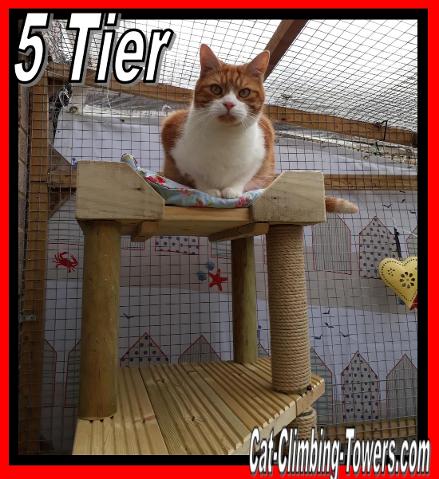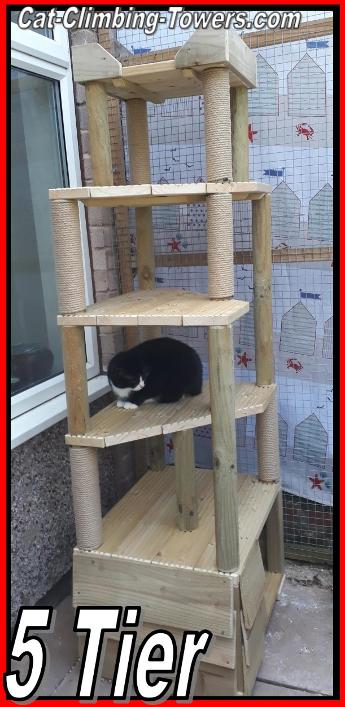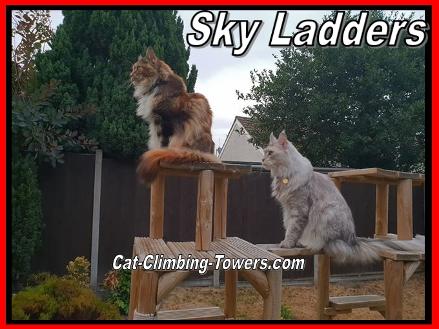 Top one is Sadie our not so little girl and Karl, have been enjoying there sky ladders for over 5 years and still going strong.
A custom build, to allow the cat "Pushkin" access to the top of the shed that had to fit in a tight gap.
custom and Pushkin are both happy.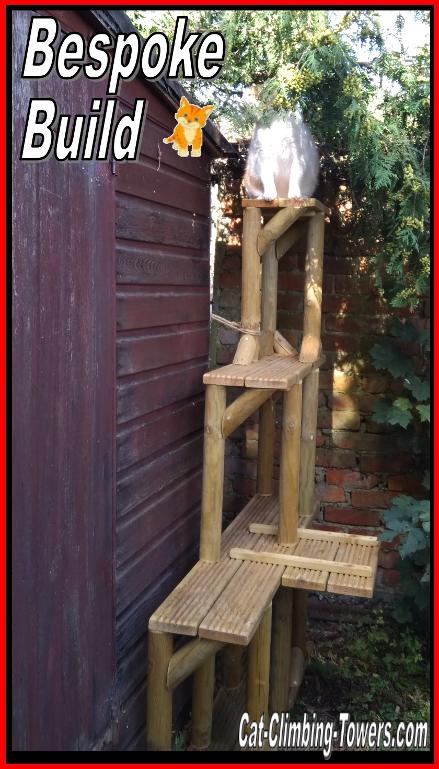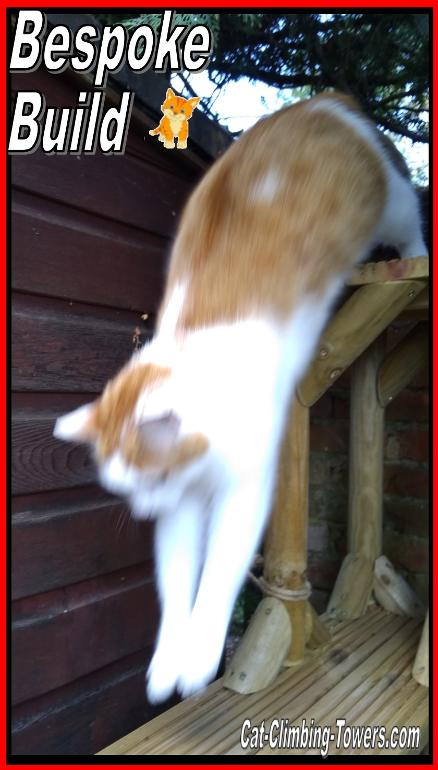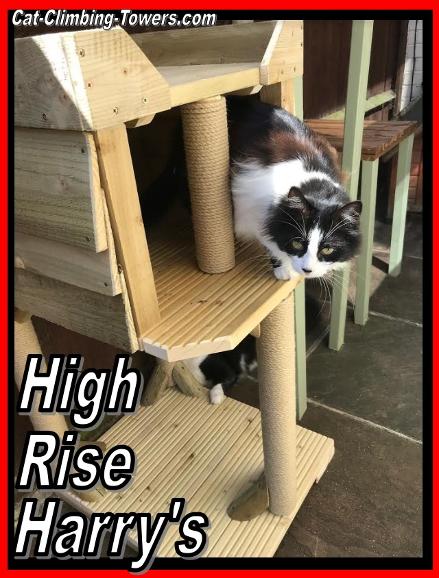 Thankyou my cats love it
Mandy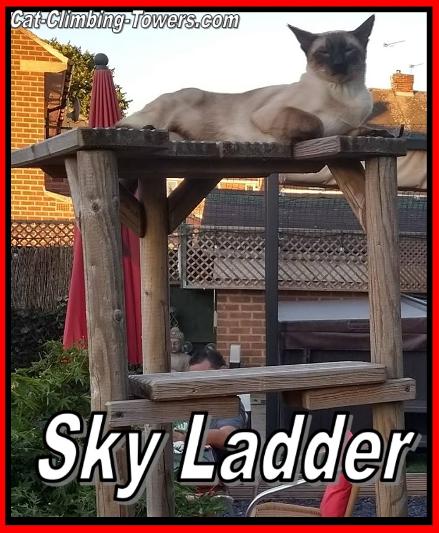 A 5+ year old sky ladder still looking great and in dally use .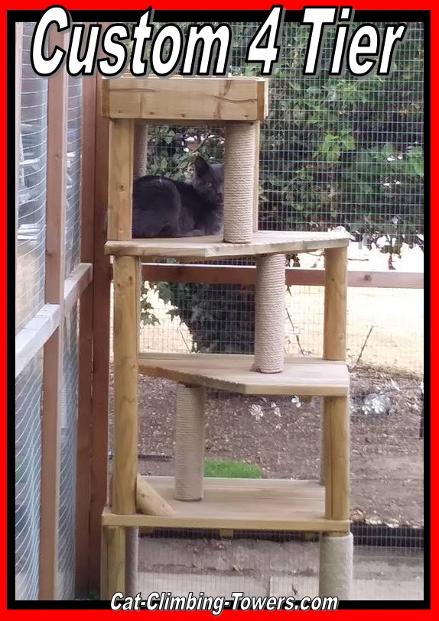 photo just in from gill berry
15 months on and Minky still loving her tower xx
5 Tier arrived today and already being enjoyed.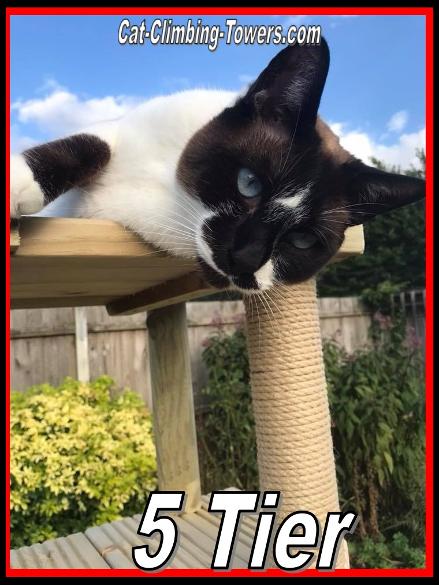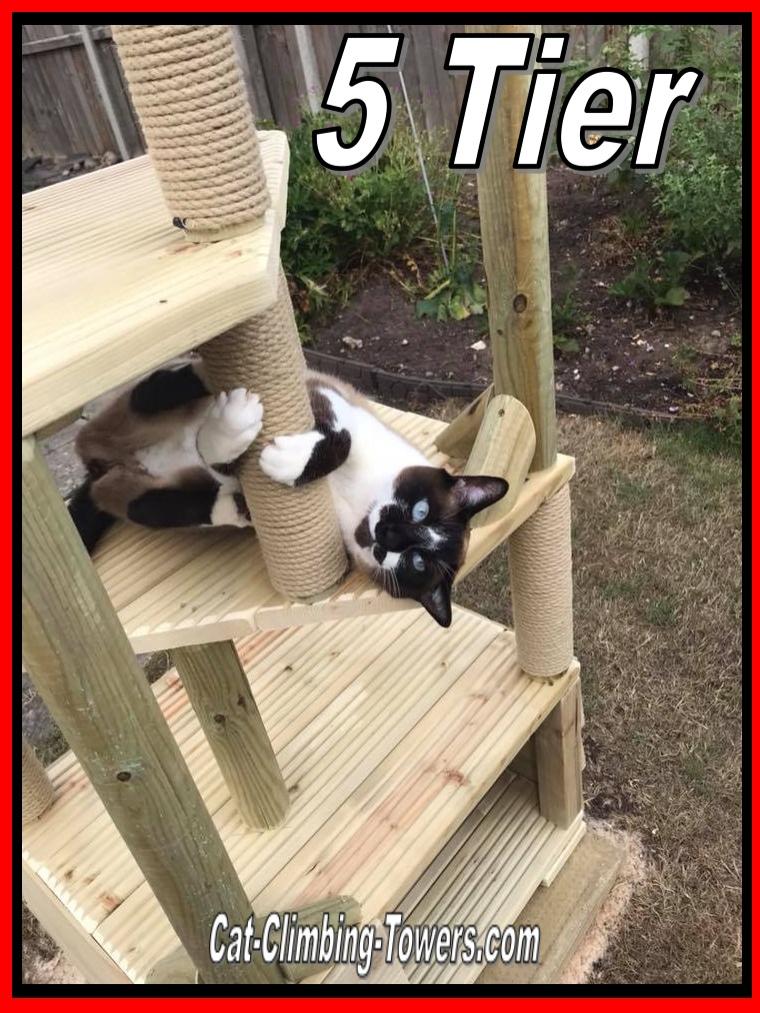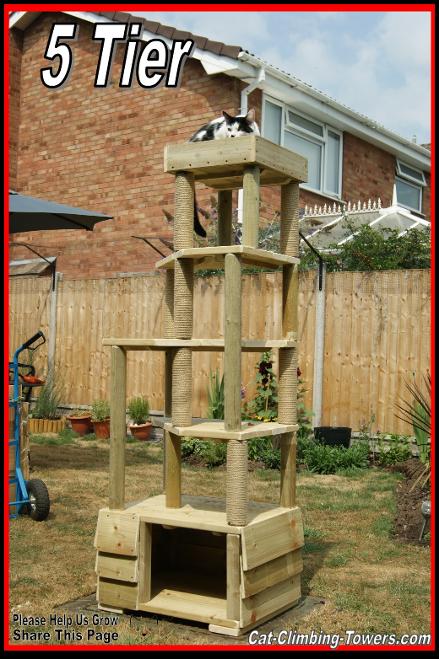 Just back from today's delivery. The customer has just has the garden made secure by protectapet.com , and wanted some enrichment for her cats.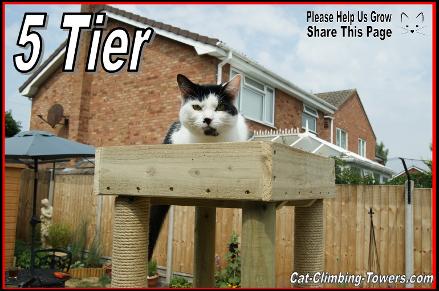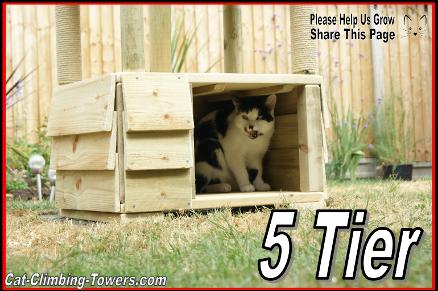 a custom 5ft high fully roped totem pole frame. safe to say the cats are loving it.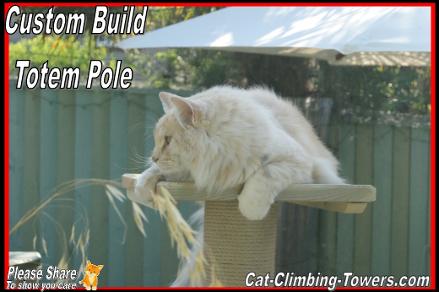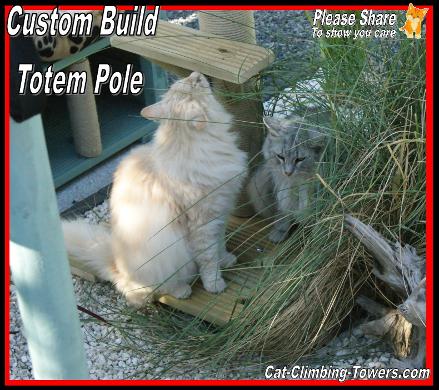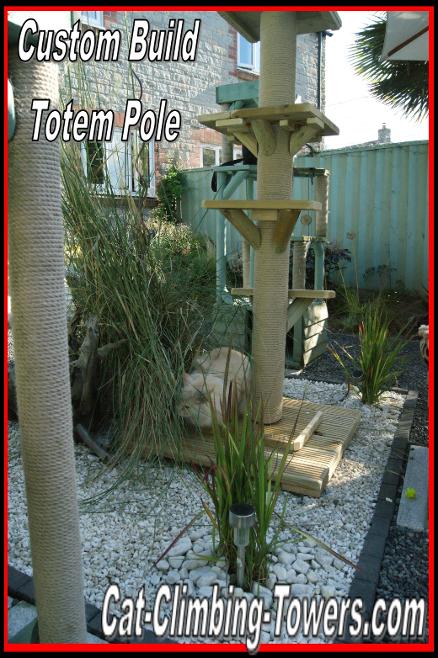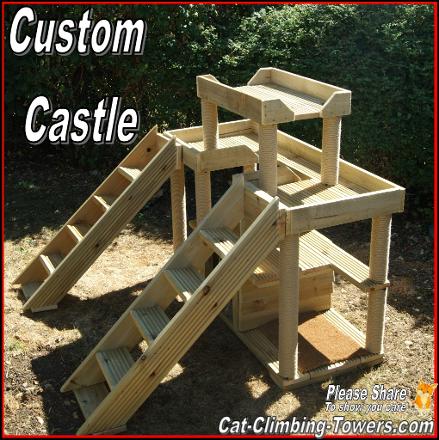 A custom castle, with some very snazzy steps
Someone has a nice new spot to look out over his domain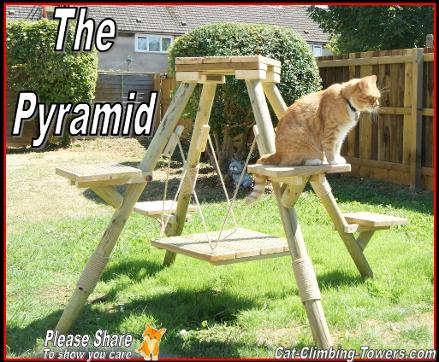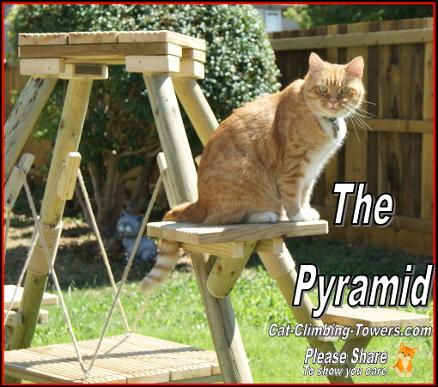 A royal mews we delivered, but the cats was too shy to come out while we was on site.
Dear David.
Thank you for brilliant climbing frame.. Tabby..Lucy..Sia..and Nishka are having a great time..
Thanks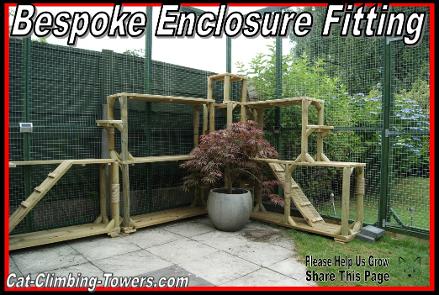 A customer had an enclosure to keep her cats safe, but noticed they was getting board, after being free roamers, she gave us a call, and a rough sketch. Needless to say we was happy to build a bespoke frame, to keep her safe cats enriched.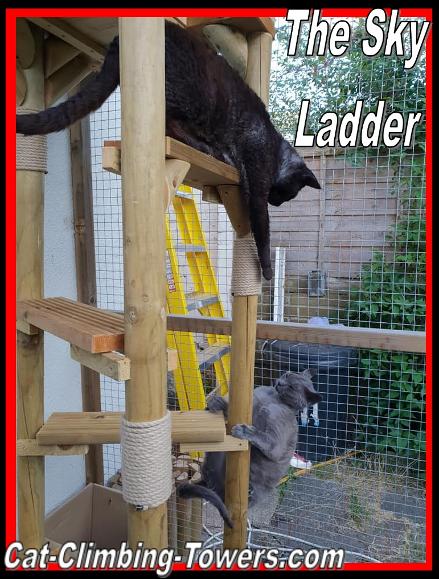 The sky ladder, Why take the easy way up, steps are for pusses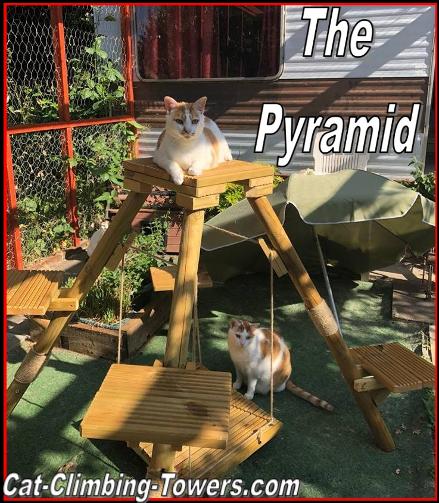 My lovely ex ferals.. still loving your pyramid.. lou is king of the castle today..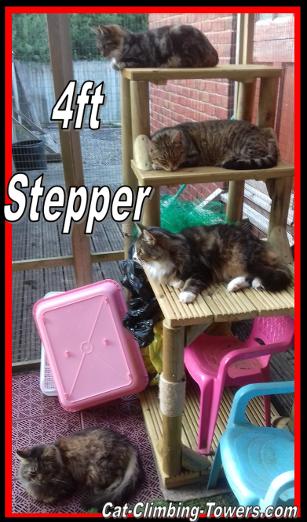 Your newest tower which I sited in small enclosure outside back door which leads to the main one where the sun comes round in evening. Penny at top, Tabby in middle and Smudge at bottom. Belle sit ting on ground at foot. Regards Regina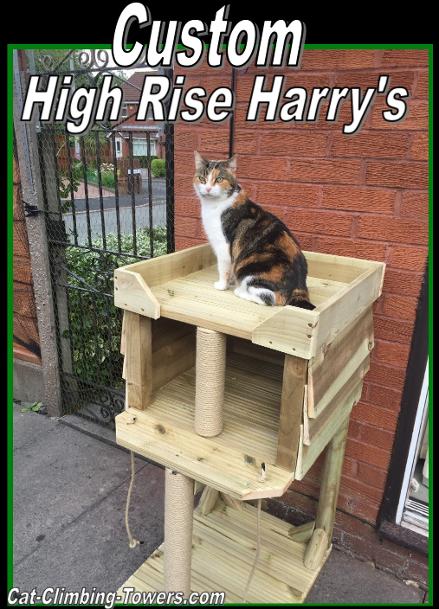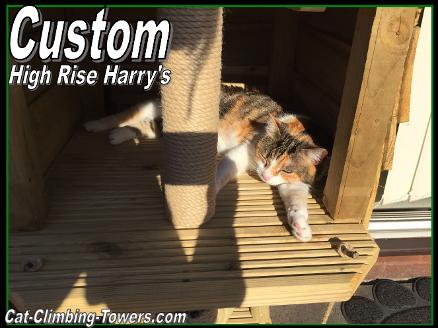 Camilla enjoying her custom High Rise Harry's,
What is custom about it? I hear you ask, well Joanne email us to say she would love to order a High rise harries. But could we made a small change,
The change being to add the two dangly ropes at the front, we was more than happy to do so, while makes Camilla happy; that makes Joanne happy.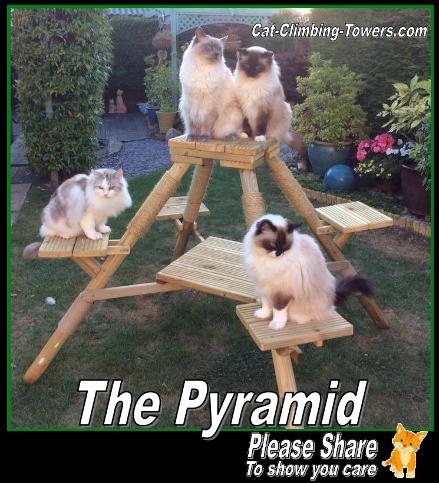 The pyramid cat frame being enjoyed by these four lovely's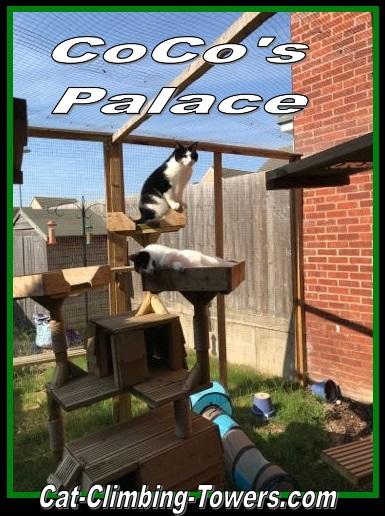 Hi Dave & Vicky. You delivered our towers in October 2016. The cats still love them. Here is a photo of Tiger & Lily enjoying one of them
Julia
We had a request to build a replacement frame for a customer, after the original (imported frame), rotted through.
Happy to take on the commission.
Safe to say the customer, and her cat are happy.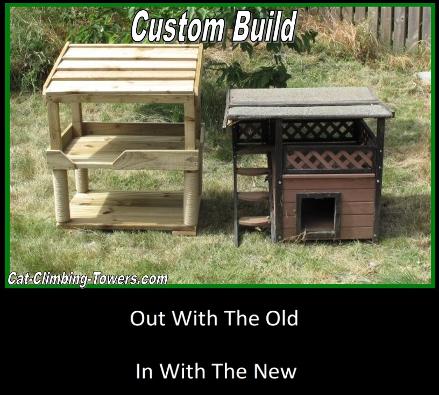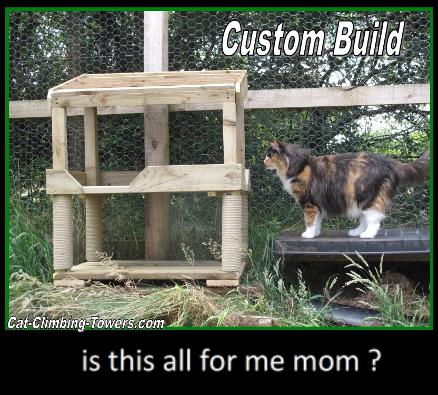 All out frames are hand made by us. So if you want a change making to one of our standard frames, please get in touch. We love a challenge .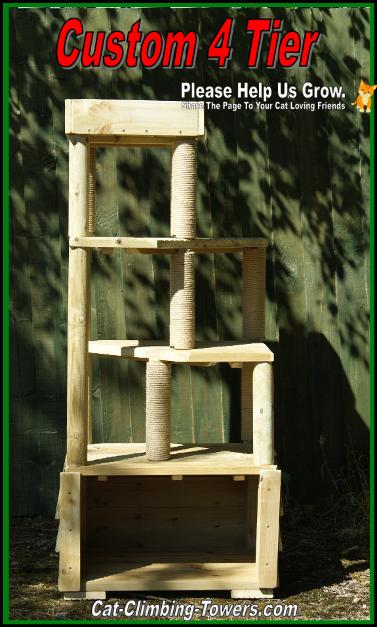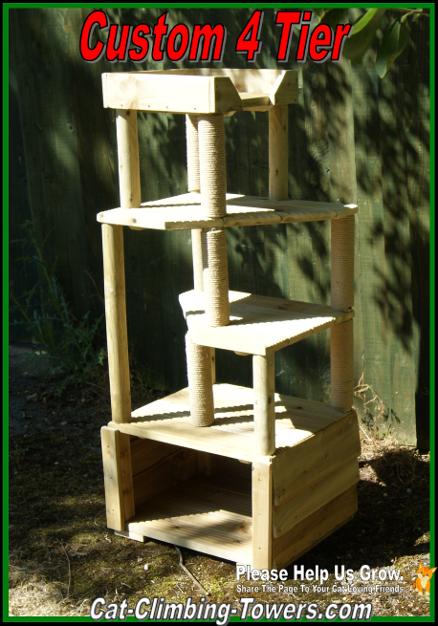 A request for a custom build (inspiration taken from an imported frame from china) that the customer was fed up of replacing every year.
It is made / wrapped and ready to be picked up by the couriers tomorrow, and best of all, it is delivered fully built.
and of cause, it is built to last our wonderful weather .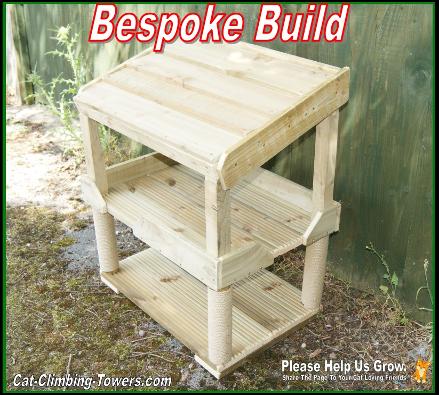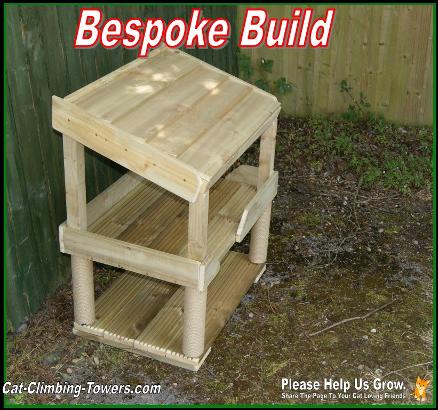 photos in from a customer , showing how she has them set up for the cats.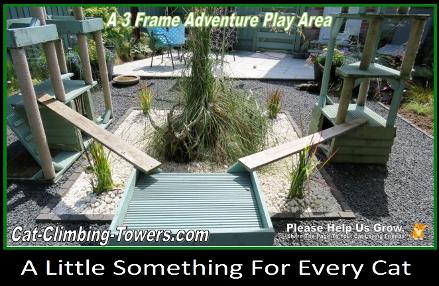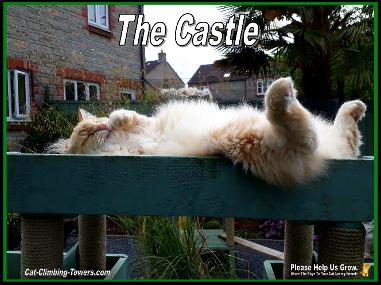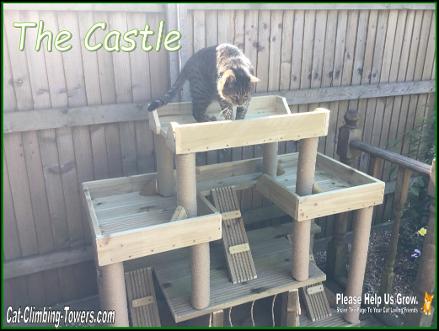 Photo and review just in from Linda .

Have just taken delivery of The Castle ,very very pleased with the quality and the service and Ollie has taken to it straight away .He has to be a stay at home cat now due to illness and wanted to make the garden more exciting for him .will def be getting more .
Remember this custom build from last week, well it is now been shipped out to the customer, and it is safe to say, Elsa the very Typical Bengal, is using it to the max. A good source of enrichment in her ProtectaPet.com secure garden.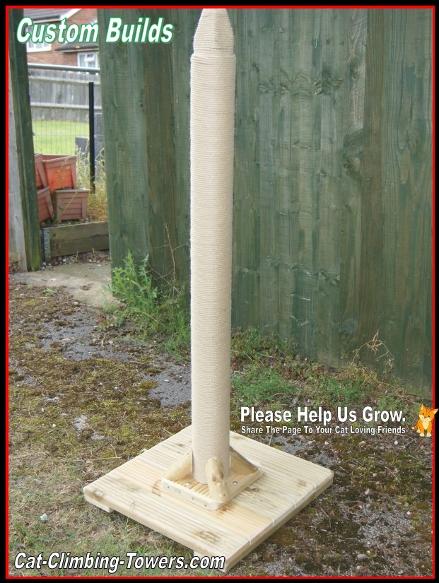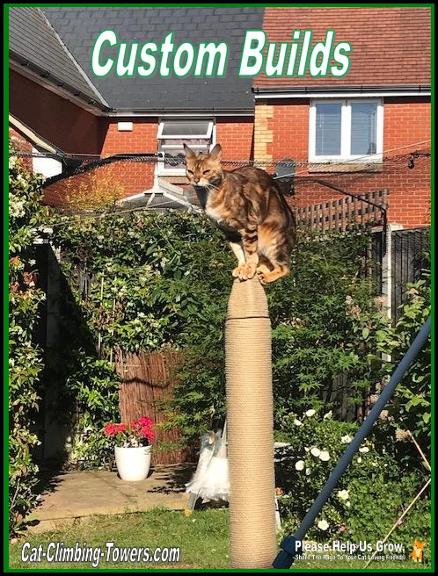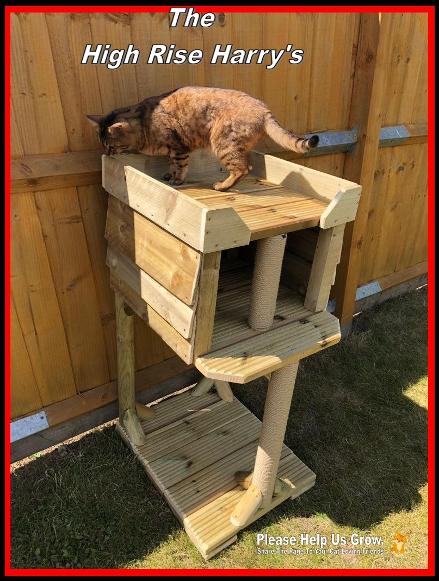 just in from Joanne.
Cat climber received and happy cat!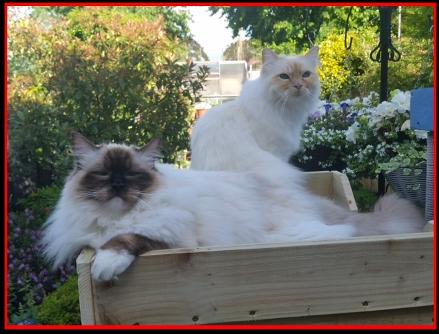 Hi David
Item received today. Just unpacked and here are my two boys giving it the thumbs up!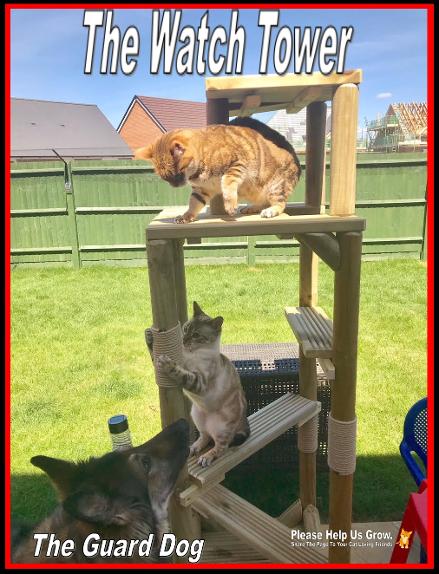 Hi,
Yes they are already fighting over the top spot and the dog
wants to join in...!
It's very sturdy.
Protectapet recommended you.
Thanks,
Debbie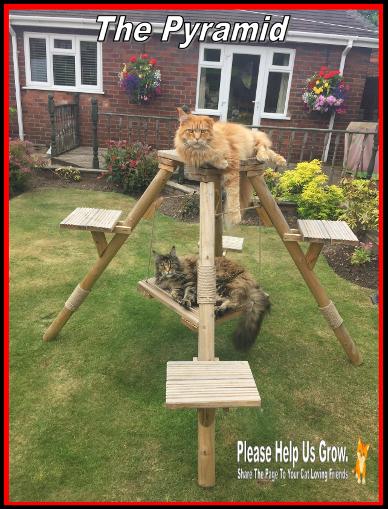 Hi David,
Just to let you know my 2 Maine Coons are really enjoying this Pyramid climbing frame.
Regards
Jamie
Fred on his new castle and Marley enjoying the view from his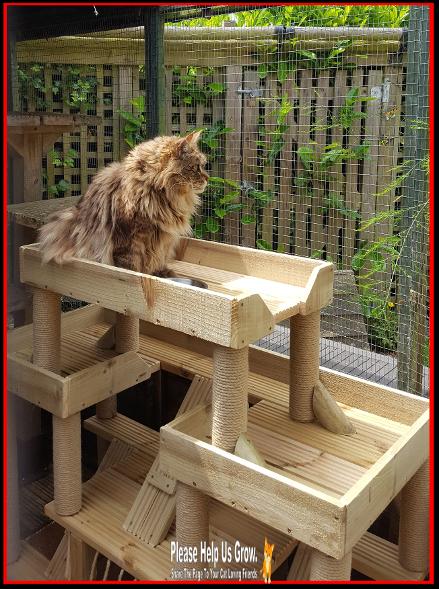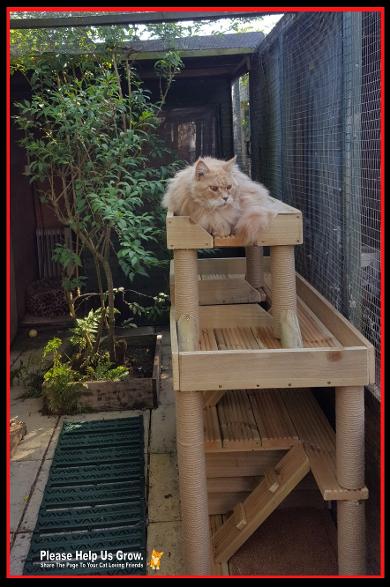 3 summers later and cat-climbing-towers.com cat climbing tower is still going strong. Weathered to match Millie's coat but strong and stable as new.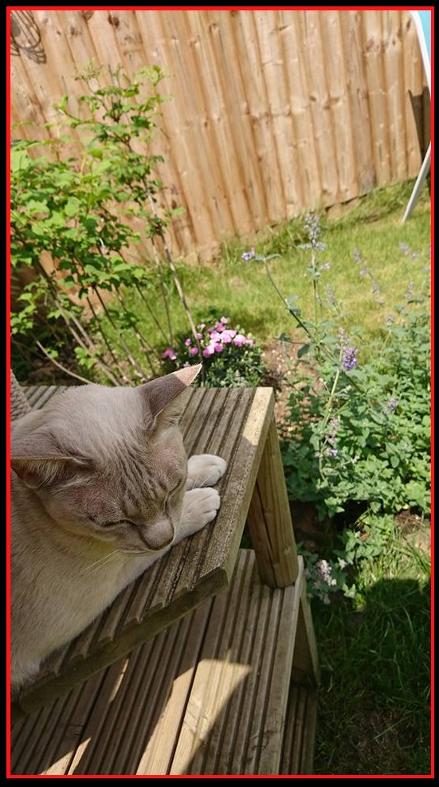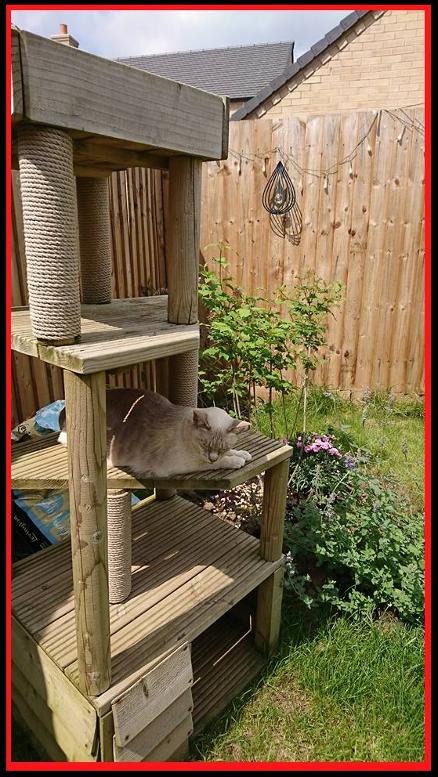 Thank you for my cat climbing frame , my cats are loving it.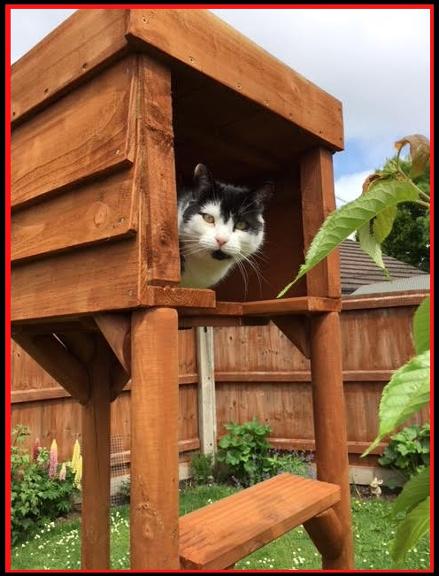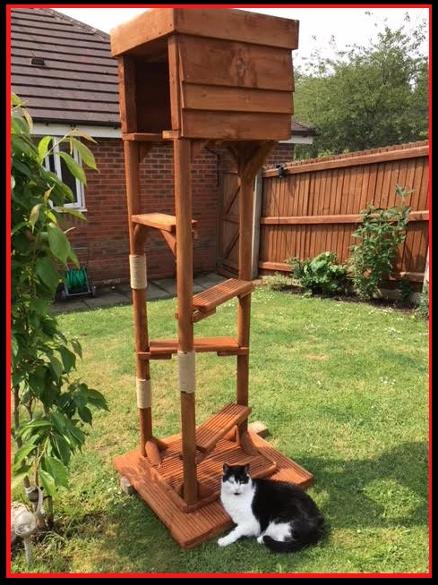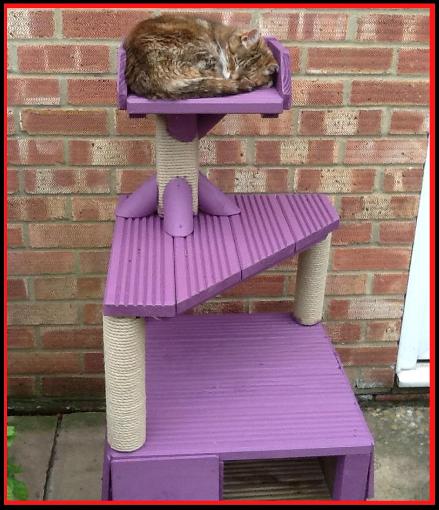 Dear David and Vicky
A quick line to say how fantastic the 3 tier cat tower is. It's been used by all the cats but the favourite spot appears to be the top tier! Well made and sturdy. I painted it with Cuprinol Garden Shades. A brilliant purchase. Thank you.
Best wishes,
Catherine.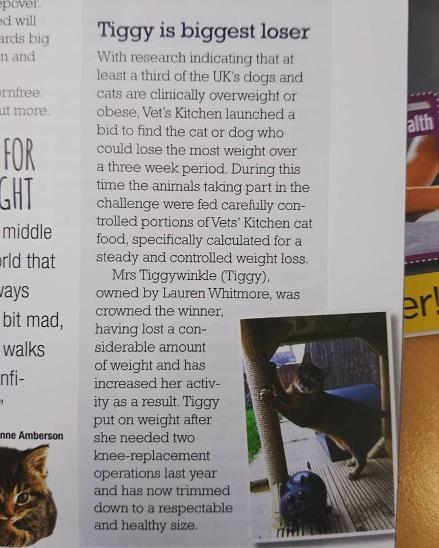 Great to see our frame helping Tiggy recuperate after her operation and get down to her ideal weight.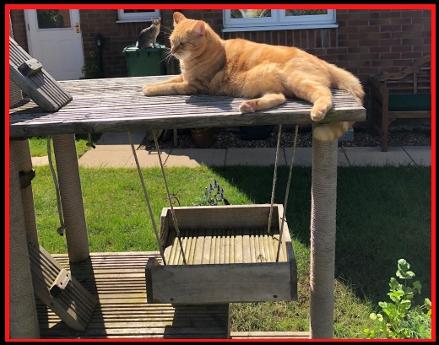 from Merryl , who have the frame for here cats, many years back, you can check the cats out on turbomantomcat vie instergram
One of the best presents we ever got. Was delivered and built so no hassle to our humans. We opted for premium sisal and it has kept its colour. Cat gym still looks as good as new even after many years in Scottish winter!! Sturdy construction. Happy cats make for happy owners.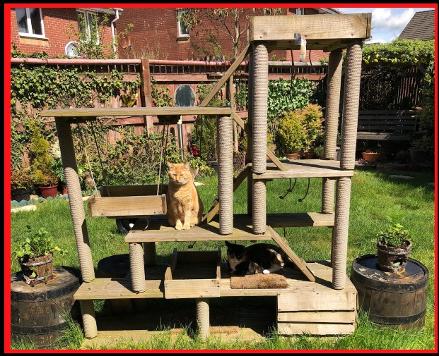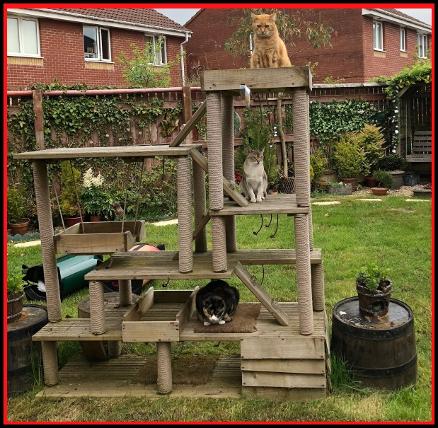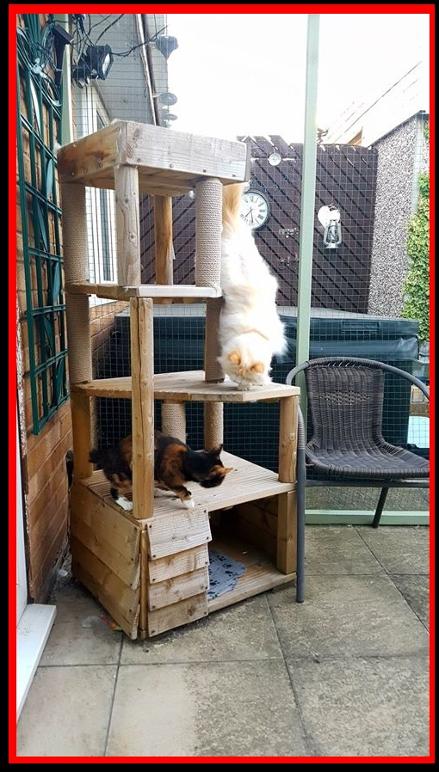 just sharing a picture of the climbing tower i got from you over two years ago. Still in excellent condition despite being left outside permanently and used by my cats almost every day. A great buy!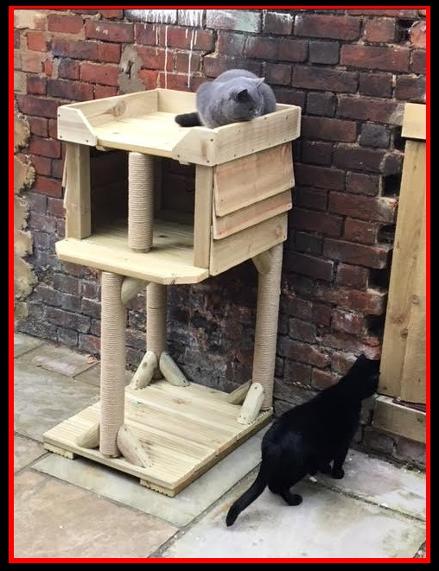 Hi there,
Thanks very much for this and your excellent communication throughout. It arrived yesterday and the cats love it- I have attached a picture!!
Kind regards
Carrie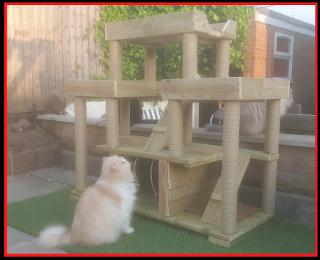 A few photos, from a delivery we did yesterday, safe to say it was a thumbs up from the cats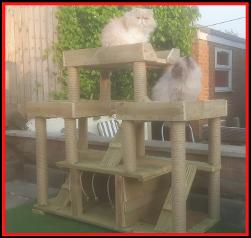 We often get asked if our frames can be used indoors or are they strong enough for more than one cat or the larger breeds.
Well i think a photo is worth a 1000 words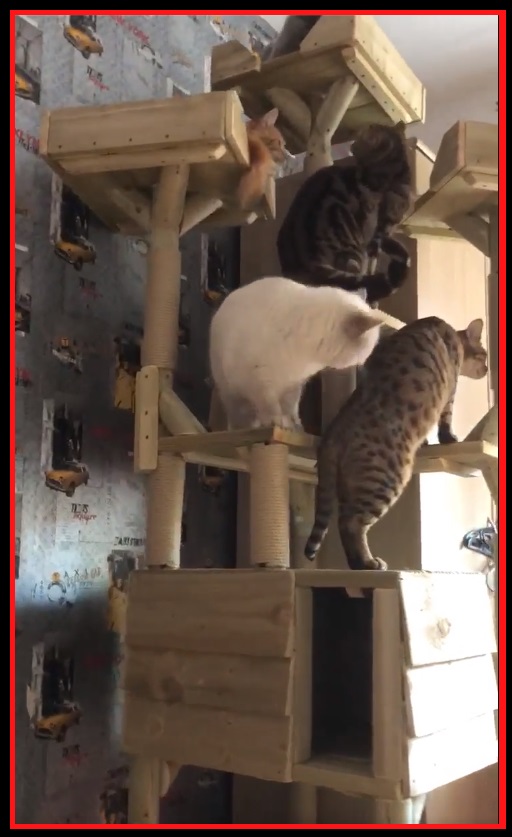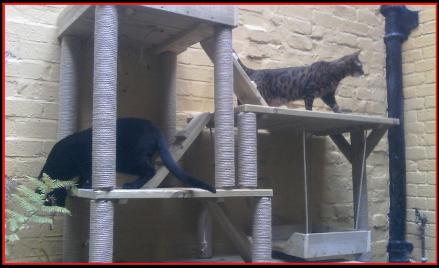 A few photos from today's delivery, as is so often the case Bengals find their own way to the top.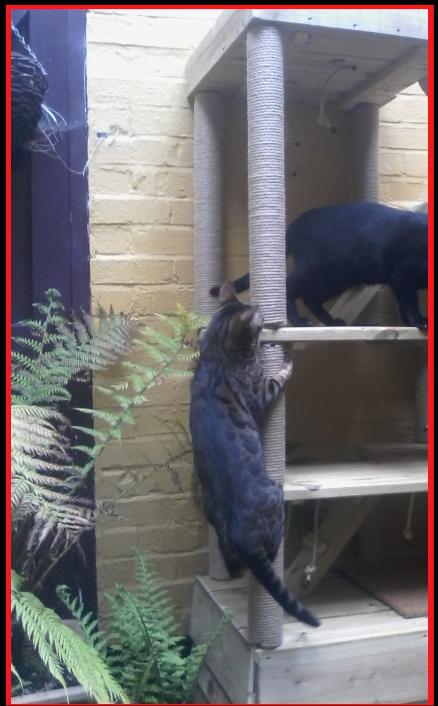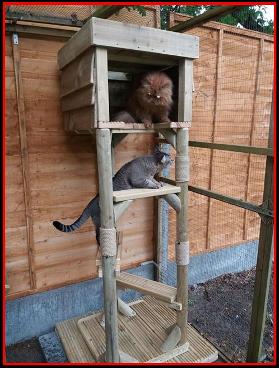 Thank you, despite heavy rain Shadow and Sparky were determined to explore their new cat climbing tower. Another brilliant design that will be used for years to come.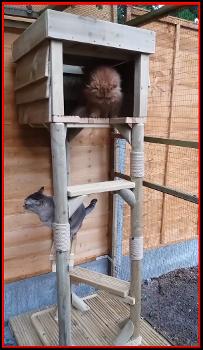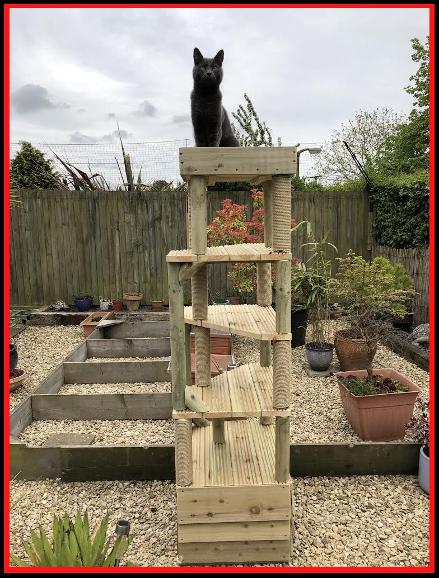 Stunning looking cat, enjoying the 5 tier.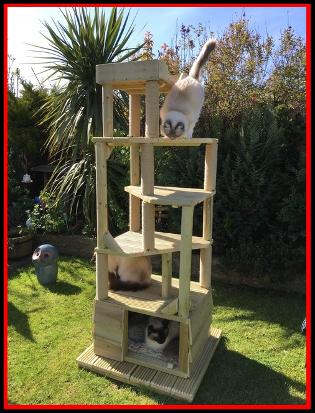 Just to let you know our tree arrived Tuesday, whoever wrapped it needs a medal, very very well protected, the tree is everything our cats want in a tree, thank you so much for a perfect plat tree for our Ragdolls, this is them enjoying the sun..
Les.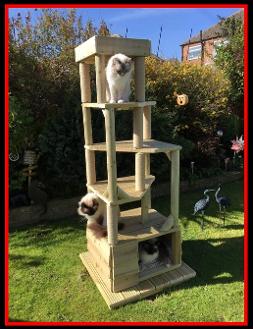 Hi David
just to let you know the cat climbing tower arrived in the week and I have attached a couple of photos with it in use, feel free to put the photos on Facebook or anywhere else. These are the two that use it the most, they love it.
Thanks
Mike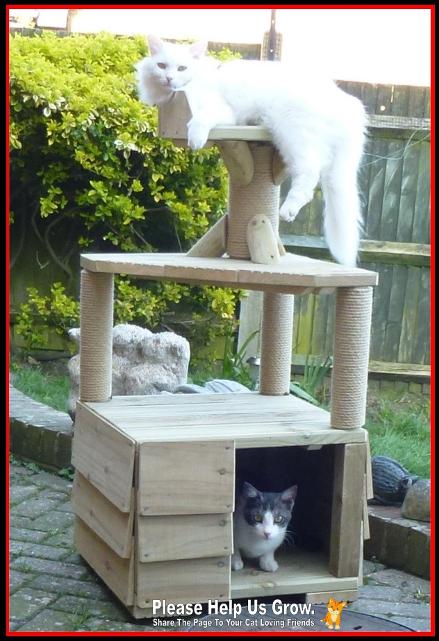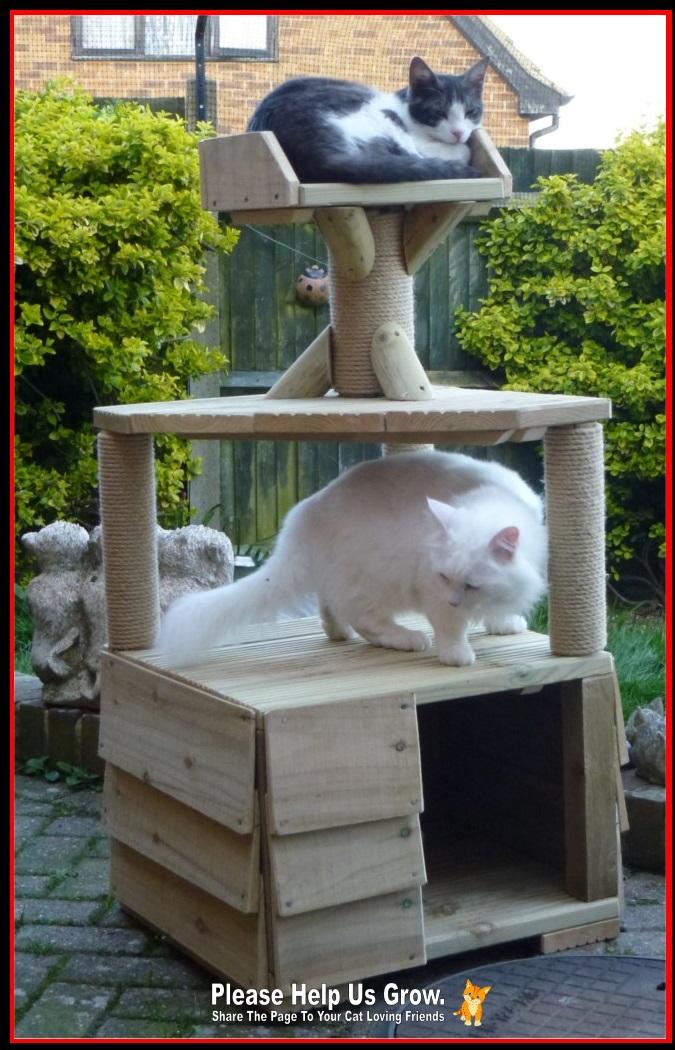 email received from kristy .
Thank you so much, the High Rise Harry's Hang out arrived today and it's fantastic! So heavy, sturdy, strong and very well made. Cats were straight on it and in it. Binky has claimed it already just as she did with the pyramid. It's furbulous. A Purrfect addition to my kitty garden
Thank you
.
From Binky, Bunty, Barnaby & BeBe
so, it was up nice and early, for a trip down to just outside of Dover today.
No Vicky was not making her escape through the tunnel, but rather to deliver a custom CoCo's to Lynda and her partner, who was adding to the Horatio house / castle and 3 tier that they have in the wonder fully enclosed garden. fencing provided byhttps://sanctuarysos.com/
safe to say, the new coco's was soon a hit with both the cats and Lynda
any thanks for my order. the cats are currently checking it out and having a good sniff lol. I will send some pics through once we gave daylight. Very pleased with the product!!
Here's some pics of my 4 boys exploring. They're still a bit unsure. But getting more curious everyday
Hi David and Vicky
As promised photos of my cats on your wonderful sky ladder, in their garden pen.
Best wishes
Jill.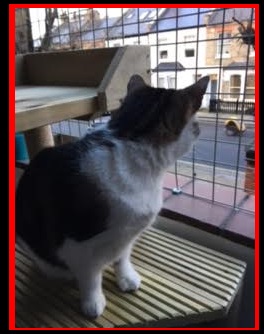 I just want to say a HUGE thank you. Freddie's new climbing tower arrived this afternoon and as soon as I'd unpacked it and put it on the balcony he was sniffing, exploring and climbing on it. Freddie's favourite activities (apart from eating!) are climbing and watching people, so this is going to enhance his life enormously.
Delivery was really quick and it looks very attractive on my balcony so I'm very happy too.
Best wishes,
Julie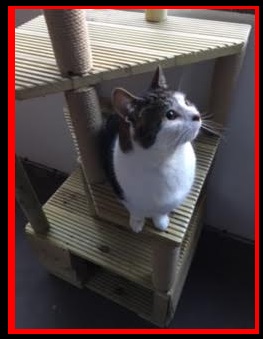 Always so nice to meet lovely cats, and their people how look after them. I would love to tell the story, but it is better when it comes direct from the customer.
over to you sue.
We bought the Royal Mews for Milo who is nearly 11, we adopted him 3 years ago knowing he was deaf and brain damaged. He has an incredibly affectionate personality and I call him my shadow as he follows me around everywhere! He's had some health issues in the last 6 months so we wanted to give him a special treat and what better present than the Royal Mews. I spoke to David and asked if it would be possible to have a couple of tweaks to the structure to suit Milo's needs, and David was very accommodating. Milo is mainly confined to our secure garden, but fortunately we live on top of a hill overlooking fields, so now Milo can view them from his vantage point along with his furry friend Bruce. The climbing tower is very well made and the structure extremely solid. The service and delivery was also excellent.
A big thank you from Milo & Bruce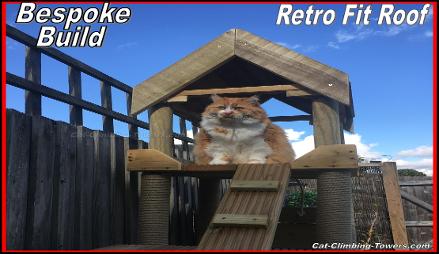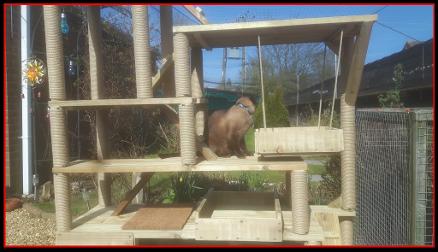 Today's Build, A Royal Mews Two Active Tonkinese, As You Can See, They Was Soon On Enjoying It.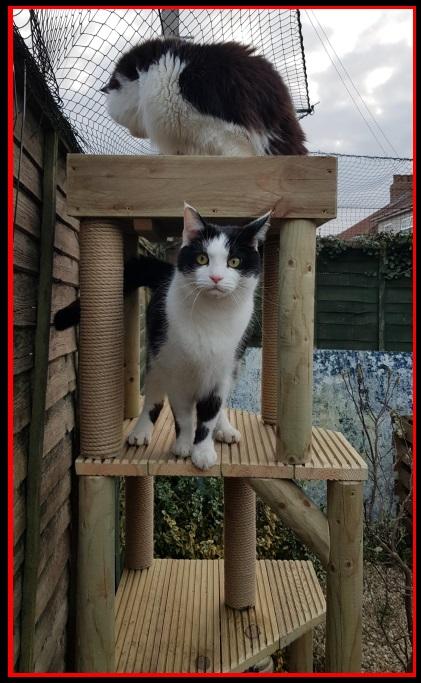 Carolyn, got in touch to see if we could build a custom frame to meet the needs of her special needs cat (blind) Asher. and still be fun for his fully sited brother Oron to play on as well.
so after a bit of bouncing ideas back and forth we came up with a custom 4 tier, posted it out and crossed our fingers, as you can read it has been a huge success .
quote from Carolyn.
"Thank you very much. Within 10 mins depsite asher lack of sight is more nimble to get the climbing up and down enjoying the viewing platform to enjoy the breeze making his brother oron wait x"
Sorry its taken so long to send the picture, as you can see Sula is perfectly relaxed on the new frame, in fact she will not let her brother get on it!
Sorry about the planks of wood resting on it, in the processes of sorting out how to join the three frames to each other. They are really enjoying running from one to the other on the planks.
Once again another very well made frame. Thank you.
Jill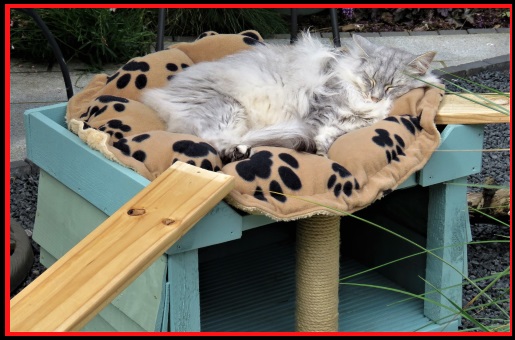 Dear Dave and Vicky,

We received your wonderful cat climbing frame and are really delighted with it! It is just wonderful and our three cats (two Ragdolls and a Burmese) loved it from the moment they saw it - see the picture I have attached - taken this evening at twilight so taken with a flash camera. They just love it!!!! Thank you.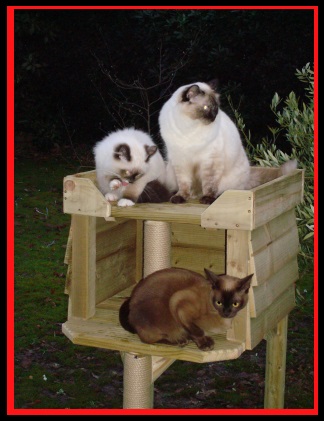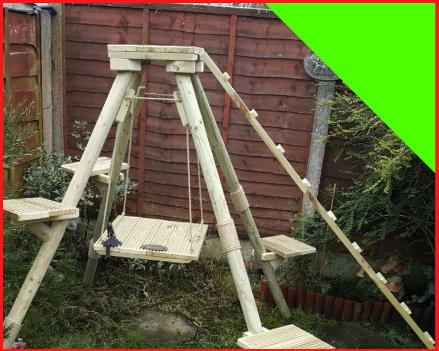 A custom 150cm pyramid with access ramp.
Sorry to reply so late, the tower arrived commendably quickly, but then had to sit out in the garden still wrapped because it was too cold to deal with it for some time! (I have a tiny house so couldn't do it indoors)
I have now unwrapped and set it up and I am delighted with it.
It is perfect for my three cats. One is elderly and two are a bit disabled (three legs and three and a half legs!) but they all love sitting on top of the high wall at the corner of my garden. The tower fits perfectly into the corner and makes it so much easier for them to get up there now.
It has been thoroughly inspected and approved by them, and they also say thank you for the ball!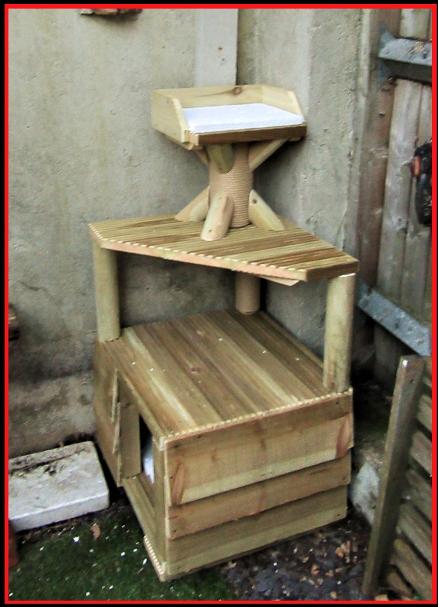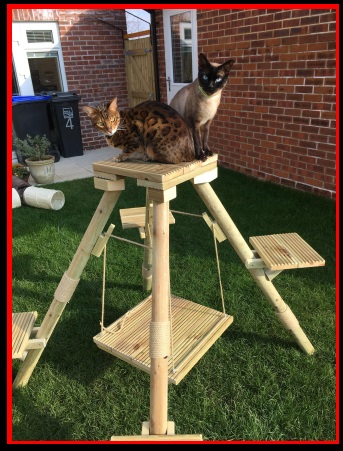 Hi Dave,
The pyramid arrived safely yesterday and the boys are already exploring!
See attached picture.
Thank you!