Many of our customers send us their photos, and some are happy for us share them with you.
To each of them. Thank you.

Royal Mews in action as we promised when you delivered it. I think Munro is delighted finally to have found a tower worthy of him (because he knows that he's worth it...), so thanks again for the great service you provide. As you can see, Munro is a very happy customer.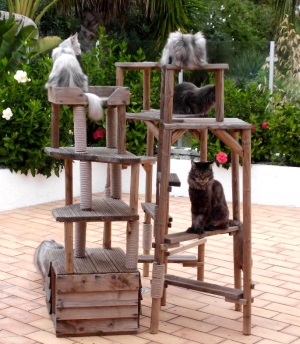 Look at these lucky cats enjoying the sun and 3 of our frames. They are part of a family of Maine Coons that were taken in by Christina in Portugal when a local breeder sadly died
"Christina asked me to pass on this message (and we are glad to do so)
"I am always looking for good homes for rescue cats from Portugal and often have Siamese, Persian and other nice cats that need new homes . If anyone feels that they can offer a loving home to a rescue cat then they can contact me. All my cats are sent free of charge , fully vaccinated plus a rabies vaccination and microchip and they travel overland with a DEFRA approved pet transport to their new home. I can be contacted on christinaedwards@lazerctv.com "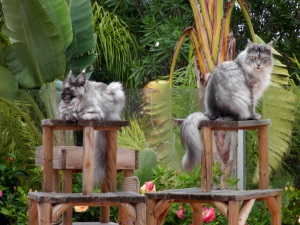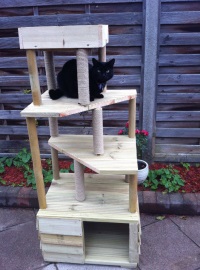 Hi David, the tower came today and its amazing! a lot bigger than i was expecting too :) Here is a photo of my eldest, Darth Vader, on it. my 'middle child' is still sniffing it out but did go into the hutch, my youngest is too young to go outside yet but the way she carries on with the inside tower I know she'll LOVE this one :)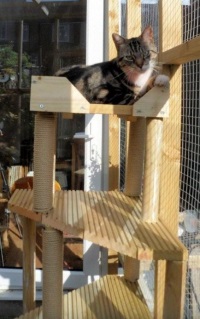 3 photos of tonys cat enjoying the sun from his new frame, tonys review is short and sweet
"My cat loves his cat tower"
I think its safe to say we have a happy owner and cat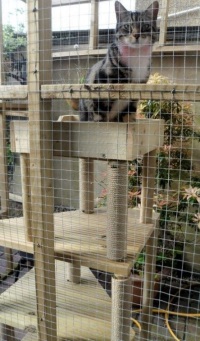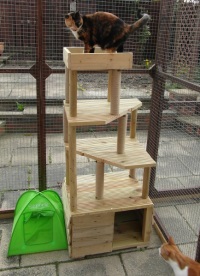 Just to let you know that the cat tree arrived safely and 3 of the 4 cats have already checked it out. We have a very timid 3 legged girl who hasn't seen it yet but I'm sure she'll go out when nobody is looking! Thanks for helping me make our enclosure more interesting.

Gemma

P.S. The pics are of Fable - ginger and white boy, Emily - Tortie and white girl and Jupiter - black boy.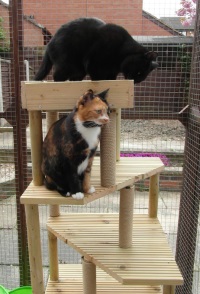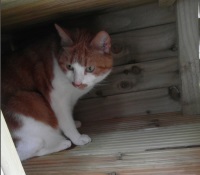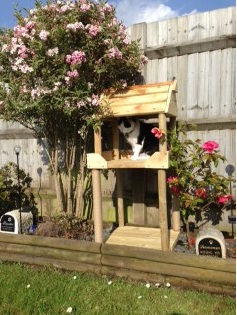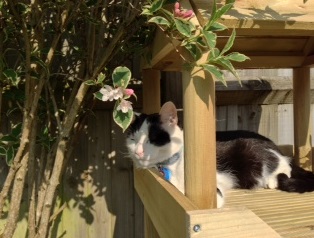 a quote from Rebecca
Our rescue cats were immediately interested and were trying to use them even as the posts were being unpacked. They are clearly very well made. We are very pleased with them. Purrrrfect!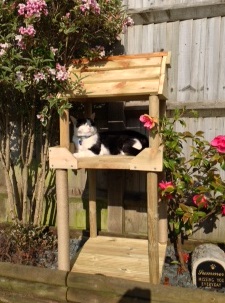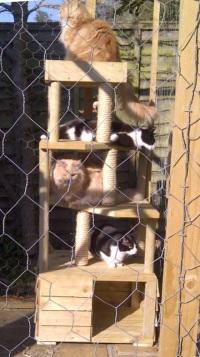 " we are absolutely delighted with our cat climbing frame - the service throughout has been first class, from point of order right through to delivery. Our cats are in absolute heaven exploring the levels and taking turns to sleep on the top bunk " !

"Many thanks David - first class, you have a very happy customer and even happier cats"
Kind regards
Adrian + Jackie.
sometimes a simple quote is all that is needed.
"here is a photo of bear enjoying his new frame."
short and sweet, we love it
thanks dawn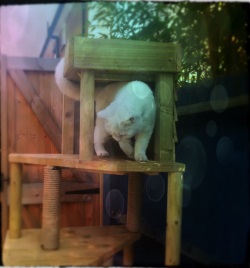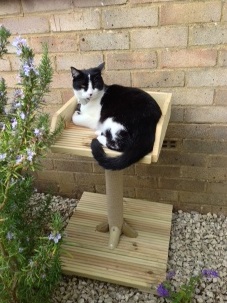 Leipzig enjoying a lazy day on a custom build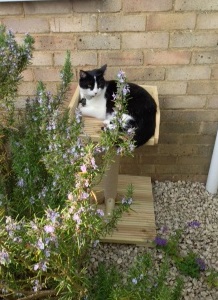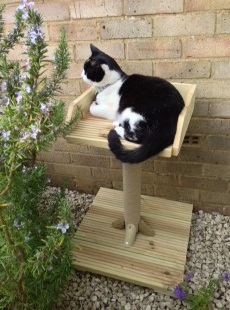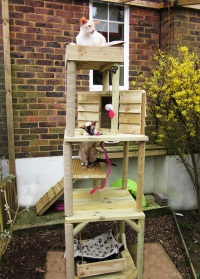 love this report we had in from Samantha & Kate
- home from work 7.45 pm
- Totti's Tower/Darcy's Den removed from packaging by 8.10 pm
- Totti and Darcy on Tower/in Den by 8.15 pm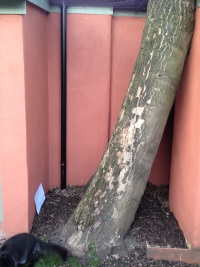 how do you take an unused space in the garden and make it in to something your cat will love, simple, just add a custom bespoke frame, made to fit.
I am told Archie loves it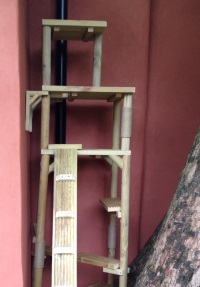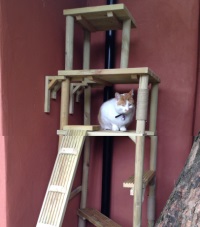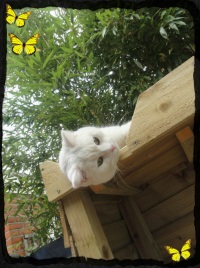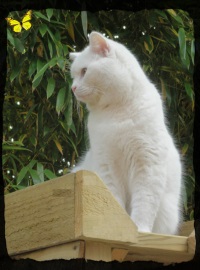 dawn loved seeing her bear on our pages she sent us 3 more photo, how could we not show them,
he is just so delightful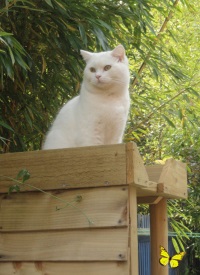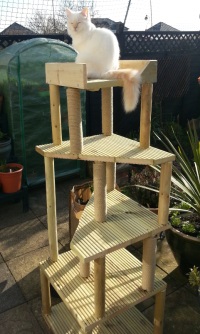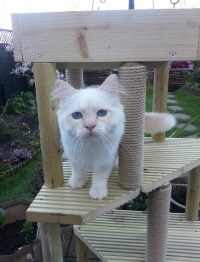 Jenny asked us to pass on the following, how could we refuse.
The climbing frame is brilliant and is so well constructed. Both of my Birmans have used it and enjoy sitting on the top tier looking down on world! I cannot stress enough just how good the quality is, very strong yet easy to move around. I would not hesitate in recommending. Buy now, you won't regret it
thanks for the photos and kind words jenny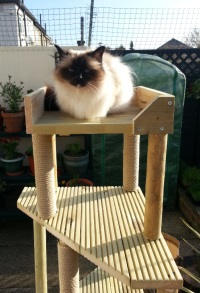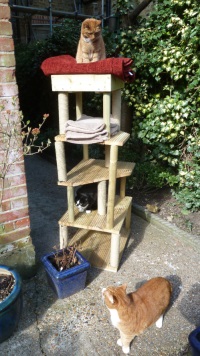 Three extra photos from Pete,
As you can see, to celebrate the coming of the sun he has added some soft furnishings, I would keep one eye on the weather Pete.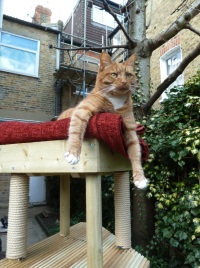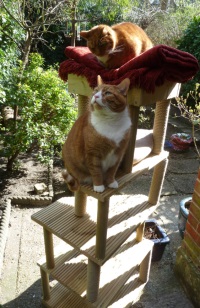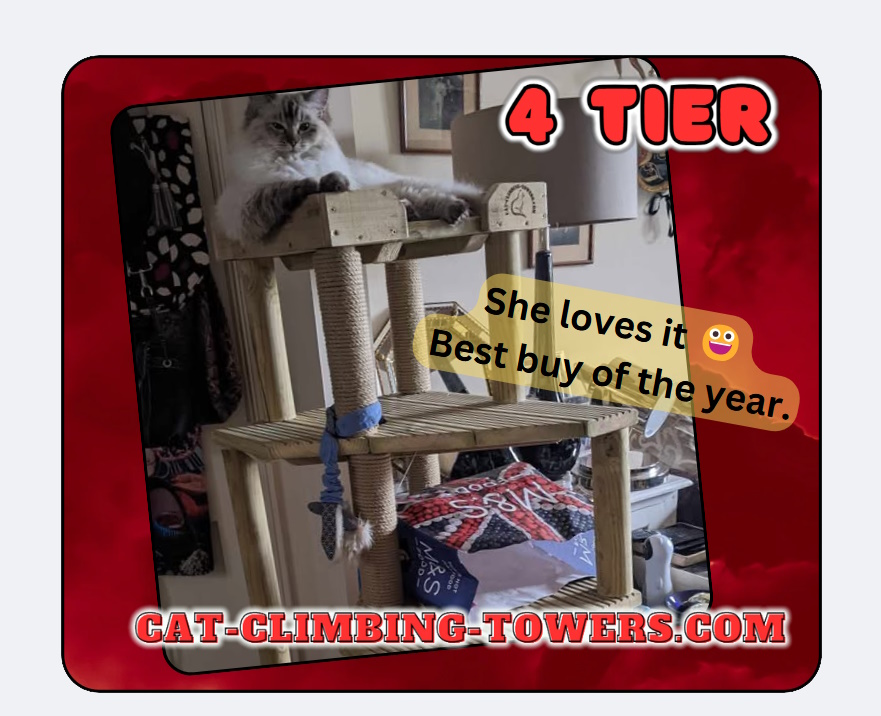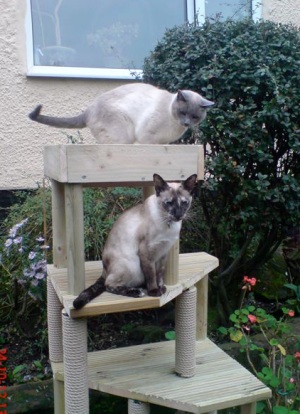 Introducing Bella , lindy and teddy, who have had an early
Christmas present. I am told Bella is extremely happy with her frame.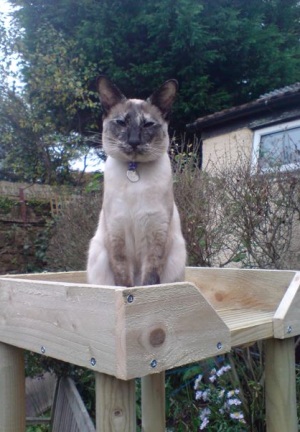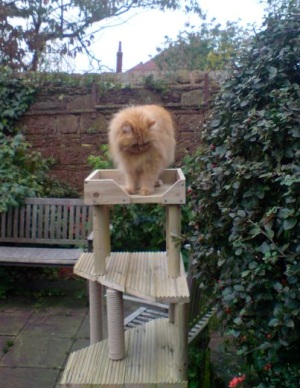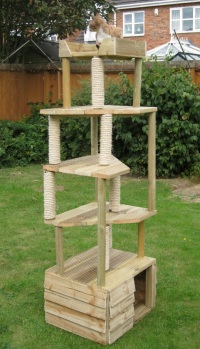 Debbie purchased a 5 tier early in the year and sent us the following photos and a brilliant review.
These were taken back in the late summer when the tree was delivered. Willow took to it straight away and I felt so happy to be giving her the opportunity to climb outside. She adores climbing and climbs on anything she can inside, including her indoor cat tree and any high furniture, but outside we had restricted her climbing by putting in a cat fence because we wanted her to have the run of the garden but no further. This is perfect. The service I received was excellent - very helpful, friendly and willing to discuss and price different options. The item is beautiful - really nicely made from nice wood.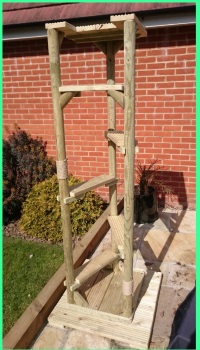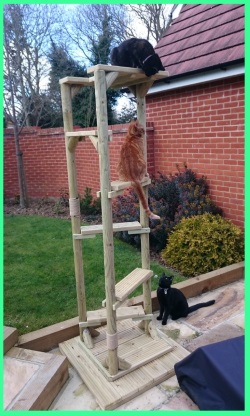 Because of the wet autumn it is now a little muddy on every sisal-wrapped post, showing how much she uses it, but that doesn't matter, and next summer I'll probably give it a hose down on a hot day. The tree is roughly 6 foot tall, so when Willow stands on top of it she is taller than me even though I am very tall at 6 foot myself!
thank you debbie and willow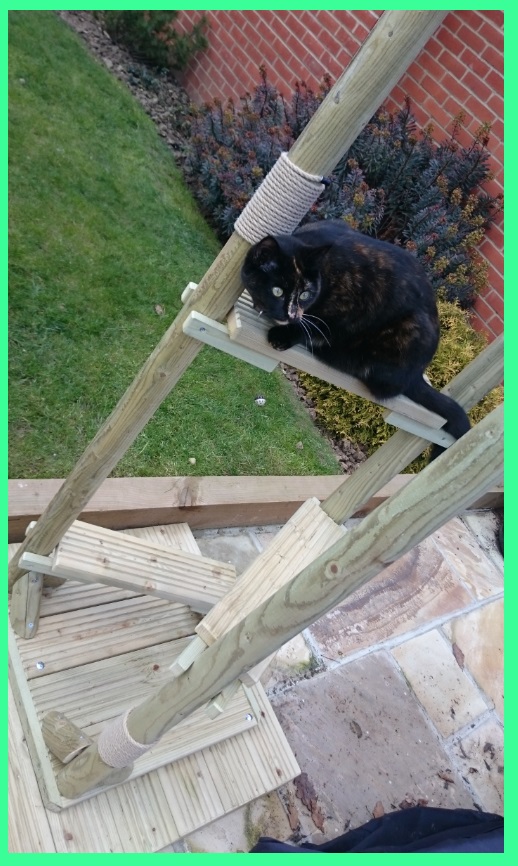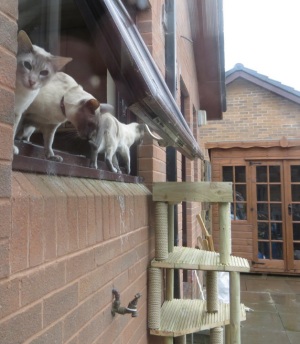 Maybe it's just me, but every time I see the photo on the left I hear the theme tune the great escape.
Thank you Rob K for sharing the photos with us.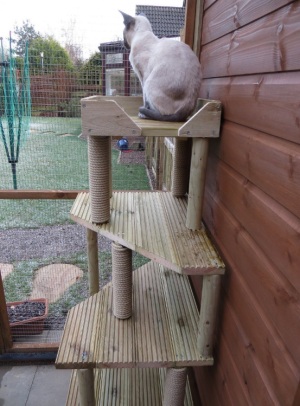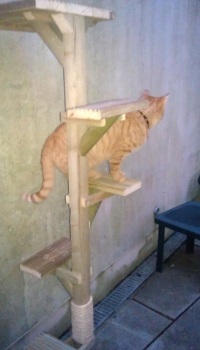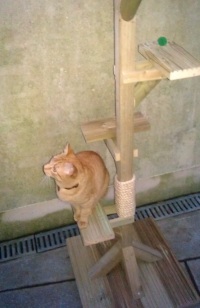 Introducing Rocco AKA Angel Boy,
Who is now the proud owner of a 5ft poll , as you can see he makes the most of the frame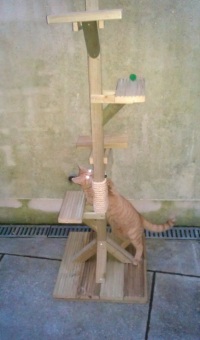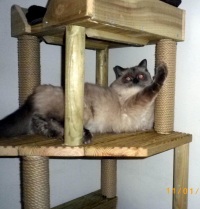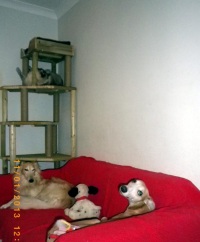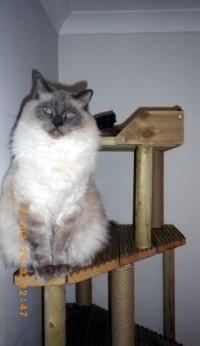 When Conrad's owner got in touch with us, he had a problem, indoor shop brought frames just was not lasting, and the dogs was in constant fear of the whole thing falling on to them. We was able to make them a 6 ft high frame based on our 5 tier design.
Being made from solid wood, it will not be coming down any time soon, so both Conrad and his K9 friends are happy.
Thanks Pete and Mike for the photos.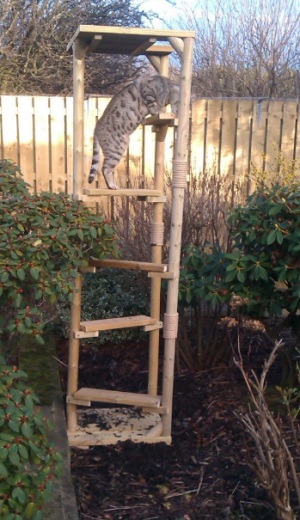 Helen B contacted us about a sturdy and tall frame for her two Bengal cats. we suggested the sky ladder, as you can see, it has been well received by both owners and cats.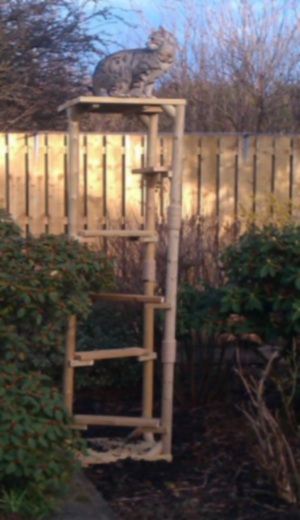 pete took delivery of one of our 4 tier frames and sent us these works.
It's arrived safely - many thanks - and 2 of our cats ventured onto it within 10 mins; no treats required and once we've got it outside our 7 - yes, 7 - cats are climbing all over it.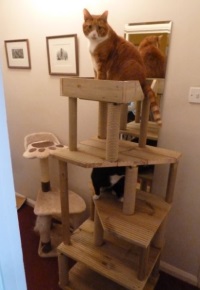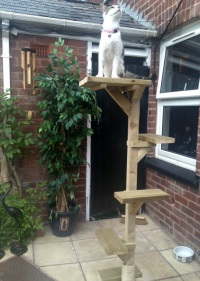 Eva and Beau enjoying the great outdoors within the safety of their enclosed garden and 1 of our 5ft outdoor cat frames.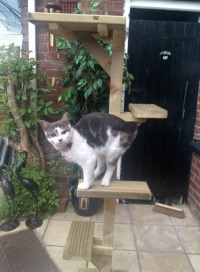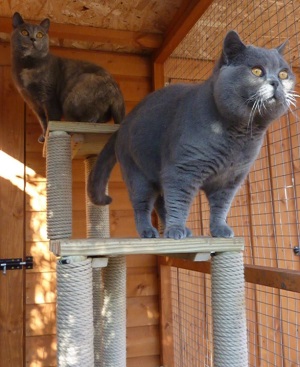 Ron from murraytails.co.uk was so pleased with the first frame he ordered he soon ordered some custom frames for his breading pens.