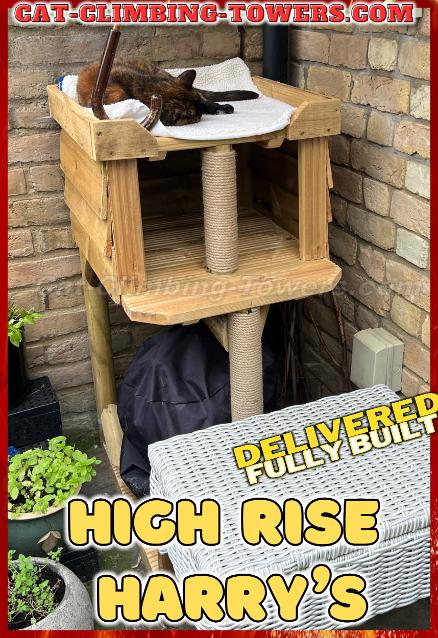 Hello David
Yes my old girl (20) loves her outdoor place. She feels safe as up high and goes inside the cat tree when its get very hot or a bit damp.
Given her a new lease of life as she wasn't comfortable finding walls and fences or even garden chairs (other cats might jump up) to lounge on.
Hi Dave,
The Watchtower is going down really well, especially with this hot weather we've been having, they've just been hanging out at the top watching out for pigeons and the squirrel!!
Earl & Ember think it's fantastic that they can sit on the top and watch what's going on in next doors garden 😂.
Regards
P!
(Stock photo)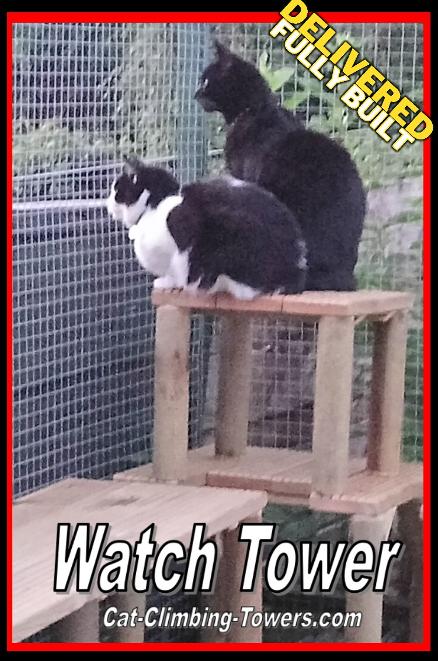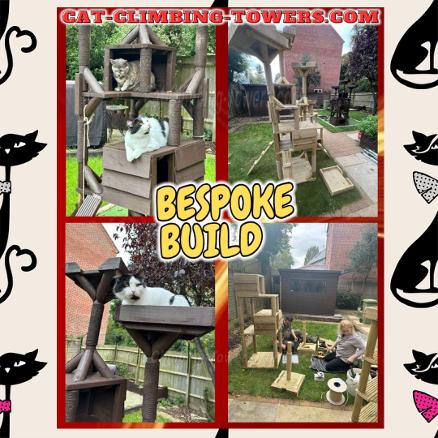 Hi Dave - Thank you for your email. It was lovely to hear from you.
We have three cats and all are enjoying the tower to peer over the fence and generally spy on our neighbours. Thank you for the care and craftsmanship to send us something so well made and with the customised tweak to the height we needed as well.
J
Ps… I've also attached a picture of two of the three cats using the tree!
Hi Dave,
Thanks for your message. As you can see, my two Maine Coons, Ziggy and Ollie are very happy with their cat frame.
Thanks very much, Kind regards, P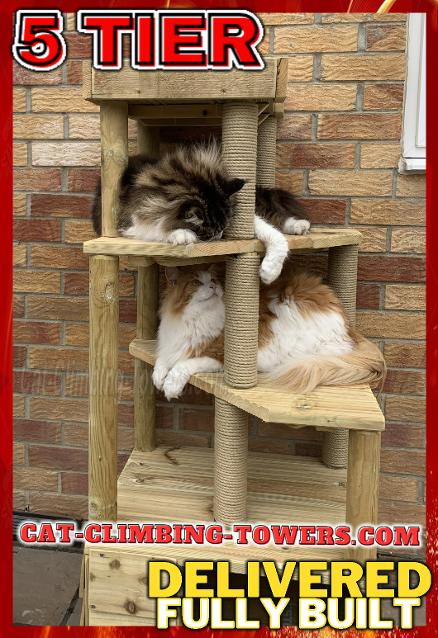 Morning David
The frame is fabulous. My 3 cats love it. They're often fighting to sit on the top, slept on the bottom section when suns out for shade.
Can't thank you enough. It's one of the best things I've ever bought.
Kind regards
Adam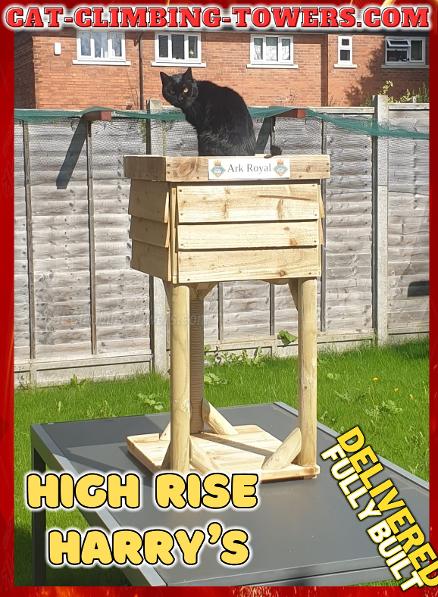 I think this is a good review, (it gave me a good laugh anyway)
........................................................................................................
He's 15 years old and hates life, so as expected, he's given me the "why did you bother, you twat?" look.
He only goes on it if I put him on it, and in this context, he tolerates the inner compartment.
As for me, I'm happy with it.
Hi, Dave,
I am delighted with the cat tree. The quality is wonderful.
My 2 have explored the tree and enjoy sitting at the bottom. Its currently on my decking, I intend to move it further down the garden for them, in a more secluded area.
I attach a couple of photos :)
I would definitely recommend your products!
Many thanks
Sue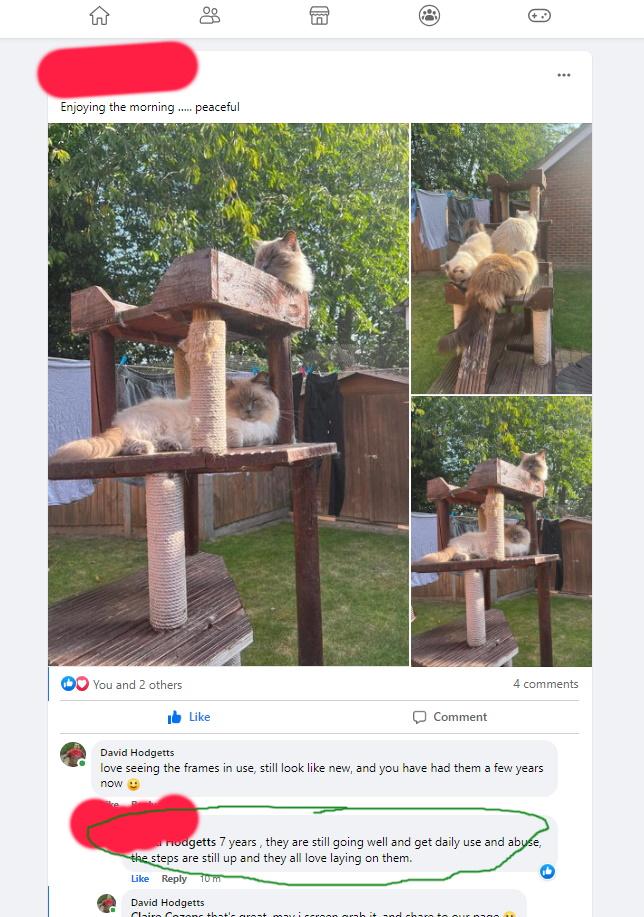 Do my frames last ???
Well my customer tend to think so, 7 years of daily use, and still looking like new !!
shared with permission
Hi just received the play tunnel and it all looks great together. Stannis loves it all. Will definitely order again from you , very good quality.
Thanks N, Scott and Stannis x
Don't worry, he was soon exploring his new frames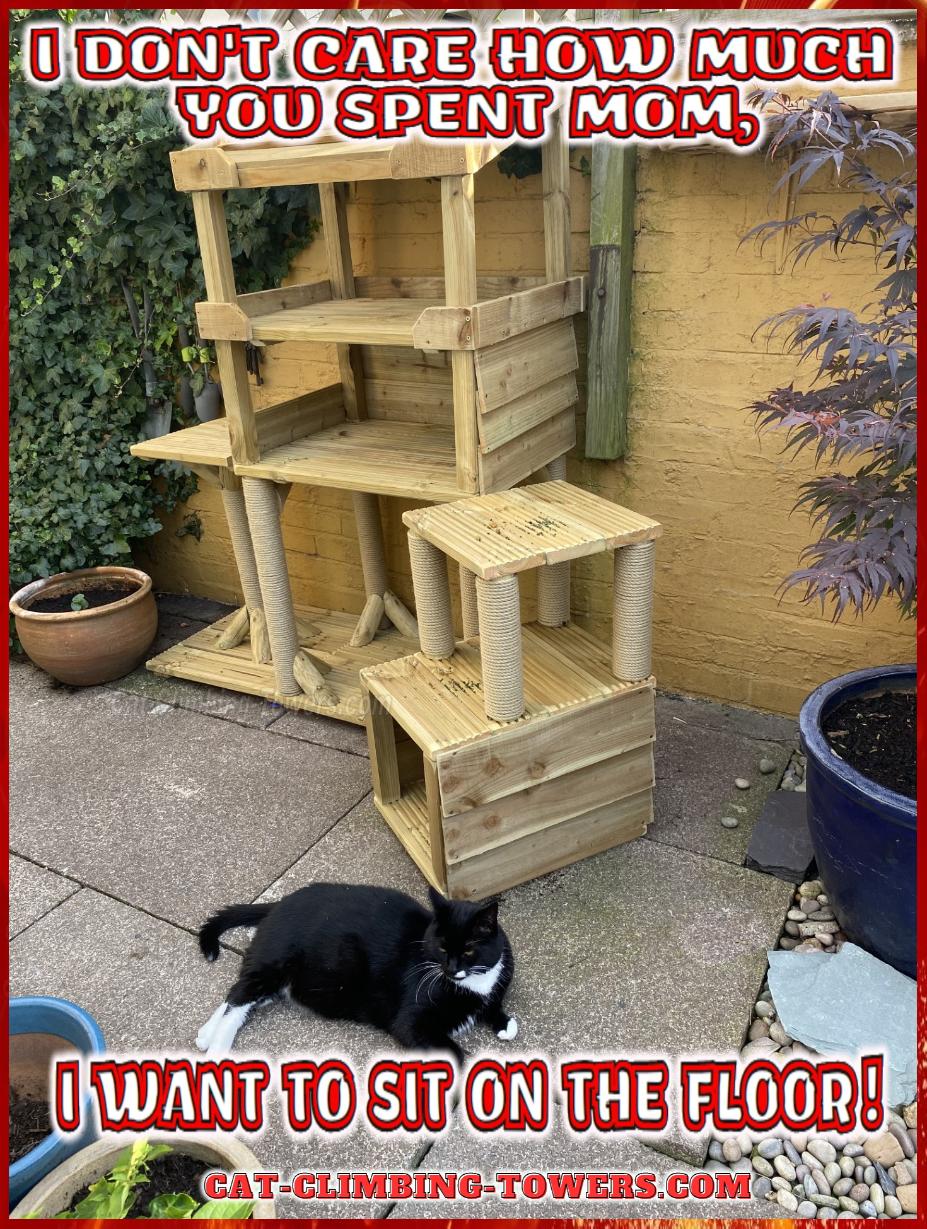 Hi Dave,
We are really delighted with the quality of our cat tower made from solid materials and carefully constructed. One of our cats loves to look out over the garden fence so I wanted to get him a tower tall enough so he could survey his kingdom with ease.
I also wanted it to be suitable for one of our foster cats who has mobility challenges and is less agile. We went for the 'watch tower' and we are so pleased with it! It has been the perfect choice- it has plenty of levels so cats of all abilities can make their way to the top without any problems!
A lot of consideration has gone into the design of the tower and it has been very well received by all of our cats! A fantastic addition to our cat proofed garden, allowing both our own cats and our foster cats to get the most out of their outdoor space! Thank you!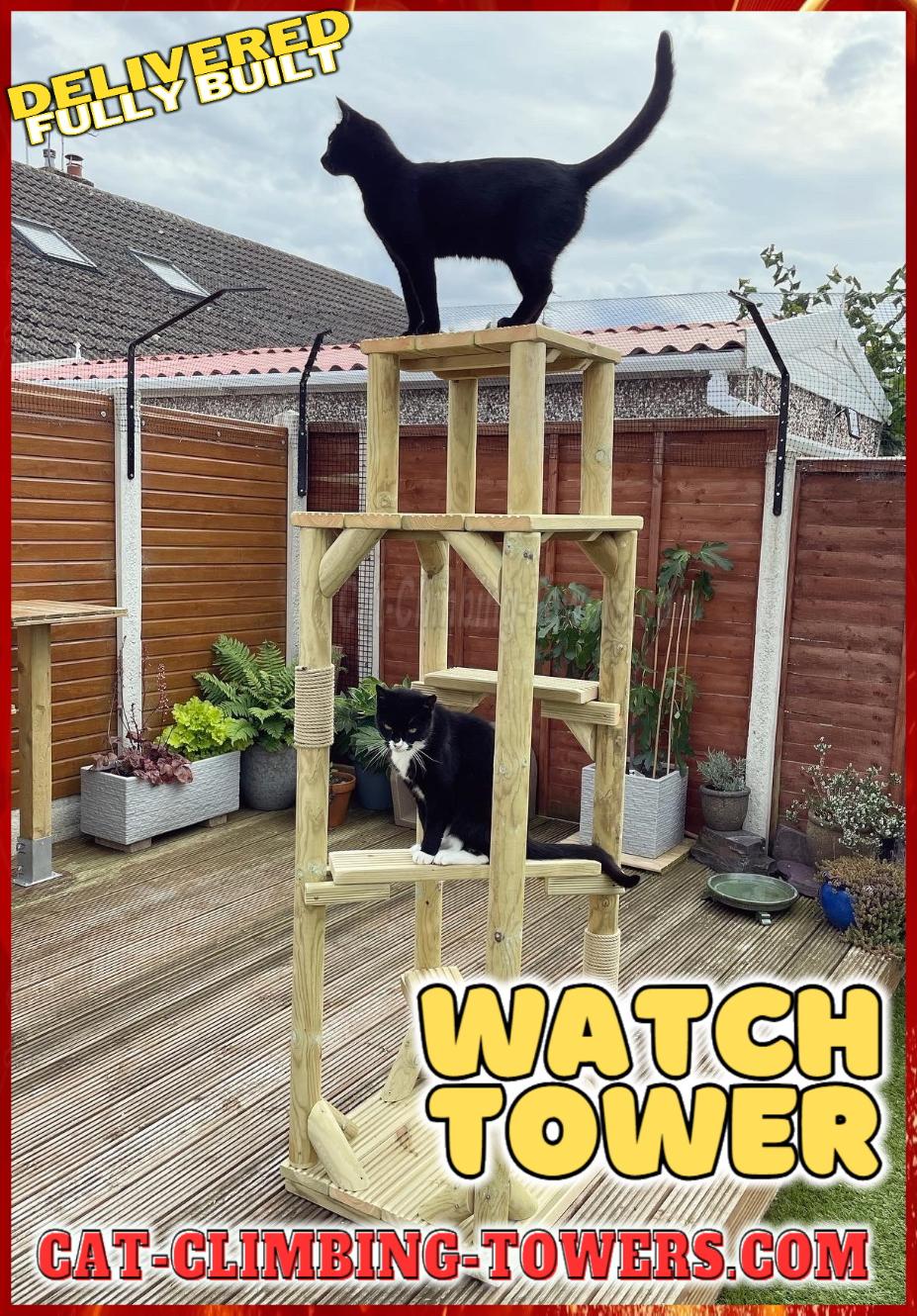 When you ascend to the top of the 8ft tower, only to find your brother has beaten you to the top and posing for a selfie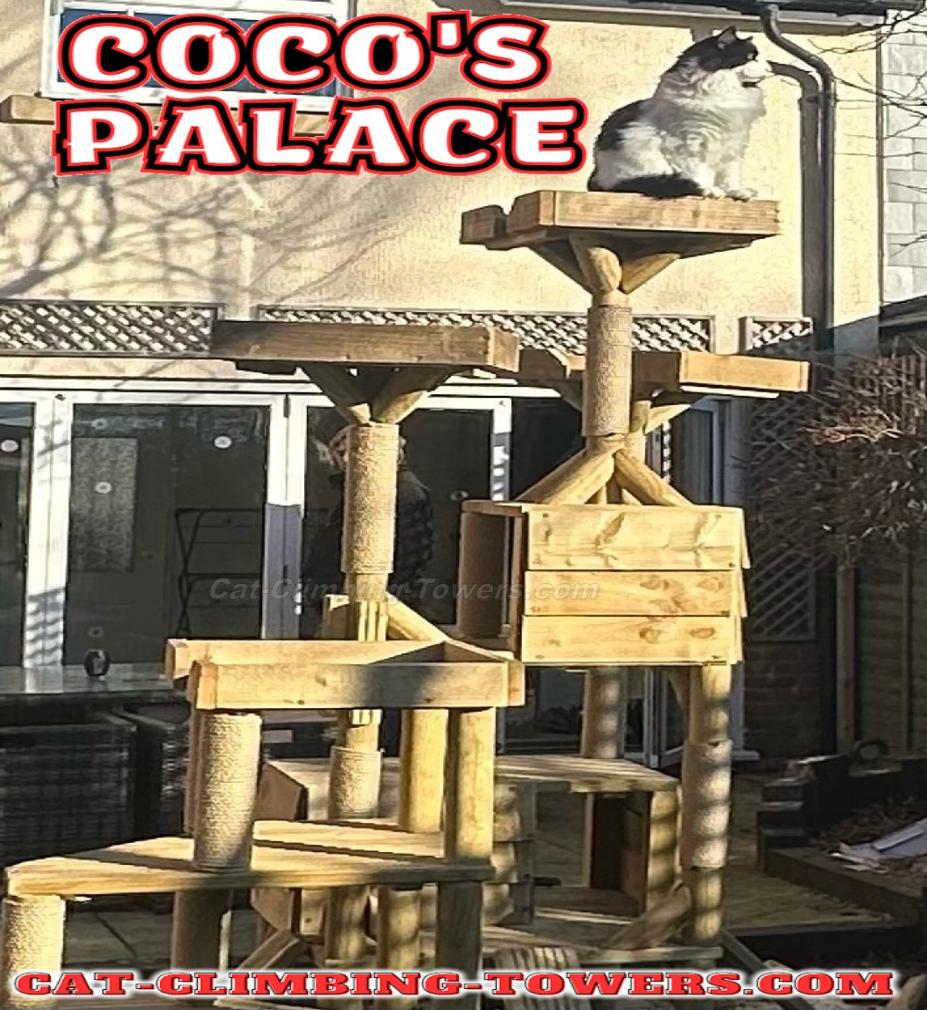 Thank you so much for our cat steps which are so grand we think they might be the 9th wonder of the world.
My cat (Boj) has adapted to them really quickly and is able to easily use them to get in and out of his window cat flap.
That means I no longer have to get up a 2am (3am,4am...) to let him in out and in again. And has proved you can teach an old cat new tricks.
So Boj is happy, I'm happy, we're all extremely happy!
Thank you !!!!
Please find photos attached of Boj on his steps this morning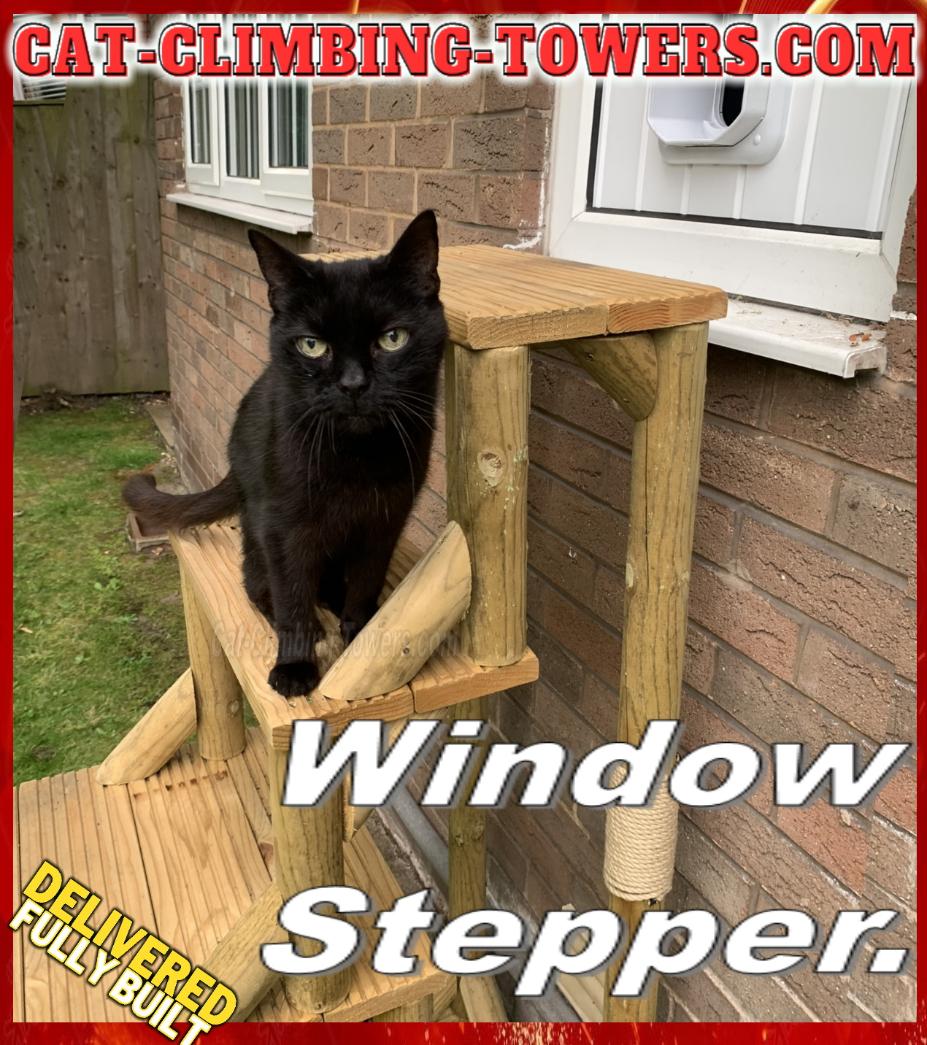 Hi David.
Thanks for the email. The product is first class. Cats love it.
Cheers,
D.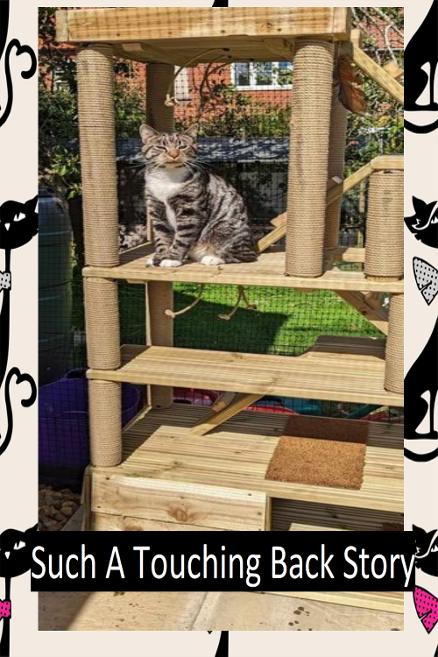 This is Don, Don enjoying his Royal Mews.
He deserves royal treatment after his ordeal in April.
He was known as 'London Cat' at the vets where I work, as 1st information was that that's where he came from. This boy travelled from Chessington, Surrey, to Norwich, Norfolk in a very uncomfortable way! Don Don climbed up into the engine bay to avoid humans, and clung on for dear life for about 3 hours. He suffered severe burns all over, his pads were nonexistent and there were other burns all over his body.
He endured 4 weeks in hospital, with daily drugs and anesthesia's to address his pain and dress his wounds. He so deserves this amazing Royal Mews, and he absolutely LOVES the frame. With quality construction and proper materials. Dave and Vicky were absolutely brilliant, travelling a 350 mile round trip to install this amazing piece of kit. They were troopers and got in with the job, and happily stood aside so I could take Don Don away on his harness. I can't thank you both enough, and I would never use anyone else for a cat climbing tower! 💚X
Dave
Your cat climbing tower has pride of place in my cat Percy's catio, affectionately known as Percy's Palace.
Percy loves to use it for sunbathing on the steps and hiding from the birds.
I've tried to get some decent photos for you but Percy tends to run towards me when I come into the catio. Also these were taken before his daily eye cleaning.
I've got 2 more kittens on the way so your tower will be much loved and used for many years to come.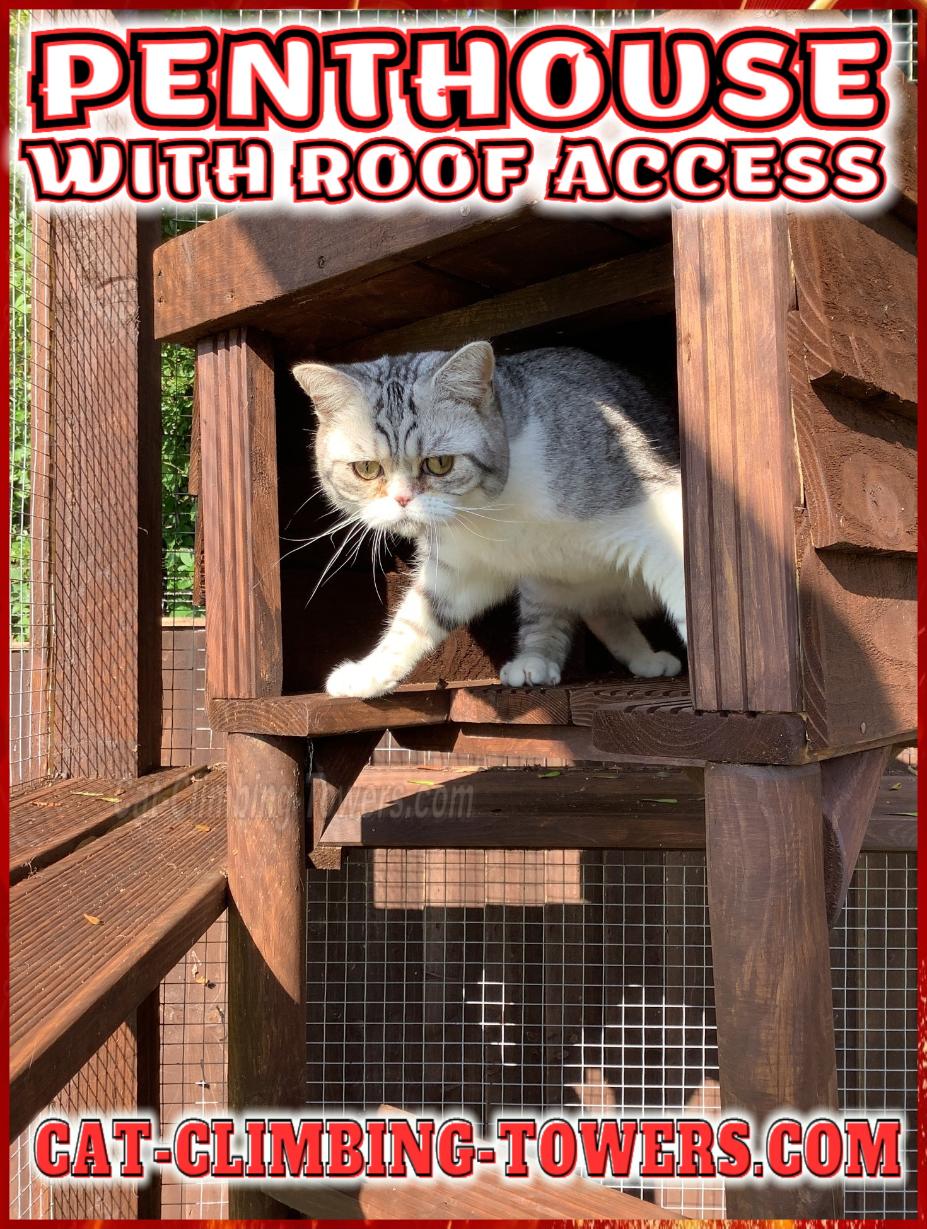 Hello
Yea, the tree is perfect! My cats love it and use it loads. Here are some pictures!
Love your products, thank you 😊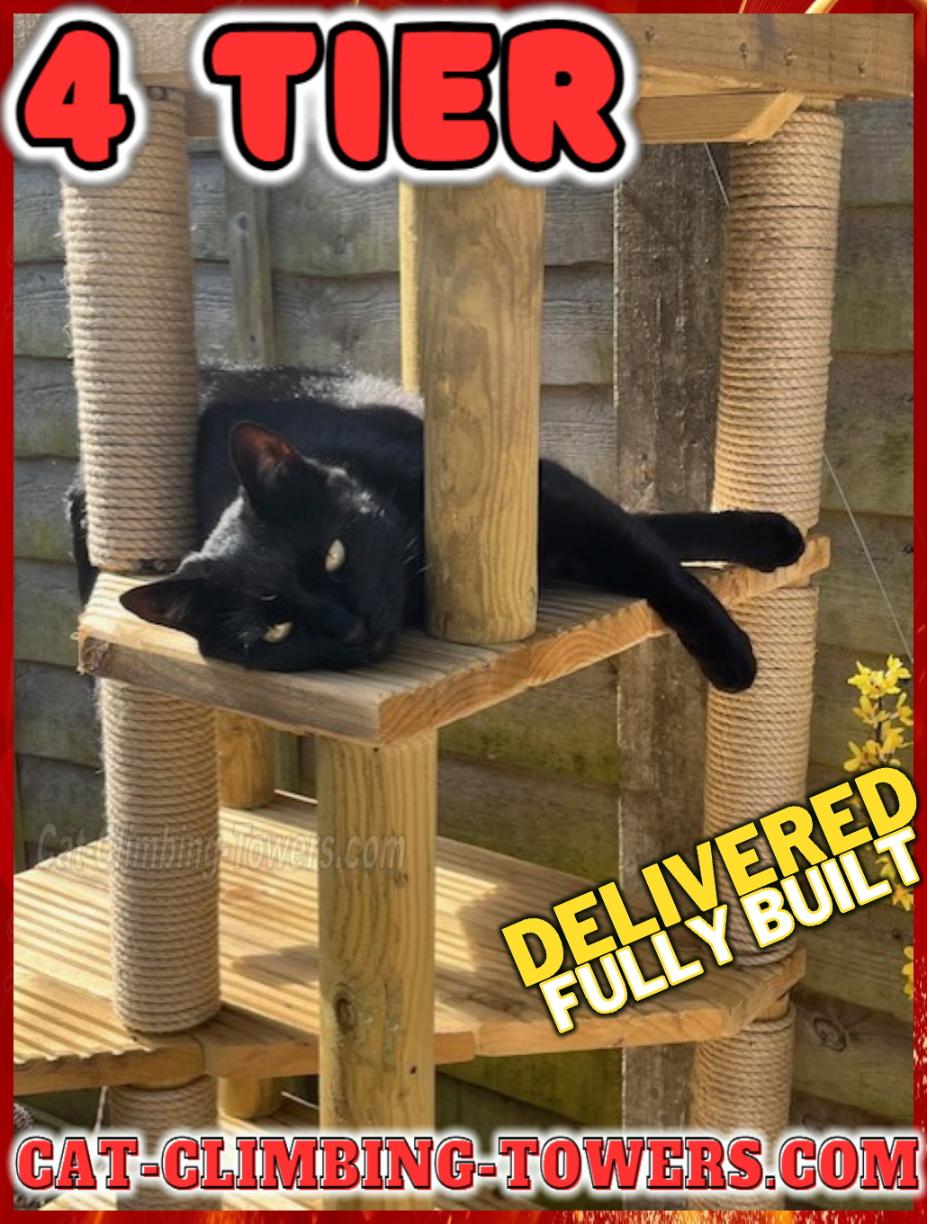 Hi David,
Thanks for your email. They all love it and I am very pleased with the build quality!
Thanks
Jennifer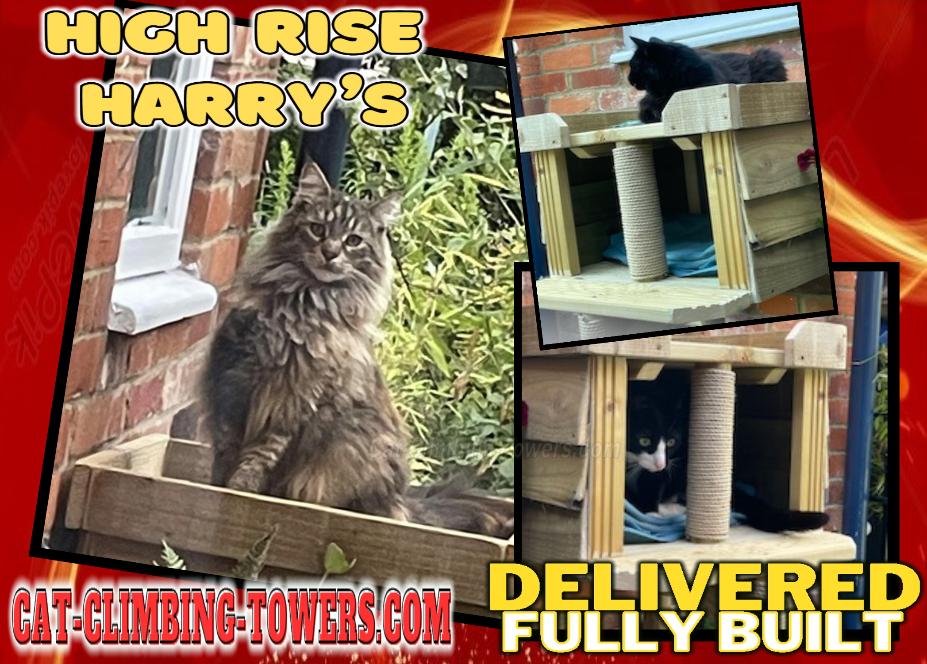 It was lovely to meet you and Vicky and to put faces to your names. I hope your journey home wasn't too bad.
Glad we didn't have a bet as to which one would be first to investigate, as I would have lost!! You were quite correct it was Billy-Whizz. Now it's been explored, he is, as always, dominating Gracie over the platforms. He is quite a bully to be honest. Wow managed to get several of them together.
I am attaching a few photos.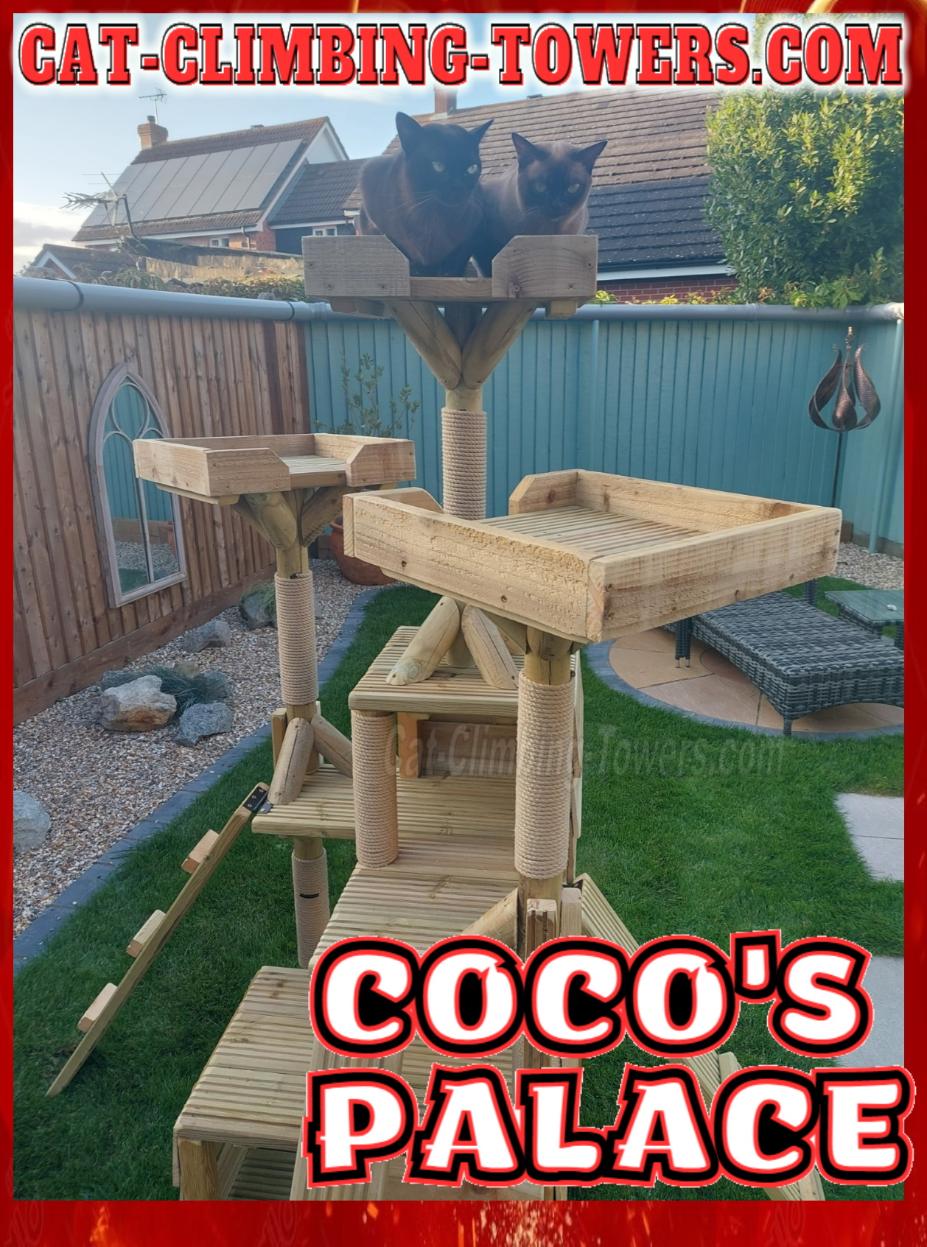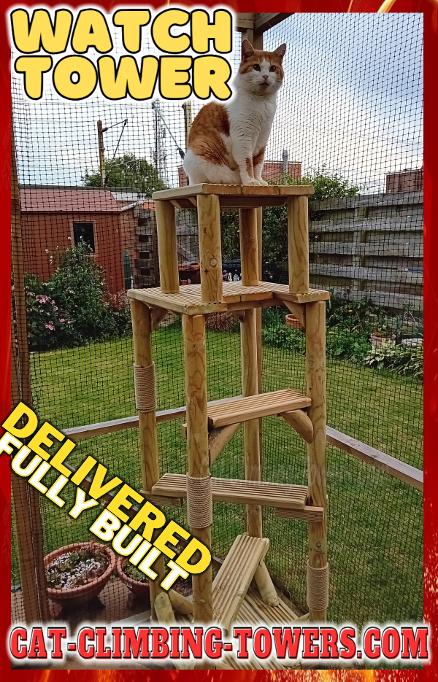 Hi Dave
Thank you for Ted's watch tower.
Considering it took him nearly a year before he realised there was a comfy bed on top of his internal cat tree I thought it would be a while before he tackled the watch tower. On day one he totally ignored it. On morning of day two he gave it a dismissive sniff. But, now in the evening of day two here he is surveying his kingdom. I knew he would love it.
A lovely sturdy structure, hopefully he will use the scratch posts rather than the door frame of his catio.
One very happy customer
C
All Aboard !!!!
I Mean , Who Sits Backward On A Train !!!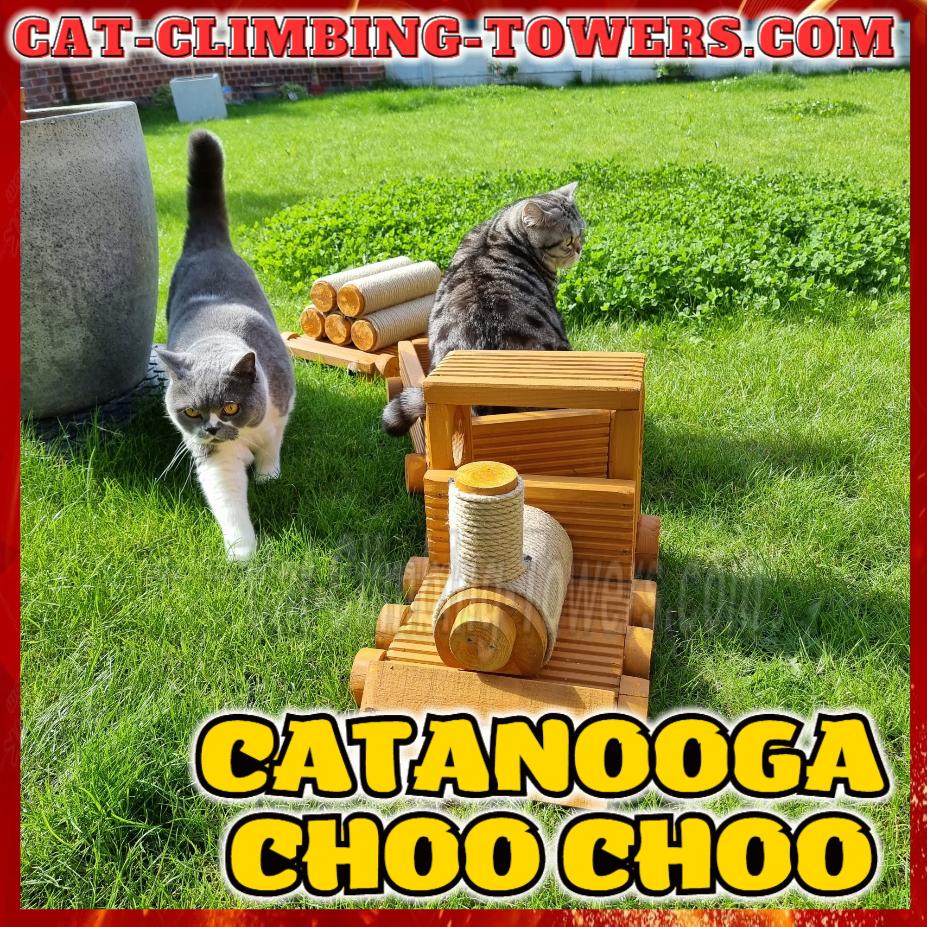 Hi
Thank you for delivering our new tower on Sunday. The boys got to investigate on Monday afternoon once it finally stopped raining. Immediately all the little boys went to play. It seemed to be a race to the top between the two Tonks! Once they all calmed down jumping up and down it, our older boy Darcy got the chance to have a go. Now he's taken claim to it, we may have to rename ours Darcys den 🙂 He loves to sit on all the different levels and just sits smiling at the world. Although they haven't climbed up the long pole yet they love it just to scratch. All our boys say thank you so much they love it and are looking forward to the next one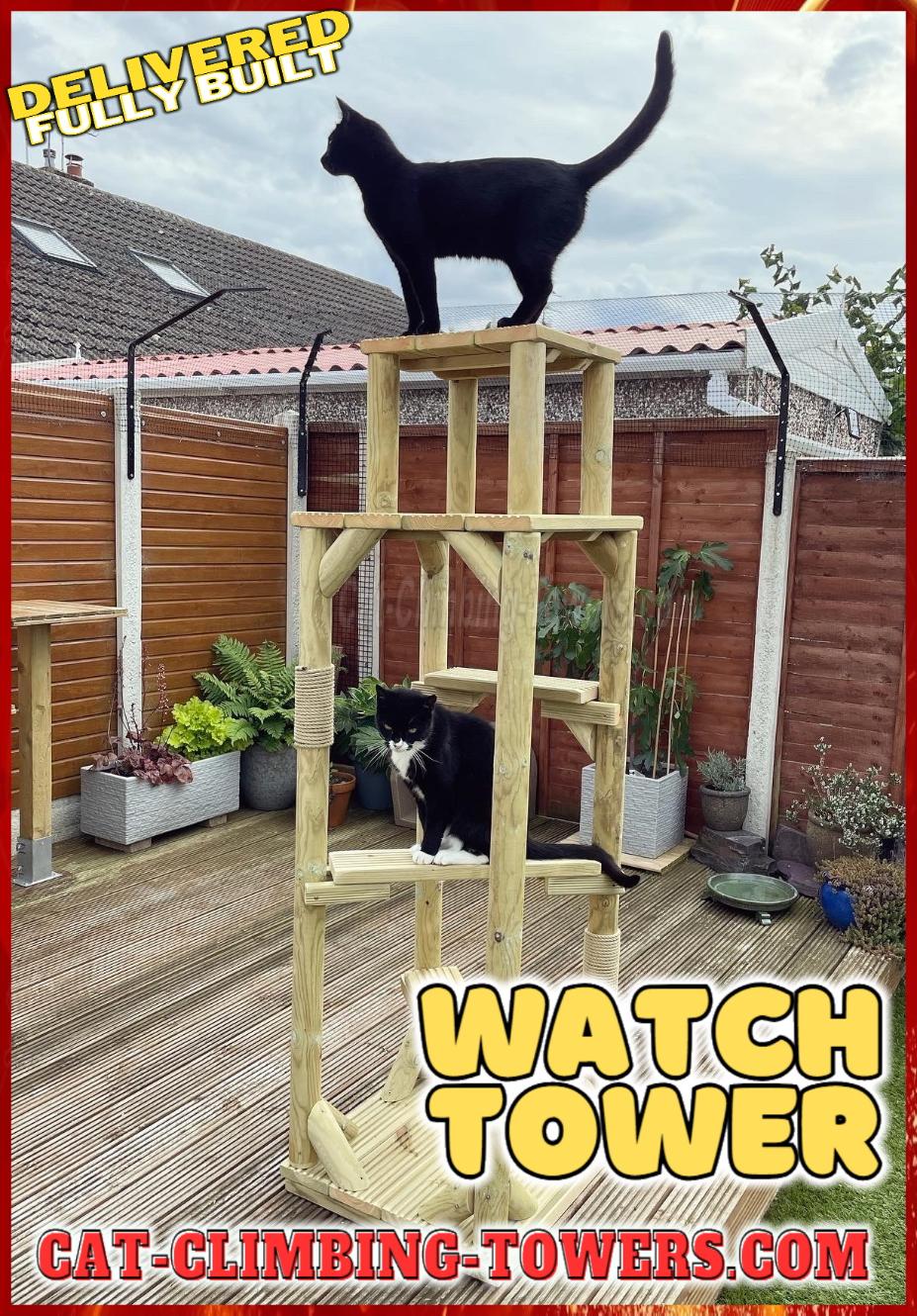 Hi Dave and Vicky
Thank you very much for delivering them today! Pluto and Bandit have been loving them :)
Please find attached of the kitties playing already!
Cheers
Hi Dave,
Thank you again for delivering on a Sunday.
Two of the cats have already been exploiting, straight to the top looking into the garden next door!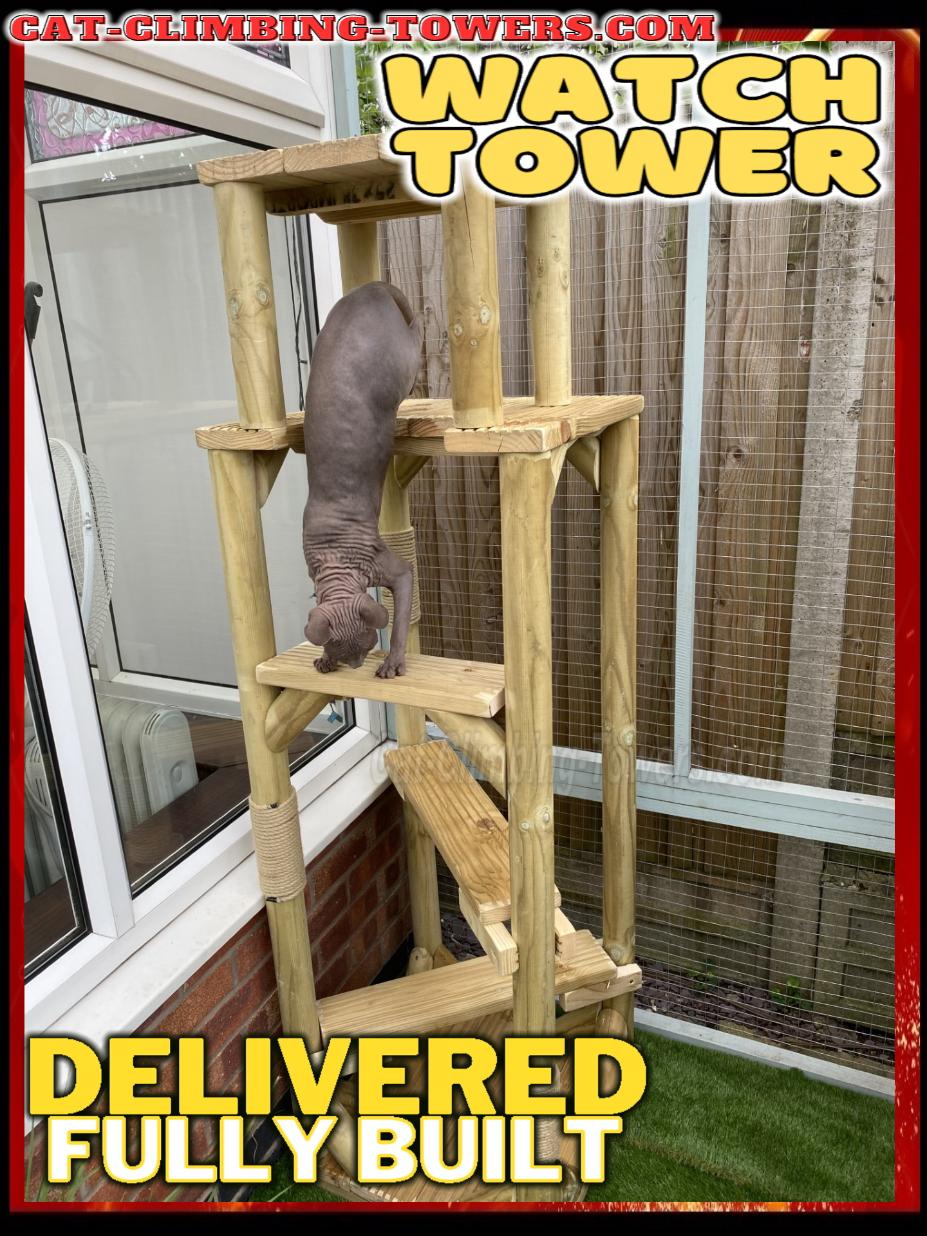 Hi David,
Yes my cat Ben has given his approval. He of course doesn't use it as intended. I thought he could lay inside when it rains and use the scratching post instead of my trellis. He thought he'd use the insure for playing, the top to sleep and scratch and mostly just ignore the scratching post altogether. Cats 🤷‍♀️😆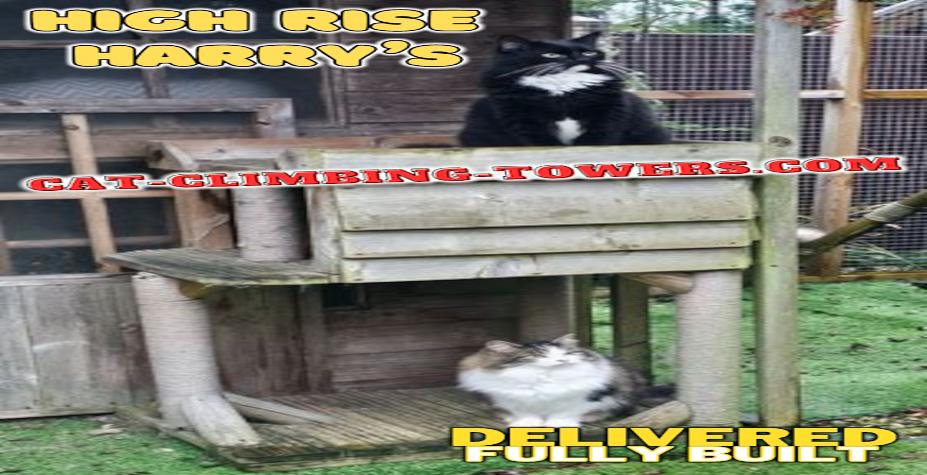 Hi David
Sorry for the late reply, the pyramid is perfect for the cats, Basil and Mille are both climbing on it, for some reason Gilly hasn't been on it yet.
See attached a photo of the 2 of them
Regards
Jo and Dave
Hi
my cats love the cat tree. I can't recommend it enough and will look at more of your products in the future for my garden.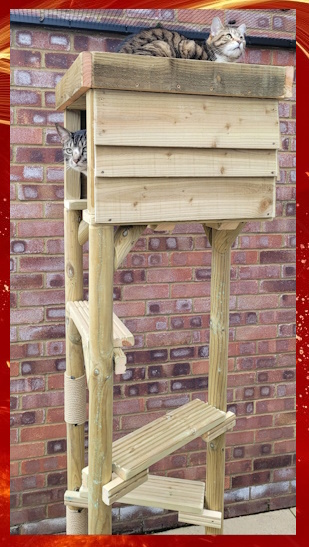 friend of the page, Lauren , sent us these great AI Cartoon photo of her cat enjoying the high rise sally.
Hey David
Howie and Hessie love it 🥰. I'm going to see how they get on over the winter and look at another order in the spring.
My new kittens just love Barney's Penthouse!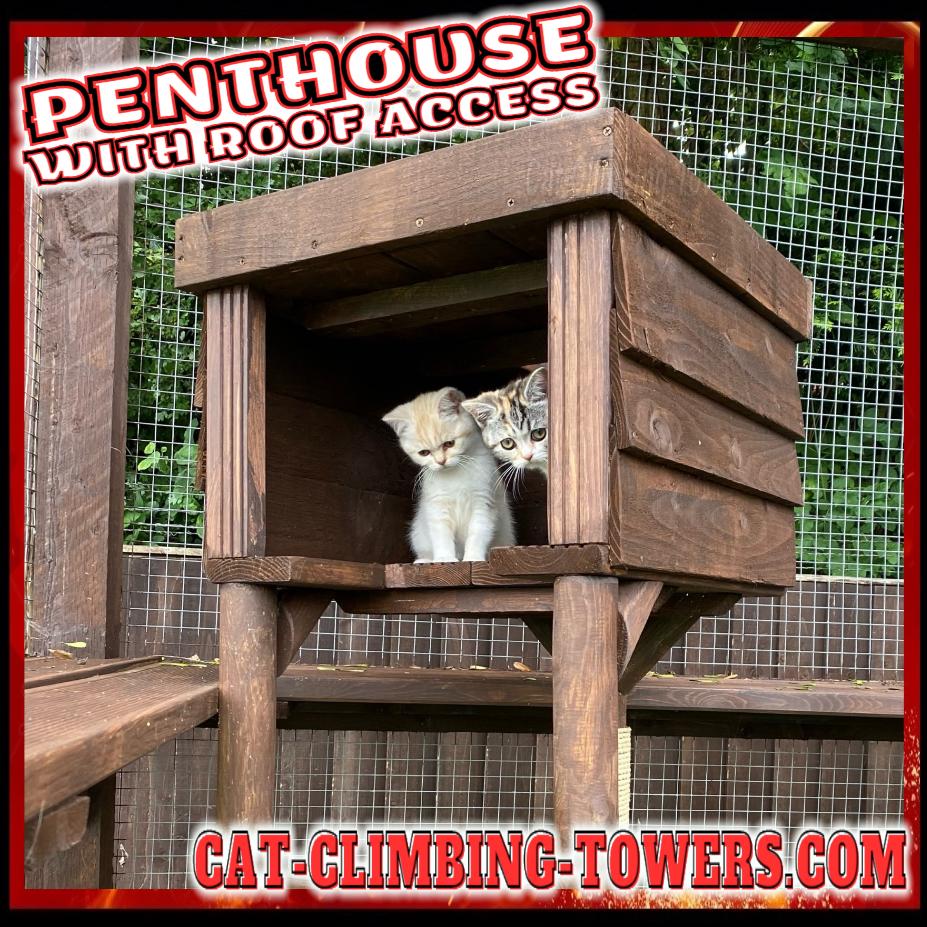 Hi Dave
The cats love the tree and enjoy their time outdoors with the frame.