Welcome to the 13th !!! yes, 13th page of customer photos. pleas do keep sending the photos in, we love to see them !
Hello Dave, as always your climbing tower is perfect and my cats love it, it is the 5th climbing tower I have bought from you now and I am sure there will be more in the future which is certainly proof that I am happy with them. Attached is a picture of my latest one in use in my new cat house and run for my rescue cats, this is Maya enjoying the view from it.
Very best regards
S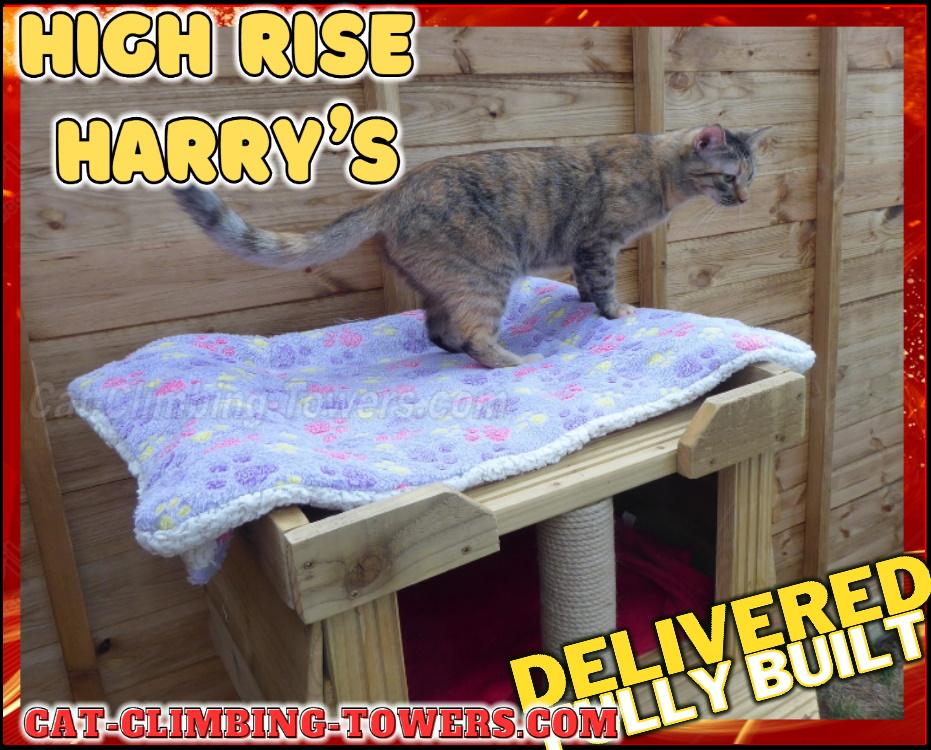 Sancho and friends have just taken delivery of one amazing cat tower! It is wonderfully built and a fantastic enhancement for the catio. I know it will bring Sancho and my other 5 kitties a lot of joy! Thank you to the organisers and judges of the cat show and to Cat-climbing-towers for donating such a generous prize!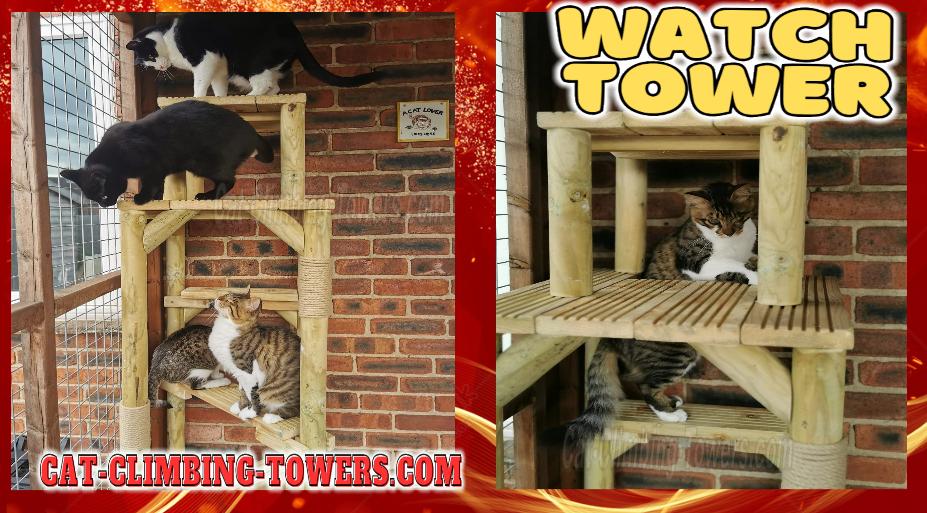 Hi Dave,
Thanks for your email. Casper our 8 month old Maine Coon loves his cat penthouse. It's in his catio and he loves to sit on the roof of his penthouse looking at birds and snuggle up for hours in his blanket we popped inside it for him too. It's built so well and we all love it…even our grumpy older cats like it and they don't like much usually! Here's pics of Casper enjoying it!
Kind regards
Lisa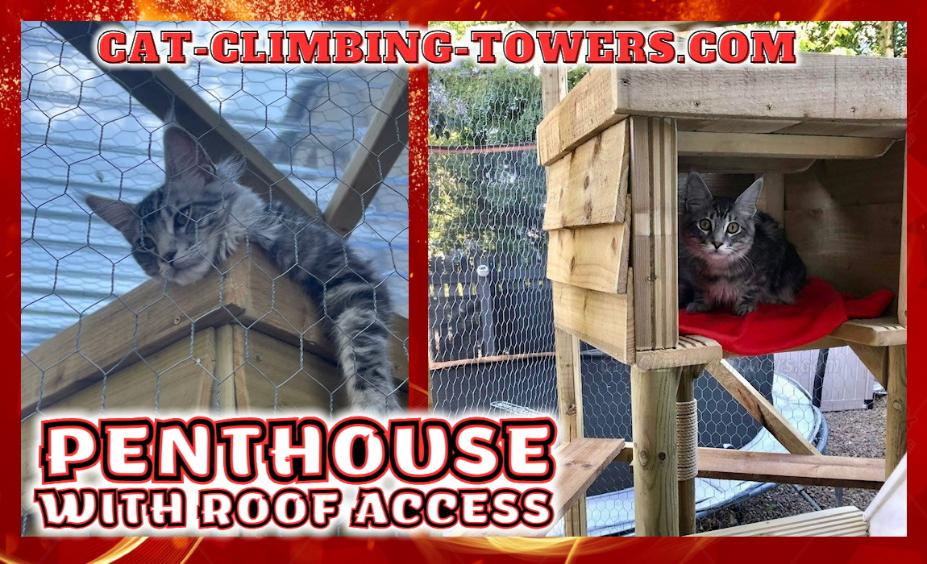 Hi Dave
Thank you for your email ..
I absolutely love the cat tree i ordered the quality is amazing and looks great in my garden ..even more important my cat Bo loved it from day 1 he loves nothing more on a nice sunny day lazing on the sun bed or under cover to get some shade ..have attached a couple of Bo living the cat life 🤣👍
Thank you
I hope to make another purchase in the future 🤞
Couldn't recommend your products more 👍👍
Best wishes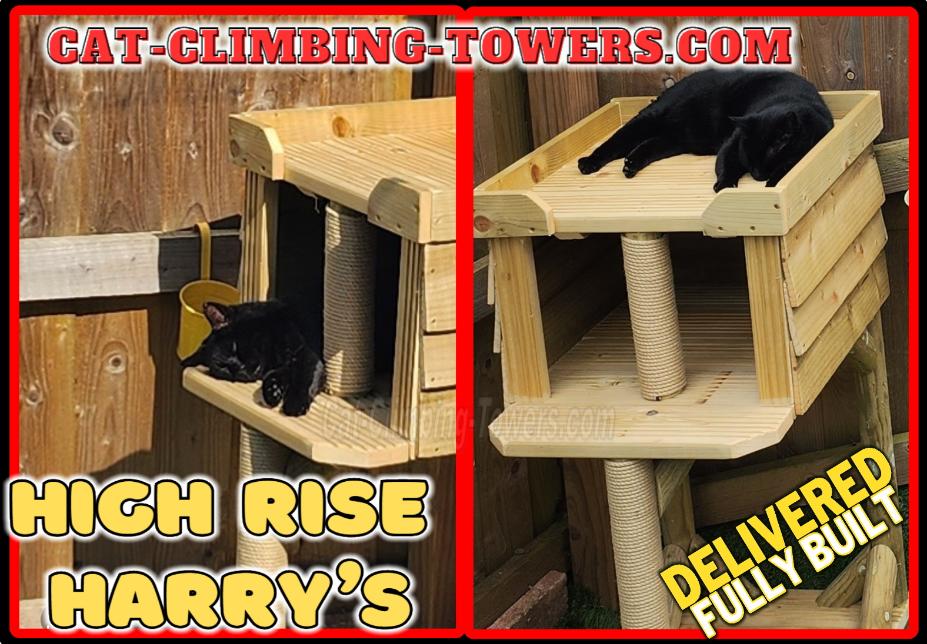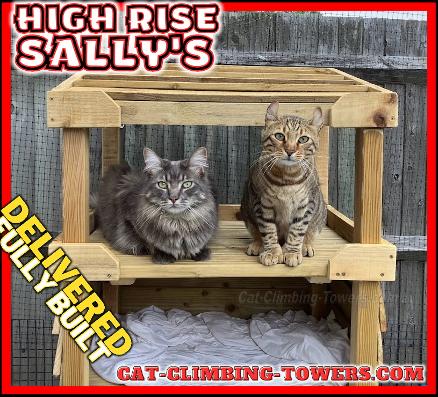 Hi David,
Can I just say that the towers that you make are amazing, and my cats absolutely love them. My cats are unable to leave the garden due to the cat fencing I have installed, and it had made a massive difference that they are able to get off ground level to look at the world around them, and stalk the squirrels.
I searched the internet for hours looking for the right product and fell in love with your company, I love that they are clearly handmade and not the generic mass produced products you usually find on the market, and the quality is of a really high standard for the price. It is also really helpful that you are now able to spread the cost.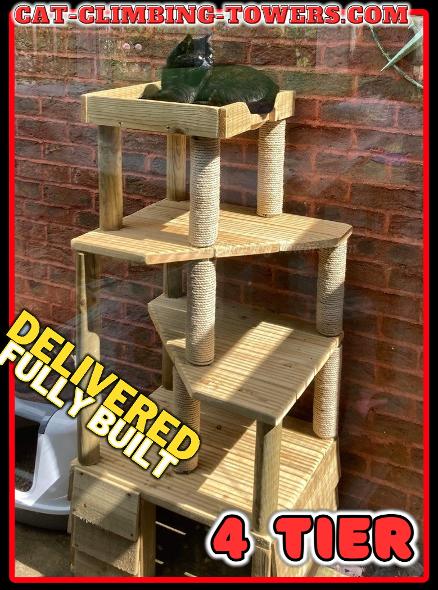 Dear David
This is Issy (more formally Isis) and , like her namesake, she is Queen of all she surveys (or at least her catio).
She loves sitting on the top shelf or, if the sun is bright and it is hot, she goes into the box at the bottom.
Issy is a very small cat - she is three years old - and she is not allowed out into the garden because there are lots of large cats around and a busy road. She is very happy with her cat tree because - like most cats - she likes to get up high.
We are very happy with the cat tree- it was excellent value for money, it dries off quickly when we get some rain and looks like it will last for a good long time.
Thanks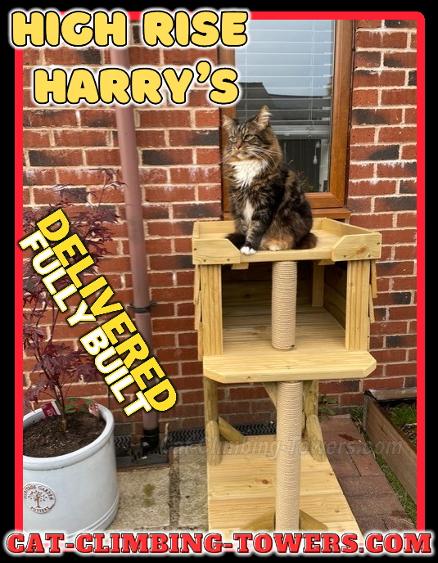 Hi Dave,
I'm very happy with the cat frame, and as you can see so is Ollie…
He likes to survey his kingdom from up there.
Best wishes
Claire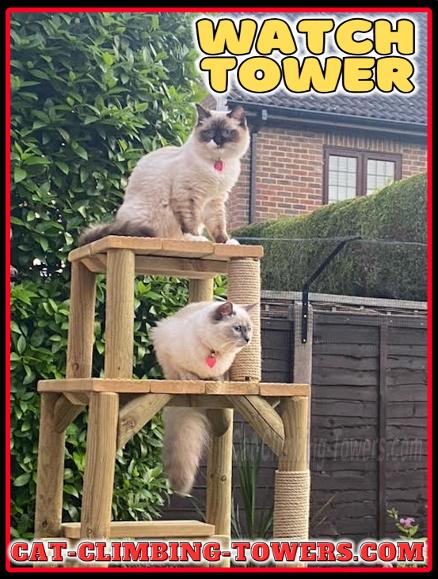 It is amazing Dave. They absolutely love it! Thank you. Photo attached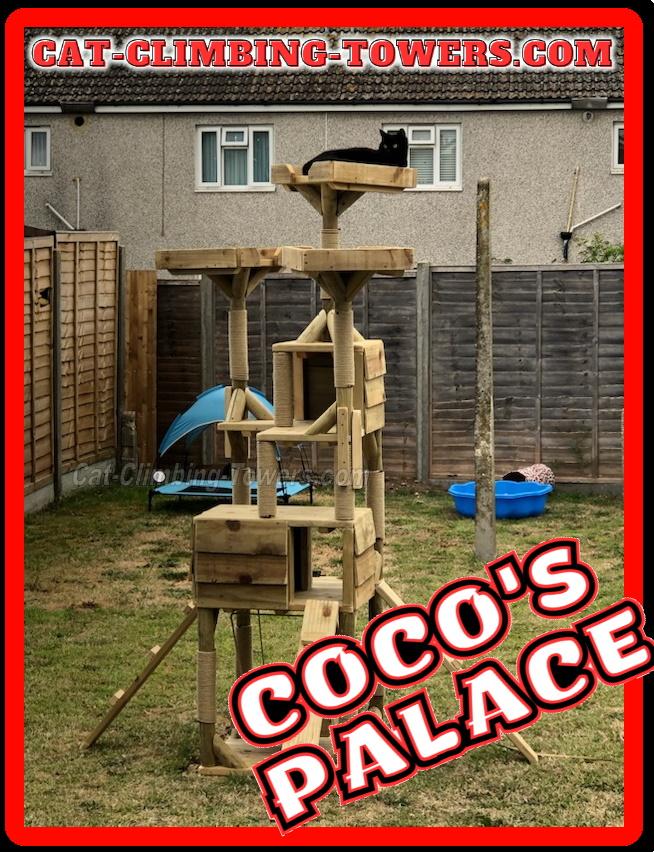 When we deliver to multi cat households, which cat they think will be the first to the top of the frame.
Just received the wonderful text and photo.
" Told you Hecate would be the first up there. "
I do have the best customers
This is Herbie, a resident at @newstartcatrescue , and he gave the staff a nice surprise, when he made his way to the top of a royal Mews frame, and safely back down again.
They do a great job over at new start, so why not pop over to their page and give them a follow.
Oh, bonus points if you can spot the second cat !!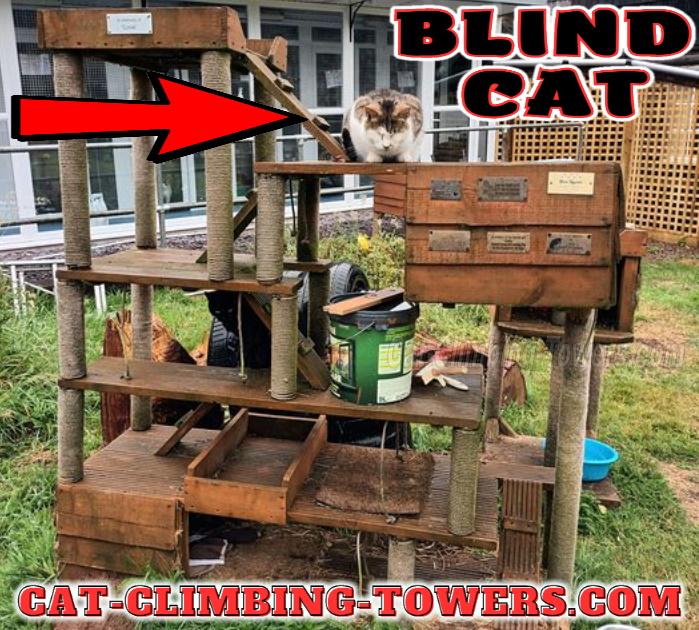 Only One Way To Spend A Sunny Afternoon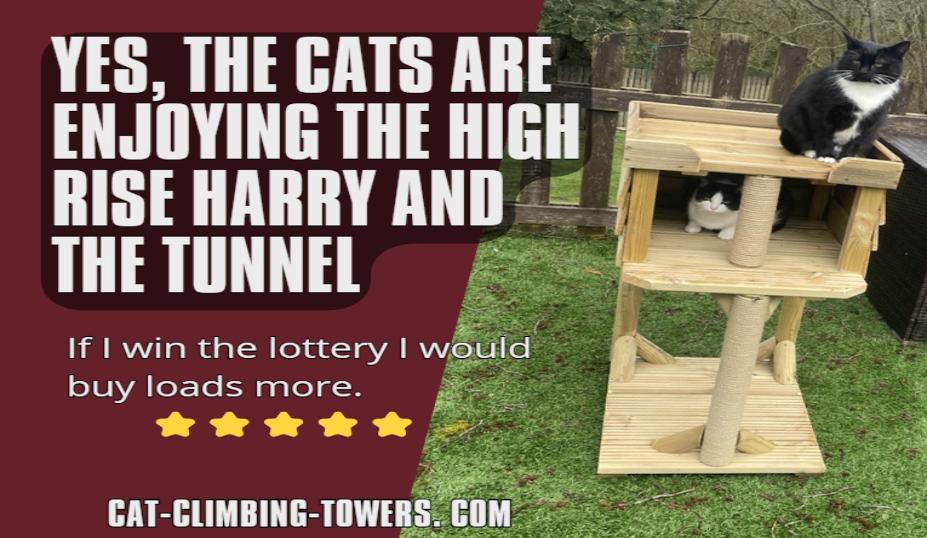 Hi Dave and Vicki


Thank you for another wonderful cat stand. We put it together
Pushkin is superhaooy with his new and much bigger top platform.
Very happy as always.
Pushkin, Rocky, Carola and Gareth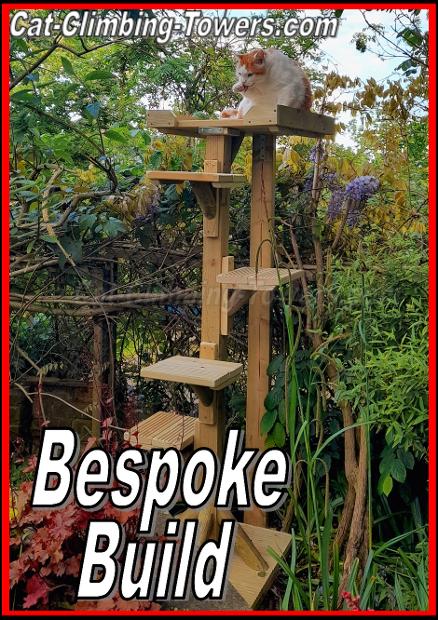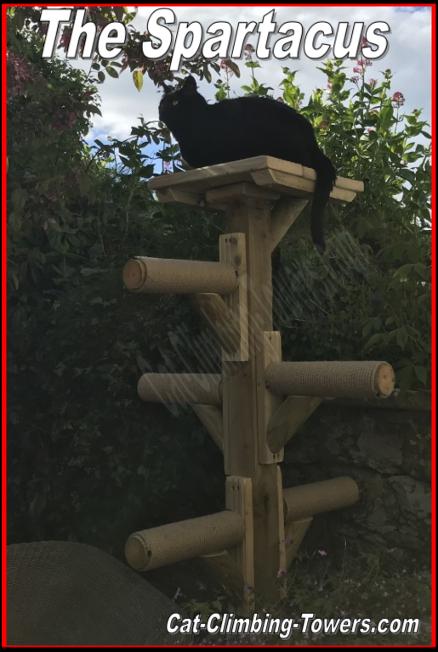 Dear David,
Delighted with the tree and, as you can see, so is the cat!
Thank you. Great product,
Very best wishes,
Fiona
Just 4 happy cats enjoying the sun from their Castle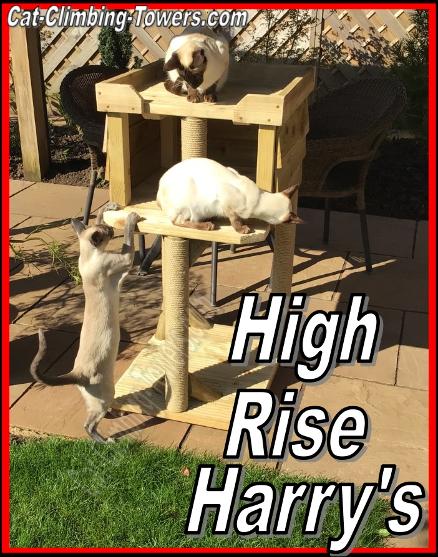 Hi David, The cat frame arrived yesterday evening. It's lovely. They have been playing with it this morning. See photos. Thank you.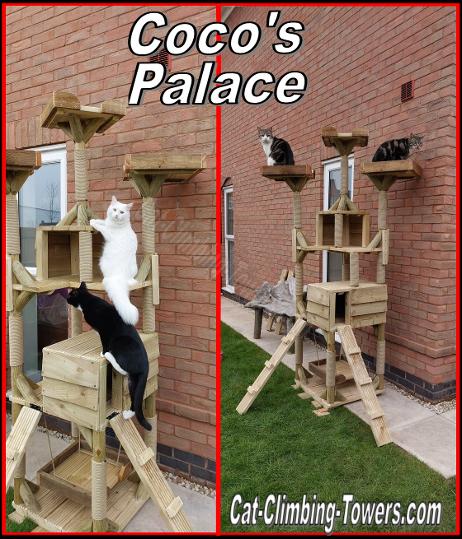 A few photos of a delivery this weekend, as you can see, the cats are very happy.
A big thank you to Ivy Blue British Longhair & Shorthair Kittens, who sent use these photos of our frames being used and enjoyed by her Ivy Blue British kittens .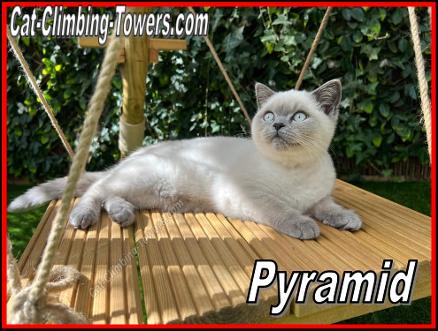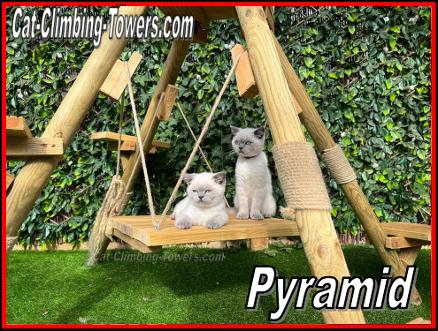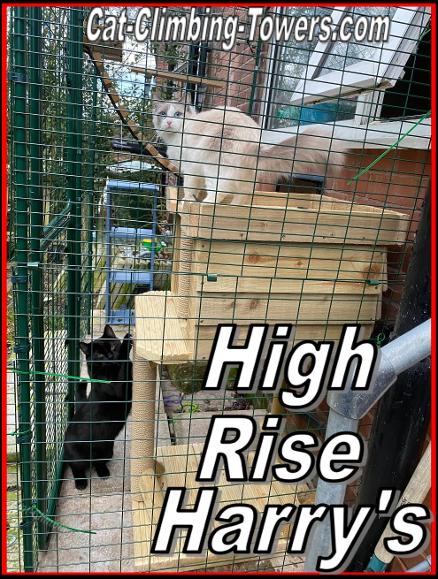 Hi Dave,
Both me & my cats are over the moon with the cat tree. It's very well made & perfect for our little catio. My female ragdoll wouldn't go outside but now we have your tree she enjoys going out as she has somewhere to sit & can get in & out of the window easily.
I will definitely be buying from you again, when I extend the catio 🙂. I've attached some pictures of my kitties enjoying the tree. Thanks,
Found a photo montage of one of our 4 tier frames being enjoyed in this snowy weather.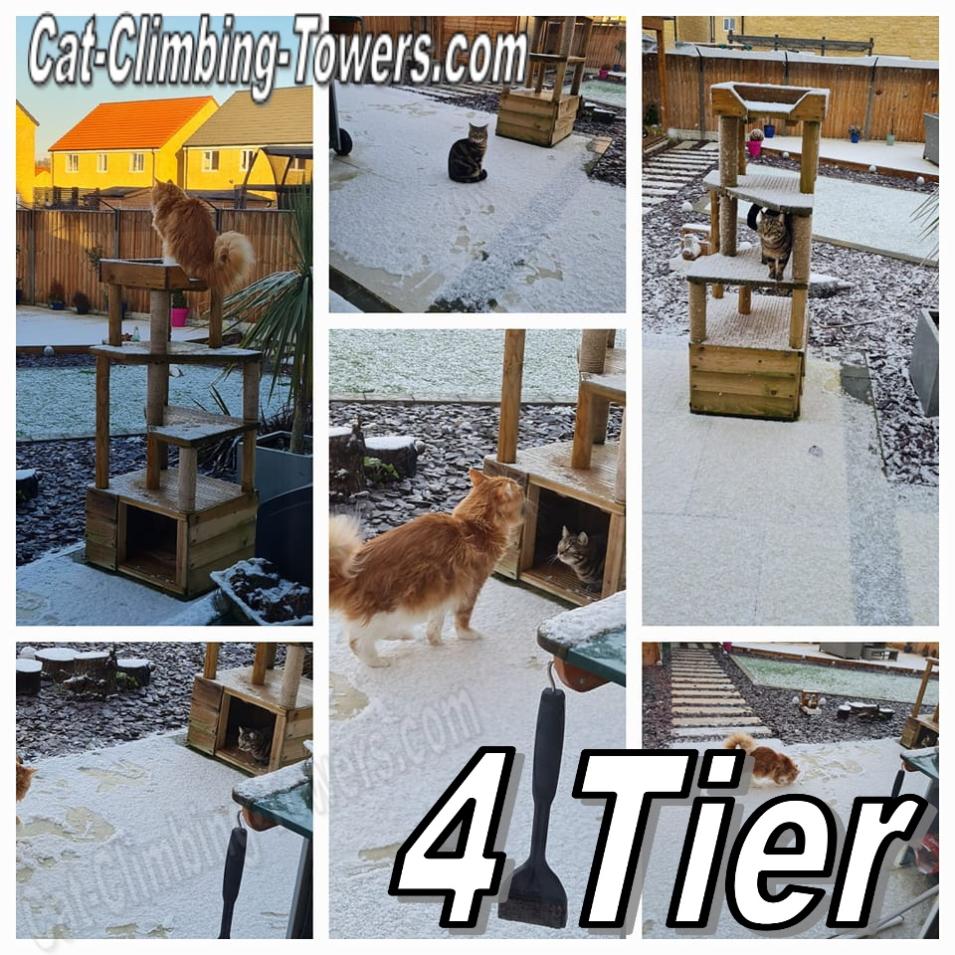 Hi Dave
I thought you may like to see Roxi on the finished
product.
She loves it - just the purrfect size for her. Thank you very much!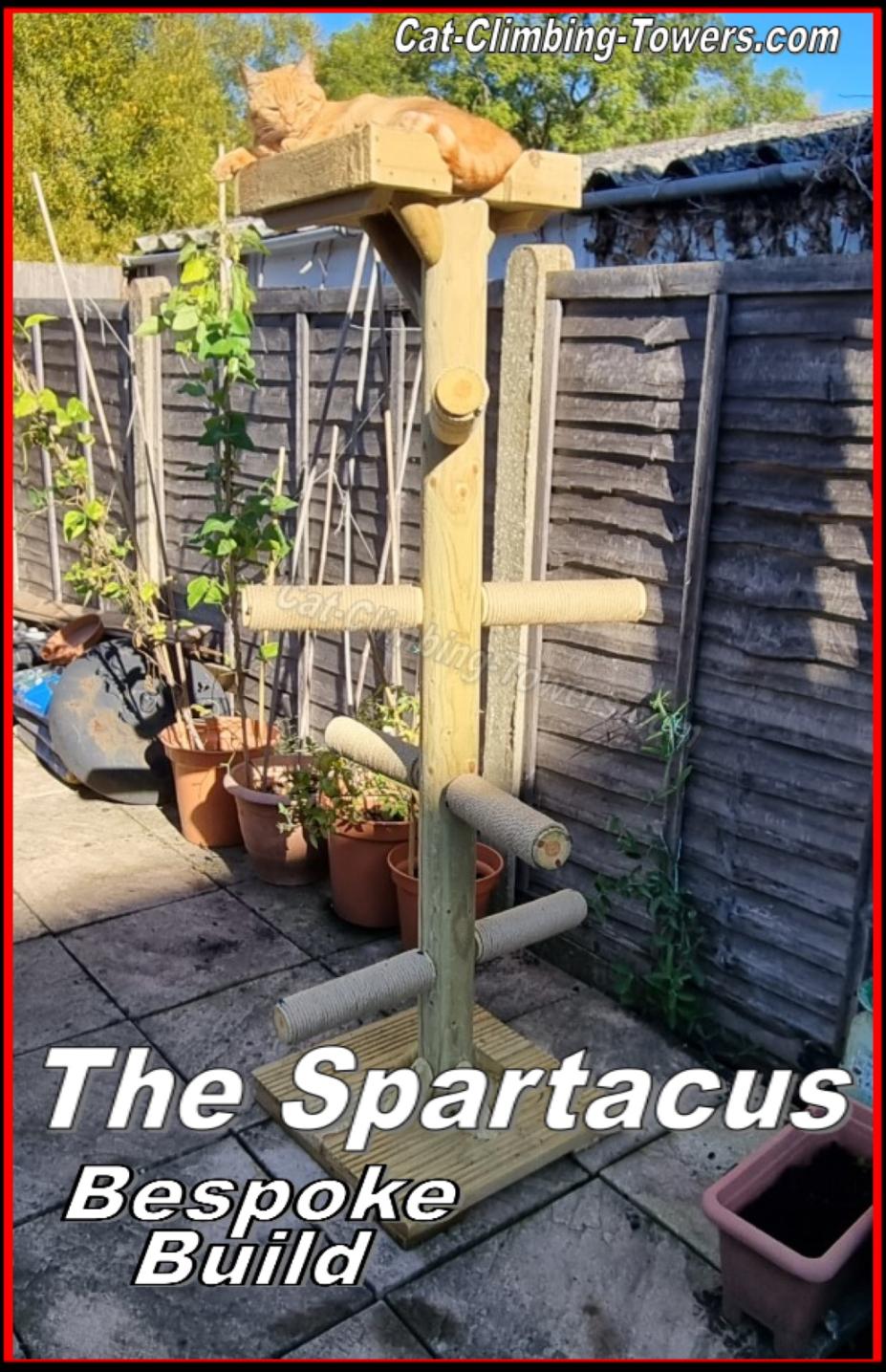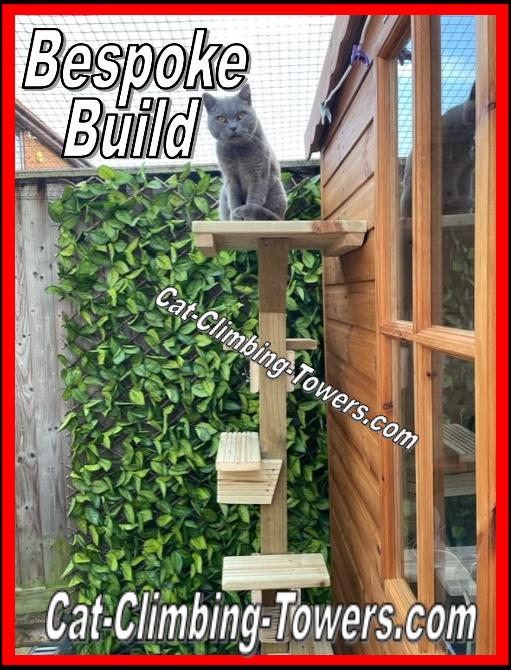 It has the 'Missy' seal of approval!!
Had fun delivering this one, access was through a very narrow ally way with a 90' turn, so up and over the garage it went!!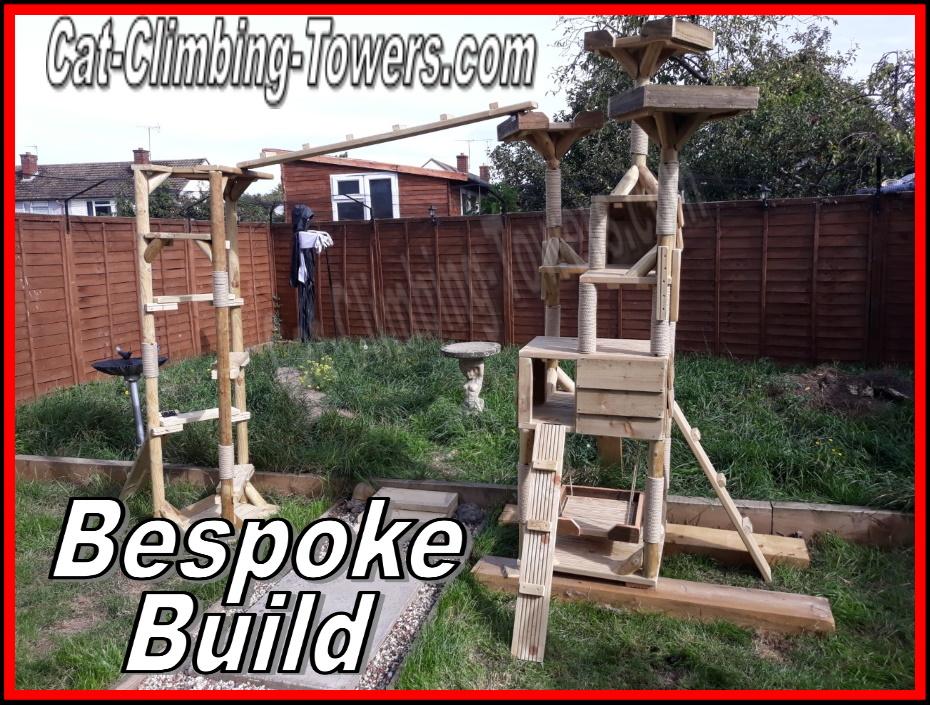 Hi David,
As you can see the tower has arrived and
Storme has taken to it immediately; she is loving that top shelf!
Thank you from my cats and myself.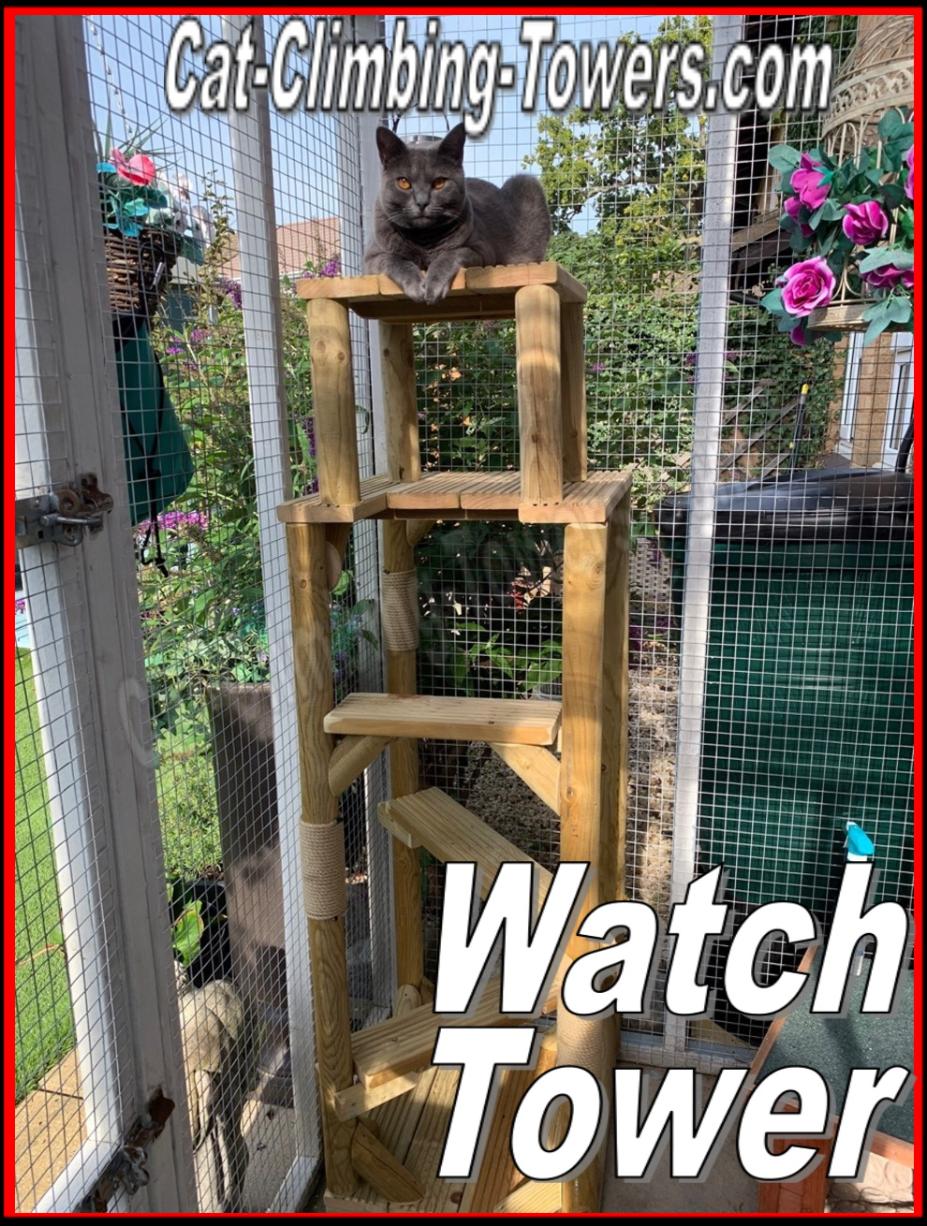 just had these photos in from a customer of a retro fit wall scratcher. they said
It's perfect thank you 😻😻😻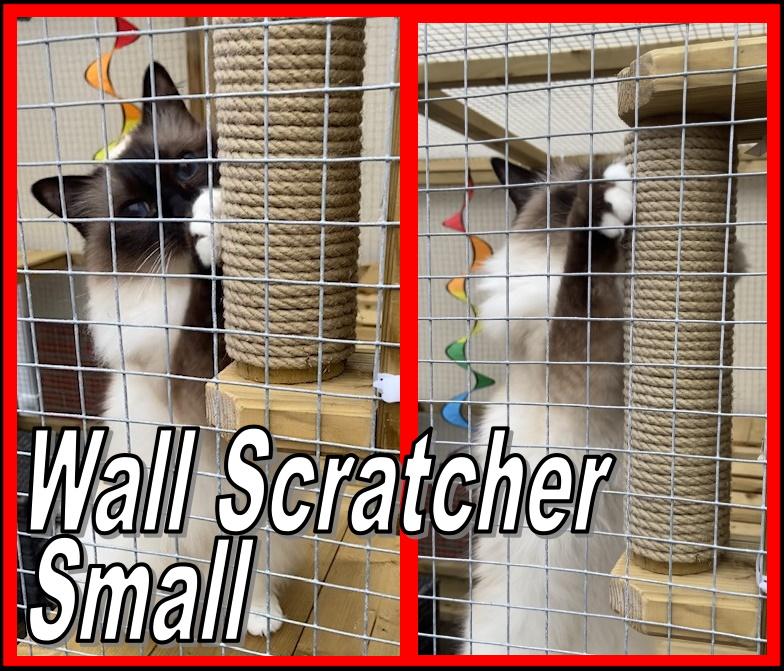 A great photo of the large Spartacus being enjoyed.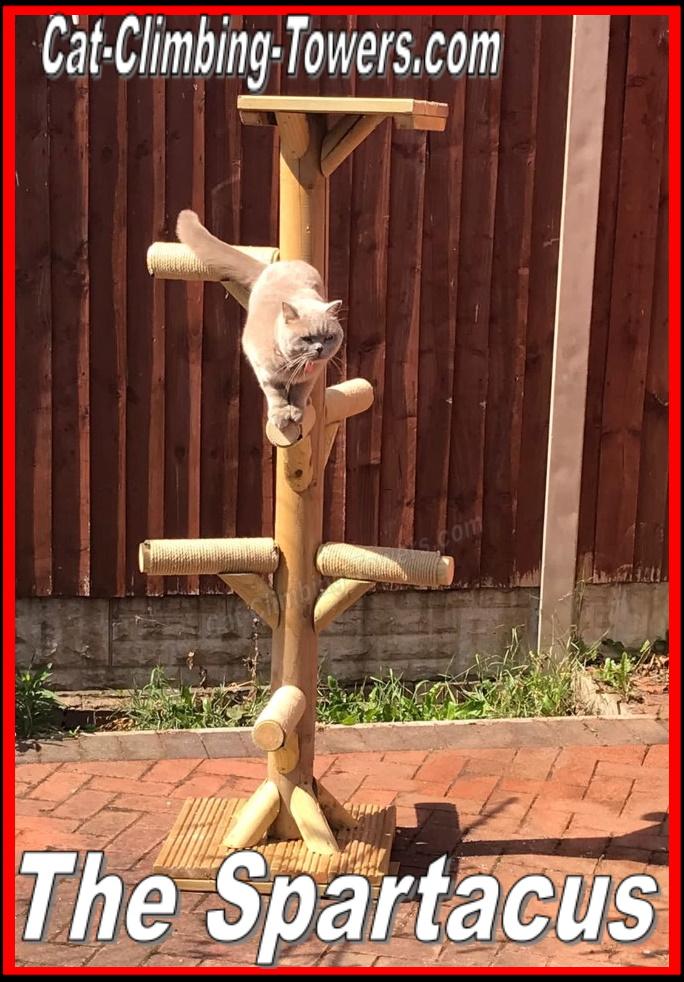 It was lovely meeting the both of you yesterday. I am glad that I placed a second order. All the cat trees are great and the garden has become an adventure playground for the cats to explore. They love to lounge and race up and down the cat trees. I would recommend your business to anyone who is looking for high quality outdoor enrichment for their cats. The bespoke items are exactly what we wanted for the cats. You are both very talented and creative. We can clearly tell that you are both dedicated and passionate about your work.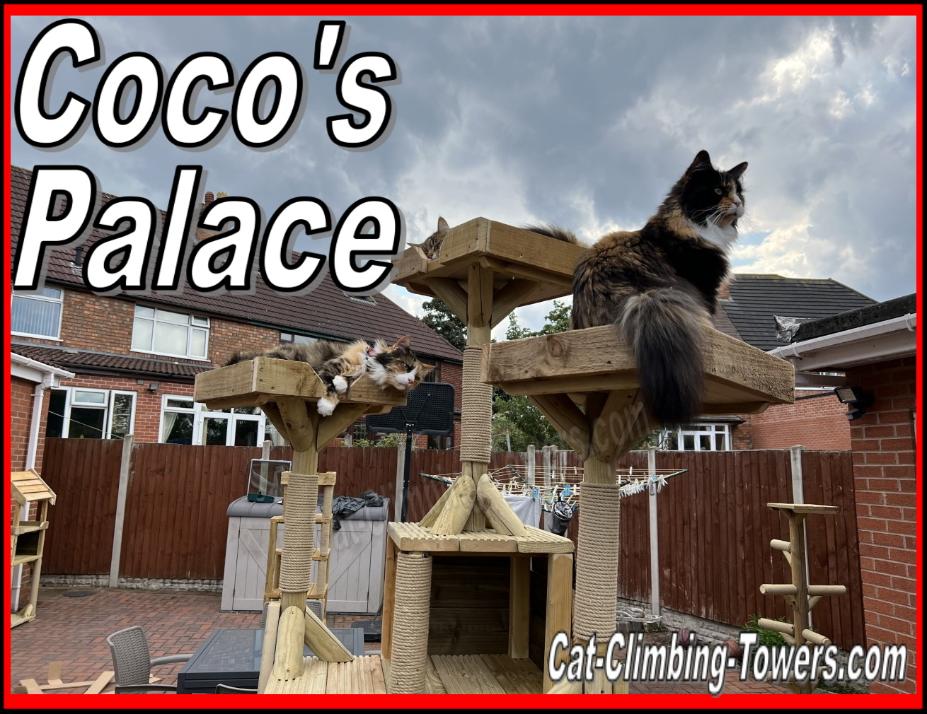 When the customers are too eager to explore their new frame.
Taking cat enclosures enrichment to the next level.
This week ends delivery to some very lucky cats.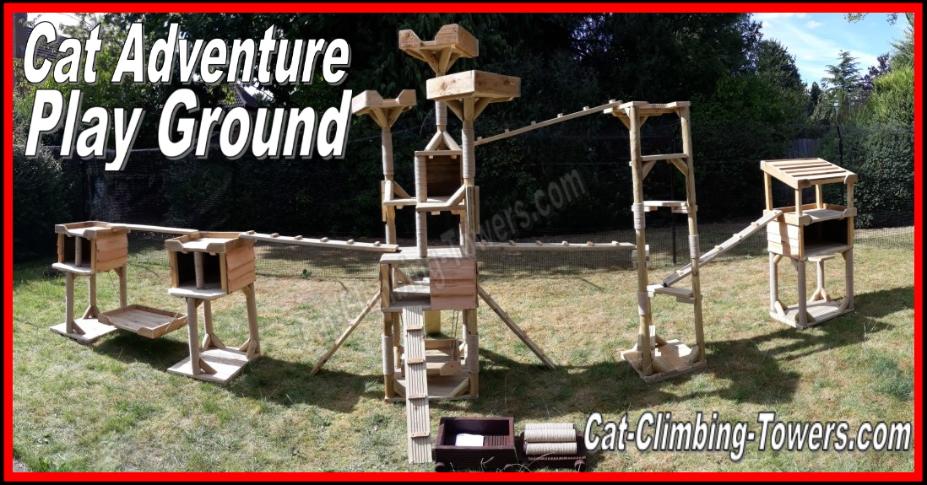 Mabel Meg and Eddie exploring the new Royal Mews.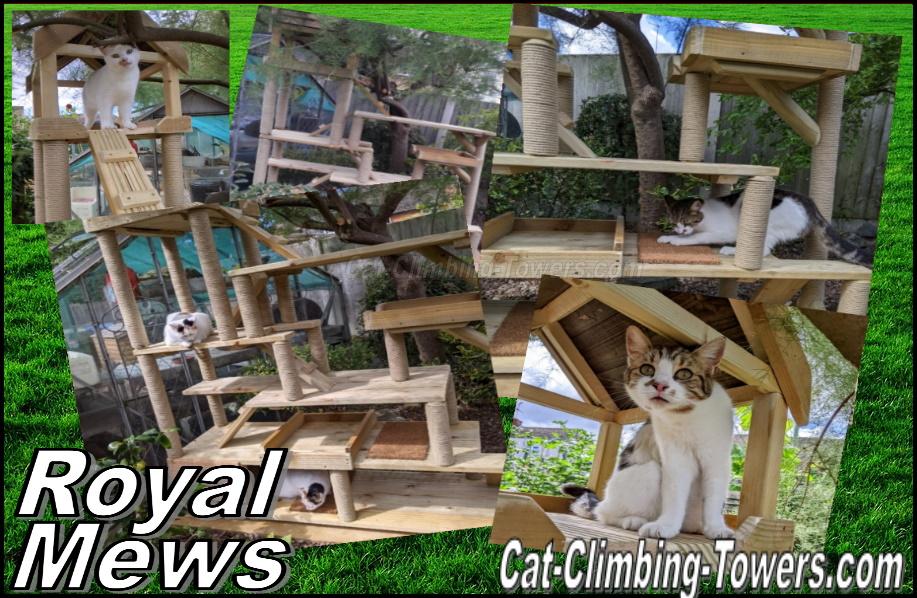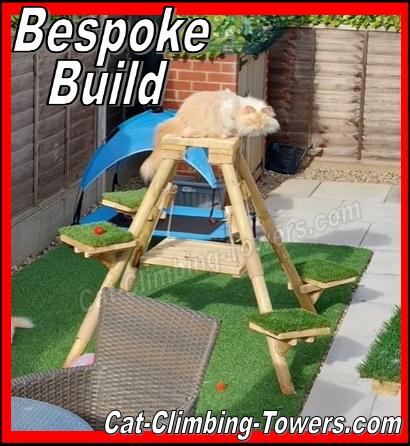 Thanks cats love it but a fight to get to the top.
We are very pleased to give you some feedback and photos of our WATCHTOWER climbing tower we received a week ago. We want to say we are extremely pleased with this Tower. It is very well constructed, solid and sturdy and it looks absolutely fantastic. A real credit to your skills and hard work. I gave it extra weatherproofing for the Winter with Cuprinol (recommended by
yourselves) as
it will be permanently sited in our garden. Our 2 British Shorthairs
cannot stop climbing and playing on it. They take it in turns to sit 5 foot at the top and survey the Neighbourhood !
Thank you and keep up the good work.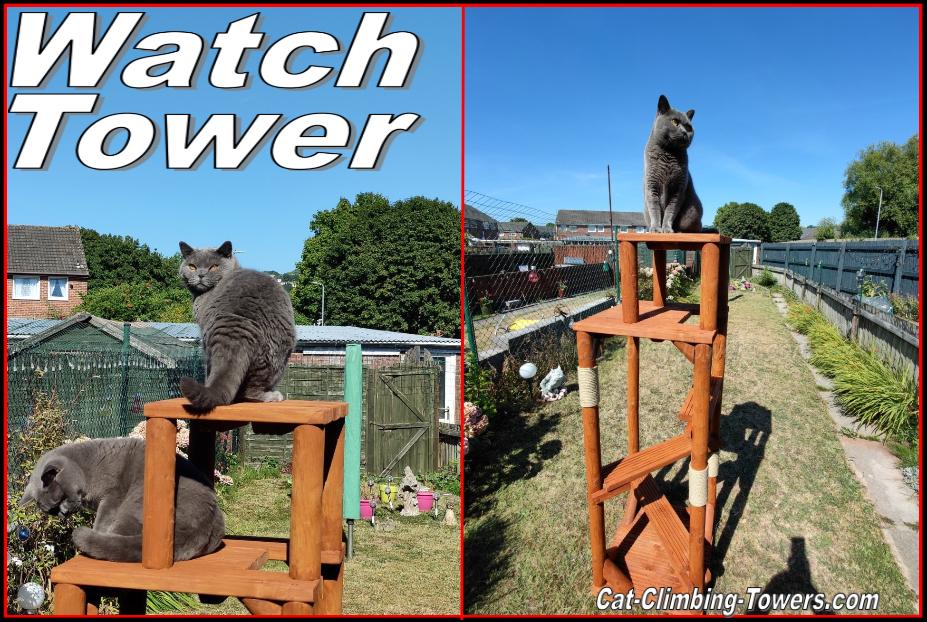 A bespoke build for some big boy maincoons!
Hi Dave and Vicky
Thank you so much for the tower, we couldn't be happier with "High Rise Harry's, and the free ping-pong ball was inspired! My blind rescue cat Jupiter usually has toys that make noise but he loves the way the ping-pong ball bounces!
Here is Jupiter exploring the sunning platform today in the safety of the catio while partially-sighted rescue Marble enjoys a snooze in the cubby hole. You have definitely enriched their lives, thank you!
All the best
Ginny, Jupiter and Marble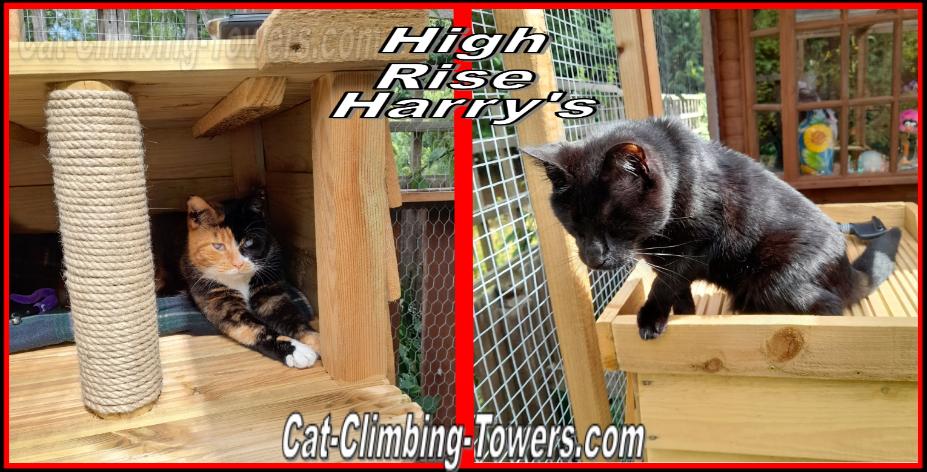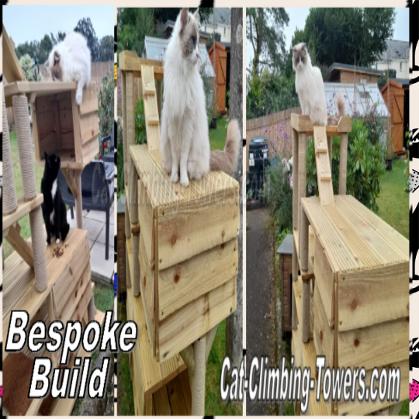 A bespoke Build base on the Royal Mews frame, can you spot the added Futures ?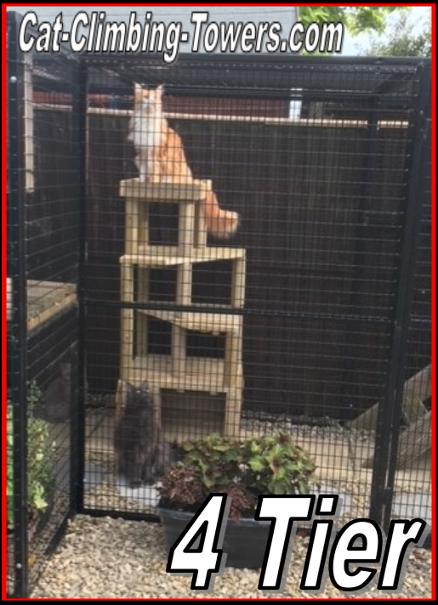 Hi guys

I had my delivery today of the 4 tier that I ordered.

I just wanted to thank you as it was beautifully made and very well packaged.

I wanted something to go in the middle of our run and it's fits a treat.

Thank you from the cats Stuart, Murray, Oakley, Alan, Freya, Kyro, Nellie and our mum Shirley.

A couple of pics attached :-)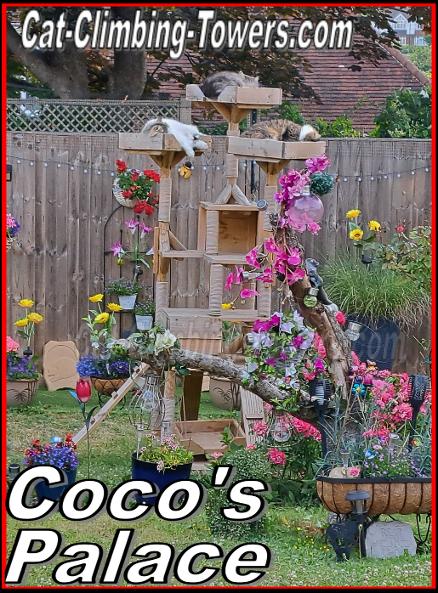 Hi David
Attached photo taken at 6pm & all 3 of my Siberian Forest Cats, are making the most of the warm weather by having a snooze on their climber.
They absolutely love it!!
Thanks again for such a wonderful job you made of the climber. I can't quite remember the date but I think it was 3 yrs ago. I remember you had a heck of a journey getting down to Brighton but I'm glad you made it.
Kind regards
Hi
As soon as I unpacked it they were on it, thank you so much.
Kind regards
Julie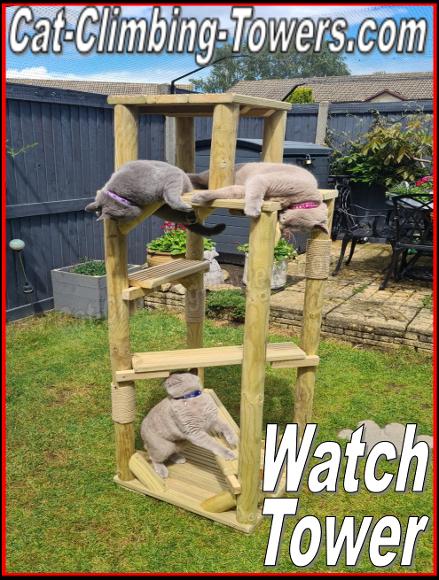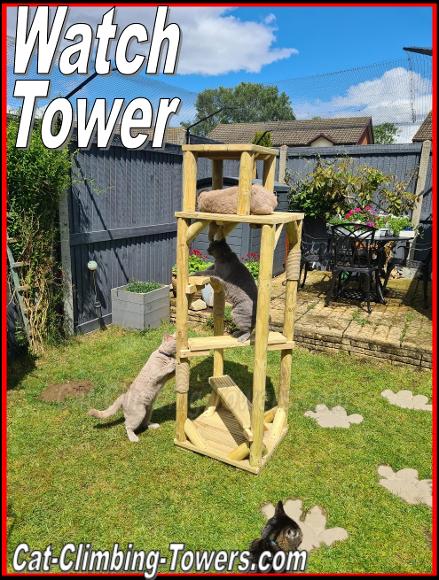 Wanted to share with you and say THANK YOU. 🤩
As you can see it's a win.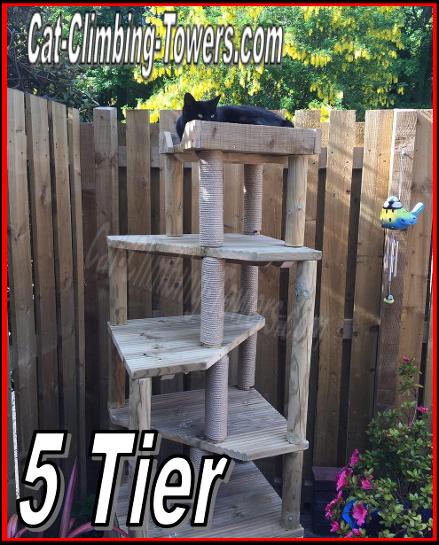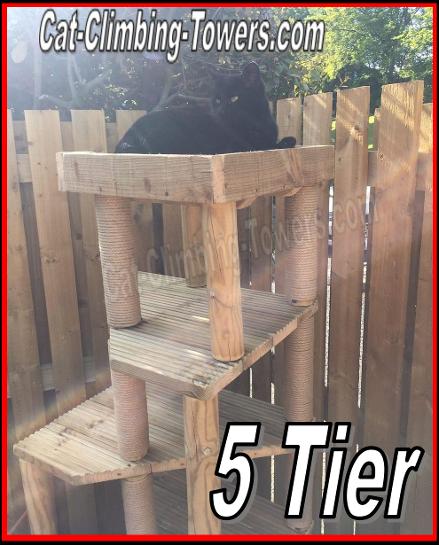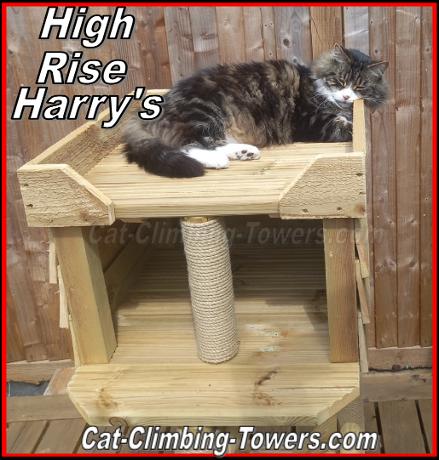 Hi
I've attached a photo you can use in your brochure if you want of my cat Freckle getting comfy on his new tower! I've just moved and I wanted Freckle to have a new place to hang out! Harry's High Rise Hangout is perfect.
Thanks for making such great stuff for cats.
Kind regards
Angela
Hello Dave,
Happy to say the tower arrived this morning, and Sidney was interested straight away :)
Thank you, Michelle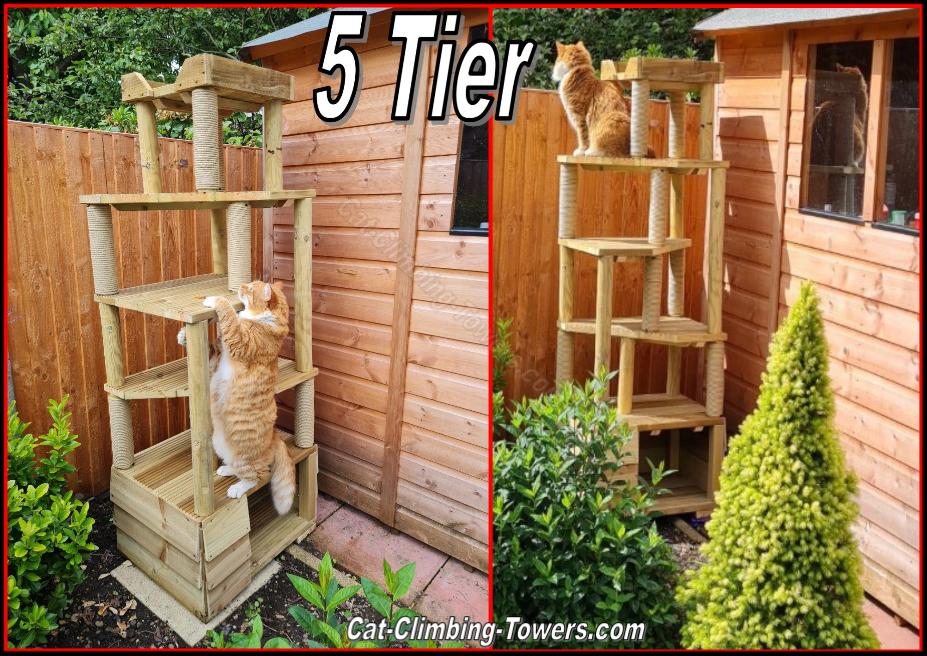 The ever popular watch tower, outdoor frame being put to good use.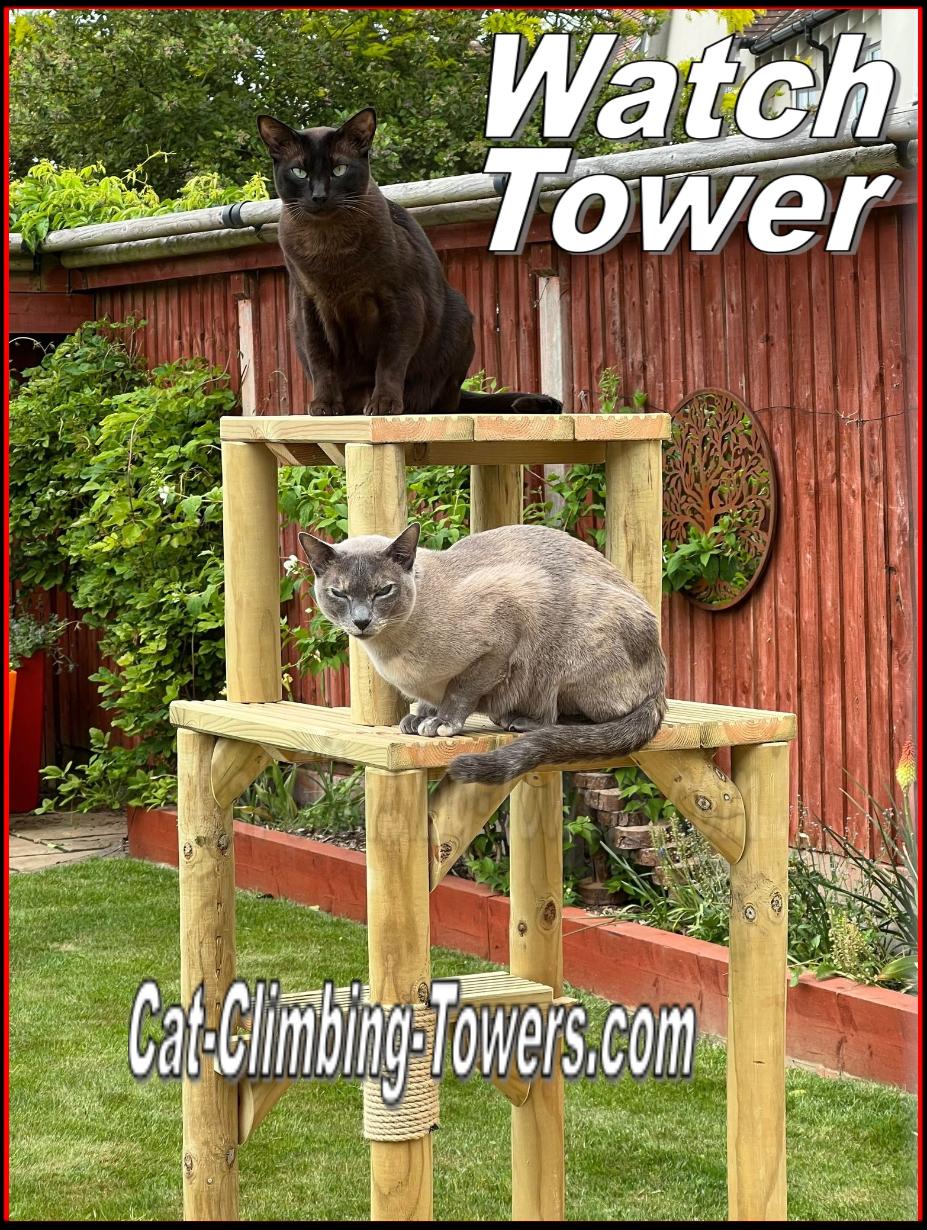 The new product line of wall / fence post scratchers are proving to be very popular.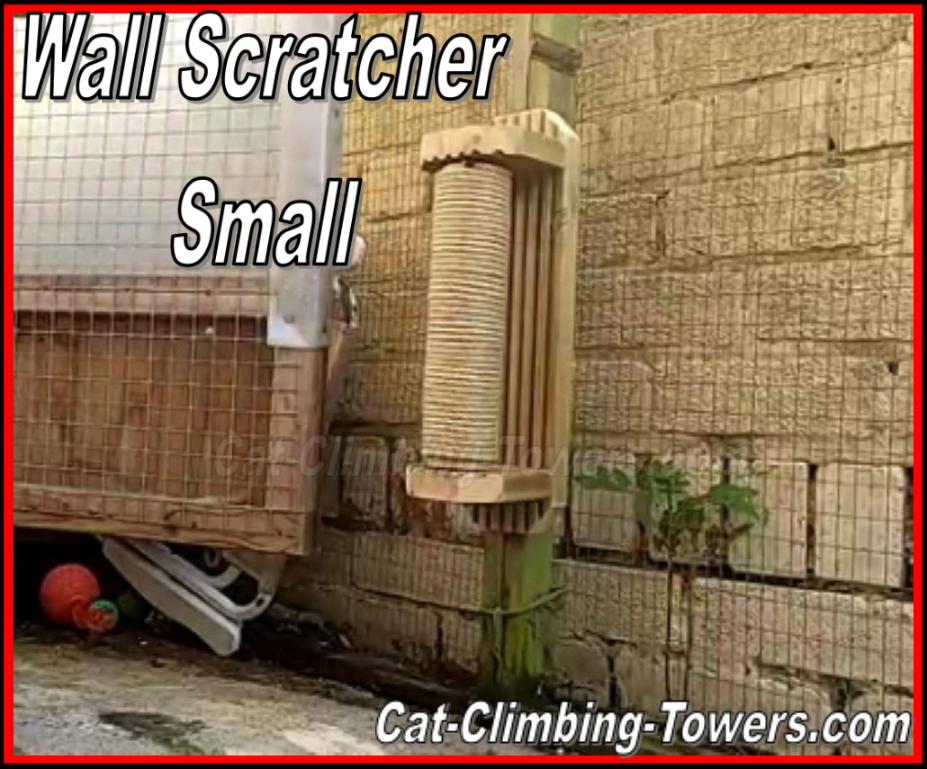 A bespoke build based on 3 sky ladders , each joined by a walk way, plus a enclosed hiding place down low.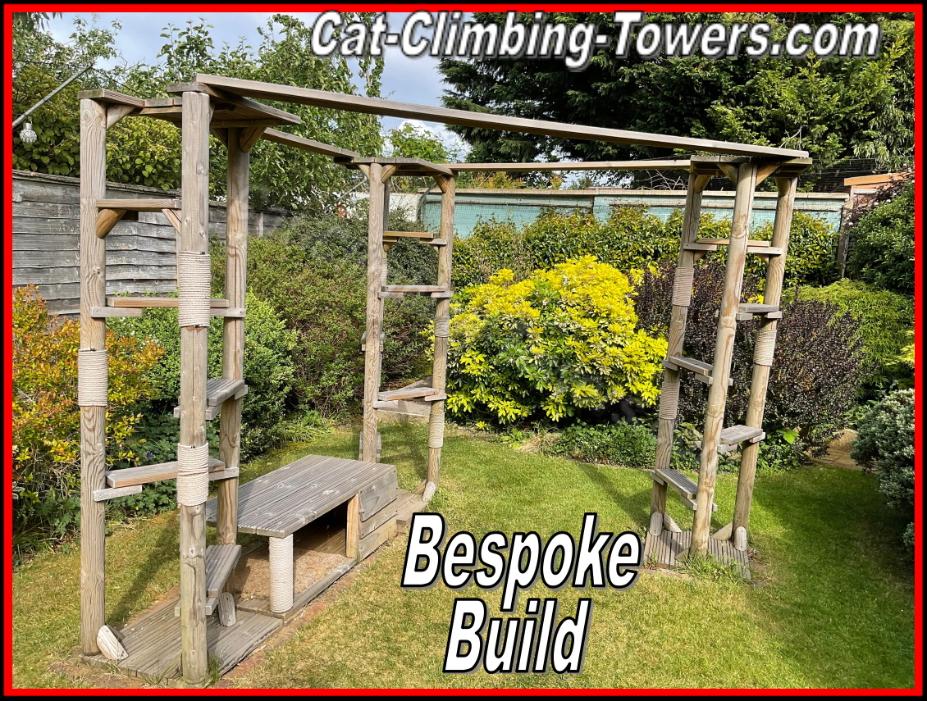 Tower arrived - thank you!!!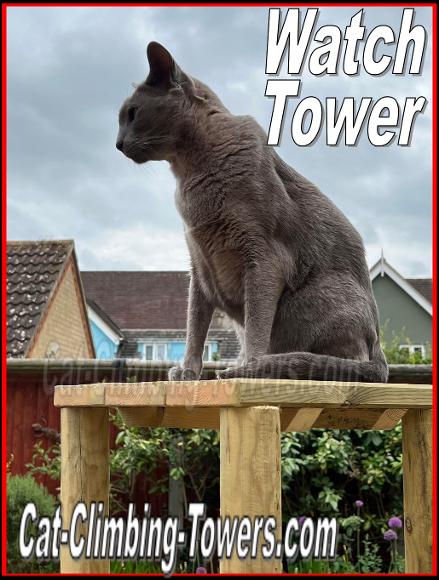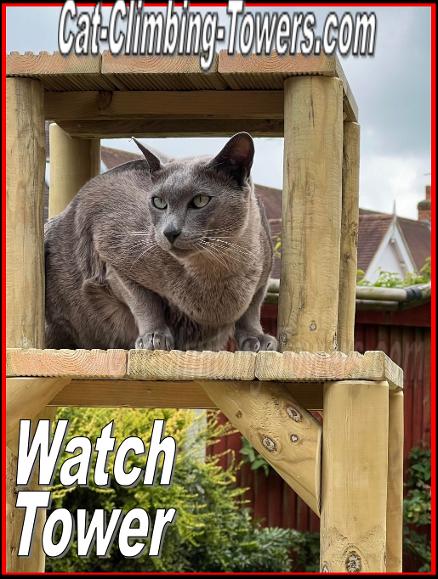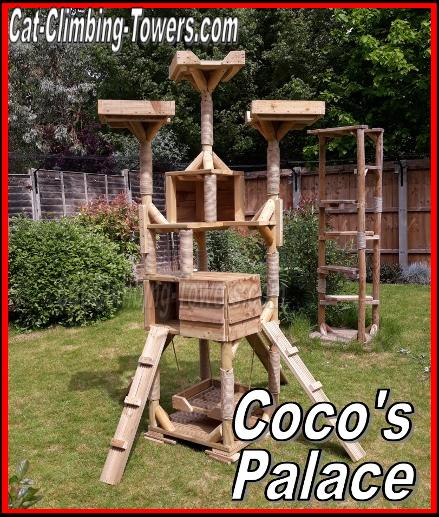 A photo from yesterday delivery, of a CoCo's palace to complement the Sky Ladder the customer all ready has in place.
Thank you so much for this lovely cat tree. Domino adopted it straight away without giving the old one a second glance. It is beautifully made. John and I put it up yesterday. Very easy to assemble. Sturdy and not a nail in sight.
Many thanks from a grateful Domino and myself!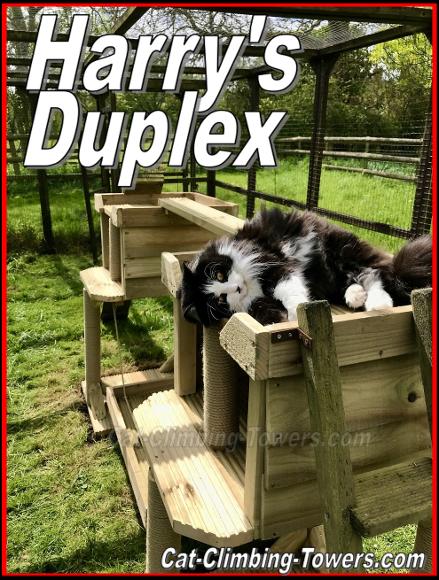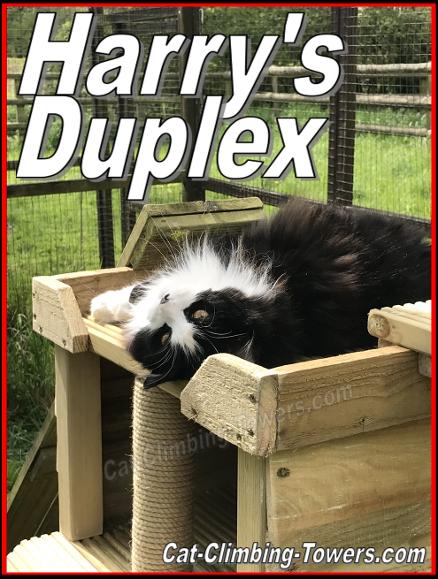 A bespoke build based on a Watch Tower.
........................................
They love the new tower!!
so happy with it.
Sharon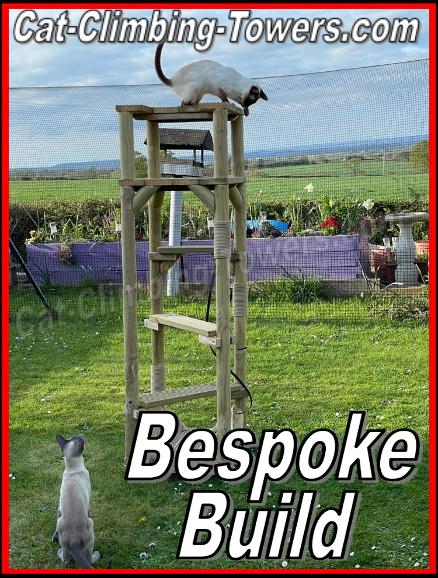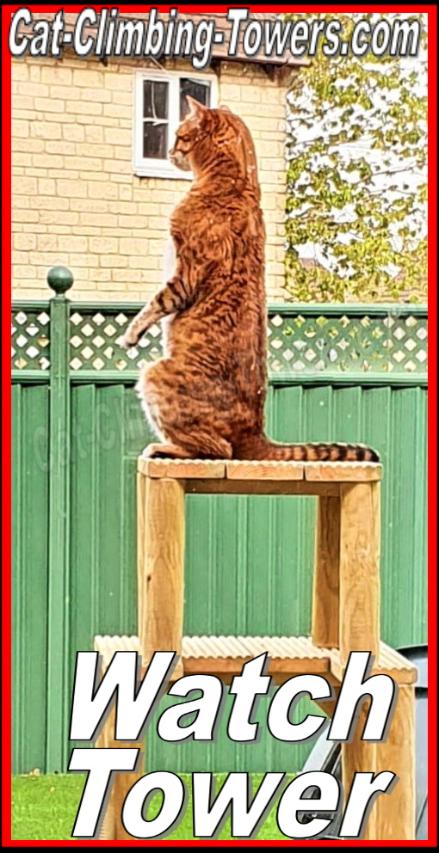 when your cat identifies as a Meerkat !!
........................................
Arrived safely and much enjoyed 😉


Kind regards
Zara
My cats are called Boo Boo and Honey. Honey is the one sniffing the train!
Thank you and regards,
Mandy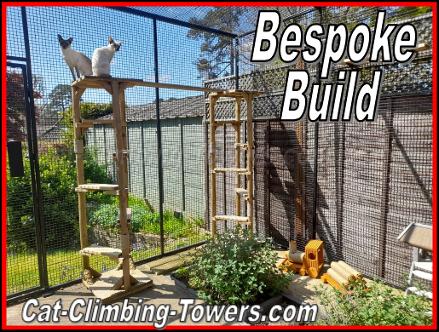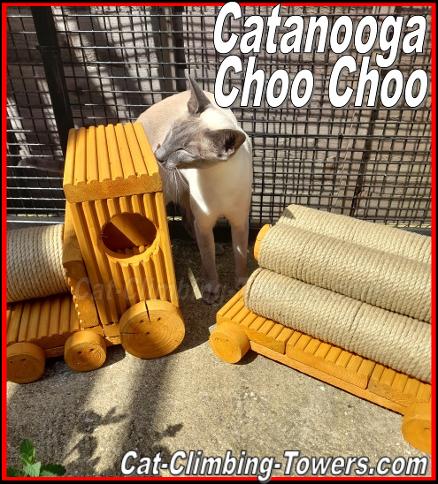 Hi Dave
Just wanted to thank you for your craftmanship.
Two very happy British Shorthairs here; straight out of packaging and straight up 😀.

Thank you and take care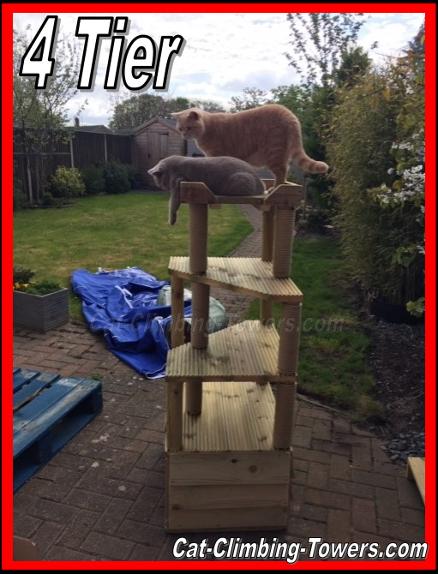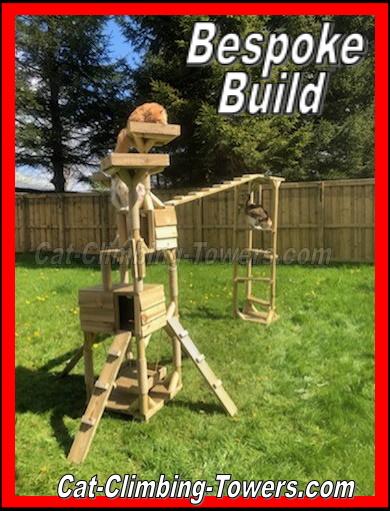 Just had these photos in from a customer, the cats are very happy with them.
Hi,
We received the Frame on Friday and its lovely thank you.
Our boys all have had a good look and instantly popped into it and investigated it. It will be perfect once the weather has improved to sun bathe. We always love your work and are already planning what to get next, we're thinking something nice and tall as our kittens love climbing our old Frame and watching the birds from high up, it's lovely to see them enjoying it.
Thank you
Laura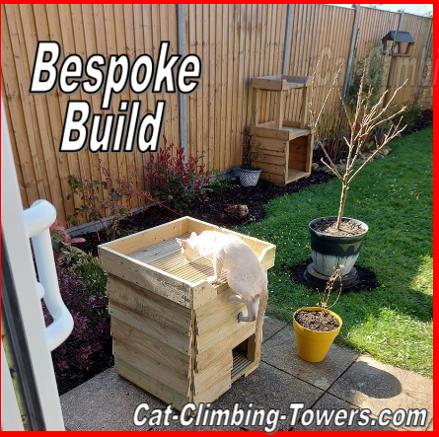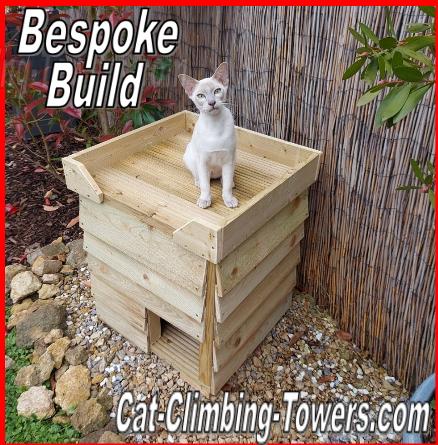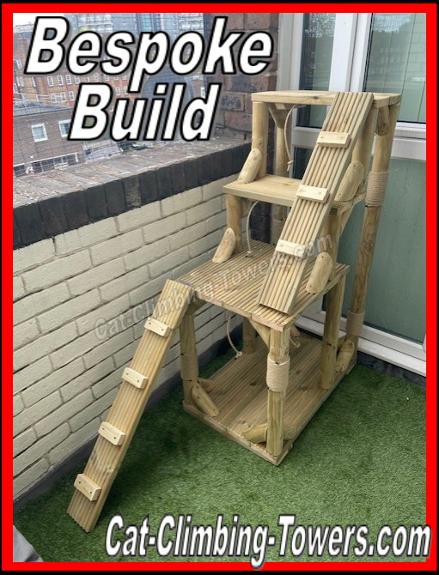 All received thank you !!
Certainly well packaged lol ! They have had a sniff around it so I expect they'll be all over it before long !
Thanks again Tina
They love it! ( see attached) Being elderly cats it's ideal as they can't/ won't climb up taller cat posts.
Thanks again!
Regards
Sue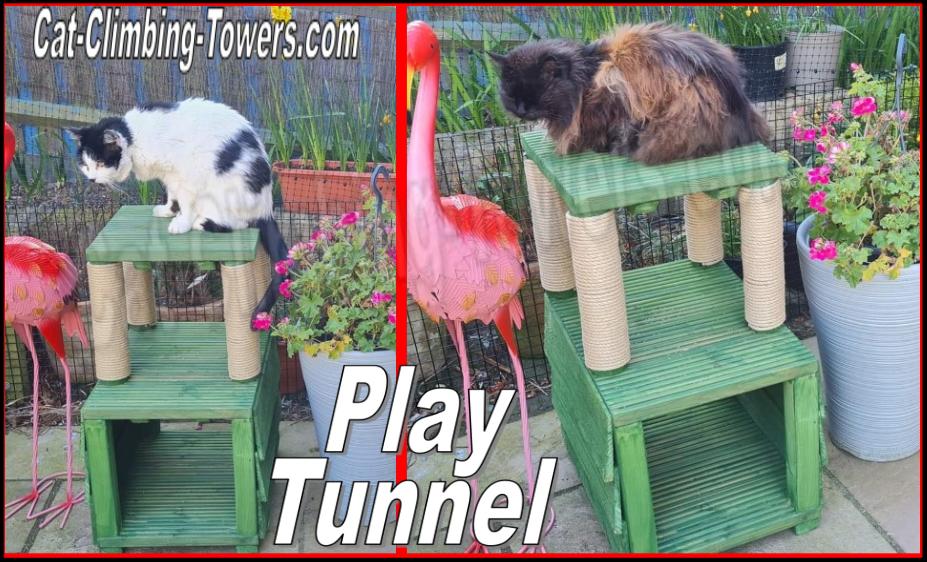 Thanks same to you both. It didn't take them long I'll send better
ones when I can. Thanks Jackie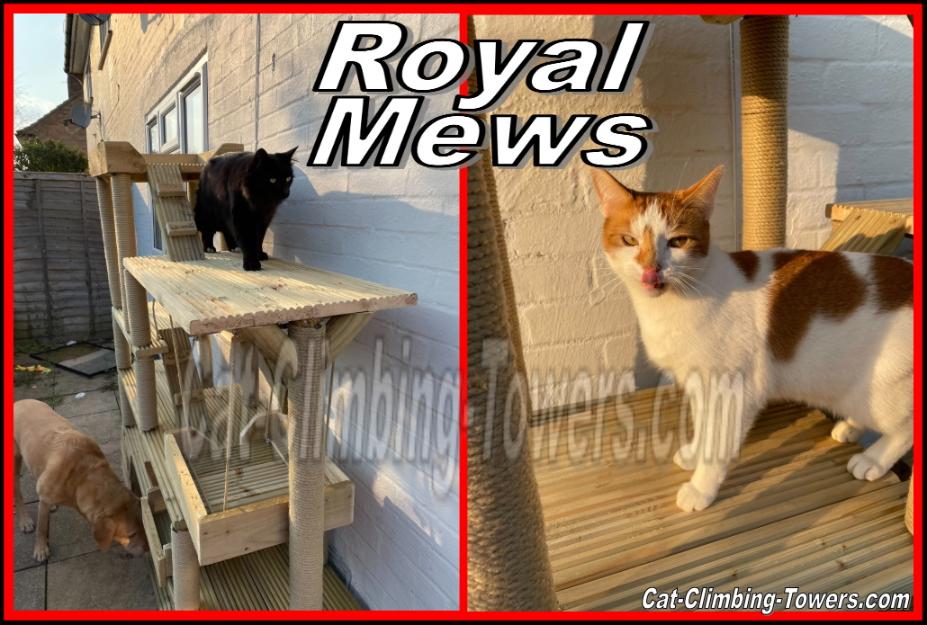 3 legged & obese, Antoine tries out his second frame in hope to burn a few calories & finally get a look at next doors cat! Thank you, they all Love it. Expertly made & packaged as usual xx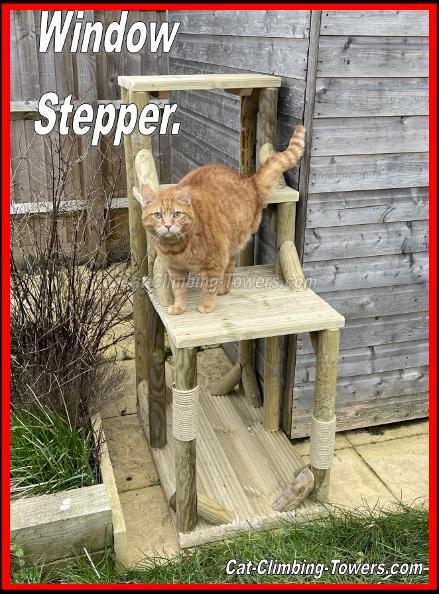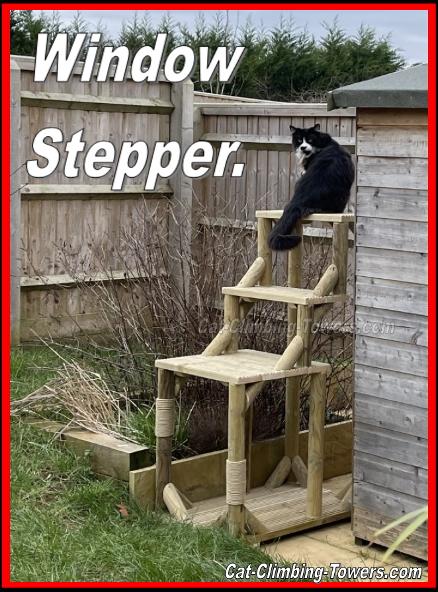 I think ours Maine Coons agree with the amazing cat tree that we have just have delivered
Thank you so much!!!!
They absolutely love it and watching the people walk past over the back!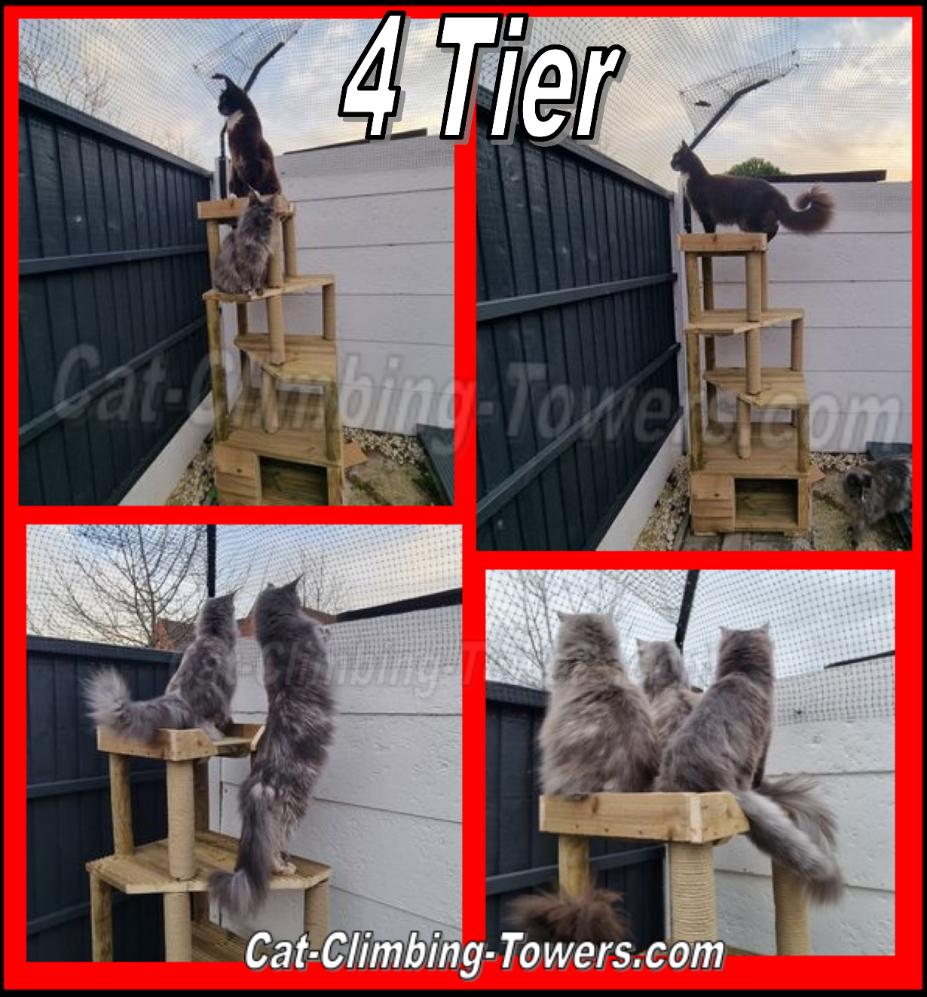 We love the watchtower! It's so well made and such good quality it's completely exceeded my expectations. And it was really well wrapped up and protected. Thank you both.
Christine and Henry the cat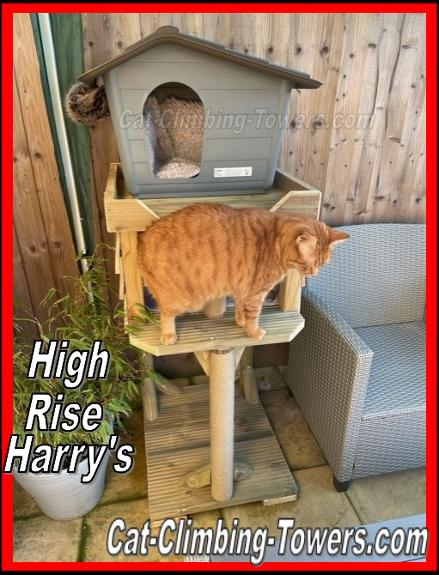 Great tower David!!
Even our three legged fat cat approves 😹
Hiya I've received my cat climbing tower and catnip box .
Got to say I've never received anything such well built.
My cats love it ,Thanks again.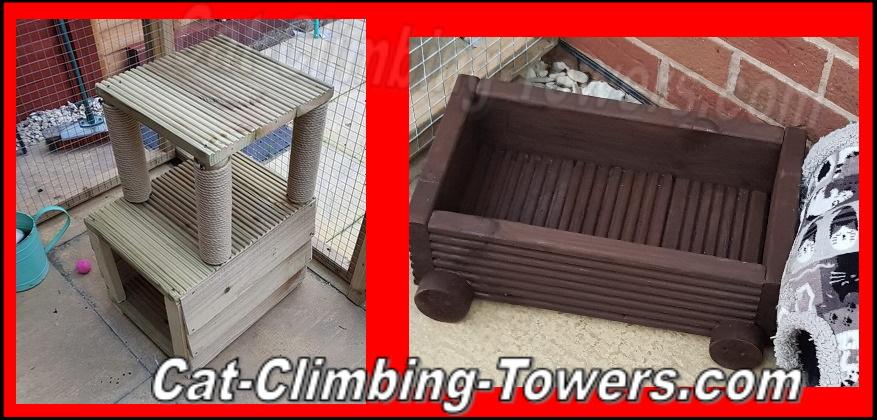 just had some photos in from a custom, of their cat enjoying a watch tower, simply titled Happy customer.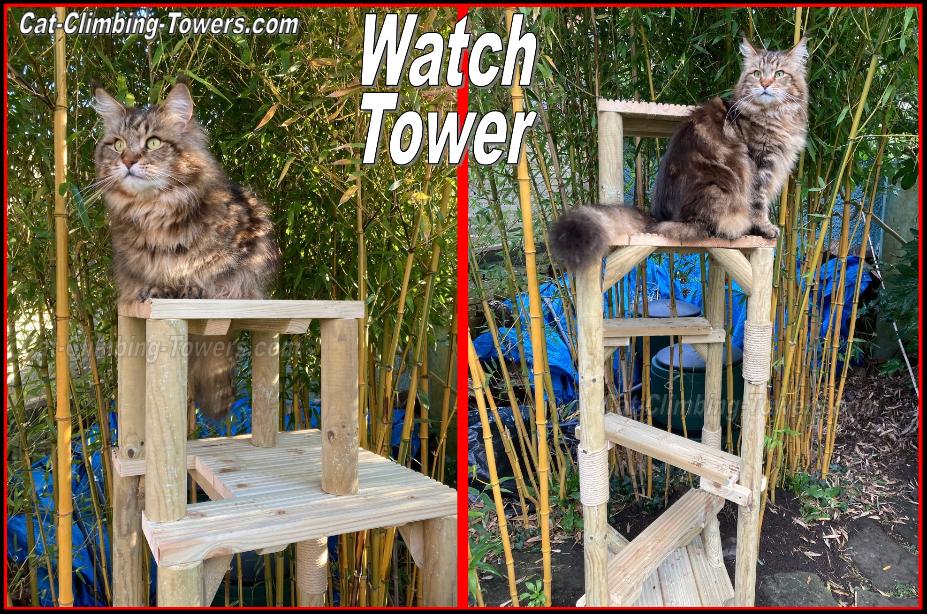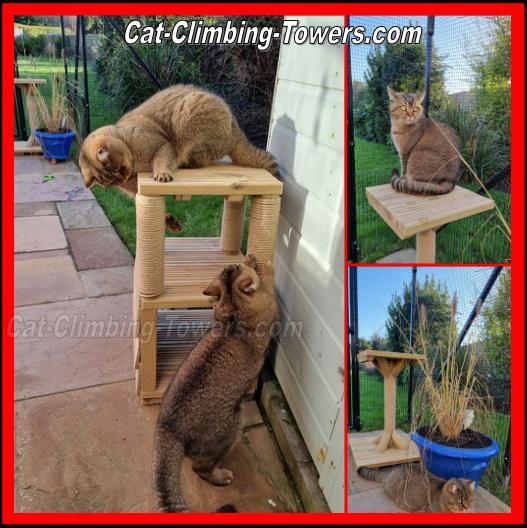 Happy boys out in their Protectapet garden today! Even though it was so cold they couldn't wait to go out this morning (then snoozed away the afternoon of course
).
Hi David, Trixie is all over the climber, she loves it.
Trixie is a house and garden kitten 6 months old and jolly active, so this is really great for her activity.
Suzanne