welcome to the 4th page of customer photos, we love seeing photos of your cats enjoying our frames, and hope that you enjoy them too.
I've used David to make numerous climbing frames and shelving for me and am always 100% happy with the quality of work and professionalism of service. My cats adore his outdoor climbers. This latest frame was custom made for me and my cats are never off of it. Perfect for huge climbers like Norwegian Forests or Maine Coons. I recommend David to all of my clients and would never use anyone else.

Anita Kelsey
Cat behaviourist
http://www.catbehaviourist.com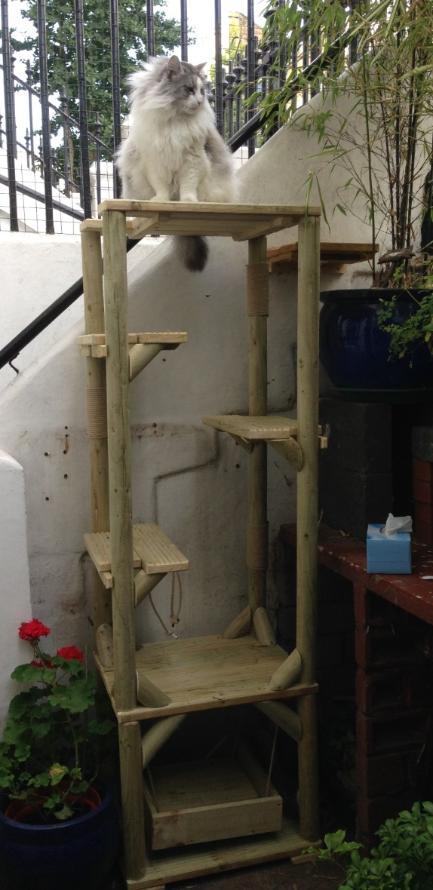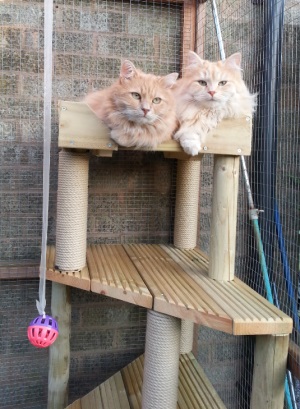 what a great photo showing the size of the top bunk,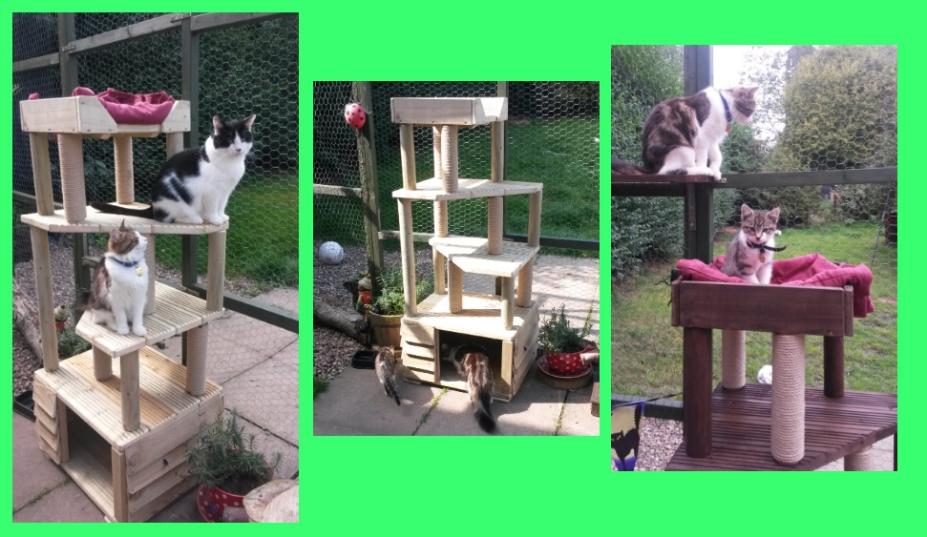 Grace Phoenix & Puss enjoying their new climbing tower.
They especially love the top perch. :-)

Great to see a window stepper being used with a cat flap fit in to a window, giving the cats the freedom to come and go as they wish
Thank you jaackie and paul for your photos of silvie and twix

Many thanks! The cats LOVE it. Here are some of them enjoying it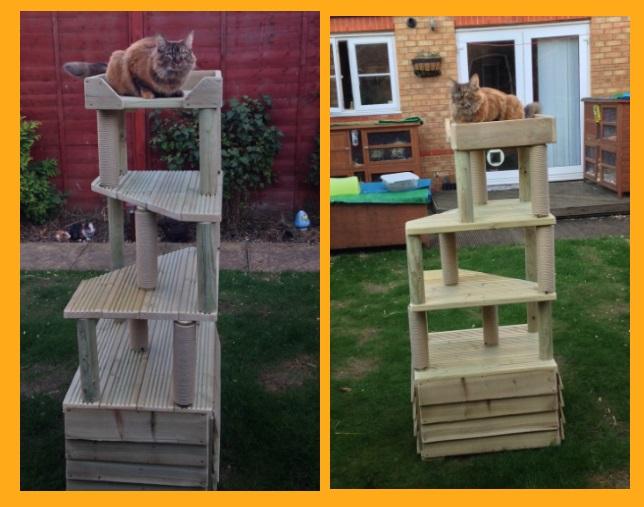 Just wanted to let you know we are very pleased with the scratching post. It is very well made and excellent value for money. Our half ragdoll Koko loves it already and sits at the top watching the world (and our rabbits) go by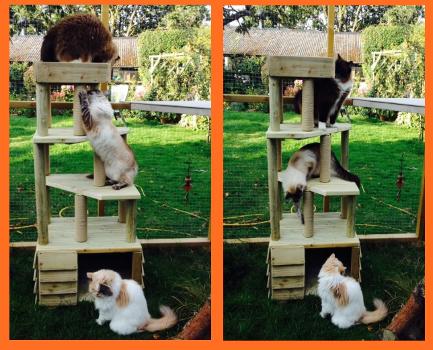 As you can see the cat tree is a big hit. We couldn't unpack it quickly
enough for them!
Very pleased with it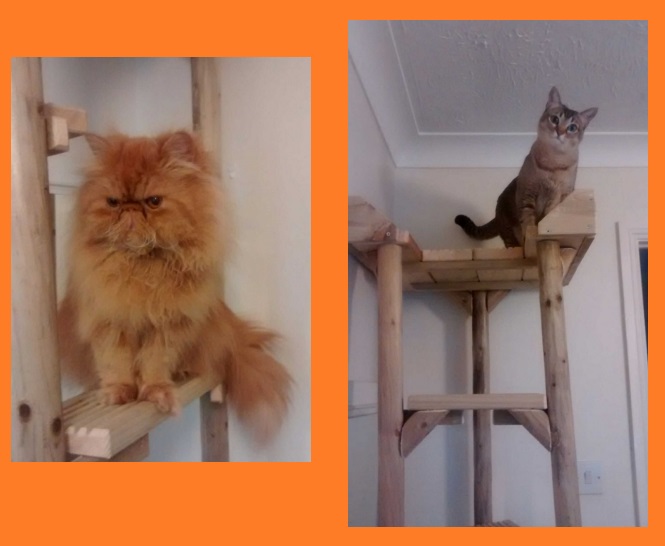 Thanks , cats all love it . Even our 14 year old (didn't get a decent photo of her) but she scampered straight to the top ! Its in my home office so the cats can play whilst I work in peace. Photo of Sparky (red persian ) proving the steps are ample wide enough for the well built lady . Shadow (asian) loves the top deck and has been rolling around happily up there. Now, where can I fit another one
today we had the pleasure of meeting Kerry, who dose a grand job of looking after 14 rescue cats, we had great fun building the cat climbing frame in the enclosure with the cats jumping all over us and the frame.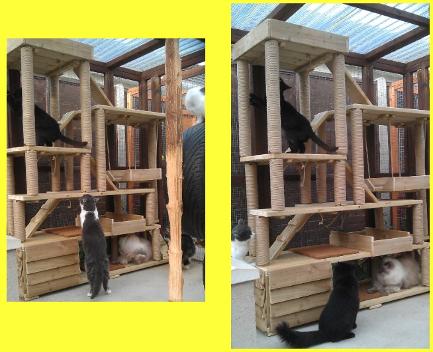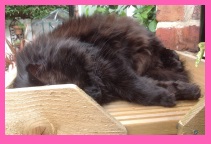 here is Artie, enjoying a snooze on top of his sturdy 4 tier out door cat tree.
as you can see, there is lot of space on the top level for a fully grown sleeping cat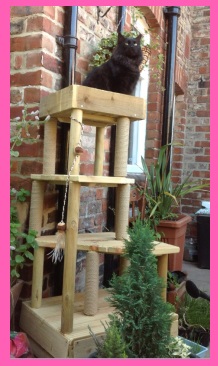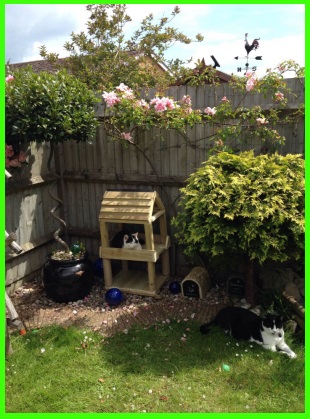 let's start things off with two photos from a long time customer, Rebecca, who sent use these lovely shots of two cats enjoying a shady corner of the garden in there custom built house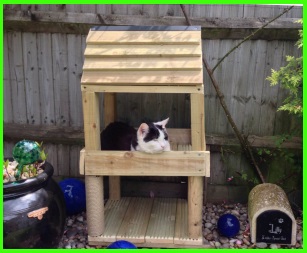 Within about 5-10 minutes of putting them in our cat pen, our two young cats, Bunty and Toppy, were all over them. I think we can say they are a great hit, both with them and us.
Up to now, we have been carrying a large and heavy indoor tower in and out twice a day and having to keep watch in case it rained which has been a real pain so to have these is an absolute blessing.

this is Charlies pen,
having been hit by a car his owner, decided to get him an enclosure. after having a life time to roam free, his owner wanted to give him as many interesting things to keep him happy, a royal mews was just the item.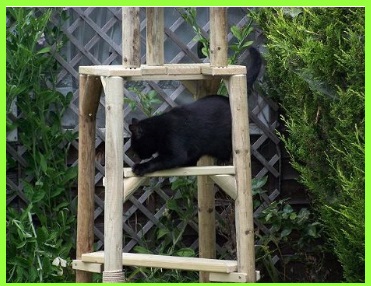 Hi I thought you wood like to know I received the watch tower just after midday today. I took this photo about half an hour after I positioned it. Oscar (my cat) did not need any encouragement to climb it. A great success. He has been up it several times this afternoon and a look of delight on his face when he realised that from the top he could look over the fences into the surrounding gardens. thank you for a wonderful product.
saddy no photo with this review, but you can not expect a cat to take photos and write emails at the same time.
love it lizze, thank you
Wow!!! I love my ladder - it is truely fabulous!!!
I am an indoor cat who spent some time on the street and I am frightened to leave my new home.
I love to climb and reaching the top ledge gives me entertainment, exercise and a real sense of security in a place that is all mine!!!
My pawrents were told my ladder may look a wee bit rustic for indoors but it is just not true - the colour and high quality finish of my ladder means it is unobtrusive and fits neatly in the corner so it doesn't take up toooooo much space.
My mum places treats on the high levels so that I have to climb to eat them - She says it will stop me from becoming a Fat Cat!?!?!
It is just Purrrrrrrrrrrrrfect!!!!
THANK YOU.
With love from,
Princess Amelia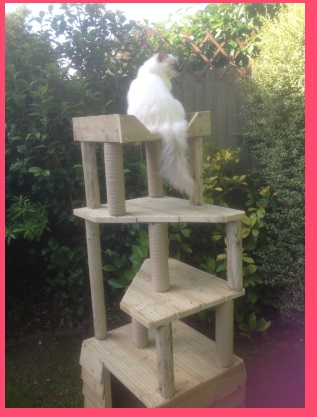 Our tower arrived yesterday & is fantastic. Excellent build quality & really sturdy, arrived carefully packed in perfect condition. Great to have delivered ready assembled although I did feel sorry for the one man who had to get it off the van & into my garden !
A considered purchase but well worth it for anyone who wants to keep their cats happy, safe & entertained in the garden.
Finally, our two cats love it & took to it immediately !!!


mooli and tinker enjoying the good life from their 4 tier outdoor climbing frame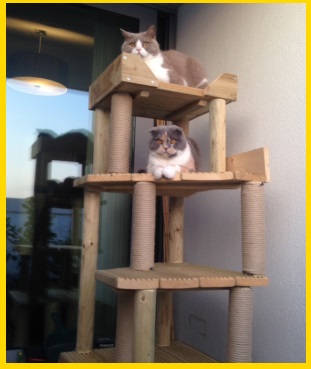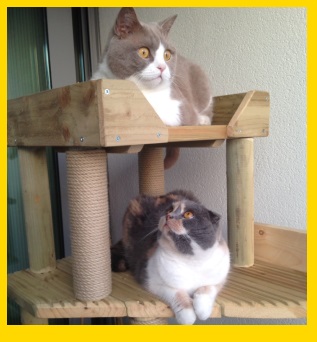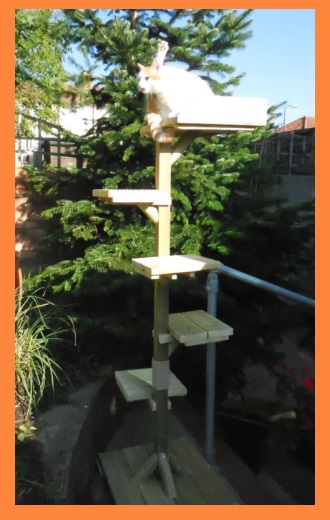 carola set could not wait to send us photos
of her sturdy outdoor cat frame,
thanks for the photos

this is XO enjoying his outdoor cat frame, he as two custom items a missys den and a high rise harry's hang out. I am told he loves his tall sturdy outdoor cat frames
thanks anna for the photos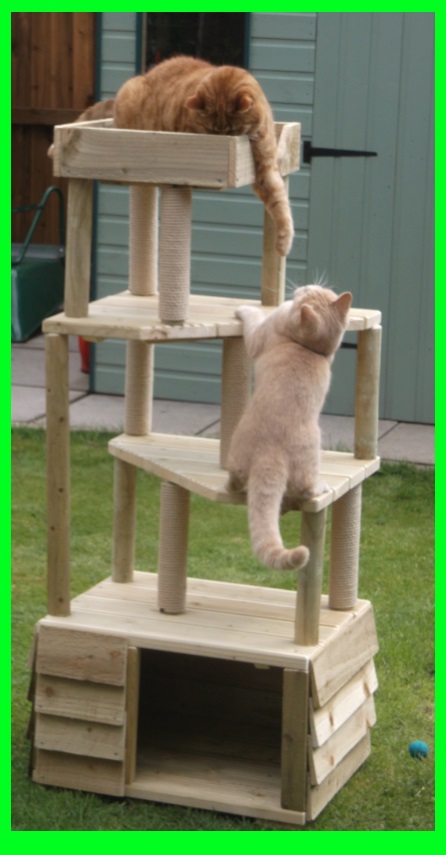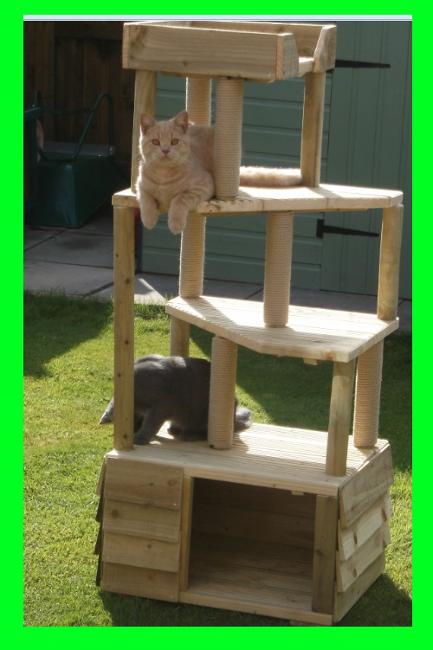 our 4 Tier with play cave arrived this morning. We are fully impressed with the build quality and finish of it J
More to the point 3 of our cats are very impressed with it, as you will see from attached photos
A very good buy indeed and worth every penny

Thank you for the quick delivery of the sky ladder.

Yuna and Rikku love to sit on top watching the world around them. It makes for an easier route down from the shed roof, one that does not involve dogs or foxes. It took them about 3 hours to get used to it.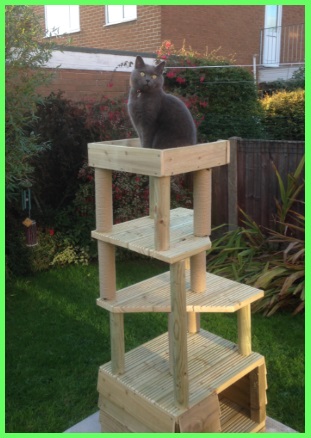 JACKSON is a British Blue full breed, we thought we might have to encourage him at first.Within a couple of minutes he was inside it and was sniffing everything, then he went to each tier doing the same, before settling down. An instant hit.
Thanks again for great service in every aspect, a must for any cat and cat lover.
Hagrid and Phantom were on the climber before the wrapping was off! They love it, and so do I.
The only unimpressed one is my Labrador who felt left out!
Thank you so much. It's beautiful.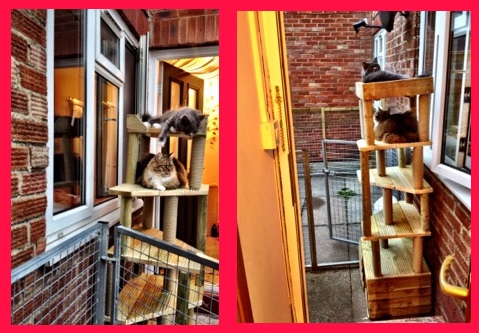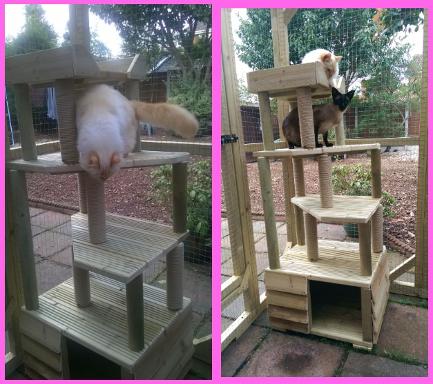 Just to let you know item has arrived today. It was extremely well packaged and is super quality. Our birman is thoroughly enjoying it while our siamese isn't quite brave enough yet! Many thanks for a quality product would highly recommend you.
Rachel.
It's arrived !!!
Very well packaged I might add .
Pumpkin has so far investigated the bottom cubby hole and used it to climb up onto the shed .
I'm sure he will enjoy it for many years to come .
It is very well made .
Thankyou
Sarah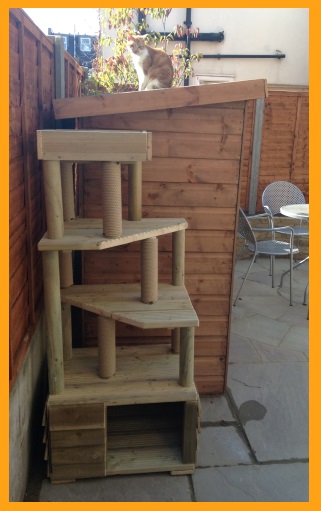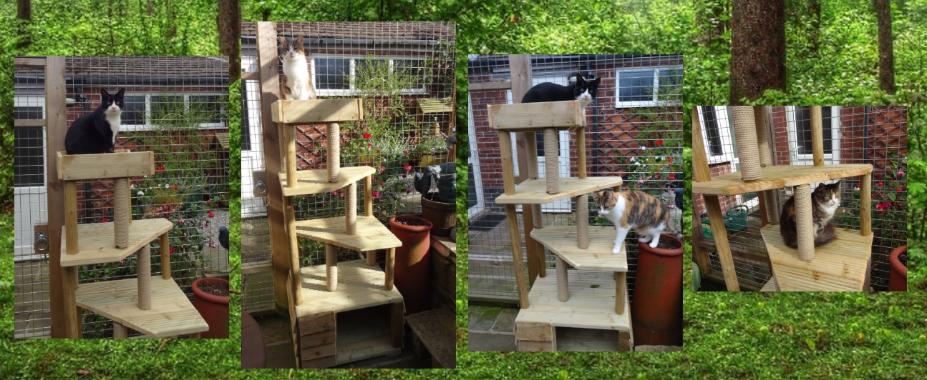 sue wrote to us, to say the new frame is being enjoyed by her 3 cats, she chose to get an outdoor frame after getting a new cat and there was some territory issues going on, as you can see from the photos they are all enjoying the frame, (all be it one at a time).
the photos show Manuel Chiquita Sofia, enjoying some time on the new frame. (I think they have a time share agreement going on)
thanks for the photos sue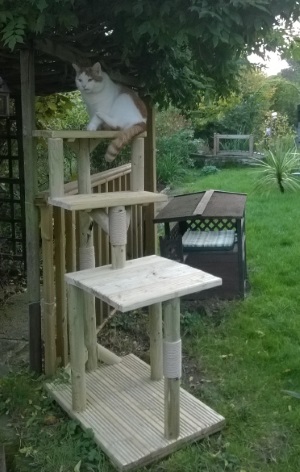 Here is Pushkin enjoying he's new 4ft window stepper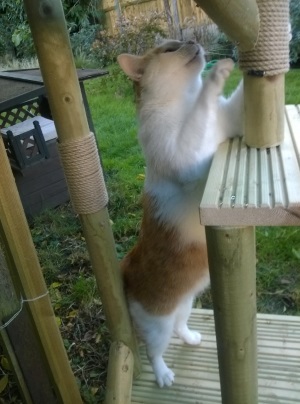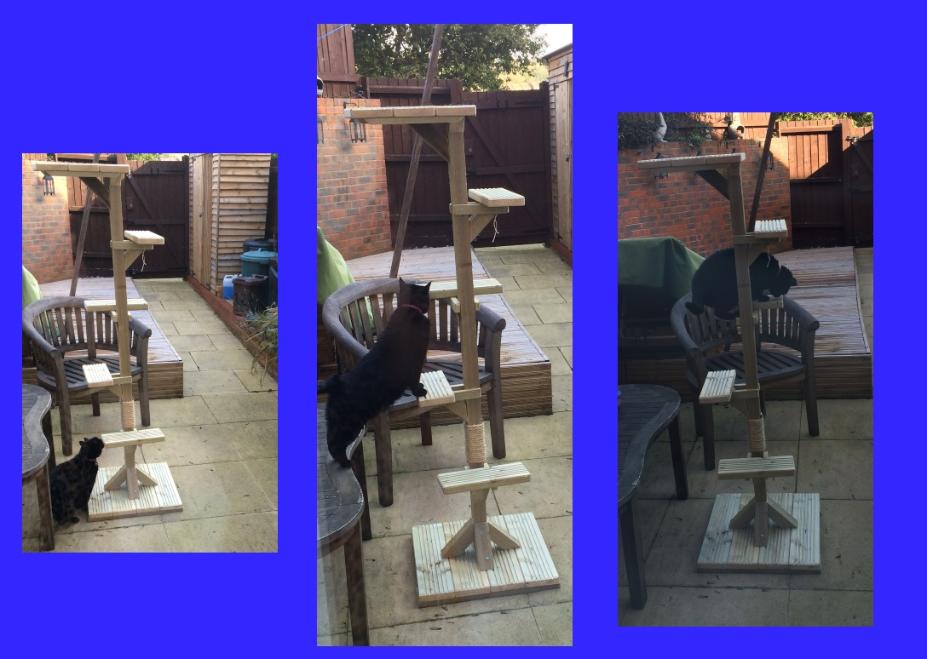 This is Nancy's cat millie exploring her new 5ft cat poll for the first time,
A great set of photos showing her working her way up for the first time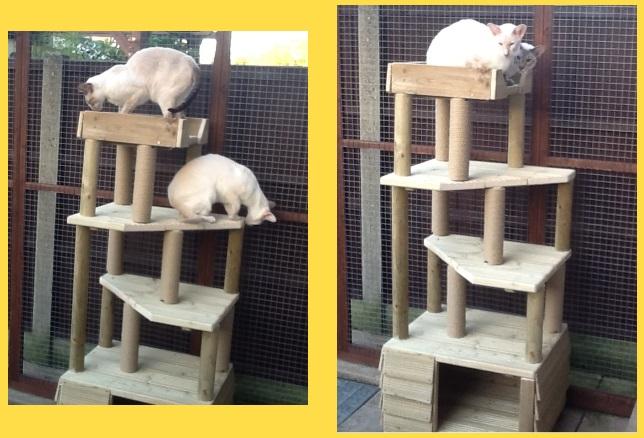 This product from cat climbing towers, it is brilliant ! Arrived today and
the cats loved it straight away.

Communication was excellent as is the quality. Great!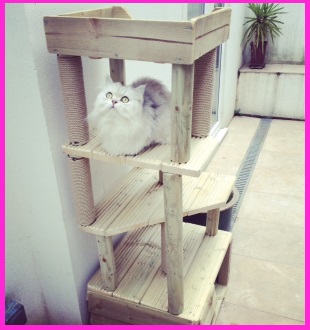 Received both climbers this morning. They are great! Thank you so much :-)
Cleopatra is still a little sceptical but she likes it when I lifted her up and I can see her getting years of pleasure.

Phoebe likes her new acquisition
Boris , Arty and Oliver enjoying it indoors .We thought they may like to use it before the weather improves and to my mind it looks just as good indoors as out.
We are thankful it is so solid as you can imagine when these three land simultaneously on anything it needs to be stable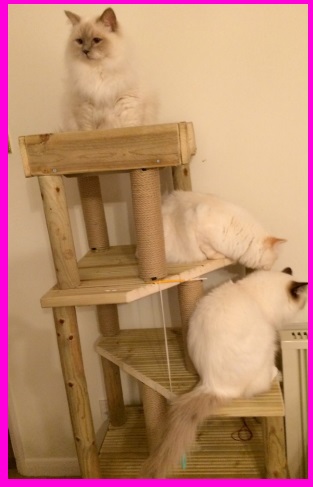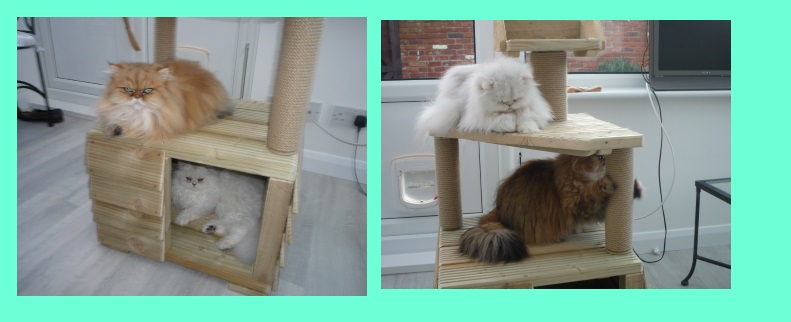 2 of carols cats enjoying a three tier indoors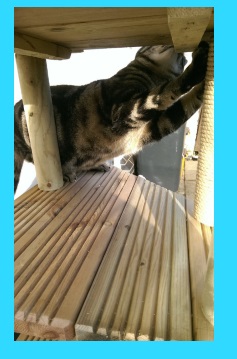 Well Alfie, Freddy, Charlie and Catelyn absolutely love it.
Alfie is the black cat, Freddy the dark tabby scratching and Charlie is the Australian Mist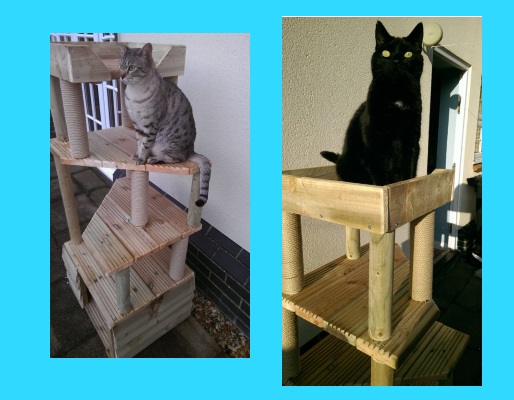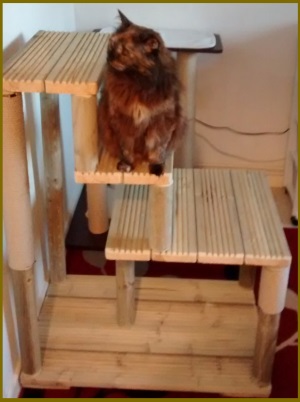 Stepper arrived. It's fabulous and I am very pleased. Thank you for such a sturdy and attractive item. No messing, straight to it. Brill.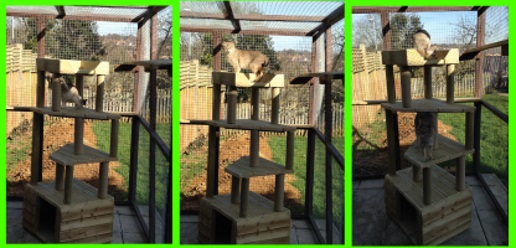 received some great photos and a review from Marcia
today.
well the activity centre arrived around 9.30am and we unpacked it and took it round to them. We hadn't even got it in place before one of the boys was on it and I've attached some pictures taken on my phone. I think you could say it's a hit!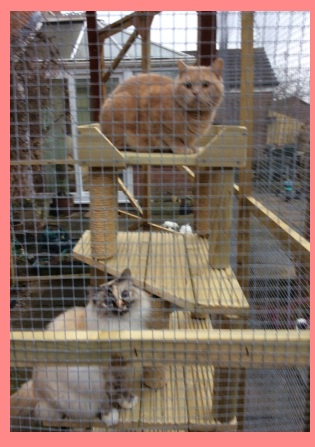 another happy customer
"Tower arrived safely and within minutes
Two of my four cats have investigated it, scratched at the posts and all this despite weather being cold with drizzle!
I knew they would like it but didn't expect it to be such a hit quite so soon!
Bailey is my British Cream and Lulu is my Torti Tabby Birman."
please send use your photos, and this page is now finished
so we can start page 5!!! of you great photos