Welcome to the 5th !! Page of customers photos.
Thank you to all who have taken the time to send us photos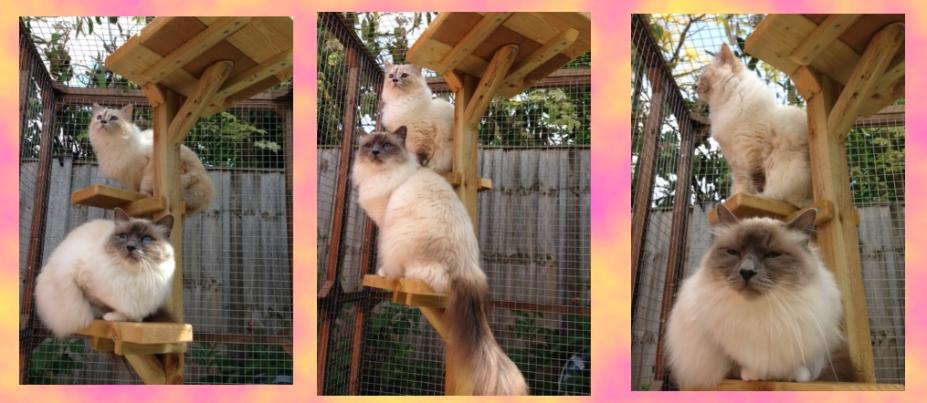 Hazel & Willow enjoying the views from their Cat Pole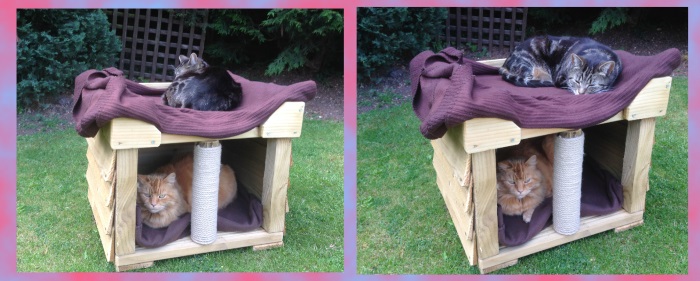 Even though we sell the harrys hang out by the bucket load, we don't get many photos of them sent in, so we was delighted when Brian sent in the following great photos and kind words
"Bobby (top bunk) and JoJo (bottom bunk) love the cat house. They are in it all the time and i am not suprised. Great quality and we will be back for more items from you soon"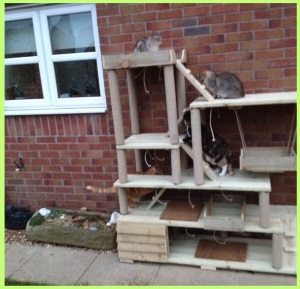 from Meryl in Scotland
"Oscar, Misty, Callie and Amber enjoying their climbing frame!"
looks like there is a bit of a queue for the top spot
it was lovely to meet you both, thank you for the jam tarts, and the flask refill
Belle (ginger) and Stripe (black and white) enjoying watching the birds from the new 4 tier post. The design of the post allows a gradual step down which is great for Belle who has a lumpy pelvis and no tail after an altercation with a car! Post is really well made and service was superb. Very happy owners and cats.
As promised.
The photos of the monster build we have just completed. Sadly by the time we had finished the light was fading and the rain was falling down. So no cats are on the frames, but wendy has promised to send some of the frames when the cats are exploring them.
We spent a long time planning it all out with wendy, so that the frames could fit in with the established garden, and all of the frames could be connected with walkways.
The build included standard frame sky ladder / royal mews / coco's palace and custom builds lookout post (the 9ft high post), the fishermans walk, (10ft bridge over the pond), and the grassy knoll, (a 3ft by 2ft elevated planted bed, for grass, to make a high rise lawn) (wendy came up with all the names for the custom builds, we love them)
All of the frames and the shed, are connected with numerous walkways, adding stability, and choice of paths to the top.
We delivered the frame / assembled and did all of the ground work for wendy. Needless to say she was very happy.
Thank you for the many cups of tea, very much appreciated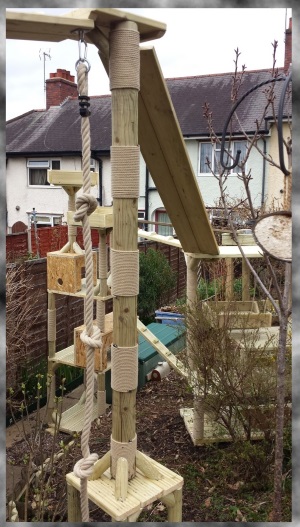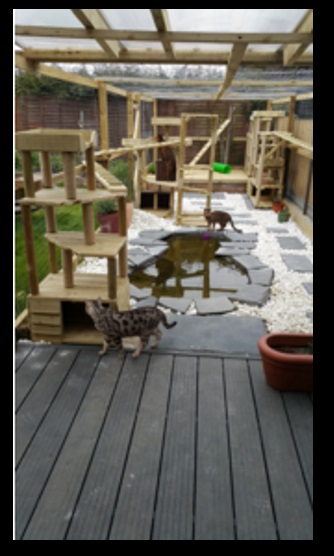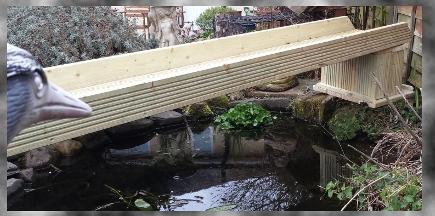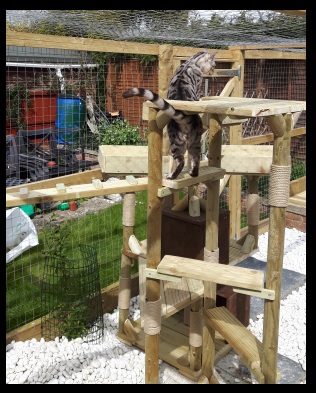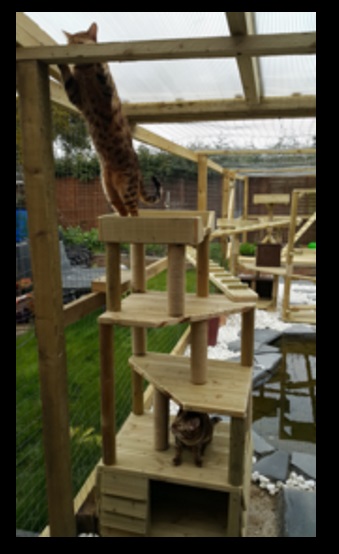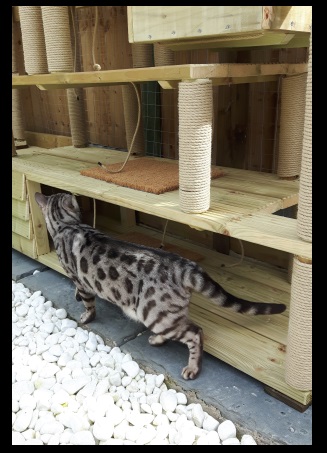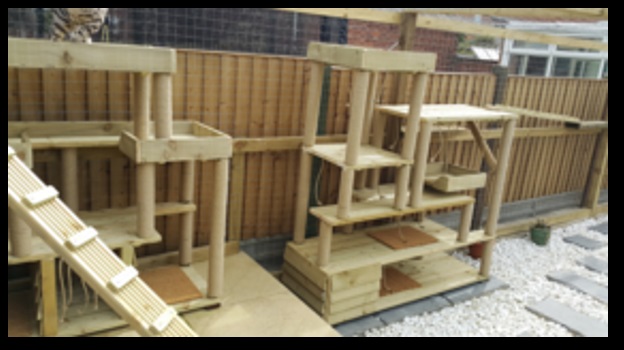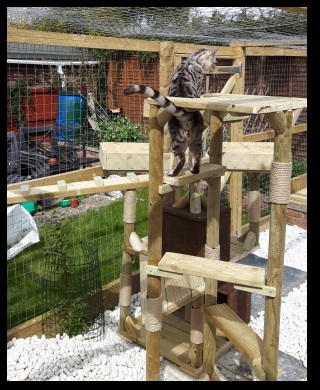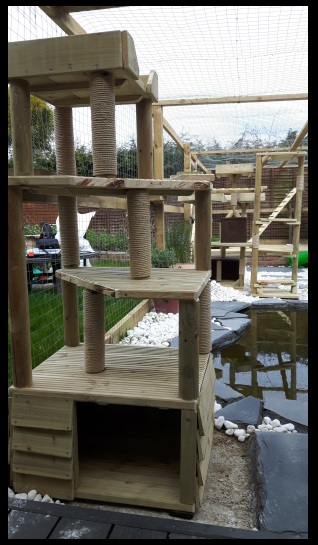 Chris from https://www.facebook.com/ALStrays got in touch with us, wanting a large frame, that they could take with them to Spain. being as they was exporting it them self, size was an issue. but between us we was able to design a double size 4 tier, that was split in two for transport and connected once it had been put in location. (looking at the photos, one would think a number of flight of stairs was also involved)
Chris has kindly sent some photos of 5 cats enjoying the frame, and who can blame them with that view.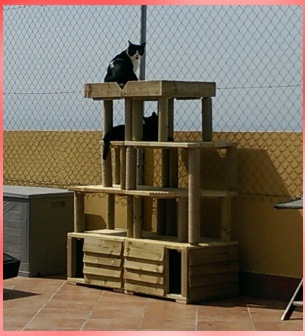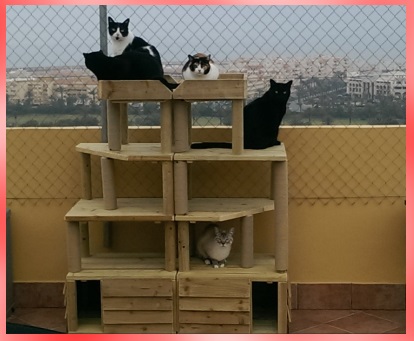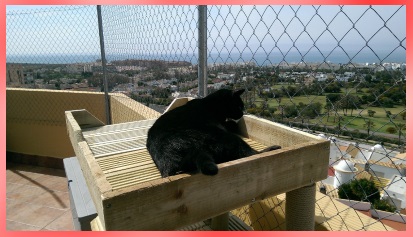 from Andrew
"We received it this week and it is excellent. The cats just love it.
It was so well wrapped/packaged it arrived
in perfect condition."
Thank you Andrew, nice to see them enjoying it in a bit of sun over the easter holidays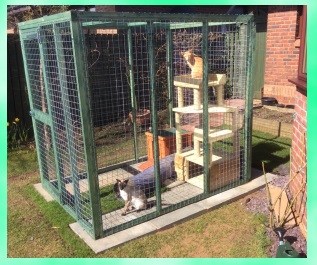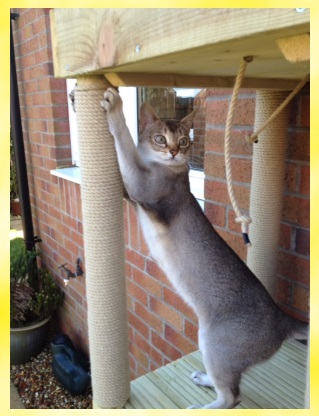 meryl has just sent us some extra photos, so nice to see frames in use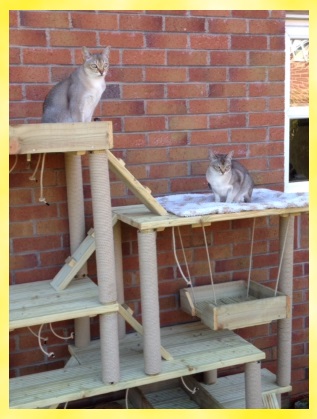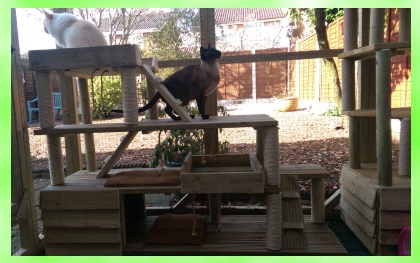 Casper and Beanie investigating there new Horatio's house, it complements the 4 tier that they all ready own nicely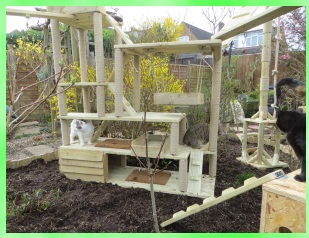 Wendy has been kind and sent us some more photos that show her frames in better light, and with the cats enjoying them , she says that they are loving playing on them, and even made it to the top of the lookout poll.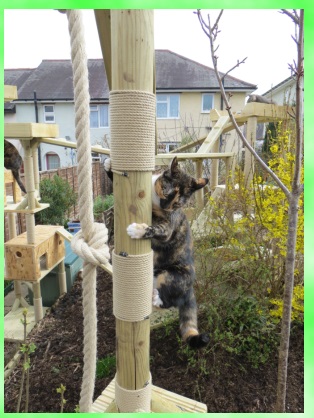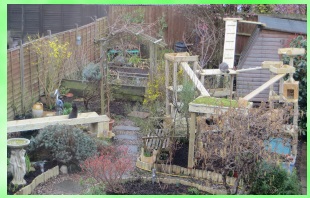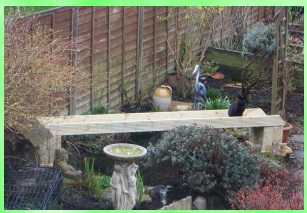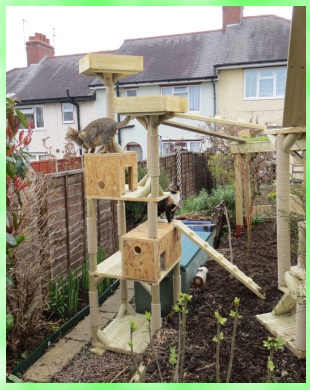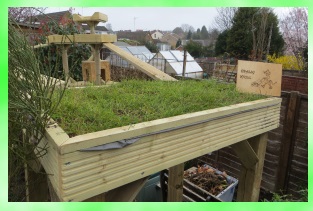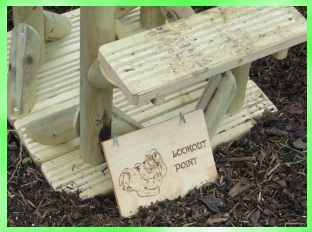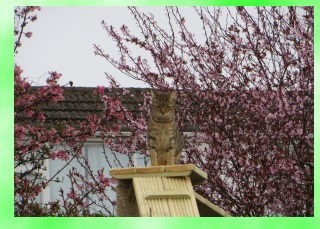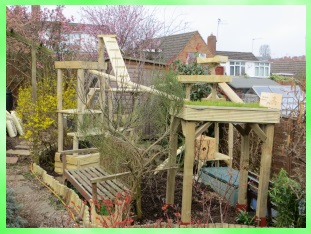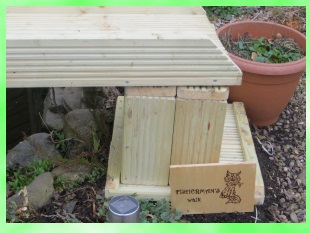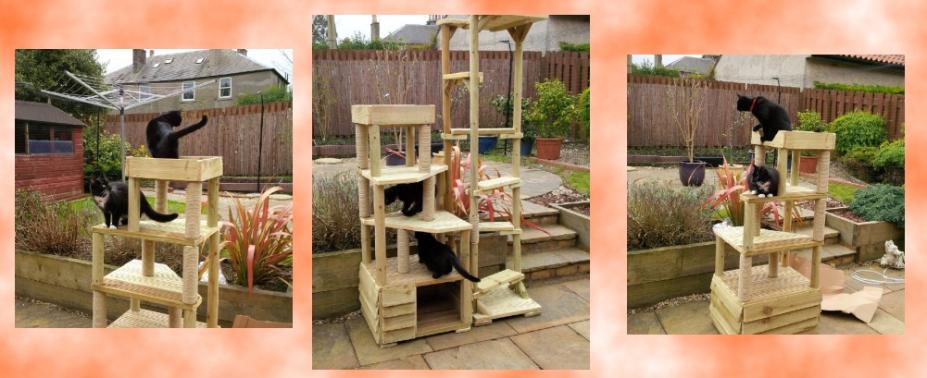 Paula cats could not wait for all of the packaging to be removed
before exploring there new frames.
Paula said
Love the packaging and the great construction.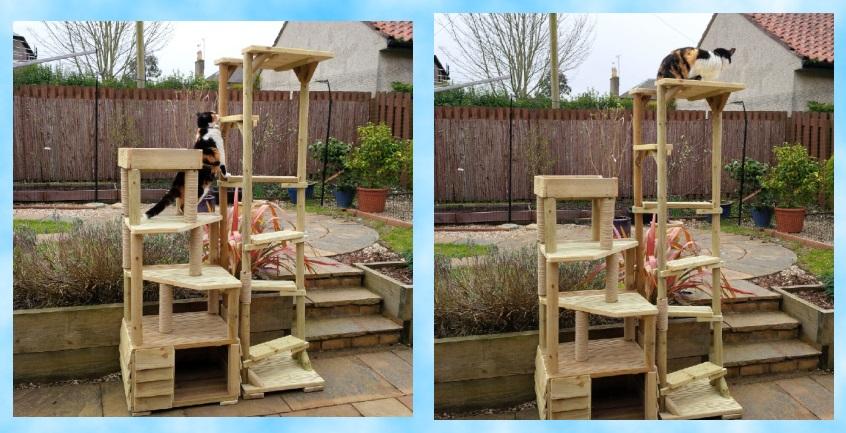 We ordered two cat towers and a lookout for our 4 cats (Topaz, Jasper, Digby and Elliot) via the website. Fast confirmation of order and anticipated build date. We did have a issue with the delivery, but that was the courier, and Dave was great and got it sorted. The towers and lookout were really well packaged and really well built. The cats were straight on them. We are really pleased with both the customer service and the excellent products. The cats are thrilled with their big toys. We would definitely order more items in the future. - Paula Milburn, Edinburgh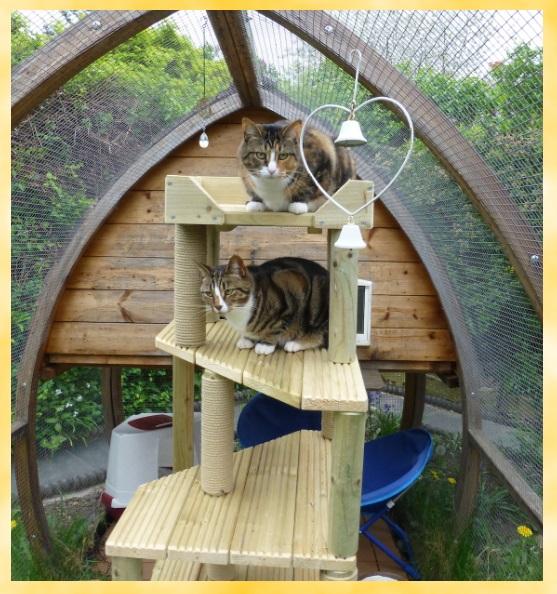 Many thanks for prompt delivery. The cats love it. Before I could undo it completely the cat from next door came round to test to do some product testing and obviously approved. It is now in the cat shelter and my two love it. There are a few skirmishes as to who should be top cat but they are really enjoying being able to climb up and down and chase one another. Some photos attached. Lara is in the top spot at the moment and Zaki is one level down!!
Many thanks – I am sure that they will get many hours of enjoyment and exercise with their new tower.
Best wishes
Avril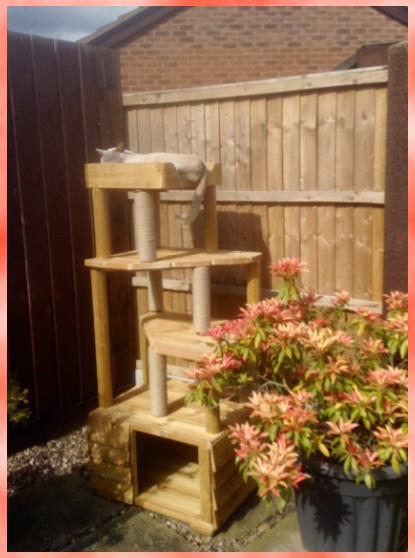 Here's the long awaited photo. He really loves his tower but has to take his turn to use it as the other cats love it too.

Many thanks
Janice

A custom mews , delivered and built ready for a glaring of the most lovely cats to explore.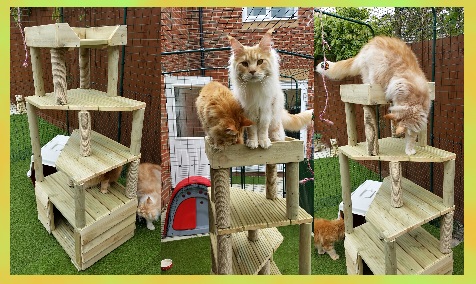 Our two boys - George and Henry would live to say a very big thank you for their new cat tower. The delivery was fantastic - it must have taken a long time to package it up so well!
The tower is the purfect size for their run and just what we were looking for, it's so sturdy and looks as though it will stay standing with our massive boys charging at it full pelt, they most definitely will test the stability with their 12kg and 10kg weights.
We will most defiantly be visiting your shop again to furnish their run further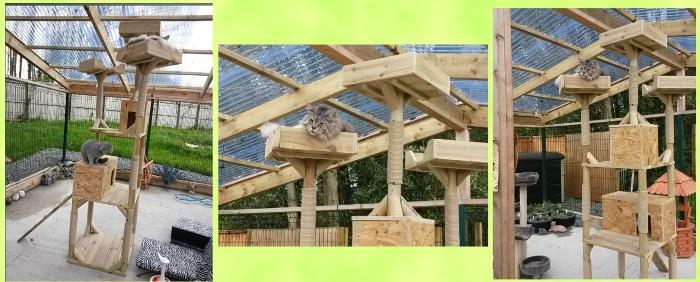 We had the chance to meet a wonderful lady at the week end, how does a great job of looking after unwanted cats, she has a really large enclosure for them to play in, our royal mews and coco's helped add enrichment to their lives.
She sent us the great photo's and these words
The hammock is very popular, as are the door mats; and there is always someone on top of coco's palace.
if you want a veterinary "seal" of approval I am more than willing to support it as the posts provide all the things cats love and need.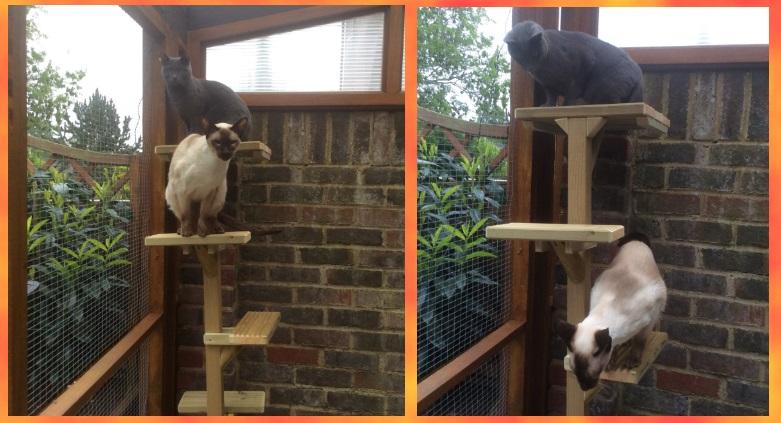 received the 5ft Post and 2ft stool late yesterday and unwrapped them this morning. They were really well packaged.
The 5ft Post is fantastic. . This is a great item, nice and sturdy even with both cars on it.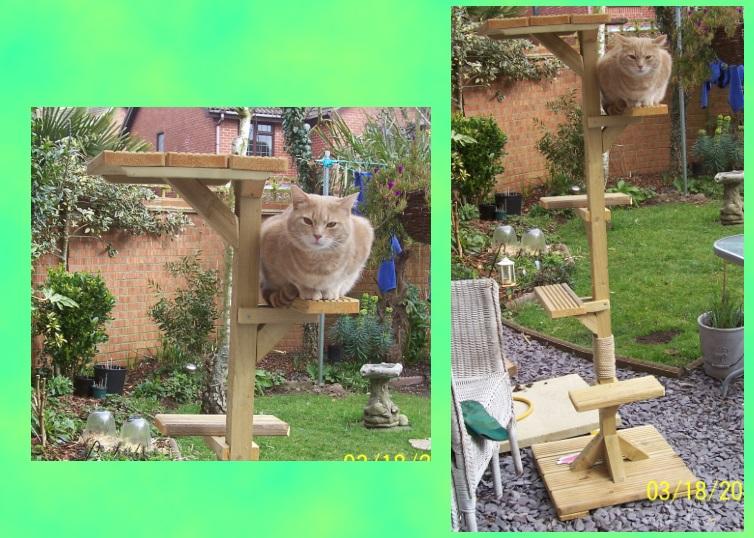 Karen, has a cat poll from us, that her cat loves, so much so she has ordered 2 more frames and sent us this photo of Bailey enjoying his cat poll.
Can't wait to see Bailey's face, with his new toys